Adobe products are the industry standard for photographers all around the world. But what about alternatives to Adobe Lightroom? Firstly, are there any that can hold water to this organising and editing masterpiece, and secondly, if so, what are they?
For those of you who haven't tried Lightroom yet, it makes processing your RAW and jpeg images a breeze. It is very user-friendly, holds all your images in its own library and meets most of your editing needs.
NB: The old versions of Lightroom are no longer available. Lightroom (4, 5, 6) has been renamed Lightroom Classic, and only available on subscription. The days of buying (and keeping) the software outright are gone. To use Lightroom CC or Classic, you have to pay in perpetuity.
Adobe Lightroom
Let's look at what makes Lightroom great. Right off the bat, Lightroom is a RAW converter. It will take your RAW images from your camera and let you see them all immediately.
Why is this a bonus? Well, most computer users will know that previewing RAW images on your desktop is almost impossible. Lightroom lets you see all your images in one handy area. This is great for quickly previewing and culling.
Not only can you edit your images in every way you can imagine (exposure, highlights, shadows), Lightroom also lets you play with HSL (Hue, Saturation, Luminance) in all areas of your image. If using curves is more your thing (like Photoshop), then Lightroom has those too.
Don't forget to be impressed by the Presence area, which lets you sharpen your images, or add more detail for that retro look.
One of the biggest and most helpful areas in Lightroom is the masking tool. Here, you can single out areas of your image for more selective editing.
If you just want to focus on the background, this is what you should use. Select areas with this tool, and then tweak your image using the editing sliders.
Lightroom has a fantastic amount of things you can do (HDR rendering, panoramas, lens distortion) which we can go into completely here. If you would like to know more, please read our complete guide to Lightroom here.
For a comparison on Lightroom Vs. Photoshop, this is is the article for you.

Lightroom Vs. RawTherapee
RawTherapee is a high end, open source editing tool that serves as a Lightroom alternative. It has a similar workflow, such as allowing processed images to be sent to other programs for further editing.
It is also non-destructive, meaning the users can retrieve the original file at the click of a button. It is a RAW processor, just like Lightroom. It allows you to see your images immediately, not after clicking through each individually.
What this program falls short in, however, is that it won't sort your images into folders for you. You need to do it manually or find another way. Once there, you can apply colours and ratings to separate as you wish.
Fujifilm camera users like using this program as their RAW files can be challenging to work with. RawTherapee works well in this area, building a strong network of enthusiasts and followers.
Its interface is like Lightroom, yet it will give you a learning curve to follow. Once you put the time in, you will be rewarded well. The best thing about this program is it's a free Lightroom alternative and available for Windows, OSX and Linux here.
Overall : ★★★★☆
It is free and very similar to Lightroom, but it lacks in a library, storing your images for efficient editing.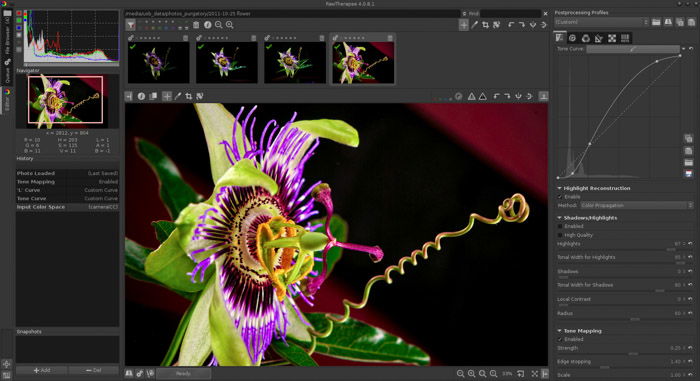 Capture One is a program by camera company Phase One. They do things differently, but very professional. If there was one program to use as a direct Lightroom alternative, then Capture One would be it.
It isn't cheap, but then, neither was Lightroom before the subscription concept. It is an impressive tool and offers a huge feature set, meaning there isn't much at all that you cant do here.
One huge benefit to Capture One is the ability to import Lightroom catalogs. This is great if you feel some of your selected catalogs need a different idea of tweaking. Also, if you get sick of Lightroom, your time and energy setting up the catalogs are not wasted.
Lightroom is simple and easy to use. Capture One presents your editing tools in a visually appealing manner, which are extensive as they are impressive.
This is a pro editing software tool, not for the faint-hearted. Most users won't use the full capacity of option available and might find it overkill.
I myself found it a little difficult to navigate as I am very used to Adobe programs, but I easily forget I had the same issue in the beginning with Lightroom. Swapping editing programs will come with a learning curve, as is to be expected.
It is available for Windows and Mac, with a free trial available (before you splash out big time) here.
Overall : ★★★☆☆
Difficult to navigate but beautiful to use. Also, the yearly price was substantial compared to Lightroom.
We have a more detailed article on Capture One vs Lightroom to check out too!

Lightroom Vs. Darktable
Darktable is almost the exact opposite of Capture one. It is a free Lightroom alternative, open source and looks closer to a Lightroom bootleg than any other program. Like Capture One, it supports RAW files from over 400 different cameras.
Again, it is non-destructive, allowing you to keep the original file and reverting back to it easily.
Something else that is like Lightroom is the array of exporting possibilities. Here, you can export images straight to Facebook and Flickr, or send them directly in an email. A great addition to your chaotic workflow.
Something that Photoshop has but Lightroom lacks (except in copying/pasting of settings) is automating repetitive tasks. This can speed up your editing process significantly.
If you would like to give it a try, downloads for Linux, Mac and Windows are available here.
Overall : ★★★☆☆
Darktable makes repetitive tasks a breeze, and exports directly to websites, yet it doesn't retain nearly as much detail compared to Lightroom.

Lightroom Vs. DxO Photo Lab
Photo Lab by DxO is the third professional software editing program, behind Lightroom and Capture One. It works well as a Lightroom alternative, but it also works well with it, Adobe Bridge or the Apple's Photos editing application.
What we like is that the editing features are all in one place. This saves time trying to find specific editing tools dotted all over the place. They are easy to use and very responsive, but the best area comes from noise reduction, which is highly rated.
This program comes with the Nik Collection Plugins. This gives you seven amazing preset looks to your images.
The biggest negative here is that you can't make local adjustments to your images. You need to use another editor for that, which defeats the object of an alternative if you need Lightroom to operate.
Saying that, it does have a few intuitive areas that are similar to Lightroom. The Automatic Repair tool copies the Spot Removal tool. The Control Points, Brush and Graduated Features are also similar, if not the same in Lightroom.
You can find DxO Photo Lab here, giving you a trial before you buy option for Windows and OSX.
Overall : ★★★☆☆
DxO falls short in its ability for local adjustments, yet it is intuitive in the actions it does have.

Lightroom Vs. Affinity Photo
Affinity Photo calls itself the future of photo editing. It has a huge toolset, specifically designed for creative and professional photographers alike. It provides you with the capacity of local adjustments, but it also allows you to create full-blown multi-layered compositions.
This makes it sound like a Photoshop and Lightroom alternative.
Like Lightroom, you correct and enhance images with Levels, Curves, Blacks and Whites, White Balance, HSL, Shadows and Highlights. Also, they are non-destructive tools, allowing you to switch back to the original image.
Affinity Photo also provides an advanced lens correction system and a great noise reduction tool.
What really makes this a great software choice are its extras, where others on this list fall behind. HDR merging, Panorama Stitching, focus stacking and batch processing are all possible. There is nothing you can't do.
The only negative point I came across was the import time. Lightroom imports your images fast, provides you with a preview while it works in the background. Affinity Photo takes a long time to process hundreds of images. This means you can't do anything until its finished.
Available for OSX and Windows here, and there is a free trial allowing you to test drive the software beforehand.
Overall : ★★★★☆
Affinity Photo was slow compared to Lightroom, but in other areas, it gives Lightroom competition.

Conclusion
The chances that you already use software is high. Either you use an older version of Lightroom or Photoshop or even use Apple's Photos app for very simple adjustments. We recommend that you use anything rather than nothing.
From using a number of different editing programs myself, I have found nothing as intuitive and easy to use than Lightroom. It meets my criteria for an easy to use library, storing all of my images.
The local adjustments are enough for me to use with the majority of my work. For everything else, I can click two buttons and send the image to Photoshop for some further tweaking.
Affinity took too long to import images from a session, rendering my computer unusable for a whole night. I have also tried DxO Photo Lab but became frustrated with having to learn a new system.
Rawtherapee works well, and it is free, but the lack of a photo library was frustrating and time-consuming. You might need something different for your own photography style, workflow and budget.
If this will be your first editing software package, look at what you can afford and whether you need something powerful or not. Use the free trials before you pay, and get the best program for your needs.
Looking for more tips on Raw images? Why not check out our articles on On1 Photo Raw 2019 Review and How to Open Raw Images in Gimp Using Ufraw next!
Want More? Try Our Lightroom Processing Course
Do you know how to use Lightroom to bring out the details hidden inside your images?
Lightroom is a great program, but with countless sliders and tools… it's hard to know how (and when) to use each of them.
That's why we've created the most complete and up-to-date training on Lightroom.