My dad's greatest fear when his grandchildren were young was reversing the car when they were around. That was before backup cameras became cheaper and more accessible. Now, you can relieve those fears by installing a backup camera in your car.
The best backup camera for you will depend on several factors, so let's look at the options.
Backup Camera: Wired or Wireless—Which is Better?
As you might have guessed, this depends. Both wireless and wired systems have their pros and cons. Wireless systems offer ease of installation. Some don't even need power connections and work from solar-powered batteries. The trade-off is that some people have experienced signal interference and even loss of picture.
A wired system has the benefit of a reliable feed from the camera to monitor, but the installation will be more involved. It will inevitably include removing trim, untangling wires, and groveling around.
A wired system is probably the best backup camera for you if you don't mind the installation troubles. Wireless is the best backup camera system if you want something quick and simple.
What Else Should You Look for in a Backup Camera?
There are two main types of monitors available. A standalone unit that can be fixed like a freestanding GPS unit, perhaps using a suction cup. Or a replacement rearview mirror that usually clips on over the car's existing mirror. As usual, each of these has advantages and disadvantages.
You can easily place the standalone unit where you want, but only if the car's interior allows it. You most likely have a phone mount these days. You might even have a separate GPS. Finding a convenient place within reach of a power supply might be a problem.
A mirror-mounted screen seems like an ideal solution. We're programmed to look there when reversing, and there is no additional clutter. Some possible downsides include getting power to the screen without trailing cables. And the existing rearview mirror is often quite high-tech, with auto-dimming and seat belt warnings. So you might be replacing it with an inferior product.
So you need to choose an aftermarket backup camera with care. And you must choose it according to your needs. Many backup cameras claim to be excellent for RVs, 5th wheelers, and trucks. In this review, I focus on cars rather than those other vehicles. I will comment, though, if a rear view camera is particularly suited to a larger vehicle.
There are two final considerations. First of all, if you have a GPS unit already, then you might be able to find a camera that attaches to that. Garmin certainly does one for some of their units. Secondly, many of us use our phones as GPS, and they would seem to be an obvious answer to the screen dilemma. As yet, it's difficult to find a phone-enabled backup camera to recommend.
What are the Key Features to Look for in a Backup Camera?
Features to look out for include:
Night vision
Dashcam facility
Mirror view
Adjustable guidelines
Automatic activation
Camera location
Viewing angle
What is the Best Budget Backup Camera?
Connection Type: Wired
Screen: 4.3"
Camera Fitting: License plate
Cable Supplied: 25' (7.6 m) RCA plug
The eRapta is available as a camera on its own or with the recommended monitor. The former might be a good idea if you need to replace a camera or if you have a radio head unit with an RCA input.
The camera fitting is the type that fits along the top of the license plate. It can be placed behind the plate, leaving just the camera in view. The camera has an IP69 waterproof rating. This includes dust, high-pressure water, and steam. So even taking your car through the car wash shouldn't be a problem.
LEDs automatically illuminate at night to improve performance in the dark. There are guidelines superimposed on the picture, but these can be disabled. You disable the guides and choose a mirror image or true image by cutting a wire in the loom. This may seem like a permanent move, but you can reverse it if you need to. The viewing angle is 149 degrees. This is ideal for reversing but would be too wide to use as an alternative to the rearview mirror in your car.
As with most similar backup camera systems, power for the camera comes from tapping into the power supply to the reversing light. The camera will then activate whenever put your car in reverse.
The screen draws its power from a 12v accessory plug. To make the fitting as professional as possible, route that cable to wherever you have mounted the screen.
For a reasonably cheap price, this is a great entry-level backup camera system for your car.
Connection Type: Wired
Screen: None supplied
Camera Fitting: Various options
Cable Supplied: 26' (7.9 m)
The Nakita Backup camera is different from the eRapta. For one thing, it doesn't come with a screen. This leaves the choice of the screen up to you. You can use any with an RCA input, or your radio head unit might have the facility for video input.
You can mount the Natika in various ways. You can suspend it or mount it the right way up. This function, the guidelines, and the mirror view are selected in the same way as the eRapta, by cutting clearly-identified cables.
One attractive feature of the Natika (apart from its very reasonable price) is the slim connector supplied for the rear camera connection. A smaller connector means you need a smaller hole in the body of your car.
The Natika is also weather-sealed to IP69. The viewing angle is 170 degrees, which might be too wide for your taste. It comes with three different rubber gasket shims. These allow you to adjust the fixed angle of the camera against the car body. There are no LEDs, but the night vision is still impressive. You should pay extra attention to how you mount it. If you do it incorrectly, your license plate lights might flood the camera at night.
What's the Best Mid-Range Backup Camera System?
Connection Type: Wireless
Screen: 5"
Camera Fitting: License plate
Cable Supplied: n/a
The Dallux wireless backup camera system provides a simple entrance into wireless backup cameras. It has an IP69 rating and a built-in 2.4 GHz transmitter. And you can easily mount the camera and quickly connect it to the reversing light.
The viewing angle is 145 degrees and two LEDs in the camera provide night vision. You select backup guides and image flip options via the LCD monitor menu.
For larger vehicles, or perhaps if you tow a trailer or caravan, you can add extra cameras. You can add a front-facing camera for those tight parking spots. Or a rear camera for the trailer as well as the car.
You can mount the monitor on the windshield or the dash. It comes with a suction cup bracket that mounts onto the car. Then the monitor attaches to the mount with a magnet. You can easily remove the screen for extra security when you park your car out on the street.
You might notice the antenna on the screen compared to a wired camera system, but it's not that intrusive.
The Dallux wireless camera system offers a well-regarded rearview camera. It is a quick and fairly painless solution for a very reasonable price.
Connection Type: Wireless
Screen: 5"
Camera Fitting: License plate
Cable Supplied: n/a
The LeeKooLuu F09 has an adjustable camera. Once you connect it to the car, you can tilt it up or down to adjust your view. This gives an effective viewing angle of 150 to 170 degrees.
Like other cameras we have seen so far, there are optional guidelines. The LeeKooLuu goes one step further and allows you to adjust them for width. Compared with an OEM backup camera, the guidelines for aftermarket backup cameras involve a little bit of guesswork.
Another useful feature of the LeeKooLuu F09 is the ability to add a second camera. This can be forward-facing for maneuvering. Or it can be mirrored for use on a trailer or caravan. You can select cameras individually from the screen or have a split-screen view.
Pairing the camera and monitor seems to be reliable and effective. Night vision is good, and the monitor screen can be attached with a suction cup mount. It can be powered from an accessory socket or hardwired to the car's power supply.
Connection Type: Wireless
Screen: 5"
Camera Fitting: License plate
Cable Supplied: n/a
The DoHonest has a 150-degree viewing angle and IP69 waterproof rating. The night vision LEDs are automatically selected in the dark. It is a solid choice for a wireless backup camera.
Like the LeeKooLuu, you can add a second camera to the DoHonest license plate backup camera. If you wire it to a constant-feed power supply (like the running lights), you can have an uninterrupted view. Just be careful that the power supply is off when the ignition isn't on. You don't want to drain your battery.
Guidelines can also be adjusted from the monitor. This allows you to adjust the width, height, and offset. This is very handy if your camera doesn't sit in the car's center.
DoHonest offers a two-year warranty and 24-hour telephone support if you encounter any problems with the backup cam. Customer reviews suggest that customer service is fast and responsive.
The DoHonest V25 is another easily-installed wireless backup camera. It has all of the essential features you need at a very reasonable price.
Connection Type: Wired
Screen: 12"
Camera Fitting: Various and Rearview Mirror
Cable Supplied: 20' (6 m)
The Wolfbox 12" rearview backup camera is the first backup camera in this review that uses the existing rearview mirror as its screen. It also adds a whole host of additional features.
The Wolfbox is both a backup camera and a front-facing camera. Not only that, but it is a dash cam and parking monitor. Let's unpack these features, as they are impressive in something at this price point.
First of all, the mirror. If all else fails, the 12" screen will work as a mirror in the conventional sense. And when everything else works, you can choose to display the view from the rear-mounted 170-degree viewing angle camera. Or you can have the view from the front camera (integrated with the mirror itself) or a split-screen view of both at the same time.
Additionally, you can overlay the screen with the time, compass direction, and speed. Wolfbox also supplies a GPS reader for Mac or PC. This allows you to log the movements of the vehicle.
This last feature is particularly useful if you are involved in an accident. You can use the data from the GPS to show your speed and location at the time of the impact. You can also use the video recording from the front and rear cameras. These record on a continual loop and the integrated G-force sensor registers any accident. That portion of the recording is then bookmarked so you don't overwrite that part of the video.
Dashcam footage is very useful in demonstrating what happened in an accident. There are two sides to every story, but dashcam footage doesn't lie. Another practical use of the G-force sensor and recording facility is parking monitoring.
In this mode, the system registers any shocks while parked and records them from both cameras. Very helpful if you come back to your car and find it damaged. The processing chip is made by Sony and it's optimized for identifying license plates. With this camera, identifying the culprit should be easy.
Even if you use the physical mirror during normal driving, you can easily select the rear camera for parking or maneuvering.
This backup camera requires more installation than the wireless backup cameras on this list so far. If I were fitting it to my car, I would want to ensure no hanging wires are visible. That will inevitably mean removing some of the headlining or trim around the visors. But, there's a ton of functionality offered at a good price point. The combination of features and price would make this the best backup camera for many people.
Connection Type: Wireless
Screen: 7"
Camera Fitting: U-bracket
Cable Supplied: n/a
The Amtifo is pitched at the RV market. But it has features that might make it attractive to other vehicle owners. Especially if you drive an SUV. The reason for this is the beefed-up wireless capability of the wireless backup camera transmitter.
With a stated range of 320' (97 m) and twin antennas, the signal has plenty of heft to ensure you never lose contact. The system can accommodate up to four cameras. This means you don't have to worry about losing the picture from the back of your caravan or trailer.
A possible reason why an ordinary car driver might shy away from the Amtifo is the monitor. Let's be honest, a 7" screen will not fit in a compact car. Or at least it will look silly. But with the flexibility of a suction mount and a fixed bracket, you might well appreciate the extra screen size if you can fit it.
Another plus with the monitor is the front-facing touch-sensitive buttons. So far, the camera systems we have seen rely on buttons behind the unit (except the Wolfbox). That means you have to reach behind the unit and remember which button does what. Here you can see the buttons clearly displayed for the functions you need.
These functions include recording, image flipping, and enabling or disabling the parking guides.
The camera is larger than we have seen so far and is probably better suited to larger vehicles. It comes with infrared LEDs for improved night vision. It has a 150-degree viewing angle and an adjustable angle fixing bracket.
The Amtifo A8 will not suit a lot of people. But, if you're looking for a big screen, solid construction, and a DVR, it's worth considering.
Connection Type: Wireless
Screen: 4.3"
Camera Fitting: License plate
Cable Supplied: n/a
At first glance, the Yada wireless backup camera is expensive for what you get. It has the smallest screen of all the backup camera systems in this review. It lacks the facility of flipping the view on the screen. There's no touchscreen either.
What it does have is a 110-degree viewing angle in an IP67 waterproof camera. LEDs provide illumination for automatic night vision. And 2.4 GHz wireless transmission should ensure solid connectivity.
Cheaper wireless cameras provide higher specs. However, the Yada consistently receives positive reviews for its quality and reliability. It receives high praise from those who are familiar with several backup cameras. Many consider it the best backup camera they have used or installed.
The more compact monitor size, good reputation, and ease of installation could mean this is the best backup camera for you.
What's the Best High-End Backup Camera?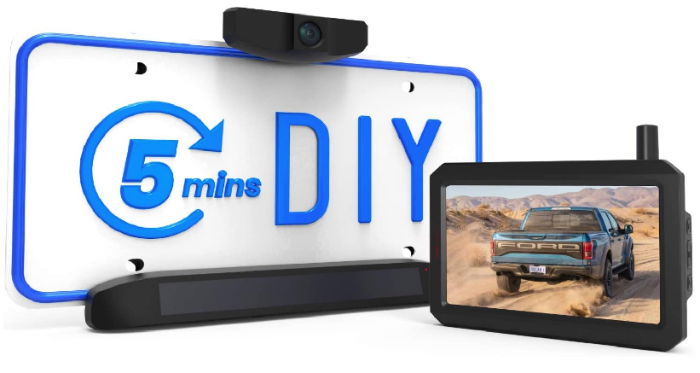 Connection Type: Wireless
Screen: 5"
Camera Fitting: License plate
Cable Supplied: n/a
If the thought of running a power cable to a rearview camera brings you out in a cold sweat, then relax. The unique feature of the AUTO-VOX Solar 1 is that the backup camera is solar-powered.
You must fully charge the camera battery via the USB socket at first. Then the installation is limited to attaching the bracket to the license plate and plugging the monitor into the accessory socket.
Once that is done, then the camera is ready to go. Unless you live in the polar regions, then normal daylight will provide the necessary power to keep the camera running. The USB socket has sometimes allowed water to enter, so some extra caution is needed. The documentation makes it clear how important it is to keep it sealed properly.
With that limited installation, you have a digital wireless backup camera. It has adjustable reversing guides, a 110-degree viewing angle, and a clear 5" screen. If you really don't want to tap into your car's wiring, then this could be one of the best backup cameras for you.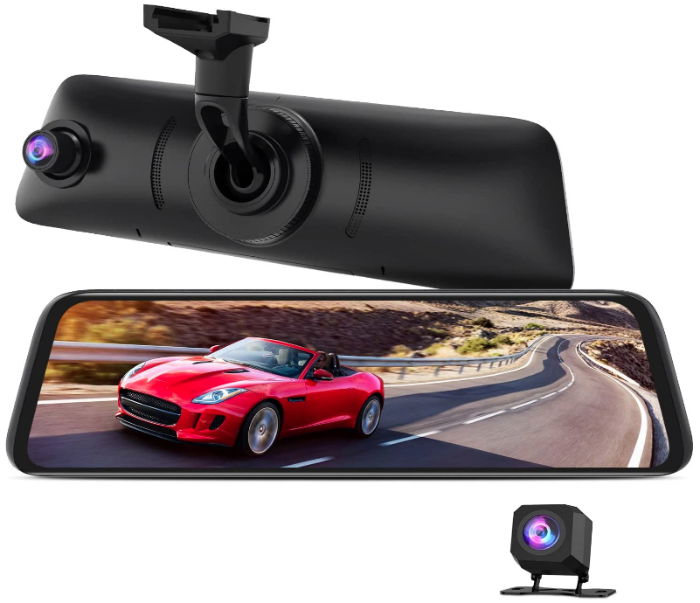 Connection Type: Wired
Screen: 9.35"
Camera Fitting: Rear window
Cable Supplied: n/a
The V5PRO is another backup camera from AUTO-V0X. But unlike the Solar 1, it's a bit more complicated to install. As a mirror-based rearview backup camera, the V5PRO requires quite a bit of work to install. The mirror itself is designed to replace the OEM mirror, not be strapped to it.
The good thing about this is that it gives a neater OEM look to the end result. The downside is that there will be many cars where the original mirror cannot be removed. So you need to check, and AUTO-VOX will let you know the compatibility of the product with your car.
Assuming you can go ahead, then you will have an entertaining hour (or two or three) installing the system. When you finish, you will have a neat, integrated solution. The V5PRO is a touchscreen-operated dual-camera dash cam and backup camera kit. It also offers switchable reversing guides, GPS overlays, and parking protection.
Although it is the most expensive camera system reviewed here, it makes the others look like what they are—aftermarket backup cameras. If you take care of fitting this properly, it will look much more convincing.
Conclusion
Prioritizing safety is probably a better use of your pocket money than a new stereo system for your car. When looking at all the safety features that some of these systems have, all these systems start to look very attractive.
If you're really on a tight budget, then the best backup camera must be the HD eRapta ERT01. It's a very low price for a complete backup camera.
If you really cannot face any installation hassle, then it has to be the AUTO-VOX Solar 1. It could not be any simpler without getting someone else to do it for you.
Finally, the best overall has to be the AUTO-VOX V5PRO. If it fits your car, and the installation isn't daunting, then the features and the neatness of fit make this the best backup camera for a wide range of users.