Using photo stitching software is essential for landscape and panorama photographers. It can deliver excellent results and save you a lot of time. The following list covers the best photo stitching software options.
To create a panorama, you have to stitch photos together. Once they're aligned, they will make one impressive view. A wide-angle lens is helpful, but you would still need to do some cropping. If you have a tripod, stitching a panorama together is a lot easier! A tripod helps you keep a consistent horizon when taking panoramas.
eBooks and Courses for Everyone
10 Best Photo Stitching Software Options
There are a variety of photo stitchers available. So let's take a look at the top 10 best photo stitching software options.
Hugin is a photo stitching software capable of assembling a mosaic of photographs into a panorama.
Hugin's interface is functional and user-friendly. The software has great features. Some of them are control points or corrections of inconsistent levels. Manual adjustments of projections are also included.
Hugin offers a series of online tutorials in nine languages. They show the different stages of the panorama stitching process. And they teach you how to use blend masks and create textures.
Hugin is an open-source initiative. It is available for free and is compatible with Windows, Mac, or Linux.
PTGui is the best choice for professional-level photo stitching software. PTGui allows for stitching panoramas with many rows and columns.
PTGui has a less expensive option that will offer plenty for amateur photographers. The more expensive version, PTGui Pro, gives added features that any pro would love.
PTGui Pro includes features like Automatic Seam Placement and a Fill-Holes function. PTGui Pro also offers a Batch Stitcher, which can generate control points to set up a panorama.
You can also stitch and blend HDR source images into an HDR panorama with PTGui Pro. Viewpoint correction and masking are also included.
PTGui works with Windows, Mac, or Linux. There is a free trial version and a one-time license fee.
Panoweaver 10 offers a Standard and Pro version. The Standard version offers a good amount of features. They include gigapixel panoramas, little planet panoramas, and full manual adjustments.
For a bit more of an investment, the Pro version has added features. These include HDR processing, masking, and Dehaze.
One of the biggest benefits of Panoweaver 10 is that it offers the option of automatic stitching. This is great for those of us who want the software to do the work sometimes.
Panoweaver 10 is available for Windows and Mac.
Autostitch lets you stitch many photos into a seamless panoramic image.
This photo stitching software is the perfect solution if you want a program that will do it all for you. It requires no user input to sift through images. AutoStitch selects the images that match up. Then it pieces them together to create a panorama.
The downside to this is that you can't make individual adjustments even if you want to. AutoStitch is ideal for the photographer who doesn't do too many panoramas. It's also good if you aren't looking to control every aspect of the process.
A demo version of this photo stitching software is available for free. As a standalone, AutoStitch is available for Windows and Mac OS.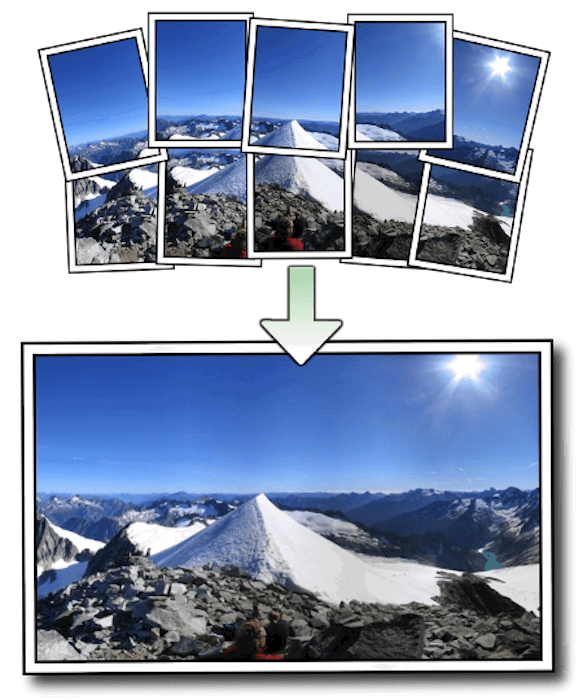 PanoramaStudio is photo stitching software available for Windows and Mac. There is a Standard and Pro version. The latter offers a few more options, like support for ultra-wide-angle and fish-eye lenses.
This software offers interactive tools that allow you to add hotspots to panoramic images and create virtual tours.
PanoramaStudio allows you to export interactive panoramas to HTML5. It also offers multiple editing tools to correct flaws and enhance your pictures.
This software is perfect if you usually work with Adobe Lightroom. You can find it as a Lightroom plugin.
PanoramaStudio is a paid software. But they offer a free trial period, so you can try before you buy.
This photo stitching software is a fantastic option for Mac users. A mini version is available for free, but it can only stitch up to five photos.
For panoramas of more than five photos, you will need to buy the full version of Panorama Stitcher. It doesn't compare to the detailed control you have in other software options like PTGui. But in true Mac fashion, it is very user-friendly.
It is currently available for Macs only via the App Store.
Another fantastic option for beginners in photo stitching is PhotoStitcher. It features a user-friendly interface and an entire suite of software to alter images.
PhotoStitcher is capable of stitching photos of different angles or resolutions. It also does automatic image completion.
This panorama stitching software also automates things like cropping and exposure balancing. This gives you the option to be as hands-off as you'd like.
A free trial download is available. The full PhotoStitcher software is affordably priced.
PhotoStitcher is available for Windows or Mac.
If you're dedicated to taking photos of landscapes and panoramas, you may already own GigaPan Epic hardware. If that's the case, then you're aware of GigaPan Stitch software.
GigaPan Stitch is a functional panorama stitching software. It combines photos across many rows and columns.
It is proprietary and only for use with GigaPan hardware. It provides a great option to stay within the GigaPan product family. This software is basic, but it's capable of stitching together panoramas with many rows of images.
Once you register your GigaPan hardware, you receive a license key for the stitching software. If you want to test it out before committing, you can try their free 14-day trial.
GigaPan Stitch is available for Windows or Mac.
While not a standalone panorama photo stitcher software, Photoshop is a good choice. It has powerful photo stitching capabilities within its long list of features. Photoshop's Photomerge plugin is basic but handy for the occasional panorama.
You can access the photo stitching option in the menus (File > Automate > Photomerge). This will open a new window where can you add the individual photos to be merged. Then the plugin will do the stitching for you!
Once merged, the new file is a PSD file with separate layers for each image. One downside to using the Photoshop Photomerge plugin is that the controls aren't very detailed.
Since you are already working within Photoshop, you have all the tools to edit your image. You don't need separate software.
Photoshop isn't an ideal photo stitching solution if you offer many panoramas commercially. But it's perfect for those of us who do the occasional panorama for fun.
Photoshop is available for Windows or Mac. You can access this cloud-based software with a monthly or yearly plan.
Like Photoshop, Luminar Neo isn't a standalone photo stitching app. But Luminar released their extension for Neo in July 2023. It's really simple to access and sits with other extensions like Upscale and HDR Merge on the right side of your workspace.
Stitching your photos together is as simple as dragging them into the extension and pressing "start."
Neo then shows you what your panorama will look like. And when you proceed, suggest a crop that will omit the uneven edges. You then get a panorama from your stitched photos.
I have to say it's pretty impressive, and I like the fact that it will accept HEIC photos from an iPhone without first having to convert them to JPEGs.
But Luminar Neo has an extra trick up its sleeve. If you drag a video into the extension, it will make a panorama from that. And that is a real bonus.
The way the extension is just seamlessly linked to the main software is excellent. Luminar has come up with an impressive photo stitching option with this latest addition to the already feature-packed Neo.
Conclusion
Finding the right photo stitching software can feel overwhelming whether you do panoramas as a hobby or profession. But we have covered a variety of options to get you started. And there is something for everyone… whether you are ready to invest money in photo stitching software or not. With so many options at your fingertips, the photo stitching possibilities are endless!
Are you looking for a fun and easy way to master landscape photography? Check out our Simply Stunning Landscapes course. Take stunning images in the most average locations!


eBooks and Courses for Everyone