You're probably familiar with panoramas. A wide angle lens is helpful, but you'll still need to do some cropping. If you have a tripod, though, stitching together a panorama is your best choice!
To create a panorama you'll want to stitch photos together. Once they're aligned, they'll create one impressive view.
There are a variety of photo stitchers available. Let's take a look at the top 10 best photo stitching software options for 2021.
Hugin is still being developed. Its features and interface are growing and changing.
Its current interface is more functional than user-friendly. But the software has great features like control points, correction of inconsistent levels, and manual adjustments of projections.
Hugin is an open source initiative. It's available for free and is compatible with Windows, Mac, or Linux.
When it comes to a professional level photo stitching software option, PTGui is the top choice. There's a free option that will offer plenty for the amateur photographer.
The paid version gives added features that any pro would love. Paid features include things like generate control points, work with HDR source images and create HDR panoramas, viewpoint correction, and masking.
PTGui can work with Windows, Mac, or Linux. The paid version currently goes for $115.
Available for both Windows and Mac, Panoweaver 10 offers a Standard or Pro version. The Standard version offers a good amount of features that include gigapixel panoramas, LittlePlanet panoramas, and full manual adjustments.
For a bit more of an investment, the Pro version has added features. These include HDR processing, masking, and dehaze.
One of the biggest benefits of Panoweaver 10 is that it offers the option of automatic stitching. This is great for those of us who sometimes want to be less hands-on.
Panoweaver 9 is available for Windows or Mac. Prices currently start at $149.
AutoStitch is the perfect solution if you want a software that will do it all for you. It requires no user input to be able to sift through images, select ones that match up and then piece them together to create a panorama.
The downside to this is that if you do want to make individual adjustments, you're not able to. AutoStitch is ideal for the photographer who doesn't do many panoramas. And you're not looking to control every aspect of its creation.
A demo version is available for free directly from AutoStitch. It's also available as part of the commercial software Autopano Pro, Serif Panorama Plus, and Calico.
As a stand-alone, AutoStitch is available for Windows and Mac.
This product is direct from the Microsoft research labs. It tends to feel a bit experimental and not so user-friendly. It does, however, offer a few unique features that make it stand out as a great option to consider.
Most notably is the ability to create panoramas from stills that are taken from video footage. It also has an autocomplete feature. This fills in missing parts of an image like sky or clouds. The software also supports Gigapixel panoramas.
Since it's a Microsoft product it is only available for Windows. It is a free product.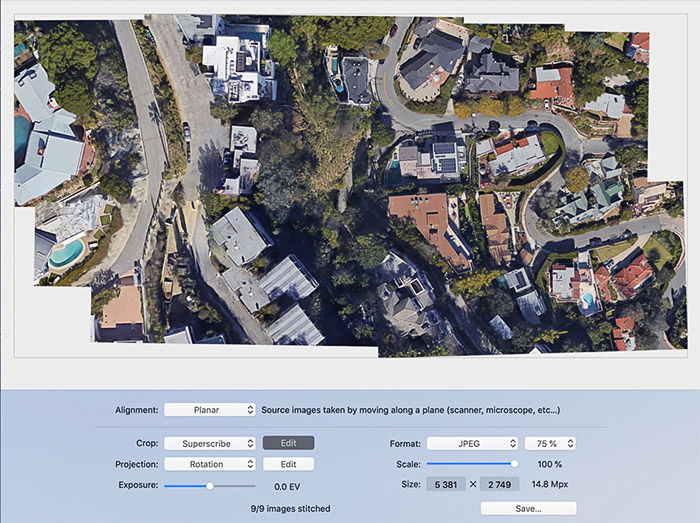 This software is a fantastic option for Mac users who want to dabble in stitching photos together. There's a Mini version available for free. But it can stitch together up to five photos only.
For panoramas involving more than five photos, you'll need to purchase the full version of Panorama Stitcher. It doesn't compare to the detailed control you have in other software options like PTGui. But in true Mac fashion, it is extremely user-friendly.
It's currently available for Macs only via the App Store and costs $14.99.
Another fantastic option for beginners with photo stitching is PhotoStitcher. The user-friendly interface combined with an entire suite of software to alter images makes this software appealing.
PhotoStitcher includes features such as automatically stitching photos of different angles or resolutions and automatic image completion.
It also automates things like cropping and exposure balancing. This gives you the option to be as hands-off as you'd like.
A free trial download is available. The full PhotoStitcher software currently priced at $19.99.
PhotoStitcher is available for Windows or Mac.
If you want to get more dedicated to landscapes and panoramas, you may already own a GigaPan. If that's the case, then the GigaPan Stitch software is ideal for you!
It's proprietary and only for use with GigaPan hardware. But it provides a great option to stay within the GigaPan product family. This software is basic, but does have strong abilities in stitching together panoramas with multiple rows of images.
Once you register your GigaPan you receive a license key for the stitching software. If you want to test it out before committing, there's a free 14-day trial available for download.
GigaPan Stitch is available for Windows or Mac.
While not a standalone panorama photo stitcher software, Photoshop does have powerful photo stitching capabilities within its arsenal of features.
You can access the photo stitching options within the menus at File > Automate > Photomerge. This will open a new window where you add the individual photos to be merged, choose the geometric projection, and select a few minor options.
The plugin will then do the stitching automatically for you!
Once merged, the new file is a PSD file with separate layers for each image. One downside to using the Photoshop photomerge plugin is that it's not very detailed in its controls.
Since you're already working within Photoshop you'll have all the tools to finesse the image and layers as much as you'd like. You don't need separate software.
Photoshop is not an ideal photo stitching solution for you if you do many panoramas or want to offer them commercially. But it's perfect for those of us who do the occasional panorama for fun.
Photoshop is available for Windows or Mac. Access to this cloud-based software begins at $9.99 per month.
Conclusion
Whether you're starting out with panoramas in your landscape photography or you're looking to offer virtual tours and panoramic images to clients, finding the right photo stitching software can feel overwhelming.
We've covered a variety of options to get you started. Whether you're ready to invest or not.
With so many options at your fingertips, the photo stitching possibilities are endless!
Why not check our articles on best Photoshop app for smartphone photography or how to use freelensing next!