The Godox V860II flash with the X1T radio trigger is a powerful budget combo. I've used it quite frequently. And today, I reviewed this flashgun and transmitter kit.
A good flash unit can elevate your photography… especially one you can use off-camera with radio triggering. In the past years, such units have come a long way in performance and reliability.
So let's see what my experiences were with this Godox kit. And find out if you should get it for yourself!

Godox V860II-S High-Speed Flash
Looking for a powerful and reliable flash unit that won't break the bank? Look no further than this high-speed flash, compatible with Canon EOS cameras and offering a guide number of 60m at ISO 100.
Overview of Godox V860ii
The Godox V860II is the second generation of Godox's most popular SpeedLite-style flashgun line. It was released in 2016.
In terms of features, it's roughly equivalent to Canon's 600EX II flashgun, or Nikon's SB-910, but it's much cheaper than these two.
It gives you a flexible angle of view, variable between 24mm and 200mm, and extendable to 14mm. It promises high performance with a guide number of 60m (196.85′) at ISO 100 at the most zoomed-in setting.
This is paired with pretty good build quality, reliability, excellent radio communication. It uses a proprietary lithium-ion battery instead of AA batteries.
In the box, you'll find the unit, the battery, the charger, a pouch, and a shoe-mount stand. This can stand on its own, or attach to a standard tripod screw.
The X1T transmitter module is designed to trigger any Godox flash unit that has a built-in receiver, or a dedicated receiver like the X1R. It runs on two AA batteries.
Please note that in this review I'm linking to the Canon versions of these products.
Who Is the Godox V860II For?
The Godox V860 II is an excellent flash unit, but not for any use case.
I don't recommend the V860II for professional photojournalists and event photographers. In these cases, catching the singular perfect moment matters. This flash is not 100% reliable. Very rarely, I do miss shots with it – unlike the Canon 600EX, which I used for a long time.
However, for any situation in which a slashed price prevails over ultimate dependability, the V860II wins. I've been using this flash for portraits (studio and environmental), macro, product, and occasionally event photography, with little to complain about.
With the X1T, it becomes a powerful tool. This pair is capable of triggering at up to 100 meters, which is far higher than most OEM systems, definitely above Canon's transmitters. Of course, I very rarely exploit this entirely, but it's useful sometimes.
For example, in this instance below, where my subject distance was around 80 meters.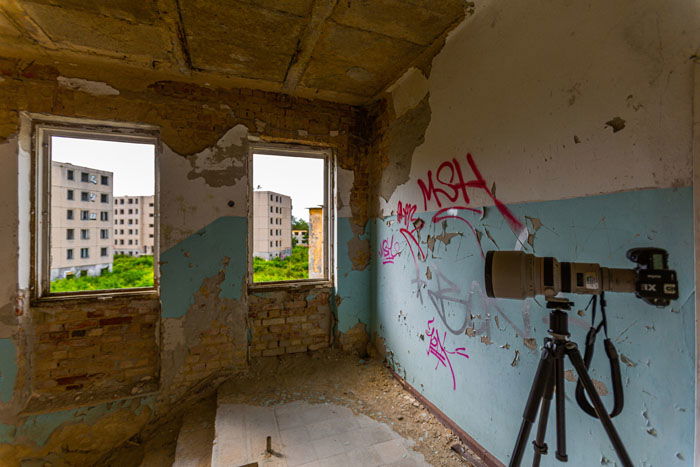 It's also excellent for portraiture.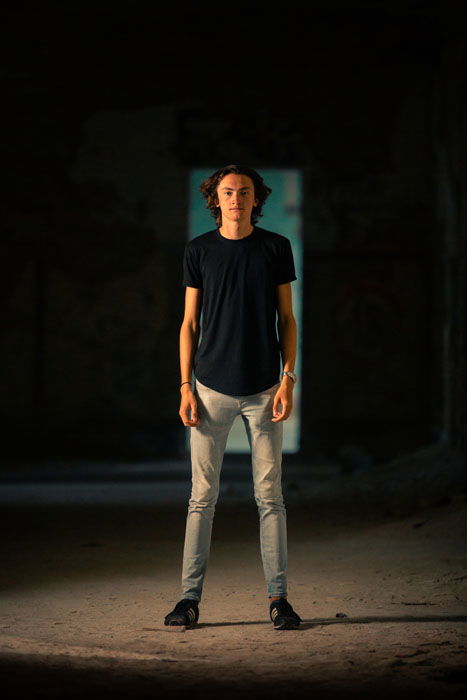 It also does well in macro and close-up photography, although if you need a dedicated flash for macro, you're better off with a small ring light.
This below is an image I shot in preparing for our Macro Magic course. Here, I had another, constant light from the side, and the V860II was in a small softbox on the camera.
Key Features
Lighting Capabilities
The Godox V860II has a guide number of 60. This means that at a 60-meter subject distance, the flash is capable of giving a correct exposure at f/1 (at the zoomed-in, 200mm setting). If you don't understand what this means, read B&H's excellent article on the topic.
This is fairly high, and puts this unit on par with the aforementioned OEM flashes.
You can zoom from a full frame equivalent view of 24mm all the way to 200mm. This is also better than the standard in this price ranges, which is usually 105mm. This means it can focus the light beam on a smaller area in a wide scene, or follow to your lens' actual zoom setting.
Additionally, you can widen it to 14mm with the built-in adapter. There is a built-in fill reflector and a small diffusing panel, which also acts as the wide adapter.
You can change power or exposure compensation in one-third stops, just like on your camera. The minimal setting is 1/128th power.
The head mechanism is quite flexible. It can tilt -7 to 90 degrees, and rotate 180 degrees.
The respective versions of the Godox V860II and the X1T trigger fully support TTL solutions from any manufacturer, for example E-TTL II by Canon or i-TTL by Nikon. High-Speed Sync is also supported, although this is a basic requirement in 2020.
The duration of light (until 10%) is rated at 1/300s at full power, 1/20000 at minimum power.
The AF assist light is usable up to 10m in my experience.
Note that in manual flash mode, the X1T trigger is compatible with a bunch of off-brand cameras by the nature of hotshoe communication protocols. I sometimes use the trigger (Canon version) with my Ricoh GR III.
I don't recommend attaching the actual flash unit to any camera other than officially supported, unless you really know what you're doing. You risk frying your camera with the high voltages of the flash.
Durability and Handling
The Godox V860II is well-built but undeniably cast plastic. This means you must be careful no to drop it because it will break. It's also not officially weather-sealed, and the buttons don't seem to be insulated the same way the 600EX's buttons are, so I haven't yet been keen to test this.
However, the assembly is firm and tight. After continuous use for more than a year, I haven't discovered any loose parts or weird things, unlike on several Yongnuo flashes I've seen meanwhile.
The Li-ion battery is a blessing, no joke. It's more convenient than using AA batteries, more reliable, and usually lasts longer as well.
It has its own charger, so it inevitably has one downside: if it's depleted and you don't have electricity nearby, you can't just run to the closest shop and pick up new batteries.
However, battery life is rated at 650 full-power shots, which is a lot, and I've never run out of power unexpectedly. Recycle time is around 1.5s at full power and 0.1s at powers below 1/32.
The Godox X1T transmitter runs on standard AA batteries, two of them. Naturally, it lasts even longer, as the triggering process and the small LCD don't consume much power. The transmitter seems more fragile, but I haven't had problems with its durability yet.
The flash unit measures 64mm x 76mm x 190mm and weighs 430g.
There is a standard sync port on the side, a port for a DC adaptor (which is not included), and a micro-USB port for updating the firmware if necessary.
Radio Transmission
Godox's ecosystem of radio triggers, receiver, flashes, and strobes uses a 2.4GHz signal. In theory, this could interfere with Wi-Fi signals, but I've never encountered such issues.
A combined receiver/trigger unit is built into most Godox flash units, so you can use any (newer-generation) flash to trigger another one via radio. You can do also do this with the X1T transmitter. There is also a dedicated receiver unit (X1R) available, so you can include any non-Godox, non-radio flash in your setup.
The X1T trigger is capable of controlling flashes in three different groups, A, B, and C.
The Godox V860II flash unit supports 5 groups, adding D and E, which you can use with the more expensive XPro trigger. There are 32 channels available.
I've generally found the signal transmission reliable. Occasional issues exist, presumably due to interference. As I mentioned, the maximum triggering distance is a whopping 100 meters, more than reasonable.
Alternatives
There is one fairly direct alternative to the Godox V860II, which is the Yongnuo 600EX-RT II. It runs on AA batteries, so the advantages of the proprietary battery are gone. In exchange, it offers smoother compatibility with Canon's own flashes and transmitters.
Otherwise, their features are almost identical. Their prices are also about the same, the difference fluctuates, but the Yongnuo's is usually slightly lower.
Our Verdict
The Godox V860II is an excellent budget flash unit with not-so-budget features. Pair it with the X1T trigger module (and potentially a few other Godox lights), and you have a fantastic setup for serious lighting.
Godox V860II-S High-Speed Flash
Looking for a powerful and reliable flash unit that won't break the bank? Look no further than this high-speed flash, compatible with Canon EOS cameras and offering a guide number of 60m at ISO 100.