Capturing the innocence and beauty of a newborn baby is one of the most rewarding things a photographer can do. And with a little bit of practice, you can create some stunning images.
In this article, we will share ten of the best newborn poses to try. But before we get started, let's take a quick look at some tips for photographing babies.
eBooks and Courses for Everyone
Always Start With Safety Measures When Doing Newborn Poses
Always prioritise safety when posing a newborn.
If you are a beginner, stick with simple poses. Work with basic positions and ideas. Then you can add variety by adjusting the hands and legs, your camera angle, the crop and varying props.
Newborns often need props because they can't hold themselves up.
You don't need to spend thousands of dollars on fancy studio-level gear. But a few simple, inexpensive items make a big difference in the poses you can create.
Your first go-to item for newborn photography should be a beanbag. Of course, you can buy specially designed newborn beanbags, but a regular beanbag chair will work too.
Beanbags are safe, soft places that you can easily mould to prop the baby up. First, place a blanket or backdrop over the beanbag. Then, you can either adjust the beans inside the actual bag or place rolled-up blankets or towels to prop up the baby.
U-shaped nursing pillows are perfect for safely propping up the baby's head.
Always keep an adult within arm's reach. When in doubt, have someone hold the prop in place and composite the arm out later.
Let's have a look at some of the best newborn poses.
1. On the Back Pose
Placing the baby on their back is a safe, simple pose. With a back pose, you don't need more than a blanket and a soft surface. But you can add plenty of variety by using different props.
Back poses work well for swaddled babies, as well as newborns in their birthday suit! If the baby is nude, make sure you cover them with a blanket to keep it appropriate.
Once the baby falls asleep, you can add variety by taking shots at different angles.
You can try shooting the back pose from straight above. Also, by propping the baby's head and feet up, you can get a sweet shot from the side without having to move the baby.
2. On the Side Pose
To place a baby on their side, use blankets, towels or the beanbag to elevate the head or feet as needed.
To emphasise those cute fat rolls, make sure the baby's hands or blanket don't cover their face.
Side poses work well both swaddled and unswaddled. Again, this pose is easy to work with.
By changing the camera angle, you can make it look like the baby is sitting upright.
3. On the Tummy Pose
Placing the baby on their tummy is harder. Keep the baby in a natural position to make sure the pose is safe. Also, take care not to obstruct the baby's face.
Prop the baby's head up higher than their bum with a blanket or a u-shaped nursing pillow.
You can shoot the tummy pose from the side or above. Adjust the baby's head gently so you can see the whole face if needed. Again, take care to keep the baby comfortable and in a natural pose.
4. Lying on the Belly With Chin on Hands
This pose gives a dreamy appearance to your shots. The newborn will be on their tummy, with their hands under their chin.
Place a pillow under their baby's hands, or arrange the props to raise their upper body.
Usually, you can curl the arms under their chin easily. But don't expect those tiny hands to hold the head up. Instead, rely on the pillow to keep their head in place.
5. Newborn Froggy Pose
This pose is a composite done in Photoshop. Babies can't hold this position themselves, and it's unsafe to try putting a baby in the final pose shown in the image without any support.
For the first image, ask a parent to support the baby's head from above, with the baby's arms placed on their chin. Then, ask a parent to support the baby's hands while placed under the baby's chin for the second image.
Merge these two images in Photoshop and remove the parent's hands.
It takes a while to create these kinds of images, but the result is cute and this pose is quite popular. Parents often ask for it.
This pose can be dangerous if the baby is not supported carefully, as this is not a natural position. So if the baby gets upset when taking the two images, it's best to avoid this pose.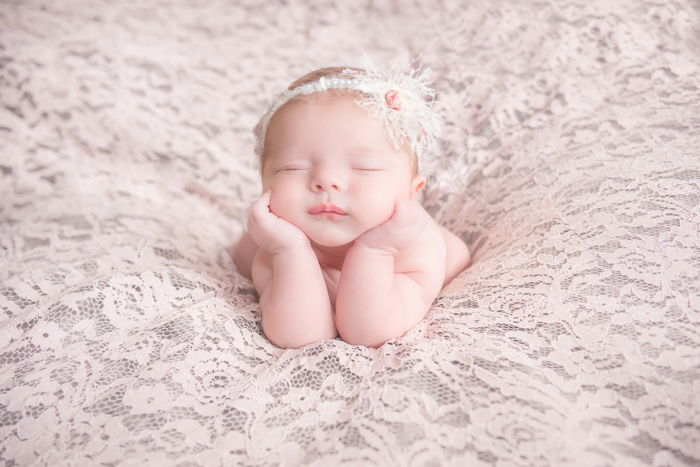 6. Potato Sack Newborn Pose
For this pose, you will need some fabric to wrap and curl up the newborn. Being curled up is comforting for babies because this is how they were inside their mother's belly.
This pose gives an intimate and wholesome image.
You can vary this pose as you wish with props. For example, try using little hats and headbands or any props that you think will work.
Make sure to support the baby from all sides. You can do this with a pillow or blanket. This will give a soft, warm and comfy feeling to your newborn photography.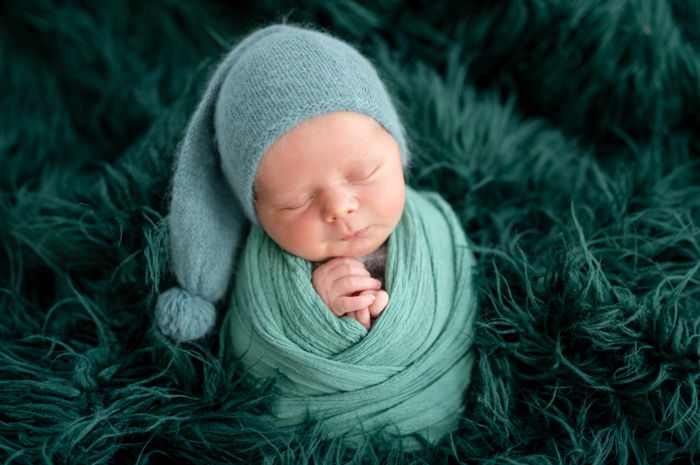 7. Tucked in Bed
For this newborn pose, cover the baby with a blanket to show only their head and face. You can place the blanket under the chin, but covering a little can make the image cosier. Make sure not to cover the baby's nose so that they can breathe safely.
Shooting from above is the best for this pose, as this way you can enhance the small size of the newborn.
Using a cute toy is a great prop for this scene. A toy is also great for scale. You can use the same toy for future photos to show how the child is growing. If you use the baby's favourite toy, the baby will love recognising it in the image once they are older.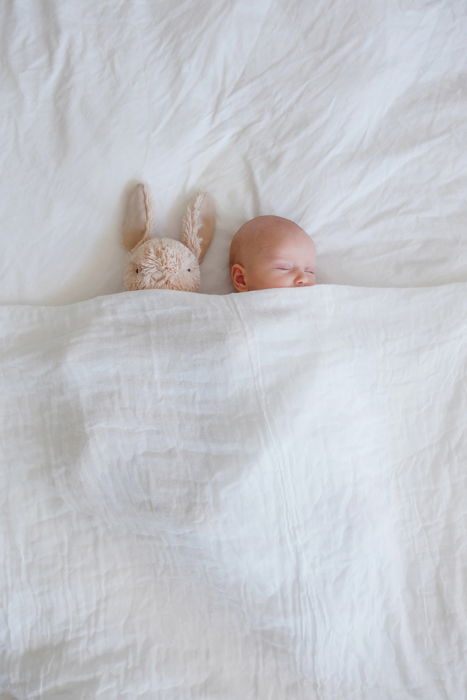 8. Getting Close and Capturing Details
These poses help enhance how small the baby is. It's popular to take up-close shots of baby hands and feet.
You can use the parents' hands to emphasise the size differences and capture a warm family moment.
Or, you could also focus on the face of a sleeping newborn to capture the calmness.
The possibilities are endless, but try not to rely only on this technique. Parents will want to make sure they also have images where you can see the entire baby.
Use this style as a part of your newborn portfolio to complement wider compositions.
9. Pose With One Parent
Your images should show the connection between the baby and their parents.
Parents love to have photos of them holding their baby. Taking shots of the baby with one parent at a time will help you capture their relationship with the baby and showcase their personality.
Ask them to hold the baby close to them. For example, you can ask the parent to give the baby a hug or a kiss. They can hold the baby up to their faces or make them laugh. Let the parent express their connection with the baby.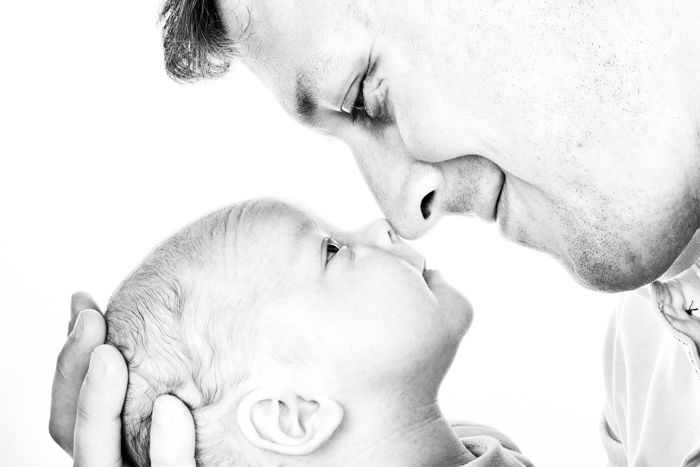 10. Pose With Both Parents and Siblings
Involving the whole family helps make the photo session a memorable moment. You should capture the joy this newborn is bringing to the family.
Pay attention to the poses of all the members. They should be relaxed and close to each other. A distant or uncomfortable pose will create tension instead of harmony.
Let siblings play with the baby and laugh together.
Pay attention to where the family members are facing. For example, by looking at the baby or having their eyes closed together, you can enhance their family unity.
If they are looking at the camera, it's more like a documentary image. This can also work, but be careful to make sure you don't lose the family's energy by making the image too formal.
Conclusion
As a newborn photographer, you might meet babies who can easily get distracted. So, always prepare yourself for a long session because a lot depends on the baby's mood.
Be careful not to move the baby too much, as you might then have to wait for them to settle. Instead, take as many shots as possible with only minor adjustments to your angle and the baby's position.
Parents might have ideas in advance that you might not be able to do. Talk to the parents before and during the photography session and let them know if a certain pose is unsafe or if the newborn is not comfortable.
With these newborn photography tips, you're ready to capture images that parents will love!


eBooks and Courses for Everyone