Recently, we got to try the Duo Boards from V Flat World. And our experience with their newest product makes us rethink using tabletop backdrops!
Early in our food photography careers, we used cheap vinyl backdrops at our home studio. But it didn't take long to discover they were too flimsy and often reflected too much light.
After a while, we gave up using artificial backdrops altogether. And we used real ones instead. Our workshop has all sorts of backgrounds, like aged wood, tiles, and even heavy marble blocks.
We're satisfied using real, natural backgrounds for our photography. But they're cumbersome and take up too much space.
Looking for a portable and realistic alternative to traditional backdrops for your product and food photography? Look no further than V-Flat World's Duo Boards! With two unique designs, easy setup, and stain-resistant surface, these boards are a must-have for any serious content creator.
V Flat World Backdrops Overview
V-Flat World is the leading supplier of V-flats, which are technically large foldable "bounce boards." These light modifiers have a white side reflecting light and a black side absorbing light. Photography enthusiasts use them for various purposes, from portraiture to still life photography.
But V-Flat World offers more than V-flats. Their other popular product line is Duo Boards. They're artificial backdrops for product and food photography. Each panel has two sides. All you have to do is flip the board to change your background.
These boards are ideal for flat lays. But you can also set them up as a floor and wall to create realistic lifestyle settings. So if you're looking for a location with an incredible backdrop but can't find one, these boards are an excellent alternative.
V-Flat Duo Boards Users
So who will find these most useful? Duo boards are pretty small (even the 30 x 40-inch options). So they're perfect for a home studio with limited space.
But of course, the Duo Boards aren't just for home use. V-Flat World was also thoughtful enough to design a travel bag for these backdrops, making them easy to transport for location shoots.
The Duo Boards' high quality also makes them suitable for studio work. After testing these backdrops, we know they'll survive the rigors in a professional setting for years.
In short, the portable Duo Boards can cater to the needs of anyone—from still-life enthusiasts to expert photographers.
Key Features of Duo Boards
Let's take a closer look at Duo Boards and what they offer.
Size Options
Duo Boards come in two sizes—24 x 24 inches (61 x 61 cm) and 30 x 40 inches (76 x 102 cm). If you exclusively work with small products, then the smaller version is perfect for you. And if you photograph large objects a lot, you can always buy the 30 x 40-inch one instead.
Textures
Printed at 1000 dpi, these boards have hyper-realistic textures and a matte finish that minimizes light glare. So far, V-Flat World offers about 18 double-sided boards. They have various surfaces—everything from concrete to wood.
Spillproof Material
V-Flat World claims these backdrops can take all sorts of spills, which is great news for food and beverage photographers. You can easily clean them with soap and water without worrying about stains!
Duo Board Legs
The Duo Boards come with stands that allow you to set up the backdrops like a wall and a floor. They're made of hard plastic and effortlessly hold even the 30 x 40-inch panels.
Real-World Use
So far, everything we've mentioned about the background panels is already listed on V-Flat World's website. But we know you're more curious about how the product performs in real life.
To answer your burning questions, we did a photoshoot involving messy foods. We wanted to see if the boards would meet the demands of professional food photography.
A Straight-on Shot
We wanted to try the Duo Board's stands for our first shoot, so we went for a straight-on angle.
Using the leg stands was easy. All we had to do was snap them onto either side of the Duo Board we wanted to use as a wall.
The plastic legs have recesses that allow you to slide another panel flat—under the backdrop already standing up.
The recesses are a simple design feature from V-Flat World that we genuinely appreciate. Those small gaps are enough to ensure the backdrops don't move around when we take pictures.

The 30 x 40-inch Duo Board we used as a wall drooped a little once we set it up on the stand. But it felt secure. And we're happy to report that the legs were sturdy enough to hold such a large board.
For our first shoot, we used one side of the Duo Boards: the Cranberry Crimson and Terracota Blush.
We wanted to see how the boards would perform in soft, moody lighting. So we set up a strip box on one side of the Duo Box and added a "flag" in front of the flash unit. It sounds a bit technical, but the flag was just a foam board with the black side limiting the light that reached our background.
Even a complex lighting setup didn't produce harsh hot spots on the Duo Boards. As you can see in our final photo, the panels worked as advertised. Our setting looks so authentic. It looks like we took it in an actual location.
We were also quite impressed with the realistic texture on these backgrounds from V-Flat World. Both the boards we used still appeared quite detailed, whether lying flat or standing up. And even though the wall was blurry, it produced a pleasing bokeh that enhanced the aesthetic of the picture.
An Angled or Flat Lay Shot
Using tabletop backgrounds for straight-on shots is one thing. But it often gets a bit complicated when it comes to an overhead or angled picture. You'll quickly see the difference between well-made backdrops and bargain options.
Since some companies make backgrounds of low-cost materials, they usually reflect too much light. So you end up with ghastly hot spots and highlights that make your picture unusable. It's a terrible flaw if you want to achieve professional results.
V-Flat World makes its boards from better quality materials. So we decided to test them and see if they produce highlights when shooting at an angle. To add to the challenge, we used a bare flash, which created intense bursts of light.
We chose the French Clay side of the Duo Board for our flat lay and angled shot. Since it had a lighter tone, it had the potential to create even harsher hot spots.
Any surface produces unattractive highlights with a bright output from the bare flash. But we were pretty surprised that the matte surface of the Duo Board dispersed the flash's light evenly.
To even out the shadows, we used a bounce board on the other side of the fruit tart we were shooting. The white side of the panel reflected the beam from the flash and softened the harsh shadows the strobe produced.
The light produced more hot spots on the fork but not on the Duo Board's surface.
The combination of the Duo Board and the bounce cards made the images look magnificent straight out of the camera. In contrast, a cheaper backdrop probably would have forced us to look for other angles to avoid hot spots.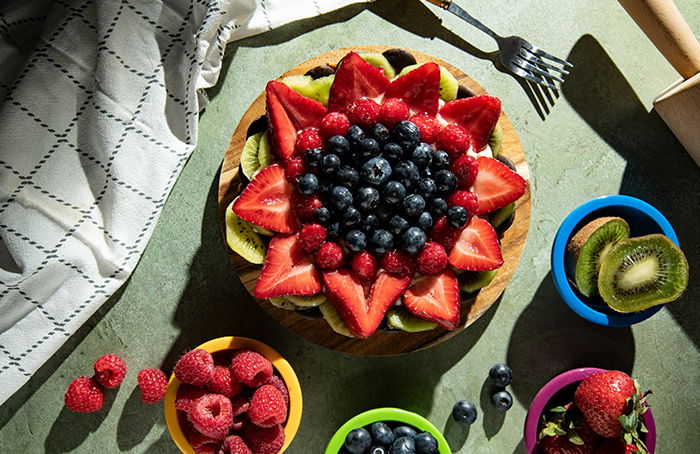 Cleaning the Duo Boards
For this review, we intentionally used messy foods to test the quality of the backgrounds. We placed onion rings and juicy fruits on them to see if they'd leave marks.
Examining the boards themselves, we knew they'd easily repel liquids. The foods we used were greasy and juicy, but we weren't surprised that they didn't leave any stains on the boards.
We cleaned the boards with the large microfiber towel in the backdrop kit. According to the instructions, we weren't supposed to use chemicals when wiping the background. So we created a soap-water solution and sprayed it on the board surface. After a wipe or two, the panels looked brand new again!
Storing the Backdrops
The boards are wide, but they're also thin. So it was easy for us to stack them together in a small space.
You can also use the optional bag to store up to five Duo Boards. We like using it because it has padded compartments. It ensures the backdrops won't get damaged during transport. It also features wide pockets that let us store the stands and other accessories.
The bag costs more than $100 (USD), which we think is a bit too expensive. But if you travel a lot to do photography, it's the best storage option you have. It offers a convenient way to store and transport your backdrops.
Alternatives to Duo Boards
Perhaps one of Duo Board's biggest competitors is Replica Surfaces. It's similar in quality and price. But the difference is that Replica surfaces aren't double-sided. Regardless, they're one of the more popular background options out there and they offer dozens of patterns to choose from.
If you want a cheaper alternative to both Duo boards and Replica Surfaces, we suggest getting a Snapit backdrop instead. They have limited options when it comes to patterns. But they offer kits that include two double-sided panels (four different backgrounds) at an affordable price.
Verdict
V-Flat World's Duo Boards are on the higher end of the spectrum for the price you pay. But it's on par with the other premium-quality backdrops on the market. And since it's double-sided, that means you're technically buying two backgrounds for cheaper.
So if you're serious about food and product photography, this backdrop system is a worthy investment. Based on our experience, we certainly wish we had bought these boards from the start instead of going through tons of cheap options that didn't work.
After testing V-Flat World's boards, we're confident they will be a staple in our studio. In fact, we're now even looking at new backgrounds we want to add to our collection!
Scores
Measurement

Measurement

Score

Main Features

Main Features

Extra Features

Extra Features

Construction and Durability

Construction and Durability

Handling and Ergonomics

Handling and Ergonomics

Value for Money

Value for Money

Total Score

Total Score
Looking for a portable and realistic alternative to traditional backdrops for your product and food photography? Look no further than V-Flat World's Duo Boards! With two unique designs, easy setup, and stain-resistant surface, these boards are a must-have for any serious content creator.