Architecture photography is one of the most popular genres out there. From abstract photos of buildings, to holiday snaps of great landmarks.
But there is a lot that goes into getting good architecture photos.
These eight architecture photography tips will help you improve your photos. And get more creative!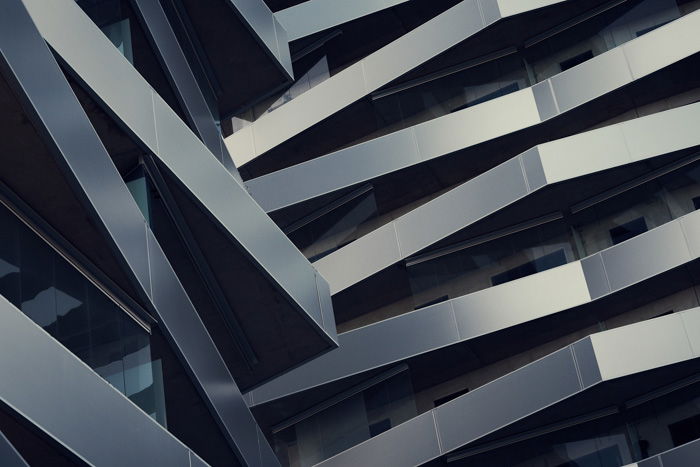 8. What Equipment Do You Need
It's possible to get great photos without these equipment items. Yet, for the most outstanding photos, you need them.
Tripod – The most important item any architecture photographer can have. You'll need this for any low light photography you may attempt. A tripod also allows you to bracket images. This will aid you in blending these together using Photoshop luminosity masks. A great architecture photography tip for removing people from the frame? Take many exposures of the same scene. And then use the median function in Adobe Photoshop to remove people from the frame.
Wide angle lens – The most interesting architecture will be big and grand in scale. The best way to capture the scale of this is by using a wide angle lens, you may even experiment with a fish-eye lens.
Tilt-shift lens – You'll photograph most architecture at a wide focal length. But you'll have to contend with wide angle distortion. The best lens to deal with this problem is the tilt-shift lens. But, it's also possible to correct this distortion during post-processing.
Off-camera lighting and a bubble level are also very useful things to have with you.
7. What's the Best Time of Day for Architecture Photos
Knowing when the light will be best for architectural photography is key.  This area of planning will go a long way towards you getting a good result.
A great architecture photography tip for you – the best light can occur at different times of the day. This will depend on the type of photo you're attempting to make.
Use the website Suncalc to find out where the sun will be in the sky. Factor in the architecture, and you'll see how the light will hit it and from what angle.
Think about the way the shadows emphasise aspects of the setting you're photographing. Plan for optimal light conditions like the golden hour, and blue hour.
Golden Hour – This is the period of the day an hour before sunset, and an hour after sunrise. During this time you will get warmer tones, and the light will be coming in from a flatter angle.
Blue Hour – This is the period before sunrise, and after sunset when the sky goes a deep blue. Those near the equator will experience this light for a shorter time than those further away. This gives you a small window where artificial lights still shine on the structure. It will give your photo a different feel to a daytime image.
6. How to Find Interesting Buildings
You'll need to research the location of interesting buildings for your architecture photography. These locations will be close to cultural centres or large cities.
Large cities have budgets to commission interesting architecture. An example would be Angkor Wat – once the seat of the mighty Khmer kingdom in Cambodia.
Where to Look Online
New to a town, and don't know where to find the most interesting structures? One option is to visit websites that offer advice to tourists, like Tripadvisor.
A better option is looking at websites like 500px for inspiration from photographers. These might be those who have visited or live in the place you are.
Does this mean you have to go abroad? Of course, not, every place will have a piece of architecture worthy of note. Take your time to hone your skill photographing the architecture within easy reach.
When you have the chance to photograph more exotic architecture, you'll be ready.
5. How to Create a Varied Architecture Portfolio
It's not good practice to photograph architecture from one angle. Especially if that's the same 'eye level' angle common with tourists.
What are the other options you could be using?
Worm's eye view – A unique view of a building if you look straight up. To get the building in your frame, this angle will need you to be close to the building. This will result in perspective distortion emphasised by taller buildings or structures.
Bird's eye view – This time you'll be looking down. To achieve this, you'll need a close, tall building with access to photograph from.
Aerial – This is the same as a bird's eye view. With the advent of drones and aerial photography, this deserves its own subcategory. The advantage here is being able to choose any angle, as you're flying. The downside is the cameras on drones do not offer great quality still photos.
Detail – Besides the wide shots; look for details. Concentrate on ones that give your photo context. Did the architect put something specific into this structure?
Interior – A great architecture photography tip is not to neglect the interior. This can sometimes be even more spectacular than the exterior. Again, utilise the angles you have at your disposal, though not with your drone!
4. How to Contextualize Your Photos
A great deal of planning will go into any piece of architecture. It's meant to be a statement, specific to its place or the period when it was built.
Look at how the architecture fits into its environment. Then think about how you can capture this in your photo. This is where your wide angle lens or drone will help you.
You'll need to find somewhere that offers you a clear view of the structure. Also, a vantage point that offers a look at the surrounding environment. you need to tie these in with an angle that gives you a correct exposure.
Why Add the Human Element
It's easy to look at how you can exclude people from your photo. After all, the frame becomes cleaner and quieter. That would be a mistake though, as people need to experience architecture.
It could be people viewing a piece of public art. Or because they work in the building itself. Architecture is often designed for the people who use them.
One of the best reasons for including people in your photo is they'll provide a great sense of scale. They will show you how big the building is, which might not be obvious.
Architecture and structures are often used in forced perspective roles. This is where people interact with the structures in a confusing and often funny context.
3. Post-Processing Architecture Photography
Following the steps already described will get you a good photo. We don't stop there.
There are many ways post-processing is going to help you, so let's break it down.
Removing Unwanted Elements
It's possible to remove objects from your photo by cloning them out. This is a great tip for photographers, especially when the image is too busy.
One of the most common unwanted elements is too many people. The most effective way to remove them is to take many photos of the same scene from a tripod.
You can then layer or 'stack' these photos together in Photoshop. By using the median function, you can remove the people from your scene.
This approach does rely on moving subjects, as you can't capture part of an image that hides from view.
Digital Blending
Levels of light can vary across an image. For example, you have architecture photos taken against a sunset sky. You may not want the silhouetted scene you have captured.
This is where digital blending comes in. You'll need to take a set of bracketed images to apply this technique.
Learning this technique will improve your work. Both for interior and exterior architectural photos.
Sharpening
Getting a sharp image is vital for architecture photography. There are a range of programs you can use to sharpen your photo.
Nik Sharpener Pro is a great piece of software for this. It allows you to sharpen locally, as you see fit, within your image.
For other instances, Photoshop and Lightroom give you features for sharpening. Either for parts of an image, or the whole thing.
Enhancements
The next step is giving your photo 'punch'. You do this by adjusting contrast and saturation in your photo. Nik Color Efex offers a range of filters that allow you to do this.
The pro-contrast filter and brilliance/warmth work well in combination. Take care not to overpower the image with these filters though.
You can enhance contrast through Adobe Photoshop and Lightroom. My favourite tool is the clarity slider which adds contrast to the mid-tones.
Noise Reduction
There is a good chance you'll need to use a noise reduction program on your photo. This is especially the case if you captured a long exposure, or used a high ISO when taking the photos.
Besides this, post-processing will add noise to your photo. Techniques like sharpening and adding more exposure to your image add digital noise.
The last step in your post-processing should be noise reduction. Be aware that this will soften your image.
Look to reduce the noise in areas like the sky. Avoid too much noise reduction of the architecture which is the focus of your image. You'll want to the structure to be sharp.
Once again, the Nik suite of programs provides a good program called Nik Dfine. This lets you adjust contrast and reduce color noise separately.
2. Why You Should Visit the Location Several Times
Almost every location you visit deserves many revisits. Those reasons include changing light, the difference in seasons, or acquiring new equipment.
Going to a place for the first time is very much a reconnaissance mission. Gathering information about the light and popularity of the site is important.
It's likely you'll get a great photo on your first trip. This is providing you did your research. But nothing beats looking and capturing the structure through different perspectives.
Being on the ground, for example, allows the possibility of a more interesting angle.
Why not take those angles on your first trip? Well, you likely will, but will you be getting those photos at the best time of day for the light?
It's possible you'll have good light for one or two photos before the light changes or darkens. That means visiting again for more photos is the best approach.
1. How to Get Creative With Architecture Photography
What I've already talked about can get you a great photo. But, by using more creativity you can push the boundaries of how people see the structure.
It's worth nailing the best photo you can before approaching some of the other techniques. Once you have a great photo you can try out the following.
Get Out There and Use These Architecture Photography Tips!
The best way to improve your photography is through practice. So get out there and start putting what you've learnt in this article into practice. Is there an approach you use for your architecture photography?
We'd love to hear about it, together with any photos you have of architecture. Please share your work and ideas in the comments section.