If you're passionate about photography, it's likely that at some point you'll want to try your hand at architectural photography. This type of photography can be very rewarding, as you have the opportunity to capture stunning images of buildings and other structures that often span for many acres. But it can also be challenging, as there are a number of things to consider when photographing architecture. Here are eleven of the most famous architectural photographers who have mastered the art form.
eBooks and Courses for Everyone
Famous Architectural Photographers: What is Architectural Photography?
It's exactly what you think—pictures of buildings. Some photographers focus on pattern or texture. Others use block colors and clean lines for minimalist art. Still, others document the growth of a city skyline or create a typology of images. They all fall under architectural photography.
11 Famous Architectural Photographers You Should Know
To inspire you, here are eleven of our favourite architectural photographers of all time. You will find photographers in various eras. And not everyone featured on this list was active during the age of Instagram.
Berenice Abbott first became a famous photographer for her portraiture during the 1920s. Under the tutelage of Man Ray, Berenice photographed people in high-class social circles. She returned to New York in 1929 to find the skyline was changing. So, she devoted herself to capturing it. You may not know it, but you will have seen some of her work. She made stunning high contrast black and white photographs of New York during the great depression.
Shulman's photograph of the Stahl House (1960) glamorised the modern California lifestyle. He was key in promoting modernism. His work has tracked architectural changes throughout Los Angeles for 70 years. As his work featured buildings and inhabitants, it shaped views of Californian life. The Stahl House has since appeared in more books, advertising, and movies than any other.  In 2004, he photographed Frank Gehry's stunning design for the Disney Concert Hall.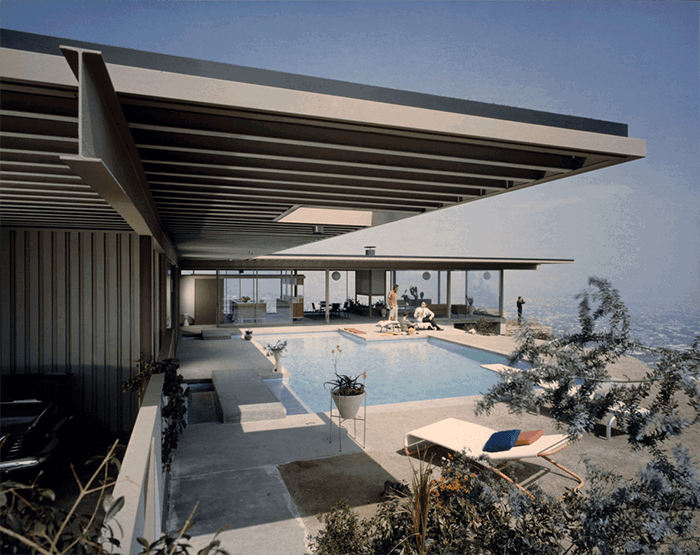 Lucien Hervé portrays space, texture, and structure in a way not seen before. Many consider him one of the great architectural photographers of our time. His influence shows up throughout modern architecture photography. And, his personal story is as fascinating as his photographs. Germans capture him during WW2. He escaped and earned a medal of honour from the French Foreign Legion.
Hilla and Bernd Becher spend 40 years documenting industrial architecture. They presented their work as typologies—grids made up of photographs of the same thing. It is only when we see them together that the differences stand out. Water towers, blast furnaces, and factories feature in their award-winning work. They also founded the Dusseldorf School of Photography. In doing so, Hilland Bernd mentored a generation of world-class photographers.
Walker Evans
Walker Evans was an early 20th Century photojournalist. His work for the Farm Security Administration depicting the effects f the Great Depression is his most famous. As a large format photographer, Evans' aim was to take photographs that are 'literate, authoritative, transcendent'. A subject of retrospectives the world over, Walker Evans is undoubtedly one of America's greatest architectural photographers. Helen Levitt, Robert Frank, Diane Arbus, Lee Friedlander, and Bernd and Hilla Becher al count Evans as an influence. As an originator of documentary-inspired work, Evans was able to see his present as if it were past, creating a visual encyclopedic of Depression-era America in the process.
In over fifty books and exhibitions, American photographer Robert Adams documented the despair and hope of the American West. His upbringing across the country, made Adams think about parts of the Western region's geography and architecture which required photographic exploration. Adams' work examined a mixture of the human imprint on nature, as well as nature's resilience to it—all within the context of western landscapes and architecture.
David Goldblatt
The South African photographer David Goldblatt was famous for his images depicting the country during apartheid. A photographer for some fifty years, Goldblatt's work did not focus on the violence of the time. Rather, it showed the effects apartheid had on landscapes, society, and architecture of the time. Having never been photographed in color in his apartheid work, Goldblatt explained as being inconsiderate. In his later life, color was gradually introduced to his landscape photos.
Mostly known as a pop artist, Ed Ruscha's series of Twentysix Gasoline Stations is an example of his unique take on architectural photography. Mostly without human presence, Ruscha's work is meant to emphasise form and building placement over anything else. Aside from Twentysix Gasoline Stations, his Every Building on Sunset Strip is another example of artistic depictions of mid-century South Californian culture.
Carol Highsmith has donated her body of work (42,000 photographs) to the US Library of Congress. Since 1980, she has documented landmark architectural works in all fifty states. In doing so, Highsmith has encapsulated the modern way of American life. Highsmith has documented all fifty US states, as well as Washington DC, and Puerto Rico. Aside from architecture, her work also includes landscapes, urban and rural life, and work environments. As one of the most contemporary photographers on this list, Carol Highsmith has become the seminal 21st-century photographer of American life.
Lewis Baltz
A vital figure in the New Topographies movement, Lewis Baltz images describe the architecture of the human landscape. By this, offices, shopping centres, parking lots, and other everyday buildings are featured throughout. Many of his images also feel with human interaction with landscapes—developments destructive to nature. Robert Adams and Bernd and Hilla Becher are just two of Baltz contemporaries with similar architectural photography styles and goals.
Known for images of banal scenes, Stephen Shore is one of the most famous architectural photographers of the twentieth century. He was also a vital member of the New Topographies movement that also counted Lewis Baltz and Robert Adams as members. A pioneer in the use of color in architectural photography, Shore was the first living photographer exhibited at the Metropolitan Museum of Art. Aside from this musem, Shore has also exhibited at the Guggenhein, Hammer Musuem (Los Angeles), Kunstehalle (Dusseldorff), and Jeu de Paume (Paris).
Conclusion: Famous Architectural Photographers
Success as an architectural photographer isn't about photographing what other people see. It's about showing others how you see the world, in shapes and lines, shadows and tones, or big blocks of color and space. The famous architectural photographers featured here give others a unique insight into the beauty of a space.
Architecture photography provides endless opportunities to be creative. Explore the artists here and take what you have learned to the streets.
Do you want to learn how to capture photos to rent and sell properties at higher prices? Check out our Picture Perfect Properties course!


eBooks and Courses for Everyone