Architectural photography is beautiful to look at. It's also easy to get into and does not need expensive equipment to take. You see architecture every day—where you live, your school, or your workplace. But taking photos of what most people walk past without noticing and turning it into art can be a challenge.
What makes a great architectural photographer is how they represent those buildings. In modern buildings or ancient ruins, no two people see the same space in the same way. Some shoot long exposures on DSLR, some snap on their iPhone. The photographers on this list all have a way of seeing the art in a building's design.
What is Architectural Photography?
It's exactly what you think—pictures of buildings. Some photographers focus on pattern or texture. Others use block colours and clean lines for minimalist art. Still, others document the growth of a city skyline or create a typology of images. They all fall under architectural photography.
11 Architectural Photographers You Should Know
To inspire you, here are eleven of our favourite architectural photographers of all time. You will find photographers in various eras. And not everyone featured on this list was active during the age of Instagram.
Berenice Abbott first became a famous photographer for her portraiture during the 1920s. Under the tutelage of Man Ray, Berenice photographed people in high-class social circles. She returned to New York in 1929 to find the skyline was changing. So, she devoted herself to capturing it. You may not know it, but you will have seen some of her work. She made stunning high contrast black and white photographs of New York during the great depression.
Shulman's photograph of the Stahl House (1960) glamorised the modern California lifestyle. He was key in promoting modernism. His work has tracked architectural changes throughout Los Angeles for 70 years. As his work featured buildings and inhabitants, it shaped views of Californian life. The Stahl House has since appeared in more books, advertising, and movies than any other.  In 2004, he photographed Frank Gehry's stunning design for the Disney Concert Hall.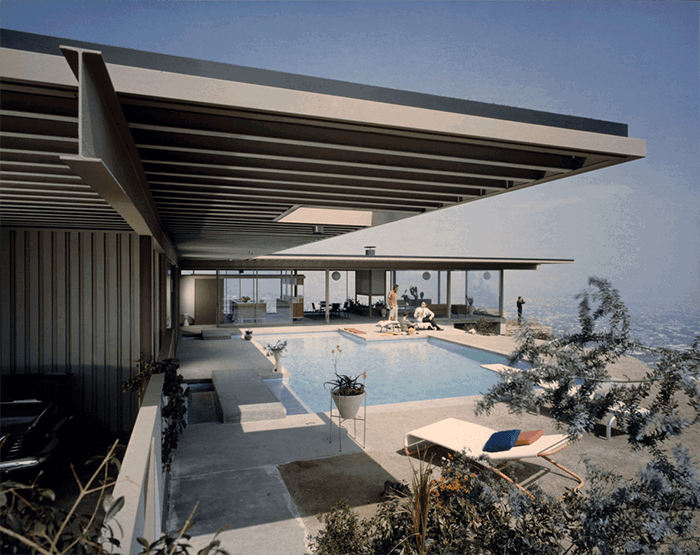 Lucien Hervé portrays space, texture, and structure in a way not seen before. Many consider him one of the great architectural photographers of our time. His influence shows up throughout modern architecture photography. And, his personal story is as fascinating as his photographs. Germans capture him during WW2. He escaped and earned a medal of honour from the French Foreign Legion.
Hilla and Bernd Becher spend 40 years documenting industrial architecture. They presented their work as typologies—grids made up of photographs of the same thing. It is only when we see them together that the differences stand out. Water towers, blast furnaces, and factories feature in their award-winning work. They also founded the Dusseldorf School of Photography. In doing so, Hilland Bernd mentored a generation of world-class photographers.
Héléne Binet found her love of architectural photos growing up in Rome. Unlike most other modern photographers, she works only on film. Her high-contrast images have earned her work with the world's top architects. She also finds beauty in the form and texture of historical buildings and statues.
The symmetry and balance in Zsolst Hlinka's architectural photographs evoke hidden depth. He looks for geometric shapes and repeating patterns to add interest to his shots. His series 'Urban Symmetry' uses cutouts of the buildings along the river Danube. In them, he mirrors one half and then places it on a background of complementary colour. His award-winning pictures have been exhibited all over the world.
Jeanette Hägglund has an incredible eye for colour contrast and the use of negative space. Her inventive use of framing highlights shapes not seen when viewing a building as a whole. She groups work into typologies as she shoots around the world.
Milan based Karina Castro uses architectural photography to promote conversations about socio-political issues. Her images track scientific and technological advancement in the world of sustainable energy. Her use of colour, form, and scale have led to published features on art, tech, and the human domination of the earth.
Carol Highsmith has donated her body of work (42,000 photographs) to the US Library of Congress. Since 1980, she has documented landmark architectural works in all fifty states. In doing so, Highsmith has encapsulated the modern way of American life.
Kerstin Arnermann started as a portrait photographer in Malta. After attaining success in many prestigious competitions, she turned toward architecture. She describes herself as a fine art photographer rather than an architectural photographer. Her long exposure photos are architectural photography at its most beautiful.
Danish minimalist Karen Vikke shoots only on her iPhone. Her clean lines and use of negative space give weight to the architecture within her photos. As a self-taught photographer, she challenged herself to take a photo every day. The result is an Instagram feed packed full of colourful shapes and textures.
Conclusion
Success as an architectural photographer isn't about photographing what other people see. It's about showing others how you see the world, in shapes and lines, shadows and tones, or big blocks of colour and space. Architectural photographers give others a unique insight into the beauty of a space.
Architecture photography provides endless opportunities to be creative. Explore the artists here and take what you have learned to the streets.
Do you want to learn how to capture photos to rent and sell properties at higher prices? Check out our Picture Perfect Properties course!