If you're looking for a unique and interesting photography project, consider staging a photoshoot on a staircase. Staircase shoots can be a lot of fun, and they offer plenty of creative possibilities. Here are six tips to help you get the most out of your staircase photoshoot.
eBooks and Courses for Everyone
Preparing for Your First Staircase Photoshoot
Finding stairs is the easy part. They're in our homes, our offices, and on the street. But you'll need to start looking at them in a new way. You're looking to turn a staircase into art.
Photographing stairs can be incorporated into many styles of photography. Staircases feature in fine art, street, and real estate photography.
You can use any camera for staircase photography. A DSLR or mirrorless camera is perfect. But you can even use your smartphone camera. You can use the manual mode of your phone camera app.
There's no particular lens for staircase photography. It depends on what you're trying to achieve. A wide-angle lens can give you great shot options, as can a telephoto lens. But a standard prime lens is perfectly good too.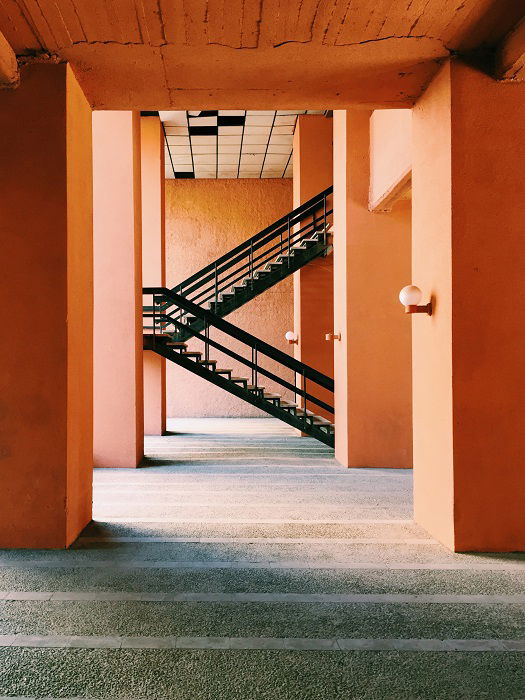 6 Tips for Perfect Staircase Photography
Let's get started with our tips for perfect staircase photography.
1. Use Stairs to Lead the Viewer
Humans are naturally curious. And you can exploit their curiosity in staircase photography.
As a photographer, you can use stairs to lead the viewer's eye. You can draw their attention in a certain direction and entice them in. The perspective of the stairway as it narrows in the distance leads the viewer forward.
Stairs are often used as a storytelling technique. They can lead the viewer to new areas. Going up a flight of stairs can signify freedom, while going down can arise feelings of fear and foreboding.
A spiral staircase is a common feature in fairy tales and cinema. The winding nature of a has a mysterious quality. We don't know where it leads. But we want to know. This is a feeling you can enhance with your photography.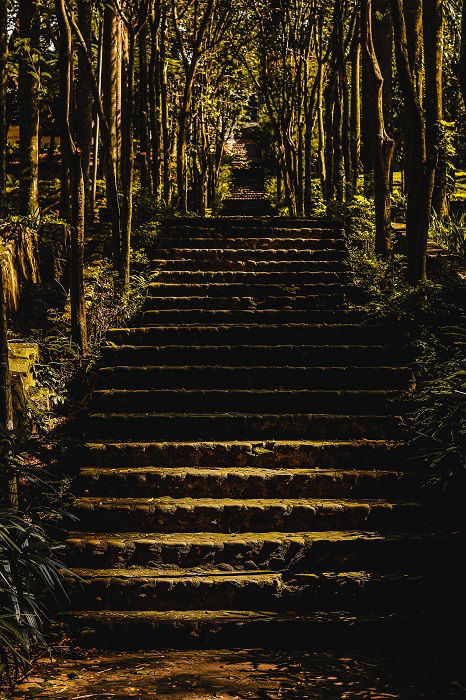 2. Use Straight Lines to Create Patterns
The world around us is comprised of patterns. But sometimes, we have to change our perspective to see them. Staircases are the perfect example.
Staircases are made up of straight lines, some long and some short. They create angles and draw new horizons. You might need to change or viewpoint. Or you can try turning the camera, or yourself, on its side.
Using straight lines in stairs is excellent for abstract architectural photography. And it can help bring texture and structure to your street photography.
You can use straight lines to guide the viewer. Or they can be used to frame a subject if you're doing portraits or fashion photography.
3. Use Curves and Spirals in Your Staircase Photography
A spiral staircase is full of curves and twists that make it a great subject for photographers. They intrigue us. And they are full of features that make for interesting photos.
From below, a spiral staircase invites us to climb up. But from above, the perspective can trick us into thinking it's never-ending. The curves of the spiral narrow and curl into a central point.
You can use a wide-angle lens to accentuate the curves of the spiral staircase. This will add to the dream-like quality they already possess. Or you can create a feeling of vertigo in your photo.
A spiral staircase doesn't have to be round. You will often find angular spirals in office buildings and apartment blocks. If you stand at the top and look down through the center of the stairwell, you'll find your spiral.
4. Look For Symmetry In Staircases
The uniform lines and curves of staircases make them an excellent place to find symmetry. The steps, bannisters, and walls create symmetrical patterns photographers capture in their photos.
Many public staircases, in train stations, for example, are interesting locations for symmetry photography. They often use a clean and uncluttered design, which makes it easy to find symmetry shots.
The key to symmetry photography is to position yourself directly in the center of the shot. You want to frame your photo, so each side of the shot is identical.
Having a subject in the middle can help to emphasise the symmetry in your shots.
5. Use People to Add Feeling to Your Staircase Photography
Adding people to your staircases can create new points of interest in your shots. You can use the soft shapes of the human form to break and contrast with the shape lines of the stairs.
People can also be used to lead the viewer. If the subject is going up the stairs, our eyes will naturally follow them.
Human subjects can also bring emotions to your shots. Rather than using staircases for abstract shots, you can use them to enhance the feelings in your photos. They can symbolise a struggle or the drudgery of the daily commute.
6. Bring Staircases to Life With Movement
You can add movement to your staircase photography. For example, a straight or spiral staircase in a modern public space can be brought to life by the coming and going of people.
Using a long exposure to add motion blur is an exciting way to bring movement to your staircase photography. The photo can still be abstract. But the moving people add soft shapes that contrast with the lines of the stairs.
This technique can also add emotional depth to your photos. The blurred shapes can add feelings like dizziness or vertigo to the viewer. Or it can give a feeling of loneliness to the subject.
Conclusion
A staircase is an excellent site for experimenting with photography.
Stairs are everywhere. And you don't need to find an exotic site. There is probably a staircase in your house. So you can have a go at staircase photography today!
If you want to learn how to unleash your imagination with photography, check out our Fantastic Photo Adventures eBook!


eBooks and Courses for Everyone