Food photography backdrops are crucial investments if you want to become more serious about taking photos of food. There are so many backgrounds that it's truly up to you to figure out which ones to use.
To help you search for the best food photography backdrops, we list 10 of the best options you can buy online. They come in various materials and styles, so you have many quality options!
Check out our buying guide at the end of the article if you need help choosing the best food backgrounds.
The 10 Best Food Photography Backdrops
Let's look at various backgrounds you can use for food photography. We include all sorts of materials.
We list everything from vinyl food photography backdrops to paper and fabric backdrops. That way, you can choose from a wide variety, whether you're into food blogging or professional food photography.
2 convenient sizes—24 x 24 and 30 x 40 inches
Double-sided panels
Printed in 1000 dpi ultra-high definition
There are so many food photography backdrops available on the market these days. But the ultimate option for us is V-flat World's Duo Boards. Besides their quality materials, they're affordable and offer unlimited creative possibilities.
V-Flat World has some of the most extensive collections of glare-free backgrounds. They include painted walls, marble, and tiles.
As the name Duo Boards imply, the panels are double-sided. That means you can flip them to change your background!
Their patterns are so detailed that you can take close-up photos of food. You don't have to worry about seeing the large printed dots you find in cheaper options.
Duo Boards also come in a 30 x 40-inch size option—the largest on our list. It's the best dimension to let you photograph large tablescapes without sacrificing portability. But despite being wide, they fit perfectly inside V-flat World's custom 30 x 40-inch storage bag for traveling.
For more information on how we tested them, read our Duo Boards review!
Bold colors
Double-sided
Waterproof
Food photography backdrops come in textures that replicate anything from wood to ceramic tiles. But there aren't many options out there that come in plain colors.
The iProtech food photography backdrop is the best choice for any food photographer who likes bright colors. The kit comes with 3 surfaces. But since each panel is double-sided, you get to play with 6 colors for your photoshoots!
15.7 x 15.7 and 24 x 24-inch surfaces
Double-sided
Rigid and waterproof construction
Beiyang is the cheaper version of V-flat Duo Boards and Replica Surfaces. It also offers snap-on brackets that allow you to create a wall and floor setting.
Their largest panel size is 24 x 24 inches, equal to the Replica Surfaces' dimensions. But they also offer a 15.7 x 15.7-inch option for those who photograph smaller food items.
Beiyang's collection is not as extensive as V-flat World and Replica Surfaces. But they offer the more popular backgrounds, including wood and marble.
Their patterns are not as detailed as their competitors. But their print quality is still excellent. You can confidently use the panels for angled shots, and food flat lays.
24 x 24-inch surfaces
Includes two double-sided panels
Rigid and waterproof construction
Like Beiyang, Goshoot is another affordable option instead of V-flat World's Duo Boards and Replica Surfaces. The only difference is that they come in an even simpler package.
Unlike the others that boast an extensive catalog of patterns, it only has 2 double-sided boards that come with the kit.
Nonetheless, it's precisely Goshoot's minimal selection that some food photographers find enticing. They're simple to use and don't involve a lot of decision-making. You choose between the wood and leather or cement and wood options, set them up, and you're ready to shoot.
A large 34.4 x 15.7-inch surface
Easy to store
Realistic patterns
Quality wood surfaces for food photography are difficult to come by. And even if you find good options, they tend to be heavy and take up too much space.
Thankfully, Allenjoy has some of the most realistic wooden backdrops on the market. They have plenty of options, from dark and rustic to lighter wood surfaces.
Allenjoy prints its food photography backgrounds on high-quality paper. Their realistic textures display well even when you do close-up shots.
And even though the backdrops are made of paper, they still repel liquids well. You don't have to worry about accidentally spilling food during shoots.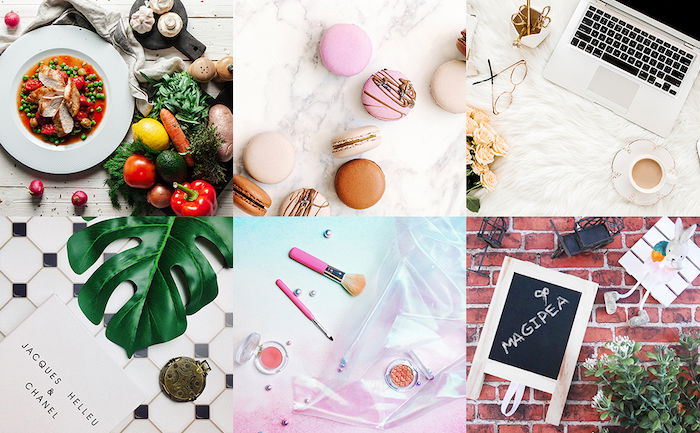 Compact 13 x 13-inch surface
Unique patterns
Includes a small bag
This food photography backdrop kit is the right choice if you're into creating flat lay shots with quirky designs. It has 7 patterns, including pink tiles and a unicorn backdrop with a candy-colored ombre gradient.
Magipea 13 x 13-inch backdrops are smaller than other options. But on the flip side, they're compact and fit in a small tote bag.
All of Magipea's backgrounds are waterproof and wrinkle-free.
5-piece set with 10 patterns
Excellent size for table-top photography
Realistic faux textures and patterns
The iProtech 10-Patter Photography Backdrop Boards give you excellent options for your food photography backdrops. It's a 5-piece set. And each board is double-sided with a different finish on each side. That means you have 10 backdrops to play with.
These include polished marble, wood paneling, and brick walls. And you get a couple of color options for each one. It allows you to create the perfect aesthetic for the food you're photographing.
They measure 16 x 16 inch / 40.6 x 40.6 inch, which is perfect for table-top photography. And it means they are easy to pack away, transport, and store.
The price is more than reasonable. And each board has a realistic finish that'll make your food photography pop.
A large 22 x 35-inch surface
Double-sided
Rollable for easy storage
Meking is the best choice when creating overhead shots in food photography. Unlike other backgrounds with rigid constructions, this option rolls up when not in use. When you're ready to take photos with it, you put weights on the edges to keep it flat.
These backdrops are mostly cardboard. Yet they have a thin plastic lining to make them water-resistant. They may be simple in appearance. But their printed textures look realistic and present well in photographs.
Light-hued patterns perfect for food photography
Realistic textures
Rollable for easy storage
If you don't like dark textured backdrops, consider getting the Evento seamless backgrounds instead.
Selens and Evanto are similar in that they're both made of cardboard and are rollable. But Evanto backdrops feature lighter patterns. They are perfect for creating airy food photos.
Evanto's textured backgrounds are detailed. They have everything from cracks in the concrete to ring patterns in the wooden panels. They add to the realism of your images without being too distracting. And with considerable surface sizes of 22 x 35 inches, they can fit a large dish or a medium spread without any issues.
How to Choose the Best Food Photography Backdrop
As we mentioned in the introduction, you can use just about any surface for food photography. But here are a few pointers to consider if you want to achieve the best results for your pictures.
Materials
Knowing the material of your backdrop helps you determine whether it's durable or not. Below, you'll find some of the most common materials in photography backgrounds.
Paper or cardboard—These can be cheap food photography backdrops. This type of backdrop often features photo-realistic textures. But it's also prone to wrinkling and water damage because it's pretty thin.
Vinyl—It's the best alternative to paper and cardboard. Because it's technically plastic, it's waterproof and durable. But it also tends to be shiny and challenging to unroll.
PVC—It's the most rigid material used for backdrops. But it's worth noting that the printed material is still typically made of paper or cardboard. Ultimately, its durability depends on how the printed layer is protected from water and other elements.
Laminate—This is the best choice when it comes to food photography backgrounds. The top three options on our list are made of this material. The core is typically made of cardboard, so it's light. But it also has a durable layer that protects the panel from water damage and wrinkling.
For the most part, all these materials work well for food photography. But each one has its own set of care instructions.
For instance, if it's made of cardboard, you probably don't want to put wet food on it. If it's made of wood, you may want to treat it with varnish to prevent stains.
With synthetic food photography backgrounds, our favorites are laminate surfaces. They're not only durable, but they're also good at repelling water. It's necessary since most foods tend to be wet or greasy.
Patterns
It's crucial to find appropriate patterns when it comes to food photography backgrounds. Generally, you want your backdrop to have a minimal design. Otherwise, your food gets lost in all those lines and shapes.
But there are also times when patterns give context to your food photos. For instance, if you're shooting a Spanish dish, you may consider using colorful tiles. And if you want to recreate a kitchen setting, then a tile backsplash in the background would be perfect.
Textures
Photographers love backdrops with texture. It doesn't matter if it's from wood grain or concrete cracks—as long as it adds dimension to the image. Those tiny details can make pictures appear more realistic.
Of course, you don't have to worry about the texture of natural backdrops. But when it comes to artificial backgrounds, the best options typically have 3D-like patterns.
Reflectiveness and Glare
Not all food backdrops are the same. Some of them reflect more light than others. So what does this mean to us as food bloggers and photographers?
If you use a background that bounces back a lot of light, you end up with ugly spots in your images.
When looking for a food photography backdrop, examine it in person to see if it's shiny or not. If you can't inspect the surface yourself, watch reviews on YouTube to figure out if it will work for you.
Conclusion
Collecting backdrops becomes your de facto hobby if you're serious about food photography. After all, who wants to use the same backgrounds repeatedly?
You can always start with cheaper options if you're still a beginner. Or you can try creating some DIY food photography backdrops.
As you get better and earn more money, we suggest a system that allows you to expand your backdrop collection. It may be a bit more expensive, but we guarantee it will be worth it in the long run.
If you're trying to improve your food photography, try out The Creative Photography Cookbook for inspiration.