Are you tired of the same old photos with a white backdrop? A colorful background can make your photos pop and save them from looking dull. You can invest in professional backdrops, or you can create your own DIY photo backdrops.
DIY photo backdrops give you a lot of creative control and make your photos look stunning. From a birthday party photo shoot to a newborn session, these are useful anywhere.
BrizLabs LED Color String Lights
Transform your DIY photo backdrop with these 200 LED fairy lights. They come with 6 unique festive buttons and 24 modes to create stunning and colorful photos.
21 DIY Photo Backdrop Ideas
So, how do you make a homemade photography backdrop? Here are 21 affordable and easy DIY photo backdrop ideas for your photo studio or at-home studio.
1. DIY Photo Backdrop Streamers
What can be simpler yet more versatile than paper party streamers? They're great whether you want a colorful backdrop or a subtle one. Just choose your colors and stick them on a wall using masking tape, and your striped backdrop is ready! You can also buy shiny streamer backdrops.
2. Paper Plates
Have you ever hosted a party and been left with a stack of extra paper plates you don't know what to do with? We have a great idea for you! Make your own photo backdrops. There are many funky backdrops you can create with paper plates.
If you want, you can buy different shades of the same color and create an ombre wall. You can also get different colored plates and randomly tape them for bright and colorful DIY photo backdrops. Or you can get paper plates with fun patterns!
Not only can you play with the colors, but also how you place them. If you place them far apart, they look like polka dots. Or you can create a sort of mosaic by making the edges touch.
If you want to create a scalloped effect, overlap them equally. You can also overlap them randomly on top of each other for a fun, playful look.
3. Magical Sheer Curtain and Fairy Lights Backdrop
Do you want a magical fairytale-like photoshoot background? What's better than flowy sheer curtains and sparkling fairy lights? You must buy some fairy lights and sheer curtains if you don't have them at home. But creating this backdrop is extremely easy!
All you need to do is drape fairy lights over a curtain rod and then cover it with a sheer curtain or mesh. You can even add some real or fake flowers at the top to dress it up. This pretty photography backdrop is perfect for soft, feminine portraits.
4. Doily Backdrop
What are pretty, easy to find, and pocket-friendly? Doilies! Doilies make for easy DIY photo backdrops. All you need to do is buy a bunch of doilies and stick them to the wall in whatever form or fashion you like.
You can have a few different colors or get the same color. You can overlap them neatly in straight lines or place them randomly. You can even paint or color a large canvas backdrop or wall. Then, place white doilies overtop to create interesting texture and dynamics.
5. Craft Paper Triangles
Are you feeling crafty? Get out your favorite colored craft paper and some scissors for this geometric photography backdrop.
All you need to do is cut some triangles of different sizes on colored paper and stick them on the wall. Here, you can be as conservative or crazy as you like. You can create a symmetrical pattern, or you can place them abstractly.
6. Scalloped Wrapping Paper
Want a cute and easy pattern for a backdrop? Grab some wrapping paper and create this "scalloped" backdrop.
Cut the wrapping paper into equal-sized circles or tabs (rectangular with a rounded edge). Then, stick them on a plain backdrop or wall. Make sure they line up straight. Overlap rows one over the other to create a scalloped look. You can mix and match solid colors or patterns.
7. Rainbow and Clouds
Have you ever wondered what was at the end of a rainbow? You may never find out, but you can create your own rainbow backdrop! All you need are some colorful streamers and white balloons or honeycomb flower balls.
You also need the basic scissors, tape, and a blue trifold display board. Just tape the streamers to the display board and hang the honeycombs over them. And now you have a cloud backdrop with a rainbow under them!
You can also hang this installation in front of a light blue backdrop or wall to look like a rainbow sky.
8. Ombre Tissue Paper
Are you obsessed with a gorgeous ombre effect? This backdrop may need a bit more effort than others. But it's totally worth it! It involves stuffing tissue paper into a chicken-wire frame.
The tissue paper adds an interesting texture to photos, and the ombre effect looks good with anything. Whether you are shooting products, still life, or portraits, this backdrop works.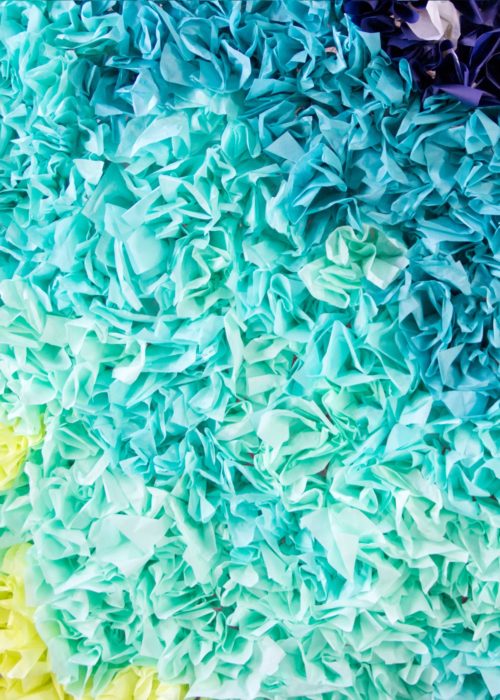 9. Checkered Streamers
Streamers are one of the cheapest and most versatile accessories to make a photo booth. And this checkered pattern is easy to create. All you need to do is choose two or four of your favorite colors.
Besides streamers, you need some double-sided tape and, of course, scissors. Then, begin weaving! This fun background is perfect for still-life photography or for taking quirky portraits!
10. Delicate Taped Flowers
Taping fresh flowers to a wall might seem like a waste, especially if your photoshoot lasts long. Instead of buying a fresh bouquet, use dried or paper flowers. These create an interesting backdrop. You can even use branches, leaves, or grass.
You can remove any visible tape you use in Photoshop. And if your background is blurry, you don't have to worry about the tape being seen.
If you don't want to use tape, you can hang the flowers on strings. Ensure the strings match the color of the wall to make it seem like the flowers are floating.
You can use this DIY backdrop for beautiful portraits. Flowers are a perfect background for a bridal shower photoshoot. You can even use them for creative food photography.
11. Creased Tin Foil
On its own, tinfoil can make a great silver backdrop. If you crease it, you'll create more texture and bokeh. This makes your subject stand out. It's different from using plain old creased wrapping paper. Tinfoil will add a nice shiny effect to your photos.
But be careful when you light your subject because tinfoil reflects light. It might look too distracting if you work with bright light sources. A DIY tin foil backdrop works best with soft natural light, like window light during the day.
12. Cut Out Colorful Tissue Paper
Cut out different shapes and tape them to a wall. You can use colored tissue paper or any other kind of colored fabric that's easy to cut. Colored tissue paper is ideal for photos of children, events, and children's products. It can also be used to create funny self-portraits.
If you work with children in your photoshoot, this is a great opportunity to let them create their own DIY photo backdrops! If you use their shapes and creations, your portraits will look personal and creative.
13. Easy Curtain Background
This is the cheapest and easiest DIY photo backdrop idea. All you have to do is stretch a curtain away from a window and tape it to a wall. It won't look pretty from a distance, but it looks fantastic up close!
Stretching the curtain away creates folds and textures. And it gives you some control over the light you work with. The closer you are to the window, the brighter your subject and the background appear.
After you're done, all you have to do is to put your curtain back in its place. No cleanup is needed! You can even use your shower curtain if it's particularly colorful.
14. Fairy Light Arrangement
Fairy lights are festive, easy to work with, and appealing to the eye. If you enjoy working with vibrant bokeh, you'll love this idea for DIY photo backdrops.
Before you arrange the fairy lights, you have to create supports for them to hang on. I used tiny nails in the photo below. Once the supports are ready, you can randomly place the lights. Or you can use them to create special shapes. It all depends on your creative preferences!
The best thing about fairy lights is that you can use them at any time of day. Do you want to improve your nighttime photography skills? Take photos in a dark room that's lit by fairy lights only. They add a vintage look to your images. And you can also go for a bokeh effect!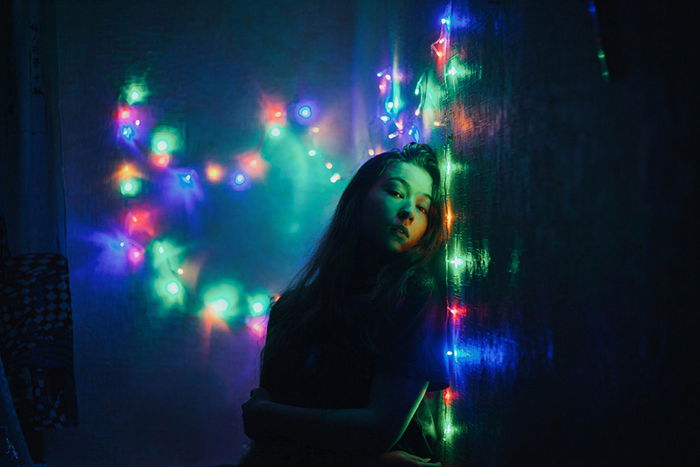 15. Creative Balloon Backdrop
Balloons are another fun DIY project perfect for kids and adults. You can stack them on top of each other, fill them with helium, and let them float, or place a few behind your subject.
A balloon photo background doesn't have to be used for only happy photos. If you use neutral-colored balloons, you can create a more subdued atmosphere. It can be a great addition to a fine-art portrait. If you use vibrant colored balloons, you'll portray feelings of warmth and happiness.
16. Bed Sheets for Interesting Background Detail
Can you use a sheet as a photography backdrop? Yes! This simple backdrop idea helps you see potential in details you've never noticed. If you have a clothesline, you can create gorgeous DIY photo backdrops within minutes.
Hang some colorful fabric and shoot away! You don't even need a backdrop stand for this. And you can use anything from bedsheets to scarves, clothes, and even tablecloths. Yes, plastic tablecloths, too.
These complement your subject and add detail and color to your background.
17. A Backdrop With Stencils and Spray Paint
Bring out your inner Banksy with spray paint and stencils. It's a great way to transform a drab background into something unique and eye-catching. Getting down and dirty with spray paint is also a lot of fun.
The surface can be anything from old plywood to plain white sheets. You can even do it on painted or brick walls or large pieces of poster board. All you need is something flat the paint will stick to.
Use thick cards for the stencils. You can draw the outlines of the stencil if you're a good artist. Or you can print out the stencil designs. There are plenty of stencil designs you can download online. Or you can create your own using digital drawing software.
Cut the stencils out using an X-acto knife or hobby knife. Of course, be careful. Always put something protective underneath, or you'll damage the surface below.
After your stencil is made, it's time to spray away. But take precautions. Wear a face mask and spray outside or in a well-ventilated space. And don't spray paint on anything that doesn't belong to you, including buildings and walls.
18. Depth and Meaning With Old or Printed Photos
You can use old photos to create a backdrop with texture, points of interest, and originality. You can use sticky tape to attach the photos to a wall, bed sheet, or wood panel. Or you can also pin them to a corkboard.
Random black-and-white photos are great for adding texture and interest to a background. They can be a random assortment of images. Or you can include specific objects, scenes, or places.
You can buy bundles of old photos and postcards from garage sales and thrift stores. You can all have beach scenes, or you can have old pictures of Paris.
Using old family photos adds another layer of depth to your images. You can create portraits of family members with old photos of them in the background. A photo can tell a story about their life. It works particularly well with older relatives.
But this can be a fantastic self-portrait project, too. Create a backdrop filled with photos of yourself. Then, take self-portraits standing in front of it. It can show parts of your life or different aspects of your personality. Or it can be a celebration of your happiest moments.
If you don't have many printed photos, you can print digital ones. Or you can buy a few disposable cameras and start snapping some film photos.
19. A Cabin Look with Wood Paneling
A wooden backdrop instantly gives you a cozy cabin vibe. It's perfect for rustic portraits or vlogs. It's also great for product photography and flat-lay photography.
If you have a wooden wall, that's fantastic. But if you don't, you still have some other options. Wooden pallets can be picked up from construction sites. You might have to pay a little for them, but some places might give them away for free.
You can also construct a wooden backboard using planks of wood. Not everyone has them. But if you do, it's easy to create a rectangular backboard for portraits. You can also turn a wooden table on its side. But be careful, of course.
We understand most people reading this won't have access to wood. But there's another workaround to get the rustic wood effect. And that's with faux-wood vinyl panels.
Fake wood vinyl is affordable. And while it might not exactly be a DIY hack, it's a great way to achieve that cabin or country home aesthetic.
20. Homemade Paper Chains
This is the most time-consuming DIY backdrop idea on our list, but it's worth all the hard work. Paper chains make gorgeous foregrounds and backgrounds. You can use these to enhance almost any kind of photo.
To avoid spending hours on a single paper chain, have someone help you. This can become a fun family or school project.
You can cut out almost anything from colored craft paper. Make animal shapes, cut out snowflakes for fun Christmas snaps, or create a banner with names. You can even paint the paper chains to add pops of color to your DIY backdrops.
For an even more interesting effect, hang the paper chains against a black wall. The black-and-white contrast looks amazing in monochrome portraits.
21. "Cheat" With Editing Software
I know we're being a bit cheeky here. But with the advances in photo editing software, changing a photo's background has never been easier. With programs like Luminar Neo, you can transform a portrait with just a few clicks.
You don't have to use Luminar Neo. You can change photo backgrounds on Adobe Photoshop as well.
But Neo's AI-powered background removal tool makes the process super straightforward. Artificial intelligence does all the hard work for you. You only need to choose the image you want and load them into the program.
There are some free photo editing programs you can use. But Luminar Neo is packed with features and is easy to use. It's worth considering if you want to edit lots of photos.
Conclusion: DIY Photo Backdrops
These creative background projects are challenging and fun. And working on these DIY backdrop ideas also helps you to experiment, persist, and grow.
If you know how to make the most of your resources, you can create stunning DIY photo backdrops out of anything. Not only will you enhance your portfolio with stunning creations. Your photos will stand out, so even the least observant viewer will be impressed.
For more creative background ideas, read our article on creating a DIY photo booth. Or, check out our creative eBooks and courses for more tips and tricks to use in your photography.
eBooks and Courses for Everyone