Just because you're not a great artist doesn't mean you can't create beautiful digital art. With the right tools, anyone can become a digital artist. Here are the 15 best digital art programs and drawing software to help you get started.
[Note: ExpertPhotography is supported by readers. Product links on ExpertPhotography are referral links. If you use one of these and buy something, we make a little bit of money. Need more info? See how it all works here.]
15 Best Digital Art Programs to Try
Let's take a look at the best art software so you can start creating your digital masterpiece.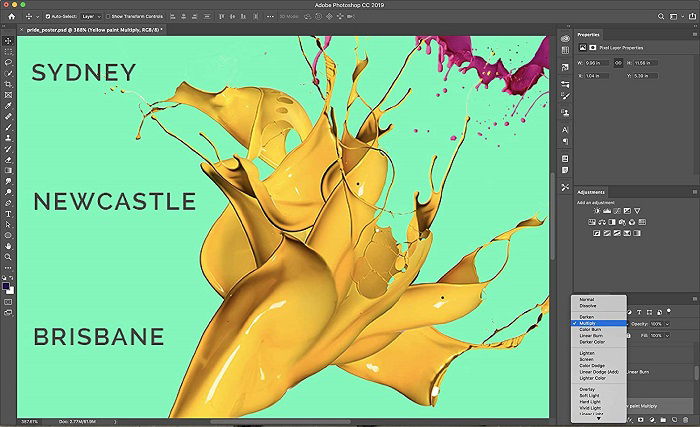 Adobe Photoshop is the wise old man of digital art programs. It has been around a long time and has become industry standard. In fact, it sets the industry standard.
The program is updated all the time. You never have to wait long for new features to be introduced. And it keeps them ahead of the competition. Thanks to the cloud subscription model, the updates are automatic. You don't have to download a newer version to your computer. 
Adobe Photoshop is the leader in digital drawing, animation, and photo editing. You have access to thousands of brushes. And you can even make your own. They have the biggest selection of fonts and original typefaces to choose from. It's ideal for illustrations, website design, and 3D artwork.
Adobe offers a selection of different subscription plans. You can make your decision based on your needs and your budget. But whichever you choose, it will prove excellent value for money.
Affinity Photo is the closest contender to Photoshop's crown. It's a powerful program that makes digital illustration easy. It has an excellent array of drawing tools and brushes. Close to the number offered by Photoshop, though it does lack a few of its more specialist features.
The program is fun and easy to use. And artists and illustrators won't be found wanting for effects and features. Users can switch between vector and raster workspaces with the click of a button. As a result, you can create scalable artworks that are easy to enhance. 
Affinity offers great value for money. You pay a one-time price, which is equal to only a few months of a Photoshop subscription. Of course, Photoshop is a bigger program. But Affinity can also produce professional standard digital artwork. And it's another great option for photo editing too.
Corel Painter is another professional standard digital drawing program. It has over 900 brushes to choose from. You get stencils, pattern pens, and texture brushes. There are also AI-powered set filters for fast editing.
With Corel Painter, you can set up your own unique digital studio. You can categories the brushes to like, creating a unique pallet to work from. If you can't find what you need, you can make your own brushes. Or import them from other artists.
Color mixing is fast and easy. And you can save your personally mixed colors to your pallet. Personalising the digital workspace allows artists to develop their style. It's an ideal program for creating unique pieces of digital artwork.
Corel Painter gives you the option to subscribe with a yearly fee, with an additional cost of the annual update. Or you can purchase the program outright with a one-time payment. Corel is encouraging the subscription model as it does work out cheaper in the long run.
Clip Studio Paint Pro is aimed at manga and comic book artists. But that doesn't mean it's limited. On the contrary, it's some of the best digital art software available for drawing and painting. It also has terrific animation features.
You can experiment with modern digital textures and effects. Or you can create traditional-looking images. There's a pen pressure detection system for pens and brushes that has a hand-drawn finish. It adds personality to your work. And the results are more true-to-life.
Clip Studio Paint Pro has a selection of watercolor and gouache effects for realistic digital painting. The brushes range from sharp to lush, giving you the same flexibility as actual watercolor painting.
Clip Studio Paint gives you the options of the Pro or EX suites. The Pro is the basic option, perfect if you're just getting started. Clip Studio Paint EX is the full package, with everything included. This option is more expensive. But it's an industry-grade digital art program for professional artists.
One of the most exciting and creative applications for iOS is Procreate. It's a drawing and design app, perfect for digital artists with an iPad. It has hundreds of brushes, so you can create anything from digital sketches to detailed artwork.
There are fantastic illustration possibilities with the templates and typography tools. And even though it's an app, it isn't limited. For example, you can customize brushes and use hundreds of layers for one piece. 
One special feature is how Procreate will record your work with continuous autosave, which can then be turned into a time-lapse video. So you can watch the whole creation process from start to finish. The videos are great for drawing and painting tutorials. They're also great for your social media.
It's an exclusive digital art app for iPads, which does limit its appeal. But if you're a digital artist with an iPad, it's a bargain.
Rebelle 4 offers some of the best digital painting software available in 2021. It's a painting software for artists that love painting but hate the mess.
The Rebelle painting software is the best for realistic wet and dry media artwork. You can create digital illustrations using watercolor, oil, or acrylic simulators. The brushes mimic the characteristics of real paintbrushes. And the paint options give the work a warm and real-to-life effect.
Rebelle is an authentic painting experience. And the digital illustrations match the quality of real-life paintings. You even have a tilt feature, which gives the running effect of real paint.
The Rebelle 4 digital art software offers excellent value for money. It's cheaper than both Corel Painter and Clip Studio Paint. And there are regular updates to keep things fresh.
It is a bit specialist. But if you want to replicate wet media art, then Rebelle 4 could be the painting software for you.
Krita is a free digital art software that is fun and easy to use. It's been around since 2004. But even now, not many people know about it. This is surprising as their ethos is to have high standard digital art software for everyone.
Compared to some of the professional digital drawing software, Krita might seem limited. But with over 100 unique brush types and Smudge and Shape engines, there is much scope for creativity. You can also import extra brush and texture packs for more digital fun.
Originally, Krita was designed to be a generic photo manipulation tool. Something similar to Photoshop. But since 2009, Krita has become a dedicated digital painting software. This focus of purpose has improved the application.
This free painting software is available for Windows, Apple, and Linux systems. It's the perfect place to start if you're new to digital art software. But it's just for beginners. The results are excellent. And Professional artists can ply their trade with Krita too.
ArtRage 6 is digital art software that is fully equipped for hobbyists and professionals. The strength of this drawing software is the natural colors and textures it gives you. You can push the digital technology to the limit and still achieve realistic pain tones.
You can start with pencil sketches. Then you can move to real-to-life pain simulation modes. The oil paint mixing is particularly sophisticated. And it helps you create a personal color pallet you can save.
You can change the digital canvas to mimic different real-life papers or canvas. And the brush motion reacts to the type of paint and paper you're using.
ArtRage 6 produces work that is a seamless blend of digital and natural. So if you're looking for natural tones on a budget, it's some of the best drawing software you can find.
Artweaver offers excellent digital art software. Many professional illustrators use this drawing software. But it's excellent for beginners too.
Artweaver has two options available. The Artweaver Free suite is a free version of the program. Admittedly, it's a more basic version. But it gives you some of the best free digital art software available.
The paid version, Artweaver Plus, has all its advanced features. And it's still good value for money.
Both versions offer plenty of customizable brushes. And now the program has improved brush handling, so they react naturally. These features help the artist create personal work with a unique style.
If you're new to digital illustration, downloading the free version is a great place to start. And when you're ready to take the next step, you only need to download Artweaver Plus.
Black Ink is a digital art software for artists comfortable in the digital age. The program's creators are not trying to appeal to artists that want the traditional feel of paint on paper.
Users of Black Ink can create their own custom brushes. They can customize their brushes to meet their own needs. And they're not limited to real-life paintbrush types. Each artist can build a collection of brushes, which can speed up their design process.
Black Ink is the perfect drawing software for developing stand-out concept art or for creating comics. The brush sharing features make this program excellent for co-working and group projects.
Black Ink is only available for Windows systems, which does limit the appeal. And it's not great for beginners. But it does offer good value if you're experienced.
Mental Canvas is a 3D drawing tool like no other. It's not a 3D graphics program—Mental Canvas is free drawing software with a 3D approach.
At first, Mental Canvas might seem like a simple digital sketching tool. But the difference is you can interact with your drawings in a 3-dimensional way. You can create scenes and landscapes. And you can explore them as if they were 3D models.
This free software is designed for conceptual artists. Directors and produces can use it to sketch scenes for live-action produces. Even civil engineers and architects can use it.
Mental Canvas was developed a few years ago. And the app is still free to download. It's not a program for professional illustrations. But it can be used by anyone who needs to express their ideas visually.
MediBang Paint Pro is designed for digital artists on a budget. If you want to manga art and comic books, MediBang offers free digital art software for you.
Compared to paid programs, it might seem limited. But there is plenty to play with. And the drawing tools are excellent. The brush selection is lightweight compared to other programs. But you get a good selection of templates and backgrounds.
For budding comic book creators, the templates give you a variety of structures to choose from. You can work straight into them so you can focus on the drawing.
MediBang Paint Pro is perfect for beginners. And it's compatible with Windows and macOS. If you love manga and comic books, download the app for free.
TwistedBrush Pro Studio is professional standard digital art software. But it comes with a professional price tag.
If you like a large brush selection, TwistedBrush has a big selection. Sorry, not it's big, it's massive. There are 9000 to choose from. And if you're still not satisfied, you can create your own.
The brush action is also excellent. Many of the options mimic real-life brush strokes to give your work that traditional feel. But there are digital brush options too. These create authentically technological images.
And it's not just brushes. You get a full suite of digital art tools. And if you're using a tablet, there's pressure sensitivity technology. The layers and masking features are good for animation too.
TwistedBrush Pro Studio isn't cheap. It is an excellent digital art program. But there are cheaper options available.
Adobe Fresco is a digital drawing application for iPhones and Ipads. The application is more streamlined than Adobe Illustrator or Photoshop.
Everything has been simplified. And you won't get lost in a maze of tools. That's not a criticism; that's the point. It's simple and easy to use. You can fix up a great looking digital image in no time. And if you do need more, you can move your image to one of the more advanced programs.
The painting features are excellent. The brush tools have realistic effects. And the paints can blend and bleed on your page. The oil paint simulations swirl and mix just like they would on a real canvas.
Adobe Fresco is an excellent painting app for beginners. Or for a professional designer on the go. You can do sketches on the train before moving the images over to Photoshop or Illustrator.
Assembly is a digital painting app for graphic design and illustration. Unfortunately, Android users won't be pleased, as it's only available for iPhones and iPads.
The toolset has everything a digital designer might need. It is more simplistic than more heavy-duty tools. But brush tools, blending modes and shape packs make the app accessible.
The user interface is minimalist and uncluttered. It's easy to navigate. And it doesn't draw your attention away from your work. The app also features tutorials for those getting started.
When downloading Assembly, you get two options. There is the free version, which is more basic. Or Assembly Pro, which you need to pay for.
Assembly is another great painting app for designers on the go. Rather than spend your time scrolling through social media, you can create something new. It's the perfect drawing tool for beginners and pros.
Conclusion
Whether you're new to digital art or looking to upgrade your system, there is digital art software for you.
If you have the budget, you can go for the industry leaders. But even if you have no budget at all, there are plenty of free art programs you can get stuck into. And there are options for your computer and your phone, or for web-based tools.
We hope this list has helped you find the best digital painting program for you. Good luck and happy creating!
If you want to learn how to become a master of editing in Lightroom, check out our Effortless Editing with Lightroom eBook.