If I said holster, it would no doubt conjure up images of John Wayne twirling his gun after dispensing with an enemy. This Trilens holster is no different, except you aren't stuck in the Wild West wearing chaps.
It is, however, a great way to help with shooting your subjects. The Trilens holder belt is a great way to keep your glass close by. Read on to find out why.
What is a Lens Holder Belt Holster?
A holster is a carrying system that fits onto your belt or backpack strap. It allows you quick access to your gear, meaning you don't need to search through bags to find what you need.
In some photography fields, speed is a very important aspect. Studio portrait photography allows you to take your time (somewhat). But areas such as event photography need you to be Johnny-on-the-spot. A missed chance is something that sits with photographers for a while.
What if there was a system that allows you to keep camera gear or lenses within an arms reach – no matter where you are?
We'd all love it. It would allow us to pick up that second camera for a different focal length of the same scene.
Who Are Frii?
Frii Designs was founded by Jonas and Hampus Lundin in Stockholm, Sweden. It came from
the vision of making life easier for photographers.
One thing that made their concept possible were their backgrounds. Jonas, a photographer and mechanical engineer with a specialization in industrial design along with Hampus a biomedical engineer with a passion for automation and production.
The siblings practically grew up in their family garage building things. From bikes to video equipment. So, they know a thing or two about design and the ability to co-operate.
Like many photography gear companies, he TriLens™ was made a reality by the collective effort by over 3,000 amazing backers on Kickstarter and Indiegogo. Peak Design and Wandrd both started along the same vein.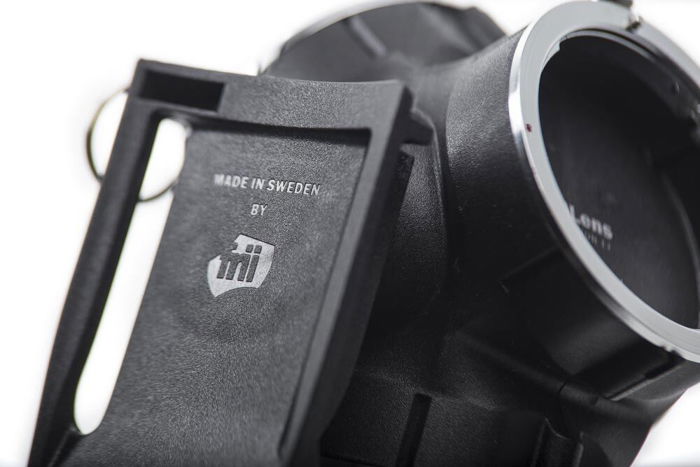 What Is the Trilens Lens Holster?
Event photographers are the photographers who are most likely to carry multiple camera systems. This allows them extra storage space, battery life and a range of settings. On top of that, it means they don't need to change lenses, as one system could be wide-angle, the other, telephoto.
The Trilens Lens Holster means that you don't have to carry around two camera systems. If you are a photographer who wants accessibility to two or more focal lengths, then you don't need two cameras.
Here is a system that can hold up to three lenses for quick access. The lenses screw into the lens holster body and sit their, next to your side until they are taken off the bench to be used on the front line.
No searching in bags, as they are right there. No need to swap cameras, as the same amount of time means you have a different lens on your camera.
If you have never used a belt or waist camera carrying system before, then you should try it. It is closer to your center of gravity, meaning it is a much easier (and nicer) place to carry extra weight.
You won't even notice it, and unlike hand straps, for example, doesn't weigh down a particular area of your body.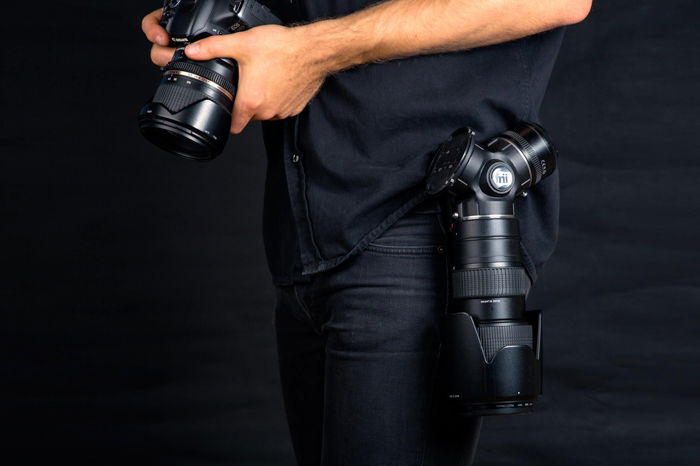 What Is Included?
1 x TRILENS™ Beltclip
1 x TRILENS™ Housing
1 x Felt bag
5 x Sets of cap magnets
3 x Protection caps
Trilens Lens Holster: Review
First Thoughts
From receiving the package, I knew the brothers behind Frii Designs were professional. The box it came in was substantial for the product and well designed. The back of the box even had the names of the people who funded the original crowd-sourcing campaigns.
The box also has a magnetic closing feature, which is the same system they use for the lens caps. Talk about consistency! On the inside are a few professional images of what it looks like when in use. Alongside useful information, it's already helpful before looking at the product.
Inside the box were a few items. Apart from the lens holder, there is a detachable belt holder. It comes with 5 pairs of cap magnets, and each cap takes two each, usable with the sticky pads that come with them. Three-body caps also come with the system, alongside a stiff, drawstring pouch.
If it wasn't enough, you get two-double sided cards. One is a thank you note, with a QR code that gets you to the quick start guide on the back. the other is a little instruction guide for first-time use and how to connect the magnetic strips. All rounded off nicely with an image of the brothers.
It looks and feels like it is made from good, strong, sturdy material. The clasp that holds the lens holder and the belt holster together looks very secure. All of it looks, so far, well designed, well built and overall, well thought out.
Holster Build and Construction
It looks and feels like it is made from good, strong, sturdy material. The clasp that holds the lens holder and the belt holster together looks very secure. All of it looks so far, well designed, well built and overall, well thought out.
They used only high strength steel and fiber reinforced nylon to make sure you don't have to worry about the stability of its build
The TriLens™ is designed, manufactured and assembled in Sweden. Which means it doesn't come from an unaccountable Asian source. It is weather-resistant and designed to withstand loads up to 100 kg (220 lbs).
This is the first of its kind and a great idea.
To put the system together is very simple, and it should be. By disconnecting the lens holder from the holster, you can then slide it on to your belt at an appropriate place. The construction makes it grip your belt tightly, allowing you to shift its placement with it doing so on its own.
Once in place, the lens holder slots into the holster via the circular landing area from the top. Just put back the grenade pin, and slot it in. That's it, all done.
The only other step you'll want to take is to add the magnetic strips. It isn't necessary, but it allows you to keep the lens caps close and ready.
After that, adding your lenses to the belt holster is as simple as adding your lens to your camera body. Just line up the red dots, and turn clockwise. Make sure they are sitting inside firmly before letting go of the lens.
Usability
To be honest, when I saw this product first advertised, I did think it was a little silly. As a professional photographer, I could see the use and benefit of it. But, having three of my best and favorite lenses on one system felt like tempting fate.
After all, they are exposed to weather, accidental bumps, and scrapes (from you, as well as others). It also seemed like it would weigh down my trousers somewhat, as it was a belt holster, and your trousers or shorts belt is going to be doing all the heavy carrying.
The Manfrotto bag or even the Peak Design Capture Clip V3 are two of my go-to carrying systems for my camera and extra lenses. And they do feel a little heavy and annoying when they hold the heavy equipment (DSLR with a wide-angle lens).
Saying that I found it quashed all my qualms. I attached three lenses to give the belt holster a test run. I went for the Canon EF 100mm Macro, Canon 135mm and the Canon 24-70mm.
Not only did it not weigh down my belt, but it also didn't give me the waist pains that I got from using the Peak Design Capture Clip V3. I was carrying a combined weight of 5.83 lbs / 2.64 kg, but it felt pretty light.
The lenses stuck out a little, but it allowed me to keep an eye on it. From using this camera carrier item capturing a local picnic event, it worked great. I wasn't hindered by a bag, and didn't have to keep my eye out for thieves or mishaps – everything was with me.
Ok, I couldn't lie down for fear of damaging my expensive lenses, but would I have done so without the system? Probably not. I found it to be great to use.
However, this isn't something I would use for everyday photography. Using it for street or travel photography would place my items in the view of others.
They might not be able to snatch them away due to the extra clasp mechanism. But they would know I had them. Some would also see the system as a little silly and could divert the attention of those I'm photographing.
For weddings or event photography, it's a perfect choice. Even in a studio setup, it's a great idea. But if there are a lot of people, such as concert photography, you might worry about the actions of others.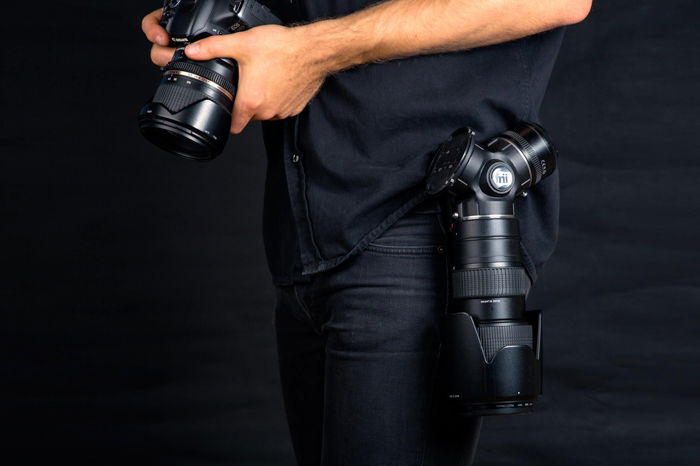 Final Thoughts
What We Like
Auto-friction mechanism
Lighter than expected
Holds all kinds of lenses
Free Express delivery
Extra clasp mechanism for added security
What We Don't Like
Lenses are exposed for accidental knocks
Fear of having over $3000 in gear in one place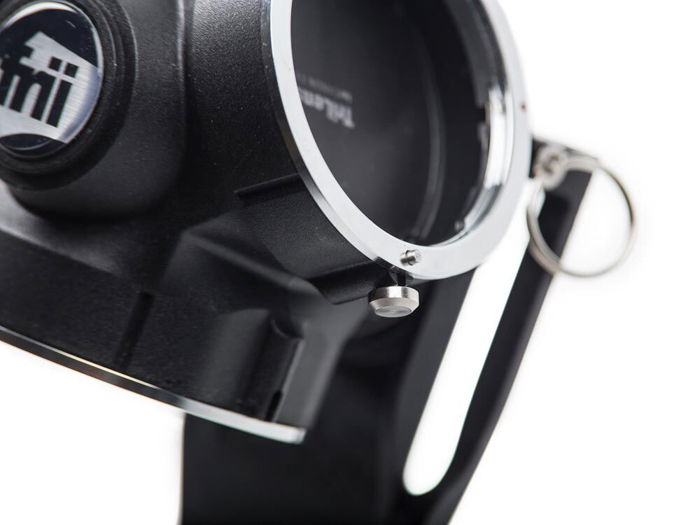 Where To Buy It From
For all those across the pond, you won't be able to find this on Amazon. You'll have to head on over to the Frii Designs website.
Both Europeans and Americans can expect to have express delivery in one or two days.
You have three choices when buying the Trilens belt holster. There is a version for Canon, Nikon, and Sony.

Conclusion
As far as lens and camera carrier systems go, there are many choices to choose from. The problem is, how do you choose one strap over another, as the only real difference is the brand name. Sometimes, you don't have enough information to know if the brand is good or not.
This is what I love about crowd-sourcing websites such as Kickstarter and Indiegogo. Someone can have a good idea and put it into motion. that is if they get enough funding from attention. This is where the innovation is being created of late.
It is worth to mention many of these projects either fall apart on its way to development, or aren't delivered to their written specifications. People lose money and essentially lose faith. With Frii Designs, they delivered exactly what they set out to do.
Not only is this system one of a kind (others will copy and follow suit) but it is well designed and well built. I put aside my fears, gave it a try and look forward to using it again in the future.
The innovation won this time and brought forward the idea of camera carrying systems into the 21st century.