Wedding photographers spend their careers capturing love stories. If a love story starts with a spark, how does a wedding photography business start? The dilemma is a what-came-first-the-chicken-or-the-egg sort of problem. 
How do you start a wedding photography business when you don't have any experience? How do you get experience when you don't have a wedding photography business?
Here's how to get your wedding photography business off the ground.
eBooks and Courses for Everyone
Wedding Photography Business: Essential Photography Basics for Amazing Wedding Photography
Having an eye for photographs is a start. It's not enough to build a career on.
Couples will entrust you with capturing the memories from what's likely the biggest day of their lives. You need to know all the photography essentials, and then some.
Can you capture a photo in a dark, candlelit venue without blur? Can you switch on your flash to freeze motion on the dance floor?
Can you pose a bride and groom — and an entire wedding party? Can you get through that shot list in minimal time?
Before you launch a wedding photography business, you should understand these basics:

How to Build Experience as a Beginner Wedding Photographer
Some wedding photographers start when a family or friend enlists them for their big day. Most brides won't book a wedding photographer without experience. How do you get that experience?
There are a few different strategies you can use to gain experience. These same strategies will help you build a portfolio too. If you've never shot a wedding before, try at least one of these ideas:
Work as a second shooter. Photographing a wedding with another experienced photographer is one of the best ways to build experience. Weddings are unique. It's tough to mimic every scenario in a stylized shoot. Look for job postings or reach out to photographers in your area. You may need to start as an assistant. You'll work your way up to working as a second shooter.
Photograph engagement sessions. What better way to practice posing and light than with an engagement session? When I first started out, I included engagement sessions with each wedding. I could refine my posing skills before the actual wedding day. I still offer engagement shoots in most wedding packages. It's a great way to get to know the couple and identify what poses work the best for them.
Create a stylized shoot. A stylized shoot is a "pretend" wedding. Think of it as the formals part of the wedding day, only not on an actual wedding day. Recruit a couple you know that recently tied the knot and have them put their wedding garb back on for a portrait session. Or, work with a bridal shop in your area and put out a model call. The bridal shop will receive images to use in their marketing or to decorate their shop. You'll get experience and images for your portfolio.
Photograph the rehearsal. Before you shoot your first wedding, photograph the rehearsal. You'll be able to determine essentials like where to stand, what settings to use and more in the same venue where the wedding will be held. This won't help build a portfolio and you'll need to book a wedding first. But I highly suggest every newbie wedding photographer shoot the rehearsal before their very first wedding.
Photograph everything you can. Photographing your kids' soccer game won't help you build a portfolio. But it will help you develop the ability to adjust your camera settings without looking at them and to build troubleshooting skills. Individual portraits, candid moments, street photography, even landscapes. The more you use your camera, the more comfortable you'll be with your gear.

Improve Your Business Skills With Online Classes
Photographers don't spend 100 percent of their time out taking pictures. Running a business and editing photographs is a significant part of working as a photographer. You'll likely spend more time on that than actually pressing that shutter button.
You are working to enhance your photography skills and building your portfolio. But don't ignore your business savvy (or lack thereof). Use books, online or in-person classes, blogs, and vlogs to build business skills.
Many classes and books are designed for photography businesses. Mentorships with other business owners are another great way to learn.
So what non-photography skills should you brush up on? Skills in marketing and business basics are great to have.
Honing your people skills is also a great idea. How you make people feel on their wedding day matters just as much as the photos you take.

Research Your Local Market to Set the Right Prices
How much does the average wedding in your town cost? What other photographers are in your area? What are they charging? How is their work different from yours?
Understanding the market you will be running a business in, is essential. Research area weddings and other photographers in your area to get an idea of what the market is like.
Don't fall into an obsessive pattern of "keeping up with the Joneses." Researching the market shouldn't be a days-long process. You should not try to imitate other businesses in the area.
The idea is to get an idea of how much couples in your area spend. And how your style differs from other photographers, not to try to become the competition.
How to Name Your New Wedding Photography Business
Two photographers could shoot the same exact wedding with very different results. Identify what makes your work, yours.
Do you use high-fashion inspired posing? Do you capture fun candid moments? Do you use natural golden light or dramatic flash?
Are your images light and airy, or film-inspired? Do you edit photos with plenty of contrast, or with a matte style?
Identifying your photography style is the first step to identifying your brand. List the three words that describe your work the most — such as fun, candid, elegant, emotive, or creative.
Keep those three words in mind as you build your business.
Once you have an idea of your branding and style, then you can pinpoint a business name. For photographers, there are two main options for naming your business: using your own name, or creating a business name.
Both options have their perks. I started with a business name and later rebranded to Hillary K Photography. Everyone was referring to me using my name, not my business name.
Business names should be easy to remember and brief. Check to see if yourbusinessname.com is available before you make the final decision.
After deciding on a name, continue building your brand with a logo. The style of your logo should match your brand. Don't go with a whimsical logo if your brand is elegant.
Logos should also be simple and easy to make out when printed small, such as in a photo watermark. If you're not a closet graphic designer, look to hire a designer or service for your logo.
Create a Portfolio to Showcase Your Skills to Potential Clients
The one item that results in more bookings than any other is your portfolio. Your portfolio is a collection of your best images. Portfolios should be representative of your work, skills, and style. Or you'll end up with dissatisfied clients.
You'll build a set of potential portfolio images as you build experience. Resist the temptation to put every image in your portfolio. Choose only the best shots to display your work. 
An online portfolio is a must in today's photography market. Use a web builder to create a home for your images online. There are several great options that are easy to use if you don't have the budget to hire a web designer.
Make sure you choose a web design that's consistent with your brand.
Along with a website, social media is a great way to share images — and free marketing, if you just put the time into it. Pick one or two networks, preferably ones that are popular among brides in your area.
Share your photos along with other insight, such as wedding planning tips.
While a web portfolio is a must, having a print portfolio is also a good idea. Bringing along a printed portfolio when meeting with potential clients is a great way to show off the quality of your work.
If you use the same vendor you choose to print albums for your clients, that print portfolio can also serve as a sample. Clients can see what they are ordering.
Best Gear for a Beginner Wedding Photographer
How much gear do you really need? Some start out by buying too little gear, while others buy too much gear and find some of it doesn't even get pulled out of the bag on the wedding day.
To start with, you'll need a camera and two or three lenses. You don't have to have the latest, greatest camera to get started. I started my business with a crop sensor camera, a $200 50mm f/1.8, a basic zoom lens, a macro lens, a flash, and a computer with editing software.
As my business grew — and I began charging higher rates — I picked up a full frame camera, a high-end 24-70mm f/2.8 zoom, and a transmitter for off-camera flash.
You'll also need smaller accessories. These include a flash diffuser, SD cards, a bag that's comfortable to carry that gear in, an inexpensive camera cover in case of rain, and a comfortable pair of dress shoes.
You should have a back-up for every essential piece of gear. This will prevent a malfunction or dropped camera from keeping you from shooting the wedding.
If your budget isn't big enough for backup gear, look into renting an extra body for the wedding day.
How to Register Your Wedding Photography Business
As a soon-to-be business owner, you should get acquainted with the business laws in your area. Some areas require more paperwork than others to get a business up off the ground. Every area is different. Make sure to find details on what you need to start a business in your location.
For my area, creating an official business was as simple as a two-page registration as an LLC or limited liability company and setting up a business bank account to track income for taxes.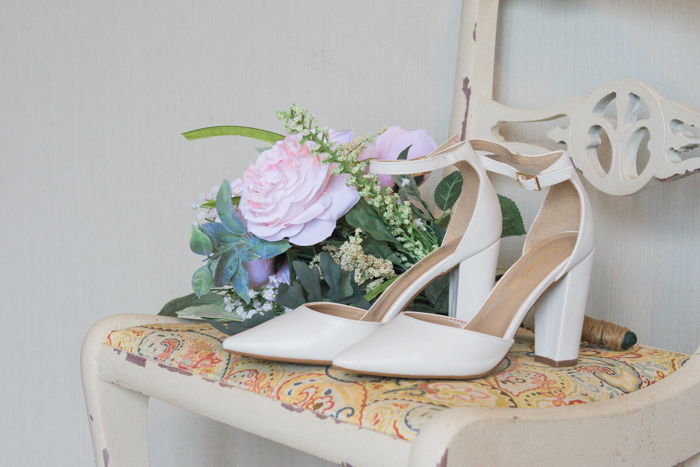 A Long Term Financial Plan Will Help You Set Yearly Goals
How much do you charge for wedding photography? The answer will vary for every photographer. The key is to find a happy medium between undervaluing your work and charging too much when no one knows who you are.
First, research what the average cost of a wedding photographer in your area is. Photographers working in big cities tend to be able to charge more than photographers working in smaller communities.
Then, determine your expenses. Besides gear, factor in travel, taxes, insurance, website fees, and marketing. Next, determine what you'd like to earn. Keep in mind that shooting an eight-hour wedding also requires twice that in editing. And the hours spent working with the client ahead of time.
With that information, you're ready to do the math to make a price list that works for your business. As a new photographer, you can't expect to charge what the photographer in your area with 10 years of experience.
If you set your prices too low, couples may see that as a sign that your work isn't very good.
As you build your price list, consider how many weddings you'd like to shoot a year, and if the price list you are considering will get you to your annual goal. Many wedding photographers also consider alternative income sources for the slow season. Many areas have a season that's more popular than others for weddings. Or you can charge enough to stay afloat during that slow season.
Along with a price list, you'll also need a contract ready. You can start with a template and customize to your business. Ideally, you should have a legal professional check everything over.
How to Make Your Wedding Photography Business Known
Marketing your business is essential. It's not as scary as it sounds. Here are a few low budget marketing ideas for photographers that are just getting started.
Social media ads. You can boost a social media post to reach a few hundred people for just a few dollars.
Partnerships with other vendors. Reach out to other businesses that cater to engaged couples, such as bridal boutiques, florists and wedding vendors. Offer to do a stylized shoot with them. Provide photos in exchange for leaving a brochure or postcard on your business in a prominent spot. If you have a wedding or two under your belt, you can connect with vendors to offer photos that you've already shot.
Word of mouth. Referrals are still a very powerful tool. Try encouraging photos by creating a referral program, such as a free print or a discount on an anniversary session.
Blog and guest blog. Writing blog posts on topics that are interesting to potential clients can increase the number of couples viewing your work. Writing guest blogs on established websites is another option.
Email marketing. Build an email list to send out specials and other information to potential clients.
Third-party wedding websites. Wedding planning is stressful. Brides often use websites that list vendors in their area. Reach out to find out how to get included in those lists.

Conclusion
Building a wedding photography business seems overwhelming at first. But remember, building a business is a gradual process. You don't have to — and shouldn't — get it all done in a day or even a week.
As you get started, you'll continue to refine your skills and raise your prices to match your added experience.
By launching a photography business with the right steps, from understanding the basics to marketing, you'll set yourself up for success from the start.
For more business tips, check out our new posts about photography business marketing, 6 marketing mistakes to avoid for photography businesses or best monitors for photo editing next!


eBooks and Courses for Everyone