An engagement photography session is a meaningful way to capture your clients before their wedding. It's a chance for you to take photos of them in a more relaxed setting and for you to get to know them a little better.
It's essential to prepare for an engagement photo session in advance because sometimes you will face a few surprises. We hope these tips will help make your photography sessions fun, happy, and exciting for both you and your clients.
If you're starting to get into engagement photography, these 12 tips are for you.
eBooks and Courses for Everyone
1. Engagement Photography: Talk to Couples Beforehand for a Personalised Photoshoot
Not all couples are the same. You can have a ready-made engagement package showing how many images you're going to edit and in what format you'll send the couple the photos. But you can't just apply a one-size-fits-all approach to every client.
Talk with each couple beforehand about the purpose of the engagement photography session. It's great to get to know them and their engagement story first. Talk to your clients about how they met, how the marriage proposal happened, and how long they've been engaged. This will help determine what kind of photos to take.
Not all couples are lovey-dovey romantic types. Some couples are playful and will laugh more, some will be more serious, and others will be affectionate. Ask what kind of couple they are for when you are posing them later. This is the most suitable time for finding the best poses for engagement photos.
Talk to your clients and ask them if there is a special location that they would like to have their session at. Sometimes, couples don't think about these locations at first. But choosing the place where they got engaged or had their first date can make the photographs more meaningful.
I recommend scouting out a location together to find a place that fits the couple. If you choose a place that the couple is connected to, it gives a more intimate atmosphere for your images.
Meeting with the couple beforehand is not only for connecting with them and talking about poses and location. This step also involves your clients in the process and should make them even more excited to have you photograph them.
It will also be much easier working with engaged couples if you have these conversations with them ahead of time. They'll appreciate that you're focusing on what they want and not just taking generic engagement photos.
2. Ask Your Clients to Show You Engagement Photos They Love
This process should help you develop ideas to make sure you provide engagement photos they will love. The most direct way is if they show you images they like.
Ask your clients to send you at least 5-10 of their favourite engagement photos they can find on the internet. This will give you insight as to what kind of photos jump out to them.
It would be best if you also asked them to pick a few from your portfolio. This way, you can make sure they know what kind of photos they can expect from you. And it will make your job easier if they choose something similar to what you have already experimented with.
Perhaps they like a session in a forest setting, some cute props, and being slightly underexposed. Or perhaps they like the couples' photos you've taken at the beach. They can more easily decide that they want to do something similar by looking at your photographs.
Seeing exactly what they like about your photography is also a great tool for preparing for the session.
Optionally, you could set up a mood board with a collage of all the photos they like. You can work on it with them and follow it throughout the shoot.
3. Have the Couple Bring Clothing Options for a Varied Shoot
Engagement photoshoots can get stale and boring quickly if the couple you work with only has one set of clothes. Therefore, I usually suggest these three options:
Formal wear like a dress and a button-up jacket
Casual day-date clothing
Every day comfortable clothing
This way, they have three options that offer very different looks for the session. You can even encourage them to bring more. And at the session location, you can choose what will work best. This way, clients don't feel like they "should have" brought a certain shirt they loved.
You won't use all of the clothing they bring. However, allowing you to choose the outfits also gives you creative direction over the final result of the photographs. This is especially helpful if you're creating a specific portfolio to target specific clients.
And it's easy to spot when a client is uncomfortable in front of the camera because of a shirt they don't feel confident in. So encourage your clients to bring clothing that is comfortable and what they like to wear.
You can also work together with stylists and makeup artists. This not only puts you in a more professional light but allows them to have a special photoshoot. They will feel more confident, and your images will be more unique.
4. Prepare Your Camera Gear for a Smoothly-Run Photo Session
Preparing your gear in advance is essential for avoiding any hiccups during the photo session.
Think about where you're going to be shooting the engagement photography session. The lighting conditions determine what kind of lighting gear you need.
The easiest solution to this is to organize an outdoor photoshoot using natural light. If they prefer an indoor session, you can set it up at the couple's home. Or you can take portraits of them in a studio.
Make sure to choose your best lens and camera for shooting portraits. And bring a tripod to use when you shoot in low-light conditions.
5. Find Natural Poses that Fit the Couple
Most couples are not models and don't know how to behave during an engagement photography session. They have no idea what they're doing. It is your job as the photographer to lead your clients through the portrait experience. This means that you show them how to pose. But it also means that you allow the session to evolve organically.
Not all couples will feel comfortable showing public displays of affection (PDA). You must ask your clients if they're comfortable with kissing or any other form of PDA. It's best to ask at the meeting before the shoot, but you can also do so at the time of the session.
After you determine the type of chemistry between the couple, set up poses that highlight it.
For example, for a fun couple and likes to laugh and joke around, perhaps be more active and playful during the session. You can ask them to jump, dance, or look at each other and try not to speak. All of these poses will create laughter and fun for them. Sure, you can try pictures where they are kissing. But you'll still most likely get less serious photos that better represent who they are as a couple. That is what you are there to capture.
For a romantic couple, having to jump or splash at the beach isn't going to look very natural. It would be best if you instead suggested romantic poses, like have one person kiss the other on the forehead with their eyes closed. Or try more calm poses like hugging each other from behind, cuddling while they are sitting, or simply walking so they will look more comfortable.
When you go along with the couple's natural chemistry, they'll loosen up sooner and give you more to work with.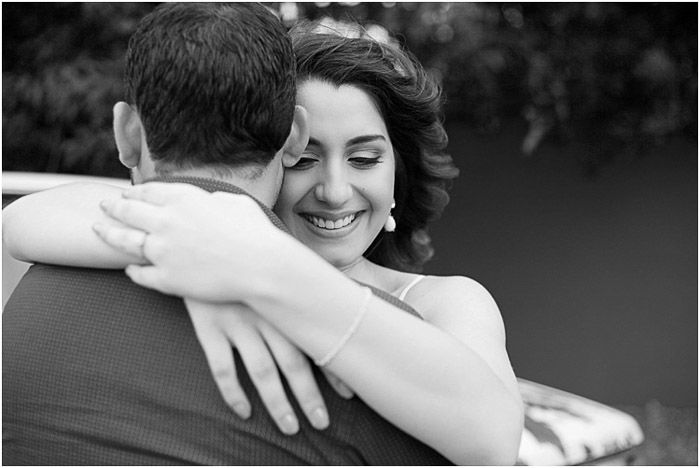 6. Acknowledge Their Nervousness for Better Poses
Engagement photography sessions are usually the first professional portrait sessions that couples ever have. Plus, they are also in the midst of planning a wedding. Adding together both factors can leave you with nervous clients.
First, let them know that this is okay. They are allowed to feel awkward at first, and later they'll open up.
Taking this into account, try to talk with them a little bit so that they loosen up. Talking helps break up any silence, so they don't feel intimidated by the camera. Continue talking about the topics you touched on during your first meeting with them. Asking them to talk more about how they met each other can bring up great memories and help them relax.
You can also try poses that are more loosely directed and let them talk to each other a bit before the session. Or ask if a little music would help to lighten the mood. Sometimes this can break up the silence if they're more introverted. You can show them a few photographs from the start to boost their confidence.
Finally, don't rush through the photoshoot. The session starts from the point you and the couple loosen the tension.
When you pose a couple, let them sit there a while. Let them enjoy the closeness, the laughter, the surroundings. This is where you take photo after photo, grabbing all of the in-between moments that are natural and authentic.
Allow them to enjoy themselves without feeling rushed. If a pose isn't working, move them into a different one. Always stay positive and smile as much as you can. You'll have a less nervous couple than in the beginning.
7. Keep Them Moving to Avoid Boredom
Keep the couple walking from spot to spot at the location you have chosen. This way, they don't get bored posing too long in the same spot. Have them walk hand in hand, stop, give a kiss, and keep moving. This also helps with giving their hands something to do.
Moving from spot to spot after about 10-20 photographs is a good rule of thumb. This will also help keep your creative ideas flowing. You can move to a new spot with perhaps more interesting lighting or backgrounds.
This is also why it's important to choose the location carefully. Try to interconnect the venues to be within walking distance of each other.
Also, keep them moving within the same pose. Have them look toward you, away from you, switch sides, etc. The more variety you can give your clients, the better.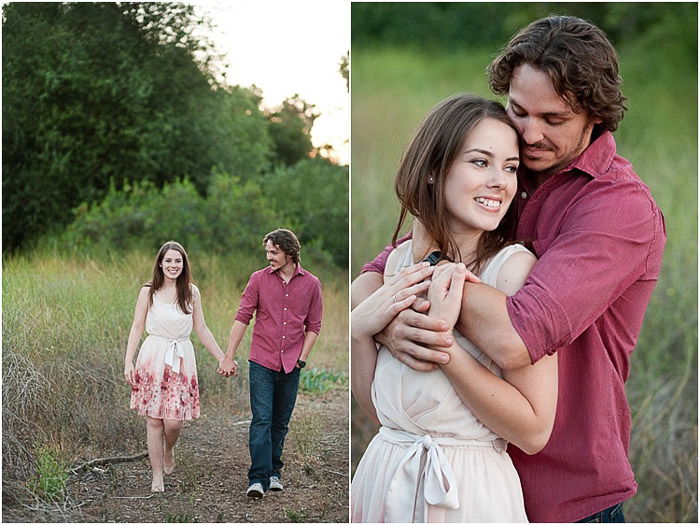 8. Don't Be Afraid to Experiment to Find New Favourites
Engagement photography sessions should always focus on the client. After all, the photos are theirs. However, this doesn't mean that you can't experiment a little during the session.
If you saw a photo in a magazine that you like to try with a couple, go for it.
Sometimes, the experimental photos you take become the favourites with your clients. Just make sure you take the images your clients want first before you get into taking experimental photos.
This way, you cover all of your bases and don't leave your clients confused when they see the final images.
Also, these experimental images can be more artistic. They don't necessarily have to document the couple. You can use them as models for more abstract ideas. And you might end up with ideas you can use for your future engagement photo sessions.
9. Include Children or Pets for a Special Family Experience
You'll encounter lots of different couples. Some will have children or pets (or both) that they want to include in the session. If this is the case, break up the engagement shoot into two parts.
For the first part, have the children or pets join the session. In the second part, take pictures of the couple.
For the latter, have the couple arrange for a family member or friend to help take the children or pets home or watch them. It's important to have time to photograph them alone.
This way, you will show all the strong connections the couple has in their lives. And it gives your clients a special portrait experience by including the entire family.
Your clients will appreciate this gesture and will surely return to you for more family photos in the future.
10. Take Individual Portraits for a Snapshot Before Their Wedding Day
Even though engagement photos are about two people, take individual portraits of each person too. Make each of them feel like they stand both alone and together.
This also helps to break up the session into smaller parts. And it gives a slight pause for the person who is not the model.
They will love these images because they will be a snapshot of what they looked like before their wedding day.
Take close-ups, 3/4 headshots, and full-body pictures of each person. To get real smiles, ask their partner to joke with them or do something funny.
11. Create a Fun Photo Session For a Memorable Experience
If you and your clients get along well, you can have a lot of fun in the session. Don't be afraid to joke around and get into the experience with them. If you are having fun, they most certainly will also.
Engagement photography shoots can feel awkward, and the couple is usually nervous. So being positive and light can give them the best experience.
Giving clients a great experience is what they will remember the most. When they see the final images, they will remember how much fun you were and how much they enjoyed having their photos taken.

12. Offer a Bit More to Ensure a Complete Photo Package
To make sure you're giving your clients the full package, you can offer them other unique kinds of photography services. You can perhaps offer film photography, so they can have the memories stored on a negative, printed, and put in an album. You could also offer to take a few images on an instant camera to perk up the engagement photography session. Some couples will love these creative options.
You might also want to offer printed versions of your digital photographs so their memories will be in a more tangible form. And create a full service by including the location scout, styling, and makeup in your engagement photography package.
Finally, have a kind attitude towards your clients and be punctual. This will make the couple comfortable and confident in you as their photographer and have them recommend you to others.
Engagement Photography Tips: Conclusion
Engagement photography sessions can be challenging, even for the most seasoned photographer.
We hope these tips help you have a successful engagement photography session. And perhaps your clients will even come back to you for their family portraits, anniversaries, and other important occasions. Be sure to let us know how your photoshoot goes!
If you're looking to start your own photography business, check out our Profit from Portraits e-book. It will help you find your niche, create and price your products and services, and market them.


eBooks and Courses for Everyone