Adding a romantic touch to couple portraits may seem a little awkward at first. There are a few ways to create natural and authentic romantic photography during a session.
Asking your clients to act romantic can make them nervous. These tips will help you to bring about romance without making it weird.
eBooks and Courses for Everyone
What Is Romantic Photography?
Romantic photography captures the romance between two people. This style of photography is about showing affection through connection and intimacy.


Romantic photography can illustrate the intimacy that people share. It gives clients the chance to have an image that captures their love for one another.
This type of photography can also be great for family photo shoots. Romantic family portraits can show affection like hugs, kisses, cuddles, and laughter. Rather than creating romance, focus on the connection and love within the family.
Help Couples Feel Comfortable with Natural Posing
Natural posing can help a couple feel more comfortable in front of the camera. Ask the couple to get close and enjoy the moment.
This can mean hugging, kissing, walking, talking, laughing, or admiring the view.
This type of posing can be precisely what a couple needs, especially when you use it during the start of the session. It gives the couple time to get comfortable in front of the camera.
As the session progresses, ask them to get closer. Capture the romance that comes from looking into each other's eyes. Ask the couple to rub noses, or walk and talk about what they like in each other.

You can use natural posing between more posed shots during the romantic session. They will feel more comfortable and focused on each other rather than on your camera.
Use the "Almost Kiss" to Create Romance
Kissing in front of a camera can feel a bit off since many couples find kissing to be an intimate act of love.
Using the "almost kiss" can bring about much more romance than an actual kiss can! I'll explain how below.
An almost kiss is when you ask your clients to inch closer until they are almost touching lips. Ask them to close their eyes, so it doesn't feel weird, staring at each other. You might get a few laughs, which makes for a cute photo as well.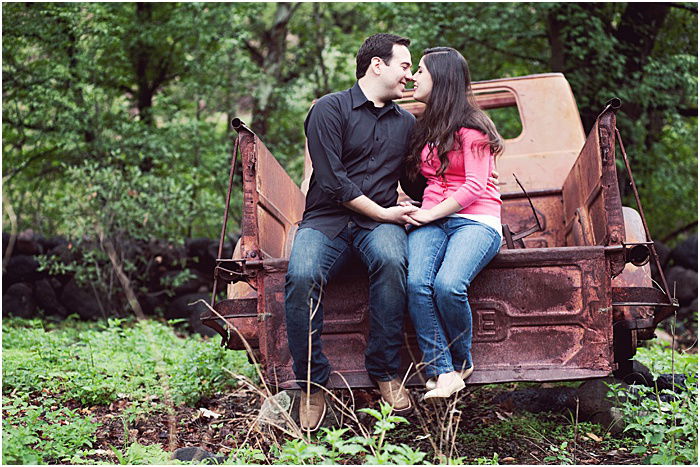 As they almost touch lips, ask them to freeze. The more time they wait in this pose, the more they'll want to kiss! After you get the shot, allow them to kiss.
Don't put your camera down yet, make sure you get a photo of the actual kiss as well!
The almost kiss is the most romantic picture. You can take it from different angles to show the level of intimacy the two people share.

It's like watching the movie of the couple's first time kiss unfold right before your camera. Sultry and romantic!
Ask Them to Cuddle for Relaxed Couple Photos
Nothing like a good cuddle to help the couple feel more relaxed and get great romantic pictures of them. Cuddling can mean hugging while sitting, lying, or standing.
You can also have your couple cuddle under a blanket at the beach or on a sofa. A blanket always makes things feel cozy!
Having the couple close together can make a romantic photo feel more real. It's a perfect time to get close up shots of the couple's details, such as the engagement ring.
Ask Your Couple to Say Nice Things to Each Other
During sessions, people can feel nervous and take note of the big camera that you're using.
Using this tactic can be an excellent way for the couple to seem more romantic and feel the romance that they share!
Have the couple face each other and have one person say something that they love about the other. Have them taken turns saying one thing at a time.
Allow them to enjoy the moment. Often you'll have to remind them by actually saying, "Enjoy the moment."
Use a longer lens so that they feel more comfortable saying these intimate things to each other. Capture the romance in front of your lens as it unfolds.
Let them know that if they feel compelled to kiss, hug, or get close, its best they do! This can make the whole experience more romantic.
Have Your Clients Slow Dance
It's no surprise that slow dancing feels romantic. Slow dancing during a session can make the experience and photo more romantic as well.
Have the couple slow dance together during the session, tell them to twirl a few times, and then pull in close together.
Slow dancing might feel awkward at first. However, it can be made to feel less weird if you play music or use a longer lens to capture the dancing.
If there is space where you are shooting, have them walk, give a twirl, then pull in close. Do it a few times so that you can capture it all. It would make for a cute gif of the whole action as well!
Use the Hands to Connect
Hands are indicative of how people interact with others, that, and body language. Have their hands connect at all times during the session.
This can mean that the hands are holding, intertwined, wrapped in a hug, or embracing the other person's face.
Getting detail shots of the hands wrapped around each other can also be a nice romantic shot during the session.
Being connected by the hand also makes certain poses a little easier to hold and provokes that romantic feeling that you're trying to capture.
Hold the Photoshoot Somewhere Meaningful
Visiting a place that holds a special meaning for the couple can spark a great romantic photo.
Going with a couple to the place where they first met or had their first date can make them remember how it all started.
Recreating the moment a couple got engaged can bring back great memories. The couple can open up about why they fell in love. You'll be able to recreate something special and create a unique photo of their story.
If they like to lounge together at home, ask if they'd feel comfortable having part of their session in their home.
Sometimes it's not a location, but a particular activity that the couple loves to do together.
It could be hiking, camping, even going to baseball games.
A meaningful activity can be a great place to start getting a romantic photo. Couples will love seeing their story captured with a place or activity close to their heart.
Take a Lifestyle Approach to Capture Authenticity
The lifestyle type of photography is one where you give minimal direction. Allow the couples to be themselves and capture them as the shoot unfolds.
It makes them the art directors. They can get comfortable and let you capture their authenticity.
This style of photography is more photojournalistic. It can help your clients feel less pressure during the shoot.
They can be natural as if they were hanging out alone together. All the while, you are capture details, expressions, and how the day unfolds.
This style is also a way of storytelling. The whole session can feel more romantic since you won't be interfering in the direction of the shoot.
Lifestyle photography can be the most intimate way of capturing a couple. You see more of their daily life and that can inspire photos that are natural and real.

Conclusion
Romantic photography doesn't have to be a particular style. You can mesh your style with how the couple displays affection during the session.
When the couple embraces, gets close, and enjoys the experience, it makes for great heartfelt romantic photography. Which tips will you use at your next couple's shoot?


eBooks and Courses for Everyone