If you're looking for beautiful and exotic locations for your photography, look no further than New Zealand. With its stunning landscapes and dramatic coastlines, New Zealand is a photographer's paradise. There are plenty of great spots to capture amazing photos, but we've compiled a list of our favorite location for photography in New Zealand.
eBooks and Courses for Everyone
Photography in New Zealand: Access and Gear For New Zealand Landscape Photography
The Māori name for New Zealand is Aotearoa. This means 'Land Of The Long White Cloud'. When you're shooting landscapes, those clouds aren't always white.
New Zealand is known for experiencing four seasons in one day. This happens because of the mountains and surrounding sea.
This means there's a new landscape around every corner. Become familiar with your camera's manual settings.
Make a plan for the photograph you want to create, but have some tricks up your sleeve in case it all changes fast.
Essential Gear
Check you have everything before you venture into the wilderness.
You'll find camera supply shops in most major New Zealand towns and cities. Head there for storage cards, extra lens caps, and batteries.
In more remote areas, you'll be out of luck if you've forgotten equipment.
Don't leave your hostel, motel, or tent without adding these things to your kit:
Tripod and shutter release for low light, long exposures, and super-sharp landscapes
Small waterproof bags for spare batteries and storage cards
A decent wide angle and zoom lens, with lens hoods if possible to prevent unwanted glare
Warm, waterproof clothes and shoes
Sunscreen – we have less ozone and pollution here to block out dangerous UV rays
Apps or field guides about New Zealand photography, flora and fauna, and Māori mythology so that you understand what you're photographing
Either apps or notes about tides, mountain and coastal weather, and emergency contacts
Accessibility For Landscape Photographers in New Zealand
New Zealand has hundreds of well-maintained tracks that suit every photographer.
If you have limited mobility, or are photographing from a wheelchair or with a child in a stroller, look for tracks with paths that are on 'the flat' with impressive views.
Use a zoom lens to capture the detail. This is a great way to show the drama of New Zealand's scenery. And you won't compromise on safety or accessibility. Landscape photography is something that should be for everyone.
For the more adventurous, stay overnight in a hut. You'll see the landscapes in a range of moods and colors, and have a true New Zealand camping experience.
If you're lucky, you'll be treated to the high-pitched call of a Kiwi at night.
The Best Places to Photograph New Zealand Mountains
No matter where you are in New Zealand, there are always mountains within half a day of easy travel.
This accessibility (combined with the complete lack of snakes!) gives you the perfect mountain scenes to photograph.
There are 26 mountains in New Zealand that are over 3,000 metres high (6561 feet). And there are more than 3,000 glaciers or permanent snow patches.
Here are my 10 top spots to photograph classic New Zealand mountain scenery:
Aoraki/Mount Cook National Park, Canterbury
Pouakai Tarns, Taranaki
Milford Sound, Fiordland
Franz Josef and Fox Glaciers, West Coast
Kaikoura, Canterbury
Tongariro National Park, Central Plateau
Castle Hill/Kura Tawhiti, Canterbury
Roy Peak, Queenstown
Mount Ngaurahoe and Mount Ruapehu
Bennetts Bluff Lookout, Queenstown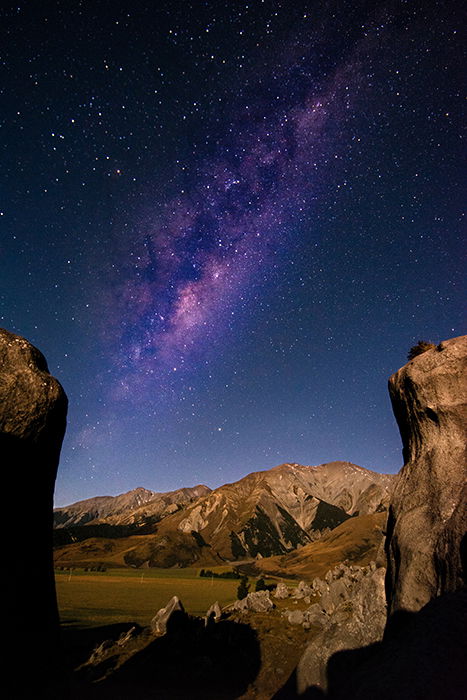 Top Cities for New Zealand Landscapes
New Zealand cities and towns each have individual characters and quirks to capture in your landscape photographs.
They also have quality coffee, which is ideal if you've been in the mountains all day.
Test out your tripod and shutter release and capture some cityscapes at night with lights reflected in the harbors of Auckland, Wellington, and Dunedin.
Bring out the colors of Nelson and Queenstown by shooting in the golden hour. If you're photographing the city in midday sunshine, try converting the image to black and white. Reduce the luminance of the blue sky for a more dramatic approach.
Auckland, Wellington, Christchurch, and Dunedin are New Zealand's main cities.
Avoid rush hour traffic. You'll have no problem getting out and about in your car or with public transport.
Check out these top 10 vantage points for great cityscapes:
Oriental Bay, Wellington
Devonport, Auckland
Mt Eden, Auckland
Summit Road, Christchurch
Mount Maunganui, Tauranga
The Skyline Gondola, Queenstown
Signal Hill, Dunedin
Botanical Hill, Nelson
Mount Victoria, Wellington
Portobello Road, Dunedin
Stunning New Zealand Waterfalls to Photograph
New Zealand has a lot of rain. This results in plenty of opportunities for waterfall photographs.
Some waterfalls such as Bridal Veil Falls, forbid you from getting into the water. This is for cultural or safety reasons.
If you want to get a closer shot with the other waterfalls, make sure you take a towel!
Many of the waterfalls are very accessible. They offer beautiful views of cascading water surrounded by lush forest.
Include my favourite 10 waterfalls in your itinerary:
Bridal Veil Falls, Waikato Region
Stirling Falls, Milford Sound
Devil's Punchbowl Waterfall, Arthur's Pass
Purakaunui Waterfalls, Catlins
Kitekite Falls, Auckland
Marakopa Falls, Waikato
Whangarei Falls, Northland
Fairy Falls, Auckland
Huka Falls, Taupo
McLean Falls, Catlins
Photographing New Zealand Countryside
When you mention New Zealand, a conversation about our number of sheep often follows. Farm scenes provide a glimpse into part of New Zealand's recent colonial heritage.
Patches of native trees are green throughout the year. They show how most of the landscape looked before European settlement.
This makes for interesting juxtapositions and storytelling in New Zealand landscape photography. You can photograph beautiful countryside scenes from the side of the road.
Use a wide angle lens, and make the most of the interplay between the land and interesting cloud patterns.
Take a detour off State Highway One to experience countryside landscapes from these top 10 routes:
Buckland Road/Hobbiton, Waikato
Forgotten World Highway, Taumarunui to Stratford
Te Mata Peak, Hawke's Bay
Karangahake Gorge, The Coromandel
State Highway 75, Christchurch to Akaroa
Southern Scenic Route, Owaka to Invercargill
Surf Highway 45, Manaia to New Plymouth
The Inland Scenic 72 Route, Oxford to Geraldine
The Waioeka Journey – Te Awa a Tamatea, between Opotiki and Gisborne
West Coast Touring Route, Hokitika to Haast
Best New Zealand Geothermal Landscape Photography
New Zealand is on the Pacific's Ring Of Fire. This means we are susceptible to earthquakes and volcanic activity.
It keeps us on our toes and provides fantastic landscape photo opportunities. You'll get to shoot some surreal geothermal scenery.
North Island photography has the advantage of geothermal activity. Rotorua and Taupo in the central North Island are where you'll find bubbling mud, geysers, and boiling pools of sulphur, jade, and chartreuse-colored water.
Experiment with different shutter speeds. Try to capture steam and water in different ways.
Keep a close eye on moisture around your camera. And stick to the paths – some of the pools are hotter than 300 degrees Celsius (572 degrees Fahrenheit).
Check out my favourite sites for steam, mud, and boiling water in New Zealand's geothermal wonderland:
Ōrākei Kōrako, near Taupo
Waiotapu, Rotorua
The Craters of the Moon, near Taupo
Whakarewarewa Forest, Rotorua
Kuirau Park, Rotorua
Whakaari/White Island
Tongariro Crossing
Pohutu Geyser, Rotorua
Otumuheke Stream, Taupo
Kerosene Creek and Mud Pool, Rotorua
Must-See Lakes To Photograph In New Zealand
The North Island has all the geothermal landscapes. But the South Island holds its own with lake scenes.
There is a lake for every landscape photographer. You'll find crystal clear pools, beautiful mountain reflections, and unbelievably turquoise water.
The backdrops vary from breathtaking mountains and glaciers to deep green forests.
Don't worry if the weather or light isn't perfect. You can capture swirling mist and raindrops for a melancholy perspective.
Impress your friends with gorgeous photographs from my top 10 list of New Zealand lakes.
The hardest part of this task will be convincing them that these landscapes actually exist.
Lake Matheson, West Coast
Lake Wakatipu, Queenstown
Lake Clearwater, Canterbury
Lake Quill, Fiordland
Lake Alexandrina, Canterbury
Tasman Glacier Lake, Canterbury
Emerald Lake, Tongariro National Park
Blue Lake/Rotomairewhenua, Nelson
Lake Marian, Fiordland
Lake Pukaki, Aoraki Mount Cook
New Zealand Sunsets
You can't go wrong with a New Zealand sunset. Head west if you want to capture the sun setting over the Tasman Sea.
Snowy mountains also provide stunning sunset scenes. They catch the last of the light in oranges and pinks.
If you're not very experienced with sunset photography, stay in a place for two or three nights to practice. Talk to the locals to find out the best vantage point, and wrap up warm.
Wondering where to start with your New Zealand sunset landscape photography? Try one of these special locations:
Okarito, West Coast
Castlepoint, Wellington
Punakaiki, West Coast
Cape Reinga, Northland
Piha Beach, Auckland
Wharariki Beach, Tasman
The Remarkables, Queenstown
Nugget Point, Catlins
St Clair Beach, Dunedin
New Brighton Beach, Christchurch
Conclusion
Tempted to book your flights? New Zealand is a fantastic place to take landscape photographs. You'll document your journey, step out of your comfort zone, and improve your photos.
Visit us at any time of the year and photograph at a pace that suits your style. You'll be welcomed with diverse scenery, accessible vantage points, and plenty of smiling faces.


eBooks and Courses for Everyone