Senior photography is a great way to immortalise the many moments teens-not-quite-adults go through, from graduations to moving out.
But it's not as easy as you'd think. Posing and photographing a senior is very different from posing an adult.
Our article will take you through all you need to know to overcome these challenges. We will also give you some great senior picture ideas.
Senior photo sessions aren't just about getting solid portraits for parents to showcase during graduation celebrations. No, senior photo sessions are an invitation to the still-teenager-almost-adult to be an active participant in their photo session.
Having them choose outfits, locations, and props can help to make the session more personalised and meaningful to both the teen and the parents.
10. Why You Should Have a Pre-Consultation
Seniors are coming into their own personalities and have their own ideas about how the session should unfold.
It's important for you to have a pre-consultation where you can ask questions and get to know the senior better. Make sure you have questions ready before the teen comes to the meeting.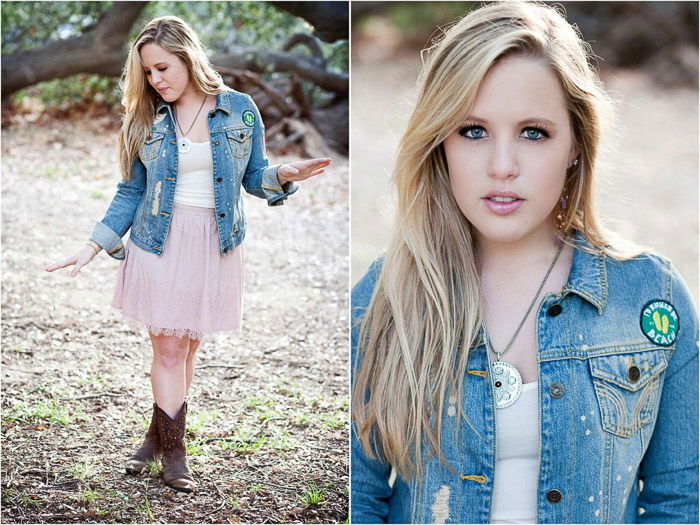 You can ask them about their hobbies, activities, where they like to spend their time, how they feel about becoming adults, favorite music, etc.
These questions will help you to suggest the best locations and time of day for the session.
You will also be able to get a read on their personality when you meet face-to-face.
Creating a questionnaire can seem more productive as this way the teen won't feel like the consultation is an interrogation.
Keep the conversation focused on them and keep it light.
Ask the parents for their input as well since they will most likely want photos for their home, desk, and family and friends.
Ask them what they plan to use the photos for, will they make graduation announcement cards? Party invites?
This is a great way to get an idea of what you are shooting for in terms of final products.
9. Create "Sets" to Showcase the Teen's Personality and Hobbies
Now that you've had your senior portrait pre-consultation, it's time to put all of those answers to good use.
Create different "sets" for the photos, especially if you're photographing the teen in a studio, to tailor to the teen's hobbies or activities. You can also do this on location.
For example, if the teen is into reading, create a small reading nook or library. You can also go to a cafe, public library, or even the school's library and photograph the senior there.
The teen might also play the guitar. Create a "set" where the teen is playing the guitar or posing with the guitar.
Creating these studio or on-location setups can add more of a narrative as to who the teen is right now before going off to college or becoming an adult.
It shows a lot more personality and often looks more natural. They will be more comfortable engaging in activities/hobbies they like, and less stressed about the photo shoot.
Same goes for teens who are into sports. Create a makeshift indoor field or go to the actual field and photograph the teen there.
8. Include Cap & Gown Pictures
Have the teen bring their cap and gown to the session as well. This is more for the parents than the teen. But it is a nice addition to the gallery to have cap and gown photos.
If you're on-location, use a solid colored wall as a background. One with a little bit of texture can also work well to get a solid portrait of the teen in the cap and gown.
Take photos at different crops so that you can offer one for the yearbook, one for wallets, and one for display in your client's home.
After you've taken the classic cap and gown photo, take advantage of its presence and have fun with the cap and gown.
Take photos of the teen throwing the cap in the air and catching it, maybe invite the parents into a few photos adjusting the tassel.
Have the teen hold the cap in their hands while you get an up-close photo of them holding the cap.
Some teens decorate their cap so that family and friends can identify them during the graduation ceremony. If the teen plans on decorating their cap, have them do so before the session so you can get a detail photo of their cap. This will make their senior photos even more personalised.
If the teen hasn't picked up their cap and gown, or you do the session in advance, ask them to borrow one from a friend. Many thrift stores also carry used caps and gowns from local schools.
7. How to Photograph Seniors On-Location
Photographing senior sessions on location is fun and keeps the session moving quickly so that the teen won't get bored.
If the teen is going away for school, you can photograph them in their hometown. Take photos of places where they hang out often, like coffee shops, movie theatres, game halls, or in front of their soon-to-be alma mater.
If the student is going to a local university, you can photograph the teen there. This can get them excited for their next phase in life and exploring the campus early before their first fall semester.
Use locations that play into the teen's personality. For example, if they run track and field, go to the track that they practice or compete at. If they play football or soccer, take photos at the school's stadium.
If they are into music or theatre, photograph them on a stage in a local theatre or the one at their current high school.
Teens are in between still being teenagers and almost becoming adults and this can make them a little nervous. Keeping the focus on what the teen likes to do for fun can often make them feel more comfortable in front of the camera.
Using what the teen is into can also be great conversation starters during the session.
6. How to Use Light, Space and Patterns for More Creative Photos
Photograph the teen in different types of lighting to offer more variety to the session. Use direct sunlight, shadows, shapes like that of a palm tree, or flash for high contrast images.
Don't be afraid to experiment with different types of lighting during a senior session. Teens are great innovators and using light in different and interesting ways can help them to express their personalities much more than the standard senior photo pose.
Take a look at their social media profiles and see what draws their attention the most in photos.
If they are taking moody dark photos, perhaps that is something you can incorporate into the session.
Photograph the teen from afar to create more negative space within the frame. Use shapes like the s-curve, repeated patterns, color contrasts, and reflections.
5. Why You Should Photograph Groups or Friends
Photographing teens together during senior portraits can be really fun for both you and the teens. You could also offer to photograph a group of seniors together.
Photograph the seniors individually first so that each senior has their own personal set of portraits. Then, you can photograph the group together at a place that they all like to hang out or better yet, at their current high school.
If the group is part of a team or take part in the same activity together, you can have them wear their uniform to the session as well.
Get candid photos of the group as well by having them do an activity together. They can build human pyramids, blow balloons up, or play a game together.
This will get them to loosen up and be more natural in front of the camera as well.
In the group photos, take the same photo but rotate the teens around in the frame. Take lined up photos as well as staggered photos to create more depth.
Try photos of them with their arms around each other while walking. This will cause them to laugh and pose more naturally.
4. How Many Outfit Changes Should You Include
Seniors give a lot of thought into their style when it comes to photo shoots. Ask the teen to bring at least 3 different outfit changes so that the final images will have more variety.
In addition to the wardrobe changes, have the teen bring their Letterman jackets, class rings, sports uniforms, musical instruments, and any other similar props to the session well.
Clothing that brings out the teen's personality is very important during the senior session.
A good rule of thumb is to have the teen bring an everyday outfit, a more formal outfit, and an outfit that perhaps their parents want them to use during the session.
It's also a good idea to have the teen bring more clothing changes so that at the session, you can help them to choose the best outfit according to the location and setup you have planned.
3. Play music
Music is a big part of a teen's life and can speak more to what their personality is than anything else. During the pre-consultation, ask the teen what their favorite artist(s) is at the moment.
During the session, download a playlist ready to go to personalize the tone of the session.
Having music play in the background can relax and make the session less formal in the eyes of the teen. It can also fill in conversational gaps during the session.
If you're on location, you can use your cell phone to play the music or bring a small Bluetooth speaker along.
You can also ask the teen to pair their phone and use their own music during the senior portrait session.
2. Include Props That Bring Out the Teen's Personality
Senior sessions are the perfect type of portrait session where you can ask the teen to include some props to showcase more of their personality.
Props can also include set-specific accessories to create the set the teen has chosen for their portraits. If they want to use their musical instrument as a prop, you can create a stage.
If the teen is into DJing then they can bring some of their favourite vinyl or set up a DJ-style booth. Or you can have them pose with their horse if they are into horseback riding.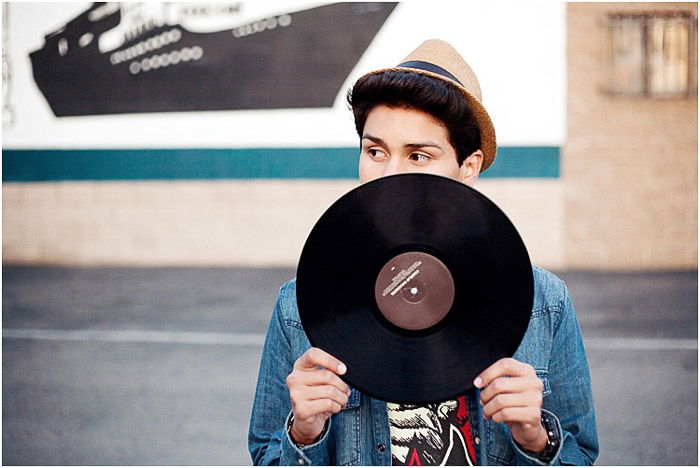 The most important thing is to set up the sets with what is true to the personality of the teen.
Have the teen lead the session for a while with posing and using the props as they would if they were at home or at their favorite hang out.
1. Ask Parents Not to Hover (Politely!)
Senior portraits should always have a parent attend the session, being that they are still minors in the eyes of the law. This can, however, make the teen feel a little awkward having to pose, or act the part, in front of their parents.
It can also mean that parents, even those who mean well, can hover a bit and comment or direct the teen a bit more than is needed.
During the pre-consultation try and explain to the parent that you would like to have some space during the session so that the teen can feel less embarrassed and more free to pose, use real expressions, and be themselves.
Having an audience can sometimes make the teen more aware of their bodies and create stiff poses and smiles.
Perhaps the parent can opt to play music and distract themselves with their phone or other activity during the session while still being at a close distance. This can help to relax the teen as well.
Be sure to ask the teen if this is something they would like. Some teens are close to their parents and wouldn't mind having them present during the entire session.
Conclusion
Teens are a really fun group to photograph, especially for their senior sessions where they are able to really showcase their personalities.
Bring them into the forefront of the whole process so that they are the real creators. Offer them to make decisions about their wardrobe, props, and even locations.
Keeping them engaged during the entire process will give you better photos during the session and will also ensure that they have a great time.
We have a great post on taking perfect prom photography to check out next!