To get the most out of your Nikon DSLR camera in low-light settings, you need the best flash from Nikon (or for Nikon). From high-end, full-featured flashes to more budget-friendly options, we've got you covered!
Whether you are a professional photographer or just starting out, there is an option here that is perfect for you. If price is no issue, we suggest the Nikon SB-5000. Its lightweight body, fast recycle speed, and excellent build quality put it in our number one spot.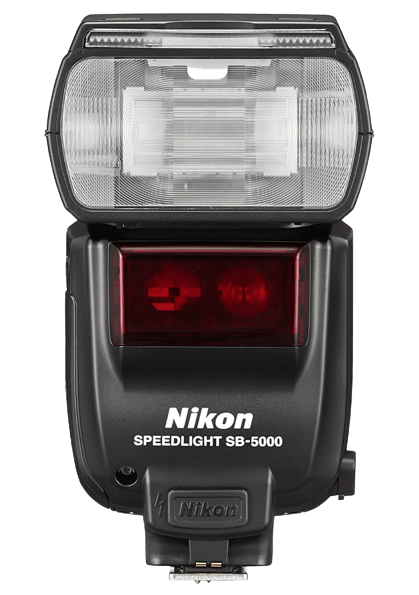 Nikon SB-5000
This powerful flash offers professional-level lighting and creative control, perfect for any Nikon user.
[Note: ExpertPhotography is supported by readers. Product links on ExpertPhotography are referral links. If you use one of these and buy something, we make a little bit of money. Need more info? See how it all works here.]
Best Flash For Nikon DSLR Cameras
Here are the best flashes for Nikon cameras, including some third-party options. Before we get into each one, here are the specs and features at a glance.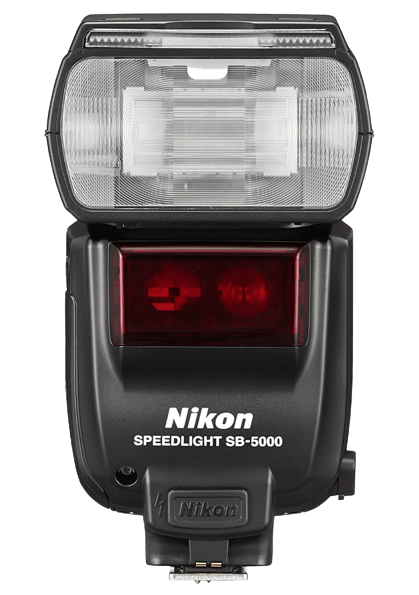 | | |
| --- | --- |
| Brand | Nikon |
| Size | 73x136x103mm |
| Weight | 422g |
| GN (m) | 55 |
| Tilt/Swivel | -7-90° / 180-180° |
| Zoom Range | 24-200mm |
| Best For | Professional photographers |
Nikon's most advanced flash, the SB-5000, has built-in radio control. This means you can use the flash with any newer Nikon body off-camera.
You'll need the WR-A10 and WR-T10 accessories to use the flash off-camera. But you can use the flash even if the camera and flash can't see each other. It opens up a lot more flash techniques.
One thing to note is the radio control only works with Nikon's DSLR cameras. These include the D5, D850, D500, and D7500. (It also works for Nikon mirrorless cameras—the Z7 and Z6.)
It has the fastest recycle time among Nikon's Speedlights. That's because it has a built-in cooling system. This prevents the flash from overheating, allowing up to 100 consecutive shots.
With a guide number of 113 feet at 35mm and 180 feet at 200mm, it's one of Nikon's most powerful flashes. It also includes TTL mode and an autofocus assist beam.
The flash includes high-speed sync and slow sync. It also has first and second curtain firing modes.
The Nikon SB-5000 Speedlight is their best flash. It isn't cheap, but it's a professional-grade flash system that won't let you down.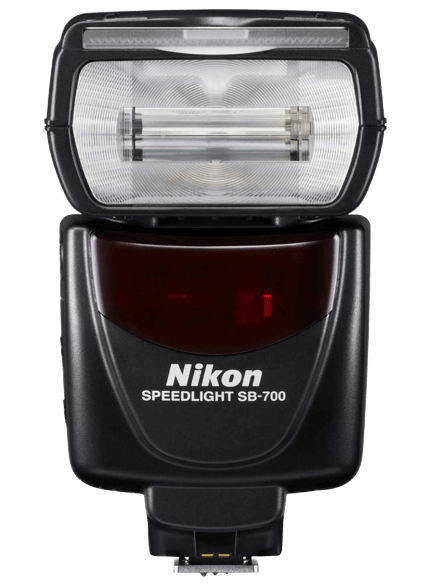 | | |
| --- | --- |
| Brand | Nikon |
| Size | 71x127x104mm |
| Weight | 360g |
| GN (m) | 38 |
| Tilt/Swivel | -7-90° / 180-180° |
| Zoom Range | 24-120mm |
| Best For | Photographers who need a professional-level flash for a good price |
The Nikon SB-700 is an excellent mid-level flash. It's a few steps below the Nikon SB-5000 in terms of capability. But it's more affordable and it's still one of the best Nikon Speedlights.
The SB-700 has a guide number of 92 to 128 feet. The flash recycle time is a respectable 2.5 seconds.
For shooting with shutter speeds faster than 1/250 s, high-speed sync is included. It also comes with first and second curtain sync. The zoom range is 24-120mm on a full frame camera.
The flash still includes the autofocus assist beam and a TTL mode. The flash head rotates 90 degrees up, with stops in between at -7, 0, 45, 60, 75, and 90 degrees.
In manual mode, you can adjust the flash power from full to 1/128. This is good for creating soft light or adding catchlights to portraits. The flash also has a strobe mode and three different illumination patterns.
It doesn't have the wireless communication of the SB-5000. And it doesn't quite have the output and recycle time. But at nearly half the price, the SB-700 is great value for money.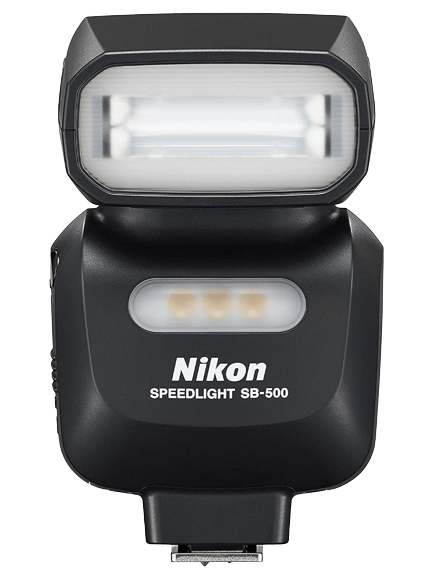 | | |
| --- | --- |
| Brand | Nikon |
| Size | 67x115x71mm |
| Weight | 226g |
| GN (m) | 24 |
| Tilt/Swivel | 0-90° / 180-180° |
| Zoom Range | 24mm |
| Best For | Hobbyists and enthusiasts |
The SB-500 is much cheaper than the more advanced Nikon Speedlights, making it a great budget option. It has an ace up its sleeve. It's both a Speedlight flash and an LED video light in one.
The guide number is lower at 24 to 78.7 feet. But the flash is lighter than the more advanced options at only eight ounces. The flash recycling time is 3.5 seconds.
The flash head rotates 180 degrees and tilts vertically up to 90 degrees. In video mode, the LED has three different brightness levels. In still mode, the flash has i-TTL as well as manual mode.
This Nikon flash doesn't have built-in radio control. But it can be triggered remotely using the pop-up flash or using an external triggering system.
The LED does drain the battery quite quickly. But it's a great option for shooting short videos with your Nikon camera.
The flash is missing high-speed sync for quicker shutter speeds. And it lacks the power and faster recycling time of the more advanced models. But for beginners on a budget, the SB-500 is an excellent and affordable DSLR flash option.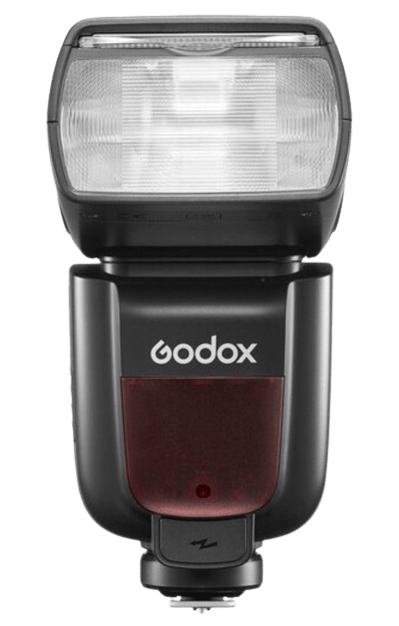 | | |
| --- | --- |
| Brand | Godox |
| Size | 64x127x76mm |
| Weight | 405g |
| GN (m) | 60 |
| Tilt/Swivel | -7-120° / 150-180° |
| Zoom Range | 20-200mm |
| Best For | Photographers on a budget |
The Godox TT685II-N packs a lot of power for a reasonable price. The flash has a guide number of 197 feet and a zoom of 14-200mm.
The Godox flash still supports Nikon's TTL system and even high-speed sync. The brightness in manual flash mode goes from 1/128 to full power.
The recycle time is a quick 1 to 2.6 seconds. And the duration sits between 1/300 and 1/20,000 s.
The hot shoe flash has a swivel and tilt-bounce head. An LCD screen at the back allows you to adjust the settings.
It has a built-in wireless feature, allowing the flash to control other Goddox flashes off-camera. And you can pair it with a trigger for shooting off-camera with a single flash unit. Wireless is available for 32 channels in three groups.
The Godox TT685II-N isn't a Nikon product, but the performance level is still very strong. And it gives you excellent lighting control.
For photographers who want many features without the heavy price tag of a Nikon Speedlight, the Godox TT685N is the perfect option.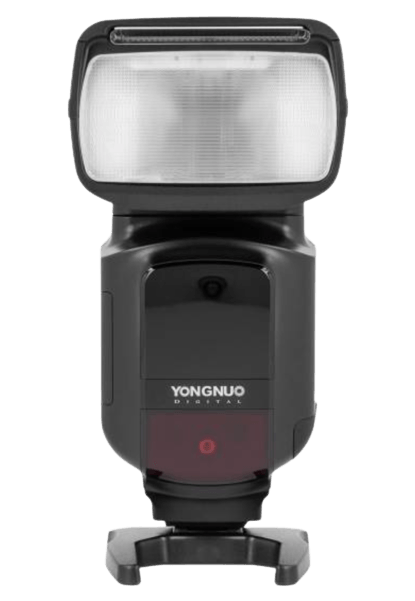 | | |
| --- | --- |
| Brand | Yongnuo |
| Size | 89x219x100mm |
| Weight | 639g |
| GN (m) | 60 |
| Tilt/Swivel | -7-150° / 150-180° |
| Zoom Range | 20-200mm |
| Best For | Photographers looking to save money |
While not a Nikon Speedlight, the Yongnuo YN968N II offers a lot of features for a competitive price. The flash has a guide number of 196 feet and adjustable power from 1/128 to 1/1.
The power is similar to the Nikon SB-700. But the recycle time is a little slower at three seconds. High-speed sync isn't included, limiting the flash to slower shutter speeds.
This third-party flash has a rotating and tilting bounce head. And it covers a zoom range from 20-105mm (full frame). While not designed by Nikon, it still supports Nikon's i-TTL and has high-speed sync.
You get a built-in continuous LED for videography. The flash weighs less than a pound and uses four AA batteries.
The flash also has built-in RF wireless control. But you can't control the off-camera flash from newer camera bodies the way you can with the SB-5000. You can add another flash to the top of the camera to fire one (or more) off-camera.
Buying a third-party brand gives you a high-quality flash with a lower price tag. The YN968N II is another great option for photographers on a budget.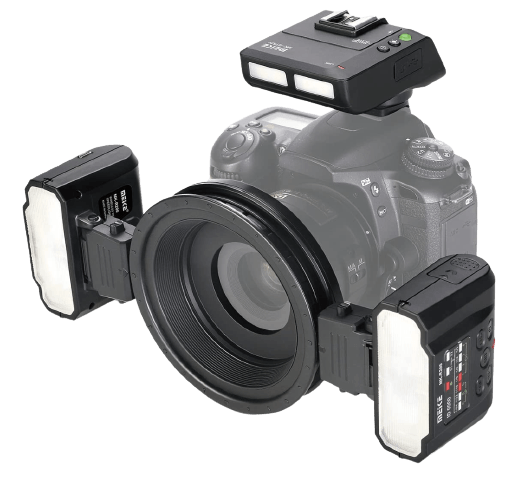 | | |
| --- | --- |
| Brand | Meike |
| Size | 259x227x144mm |
| Weight | 1342g |
| GN (m) | 10 |
| Tilt/Swivel | None / None |
| Zoom Range | None |
| Best For | Specialist photographers |
The MK-MT24 twin flash set from Meike is more of a niche flash option.
This set of flashes is designed for close-up and macro photography. If you're buying this flash to improve your macro shots, improve them even more with our Macro Magic course.
This flash set is another third-party product. But it is compatible with most of Nikon's D range DSLRs and their Z range mirrorless cameras. The Meike flash set also works with the i-TTL system.
Both of the R200 lights in the set can rotate 60 degrees horizontally and 45 degrees vertically. And the front can also rotate independently, giving you excellent lighting control.
The Meike flash system can be configured for 4 channels in 3 groups. You need to set the master flash and the other flashes to the same channel. But each group can have different power levels.
Battery life is a bit of a problem with the MK-MT24 set. You need 2 AAA batteries for each flashlight plus 2 AA batteries for the master flash. If you're using all the lights at full power, these batteries won't last long.
Nikon does have their own close-up light set—the R1C1. The overall performance of the Nikon product is a notch or two higher than this option. But there is a large jump in price. If you don't have the budget, the Meike close-up flash set is a solid alternative.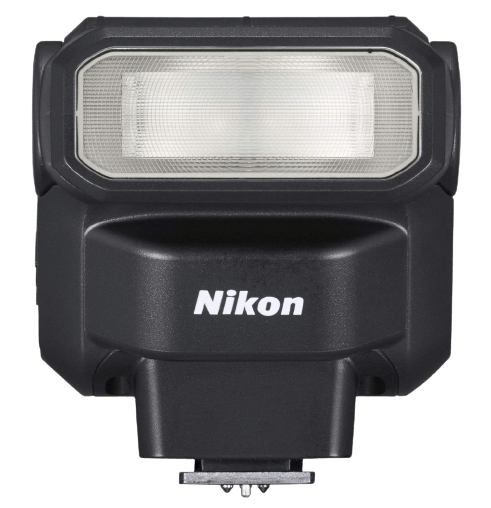 | | |
| --- | --- |
| Brand | Nikon |
| Size | 56x65x61mm |
| Weight | 95g |
| GN (m) | 18 |
| Tilt/Swivel | 0-120° (Incremental) / None |
| Zoom Range | 27-200mm |
| Best For | Beginner photographers who need a powerful flash |
The SB-300 is the most basic Nikon Speedlight on the market right now. Despite the Nikon label, the price is reasonable. And sometimes, a basic flash is all you need.
This flash doesn't have some of the more advanced features shown on this list. But it does have i-TTL capabilities so that you can tailor the flash for individual photos.
This flash produces a balanced light so you avoid awkward shadows. You also get fill-flash and tilt capabilities. You get a tilt range of 120 degrees, allowing you to bounce your flash for different lighting effects.
The SB-300 is simple. But if a simple flash is what you're after, this is the light for you. It's reliable and functions well. And buying one won't break the bank.
Choosing the Best Flash for a Nikon DSLR
Like Nikon cameras, flashes come at different price points with varying features. You have everything from budget options to the pricier advanced models.
Choosing the best flash for you depends on what you need and what gear you already have. If you want a flash you can use with your 200mm lens, you'll want enough power to reach that far.
Flashes are ranked based on their guide number. The higher the guide number, the more light the flash is capable of producing. The recycling rate indicates how long the flash will take before providing another burst of light.
A TTL flash has an auto mode inside the flash. This automatically chooses the settings for you.
Manual mode allows you to choose the flash output from the flash yourself. And a tilting, rotating head gives you more directional control.
Some high-end flashes have wireless control. This allows you to use off-camera flash easily.
While there are several great flashes, the best flash for Nikon depends on what you shoot and which Nikon camera you have.
Conclusion
Nikon speedlights are of excellent quality. But there are third-party flashes that also work well with Nikon cameras. The ones featured in our list still make the grade. And there are options to suit every photographer's needs. Whether your budget is big or small, there's a Nikon flash for you.
If you want to grab the best Nikon flash possible, we suggest you go for the Nikon SB-5000. It has a lightweight body, fast recycle speed, and excellent build quality.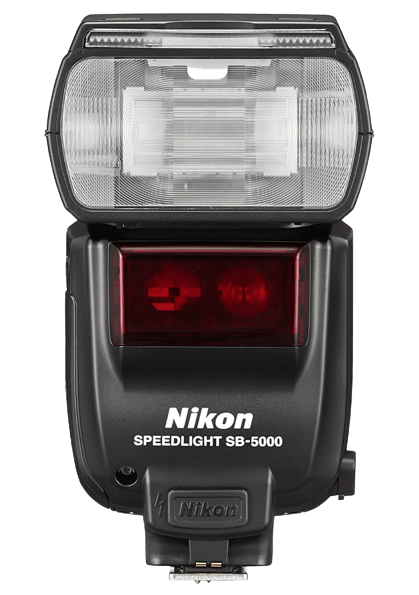 Nikon SB-5000
This powerful flash offers professional-level lighting and creative control, perfect for any Nikon user.