A good flash opens up the opportunity to create great light, in any scene. But what's the best flash for Nikon DSLR cameras?
Nikon has several options at different price points. And there are also third-party options to consider.
Here are the best flashes for Nikon DSLR cameras — and tips to choose the right flash for you.
[Note: ExpertPhotography is supported by readers. Product links on ExpertPhotography are referral links. If you use one of these and buy something, we make a little bit of money. Need more info? See how it all works here. — Ed.]
How to Choose the Best Flash for a Nikon DSLR
Like cameras, flashes come at different price points with varying features. You have everything from the budget options to the pricier advanced models.
The best flash for you is going to depend on what you like to shoot and the gear you shoot with. If you want a flash that you can use with your 200mm lens, you'll want enough power to reach that far.
If you want to shoot a portrait with soft light, you won't be using the full power of the flash anyways.
Flashes are ranked based on their guide number. The higher the guide number, the more light the flash is capable of producing. The recycling rate indicates how long the flash will take before another burst of light.
A TTL flash will have what's like an auto mode inside the flash. This will automatically choose the settings for you.
Manual mode allows you to choose the light output from the flash yourself.
A good flash will also have a tilting and rotating head that will allow you to bounce the light.
Beyond that, some flashes will include more advanced features. Some high-end flashes will have wireless control. This allows you to use off-camera flash easily.
Nikon also has one flash that's capable of continuous LED light for video.
While there are several great flashes, the best flash for Nikon will depend on what you shoot and your gear.
Here are the best flashes for Nikon — including third-party brands — to help you choose the best flash for your work.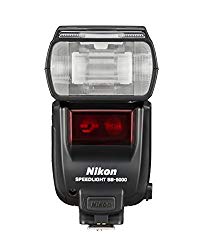 Nikon's most advanced flash, the SB-5000 has radio control built in. This means you can use the flash with any newer Nikon body off-camera. You'll need the WR-A10 and WR-R10 accessories.
The radio communication also means you don't need to see the flash for it to work. This opens up possibilities for tucking the flash behind the subject. Or even hiding it behind other objects.
Note though, that the radio control only works with Nikon's latest bodies. These include the D5, D850, D500, D7500, Z7, and Z6.
Beyond the off-camera capabilities, the SB-5000 has the fastest recycle time among Nikon's flashes. That's thanks to a built-in cooling system. This prevents the flash from overheating, allowing up to 100 consecutive shots.
That same cooling system also makes the flash a tad smaller than earlier generations.
With a guide number of 113 feet at 35mm and 180 feet at 200mm, it's also one of Nikon's most powerful flashes. The SB-5000 also includes TTL mode and an autofocus assist beam.
The flash includes high-speed sync, slow sync, and first and second curtain firing modes.
The downside to all that power? The Nikon SB-5000 retails for nearly $600 as the company's most advanced flash. But, it's Nikon's best flash out there, for photographers that need the most flash power.

The Nikon SB-700 is an excellent mid-level flash. Photographers who find the SB-5000 a bit too expensive, but don't want just a basic flash will find this useful.
The SB-700 has a guide number of 92 feet to 128 feet. The flash recycle time is also a respectable 2.5 seconds.
For shooting with shutter speeds faster than 1/250, high-speed sync is included. It also comes with first and second curtain sync. The zoom range is 24-120mm on a full frame camera.
The flash still includes the autofocus assist beam and a TTL mode. The flash head rotates 90 degrees up, with stops in-between at -7, 0, 45, 60, 75, and 90 degrees.
With manual mode, you can adjust the flash from full power to 1/128. This is good for creating soft light or adding catchlights to portraits. The flash also has a strobe mode as well as three different illumination patterns.
The SB-700 doesn't have the wireless communication of the SB-5000. And it doesn't quite have the output and recycle time. But at nearly half the price, it has plenty of features for most photographers without a big investment.
The flash retails for about $330. The mix of price and feature makes this flash a good option for many Nikon photographers.

The Nikon SB-500 is both a Speedlight flash and an LED video light in one. This gives the $250 flash a feature that even the SB-5000 doesn't have.
The guide number is a lower 24 feet to 78.7 feet. But the flash is also lighter than the more advanced options at only eight ounces. The flash recycling time is 3.5 seconds.
The SB-500 flash head rotates 180 degrees as well as tilting up to 90 degrees. In video mode, the LED has three different brightness levels. And in still mode, the flash has i-TTL as well as manual mode.
Like the SB-700, radio control isn't built in. But the SB-500 can be triggered remotely using the pop-up flash or using an external triggering system.
The LED is likely to drain the flash battery but could be a nice option for shooting a quick video.
While the SB-500 flash doesn't have a crazy amount of features, it does come at a reasonable $250 price point.
The flash is missing high-speed sync as well as the power and faster recycling time of the more advanced models.
For beginners on a budget and photographers who also dabble in video, the SB-500 is a decent, affordable option.

The Godox TT685N packs in a lot of power at a reasonable price point. The flash has a 197-foot guide number and a zoom range of 14-200mm.
The Goddox flash still supports Nikon's TTL system and even high-speed sync, as well as a manual flash from 1/128 to 1/1.
The recycle time is a quick .1 to 2.6 seconds and the duration sits between 1/300 and 1/20000 seconds.
The hot shoe flash has a swivel and tilt bounce head. An LCD at the back allows photographers to adjust the different available settings.
The Godox TT685N has wireless built-in, which allows the flash to control other Goddox flashes off-camera, or can be paired with a trigger for shooting with off-camera flash with a single flash. The wireless is available for 32 channels in three groups.
Many reviewers compliment the flash's design, while several say performance is similar to a Nikon-branded flash. The third-party brand gives photographers those features for a lower price point.
The TT685 sits just a bit over the three-figure price point or sells for $156 with a XT1 trigger.
For photographers that want a lot of features without the higher price point that comes with the Nikon brand, the Godox TT685N Thinklite is an excellent option.

While not a Nikon-branded flash, this Yongnuo flash offers a lot of different features for a competitive price. The flash has a 196-foot guide number, with power adjustable from 1/128 to 1/1.
The power is similar to the Nikon SB-700, but the recycle time is a little slower at about three seconds. High-speed sync isn't included, however, limiting the flash to slower shutter speeds.
The YN968N has a rotating and tilting bounce head and covers a zoom range from 20-105mm (full frame). While not designed by Nikon, the flash still supports Nikon's i-TTL and also features high-speed sync.
Like the SB-500, a continuous LED is also built in for video. The flash weighs less than a pound and uses four AA batteries.
The flash also has RF wireless control built-in. You can't control the off-camera flash from newer camera bodies like the SB-5000. But you can add another YN968N to the top of the camera to fire one (or more) off camera. 
Going with a third party brand brings those features at a lower price point. The YN968N retails for about $130. Like the Godox, it's a good option for photographers without a big budget.
Conclusion
The best flash, like the best camera, varies a bit based on what you shoot and the features you need. If you want to use telephoto lenses, you'll need a higher powered flash. If you want softer portrait lighting a high powered flash may be overkill.
Features like high-speed sync, recycle times, and wireless control are also important to consider. TTL is a good feature to have for beginners, while manual mode will offer more control.
That said, Nikon's mid-level SB-700 is likely plenty of flash for most photographers. It comes with features like high-speed sync, but without the higher price tag.
Photographers that demand more features and need a flash to reach to 200mm may consider the SB-5000.
Photographers on a tighter budget could consider options from Goddox and Youngnuo to still get several advanced features at a lower price point.
Why not check our Sigma 70-200mm f/2.8 DG OS HSM Sports Review or our article on How to Update Nikon Firmware next!
Want More? Try Our Lightroom Processing Course
Do you know how to use Lightroom to bring out the details hidden inside your images?
Lightroom is a great program, but with countless sliders and tools… it's hard to know how (and when) to use each of them.
That's why we've created the most complete and up-to-date training on Lightroom.