The Nikon Z7 is a high-end full frame mirrorless camera that's been making waves in the photography world since its release. It's got a ton of features that both amateur and professional photographers will love, from its 45.7MP sensor to its fantastic autofocus system.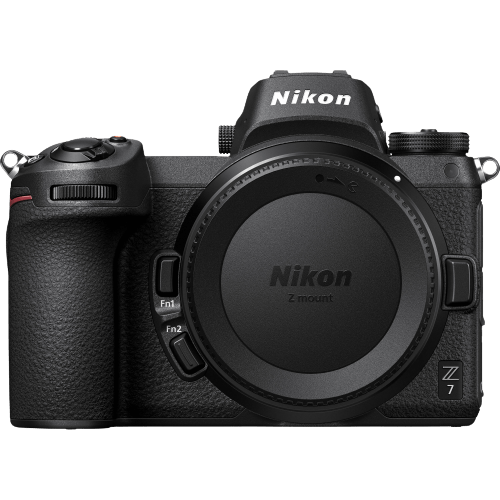 Discover the ultimate full-frame mirrorless camera for capturing stunningly detailed images and videos. Experience unparalleled optical performance with the Nikon Z7.
Nikon Z7 Overview and Specifications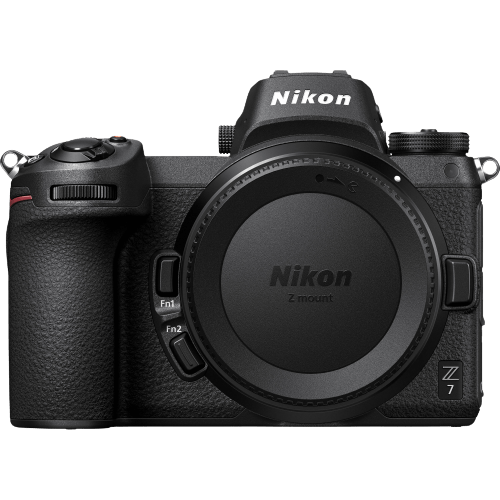 Released

Released

2018

Sensor Format

Sensor Format

Full Frame

Lens Mount

Lens Mount

Nikon Z

Megapixels

Megapixels

Autofocus Points

Autofocus Points

Maximum ISO (Native)

Maximum ISO (Native)

Frame Rate

Frame Rate

In-body Stabilization

In-body Stabilization

Video

Video
This is a 45.7-megapixel full frame camera, a drool-worthy feature for
commercial photographers
of the world. Higher megapixel counts and
full frame sensors
tend to mean more than just larger
print sizes
. The quality of the image is also significantly improved.
This shows up in the editing phase, with more megapixels equalling better editing control and a reduced loss of quality!
You can crop in very close and still retain a very high-quality image. The mirrorless cameras have been truly excelling at this.
The Nikon Z7 Mirrorless does have its own individual mount and lens line. It has a 17% larger internal diameter than Nikon's F mount and can reach maximum apertures as wide as f/0.95.
The company does not currently have many lenses in this mount. But they plan on expanding their line by the end of 2020.
In the meantime, this camera does support Nikon F-mount lenses with the Mount Adapter FTZ.
The camera features a 9 fps maximum frame rate. This is a nice touch for action photographers. Set the camera up to high-speed continuous shooting. You'll (almost) be able to capture an entire action sequence.
This pairs nicely with the video capabilities of this camera, a snazzy 4K UHD 3840×2160 at 30/25/24p.
The ISO ranges from 64–25,600 normally but is expandable to 102,400, aiding in both high noon sun shoots and very low light captures!
The ISO 64 allows you to shoot light-colored subjects at wide apertures in very bright conditions. Larger ISOs let you play in the dark.
The ISO leads me to my next point. The Nikon Z7 Mirrorless has an internal image stabilization system. The powerful in-body 5-axis VR image stabilization is applied to whatever NIKKOR Z lens you're using.
The Nikon Z7 Mirrorless also has built-in Wi-Fi, Bluetooth, and 8K time-lapse. To expand on the 8k time lapse, you can shoot up to 9,999 full-resolution stills with no shutter vibration using the Interval Timer. Then you can combine them into one 8K movie with 3rd party software.
The 493-point Hybrid Autofocus System is also a nice touch, aiding in ensuring your subject is neatly in focus. This camera also sports the following:
Slow Motion Video
WT-7 transferring
Advanced Scene Recognition
RAW Batch Processing
Square Format (1:1)
Silent Interval Timer
Electronic Front Curtain Shutter
Silent Photography
Audio Attenuator
Physical Build
The design and ergonomics are intended to be familiar to Nikon DSLR users. This is likely to help ease the switch into mirrorless.
I like to describe this camera's physical build as basically taking a Nikon DSLR and squishing it into a smaller package! You'll find that even the minuscule details such as the red stripe on the grip mimic that of this camera's larger cousins.
The buttons and controls are quite different. Instead of a simple mode button, it has a regular mode dial. The drive mode is now selected through a button rather than a dedicated control dial.
The back still features a focus point lever and an AF-On button. The four-way navigation pad feels stiff and rather small in comparison to other mirrorless cameras. That isn't something I'd really consider a deal breaker.
The body is made of magnesium alloy (a rugged and durable material) and weighs in at about 1.3 pounds. This mirrorless is a bit larger than its competitors, sizing in at 4 inches tall and 5.3 inches long. However, the camera is nicely balanced, even with some of the larger lenses on it due to this very slightly larger size.
On the upside, even with the FTZ adaptor fitted and used with some of Nikon's bulkier DSLR lenses, the camera still doesn't feel unbalanced.
Maybe this is coming from a Sony user (myself) who pairs the body with an adapter and Canon's L glass lenses (massive!). Anything different feels much more balanced.
The upcoming arrival of the Nikon Z7's dedicated battery grip should further improve the handling with big lenses.
On the topic of grips, the current hand grip is very deep and tactile. The camera won't accidentally slip out of your hand. (I am always paranoid about this!)
As is customary for cameras that are intended for professional use, this body is weather sealed and dust and moisture-resistant. That said, use your best judgment and take care in questionable weather conditions.
Where Nikon has really invested in its marketing is describing the fantastic electronic viewfinder (EVF) on this camera. The EVF sports an ultra-high resolution QUAD VGA display with Nikon optics for magnification (including Aspherical lens elements and Fluorine coating). Yes, that was quite a mouthful.
In layman's terms, the viewfinder is highly accurate and precise. The company promises minimal lag and blackout and 100% frame coverage, as well as corner-to-corner clarity and sharp magnification.
The display is also icon driven. It has everything you need to know right there in front of you.
I can attest to the viewfinder performance. I took my time with this model and experienced no delay in EVF performance when mucking around!
The LCD screen tilts and is touchscreen. Showing images in high resolution, Nikon promises that the screen is as sharp and clear as the latest smartphones. I'd ring this to be fairly accurate after my own use.
The touchscreen itself has some fun features, such as touch to focus, pinch to zoom, and touch to fire the shutter.
Finally, the card slot. There is just one slot. This is a big bummer for someone like me who has become very used to multiple card slots. I rely on them quite a bit. As well as the single slot, you need an XQD card.
Nikon has already indicated their intention to upgrade the slot to support CFExpress cards in a future firmware update. That doesn't change the fact that you will need to switch to a new type of card in order to use the camera now.
Unfortunately, this is my biggest deterrent from this camera. I'll stick with my Sony and my Canon. Both feature multiple card slots and are very versatile with types of memory.
Ease of Use & Personal Experience
I think it is important to chat about this facet of the camera before even getting to the image quality. My reference to mirrorless cameras is the Sony Alpha series and Canon's newest mirrorless line R. Both are very different from one another.
The Nikon, however, comes in as even more different from the previous two.
The buttons are focused on the right-hand side, making this comfortable for a right-handed user like myself. I found them to be very convenient.
The touchscreen was extremely responsive and turned off nicely when using the electronic viewfinder. The touchscreen was great for achieving focus in difficult situations. I really liked the pinching feature for zoom!
The tilting screen is also useful for low or overhead angles. Physically, this camera is fantastic.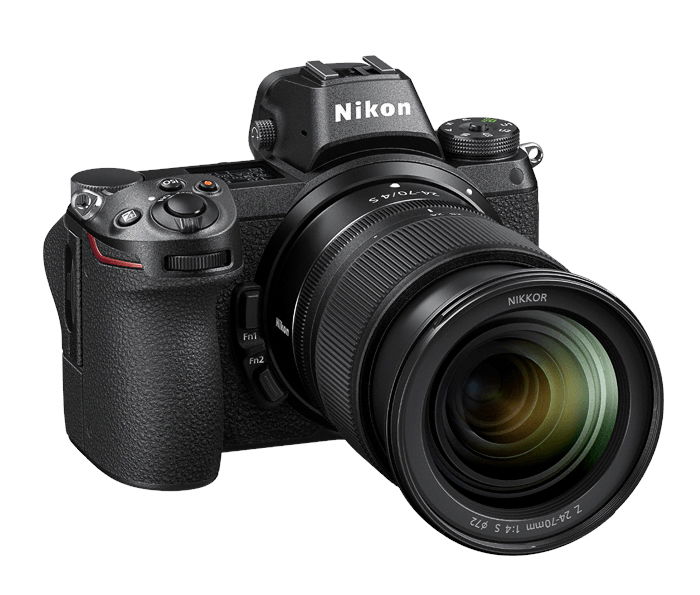 I used this camera inside the convention center, complete with bright fluorescent lights and a lot of action. The camera performed very well in this lighting condition and achieved focus quickly.
However, I saw some hunting issues when my subject of choice had some minor obstacles end up in their way. And the facial recognition AF had trouble too. It would sometimes pick up objects as a "face" rather than the actual model subject standing right near there.
In low light, the camera struggled quite a bit. I walked into a low-light studio situation at the convention center and I really had a problem with this. These issues may improve with new firmware, but we shall see!
Autofocus & Focus Stacking
As mentioned above, the focus needs some work. The camera hunted in the wrong direction enough for it to just be simpler to keep re-initiating the autofocus feature. The face detection picked up inanimate objects.
I did have the same issue with another brand's mode. It was repaired quickly with a firmware update. Hopefully, Nikon will have one as well!
This model does lack the Eye Autofocus that many other mirrorless cameras have. Nikon has spoken up and stated that this update is coming.
The lack of Eye AF would be forgivable if facial recognition worked well. Because it doesn't, I found it easier to use the touchscreen LCD to select my focus than letting the camera do it.
The Nikon Z7 does have a fun feature that works very well called Focus Stacking. Focus Stacking is how you achieve an "impossible" depth of field but taking multiple photographs at different focus points and stitching them together.
Imagine you're photographing a ring. You want the depth of field to be equivalent to F/1.8, but you need the whole ring in focus.
Your camera would take several photographs of the ring from the same perspective at different focus points. You then stitch the images together for a ring that has every part of it in focus and maintains the shallow depth of field background.
With focus stacking enabled, the Z7 will take a series of photos focused at different distances. It'll start from front to back.
The idea is that you later combine these photos in post-processing software to create a final image with a huge depth of field.
Sharpness and Clarity
This camera is very sharp! You really don't see any granularity at all. Actually, at times I forgot this was a mirrorless camera. You may see some lag or blurring if you move the camera too fast. This wasn't as prominent an issue as it was with several other mirrorless competitors.
The sensor has an addition of EXPEED 6. When activated, it brings a mid-range sharpening function. You can use this alongside the existing sharpening and clarity functions seen in other Nikon cameras.
I really enjoyed the look of the final image output from this camera. Nice contrast, solid colors, and good clarity!
Low-Light Capability
Here's where we run into another problem with the Nikon Z7. This is a dealbreaker for me based on what I photograph the most—live concerts.
The autofocus begins to struggle significantly in low light. According to an independent test (and a bit of my own playing at the WPPI convention), the Z7 begins hunting in light levels two to four stops brighter than comparable cameras from Sony and Canon.
This camera does have a Low Light AF mode, but I saw no difference when activated.
Battery Life
Where Nikon has excelled is battery adaptability. The Z7 uses the same battery as Nikon has used for the advanced small body DSLRs called the EN-EL15.
If you're making the switch, keep the battery! You can even use the EN-EL15a. That said, the Z7 does come with a new variation of that battery, the EN-EL15b.
The battery life is quite good! Exceeded my expectations by far. On paper, the camera is rated at 330 shots. In real life use, you can fill a 32GB card and the battery depleted only to 71%.
Conclusion
Pros:
Very comfortable ergonomics and a very solid, durable build
Weather sealing
9 fps
Good ISO range
Internal stabilization system
Brilliant touch screen and EVF
Adaptable battery and good battery life
A slew of unique and practical features, such as built-in Wi-Fi, Bluetooth, 8K Time-Lapse. To expand on the 8K time-lapse, Focus Stacking, Focus Peaking, Slow Motion Video, WT-7 transferring, Advanced Scene Recognition, RAW Batch Processing, Square Format, Silent Interval Timer, Electronic Front Curtain Shutter, Silent Photography, and an Audio Attenuator.
Good sharpness and clarity.
Cons:
Very expensive
Larger than equivalent mirrorless cameras
Only one card slot and only accepts a new card format called XQD
No eye tracking AF. Facial tracking picks up inanimate objects instead of faces
Poor autofocus in comparison to relatable models in this price range
Low-light performance leaves much to be desired
The Nikon Z7 is not my cup of tea. But it is not a bad camera by any means! On the contrary, there are some really useful features and improvements in this model that I wish others had.
That said, there are still quite a few quirks to smooth out in future firmware updates or models. At a price point of over $3k, I did expect some better use out of this model. Other models within the same price point are a bit more accurate (especially with autofocus).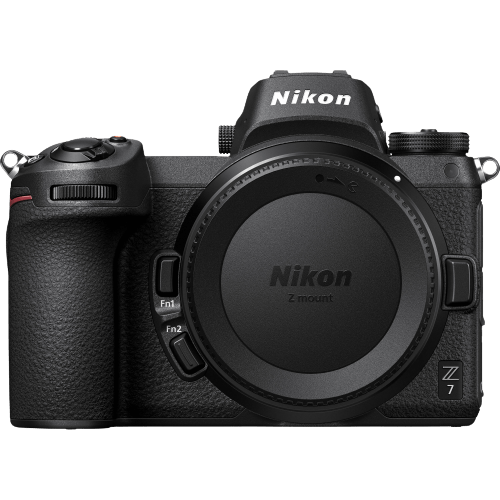 Incredible 46 MP resolution, reliable image stabilization, and stunning video capture make it a powerful mirrorless camera. It shows Nikon is serious about mirrorless cameras.