Family photography is a great way to keep beautiful moments with the people you love. So how do we master family photo poses? As every family is different, preparation is key.
Without preparation, this beautiful occasion can end in chaos, especially if you are posing a large family with children or pets.
Read our list of favourite family portrait poses and how to prepare for them!
eBooks and Courses for Everyone
Tips for Capturing the Perfect Family Photo Poses in Family Photography
The concept of photographing families is quite broad. Single parents, families with toddlers, teens, or families with no children all fall into this category.
This means you will need to take time to prepare yet leave room to stay flexible. These are our most important tips you should do before the shoot.
Discuss the family's expectations in advance. Ask your clients what their expectations are. How many people they'd like to include in the shoot, how many children they have, who is related to whom and how. The photo session to be an enjoyable experience for each family member to make the photos look comfortable and intimate. It is a good idea to collect activities that the family enjoys, such as playing with the children or walking in nature and include those in the shoot. This will result in more natural and spontaneous photos.
Choose camera equipment to suit your needs. Picking the right lens is also an essential part of preparing for a shoot. Wide-angle lenses can fit great with family images, especially if you get as close to the models as you can. This adds a certain intimacy and new perspective to the images. Telephoto lenses are excellent for having a smooth background. They emphasise the subjects and separate them from the background. Longer lenses are the best choice if you are aiming for less environmental focused scenes.
Come prepared with a shot list. Another helpful thing is to have a list of family portrait poses prepared in advance. With that, you will always know what to do, and even if you get distracted, you can quickly get back into focus. For this reason, we have collected the best family poses for your next shoot.
Best Poses for Family Photography
1. Walk Hand in Hand
This is an excellent family portrait pose to start with. In this pose, the parents are holding onto their child's hands. They walk naturally.
They can look towards the camera, but you can get nice candid shots if they walk as if you were not there. The parents can lift the child up while holding his hands. This can result in spontaneous and fun photos.
Encourage the models actually to walk, not pose. This will get the parents to focus on their child instead of you. And you will capture beautiful moments of genuine family love.
It is best to take this photo from the child's eye level, as it shifts the focus to him. You can create a symmetrical central composition where the child is in the middle. But you can also leave the leading space on the side where the family is walking to.
2. Follow the Leader
This is another great sequential pose of the 'Hand in Hand' initial tip. Let the child walk ahead of one of the parents as if they are leading them.
This pose is great for toddlers in the first months after they start walking. These months are elusive as the child becomes more and more confident. This is the reason why parents like to capture this period while it lasts.
A fun variation asks the second parent to follow behind the first parent, creating a human chain.
Remember that children at this age can get tired of walking quickly, so be fast with your camera. Also, keep in mind that they might decide to run suddenly. Make sure that you are in a safe area.
3. Walk While Holding The Child
In family photo poses, it's all about your subjects appearing as natural as possible. Walking while holding the child is a great way to achieve this.
Ask one of the parents to hold up their child while they're walking with their partner. This pose is useful if the child gets tired. They can also make the child sit on their neck to create a triangle composition.
If you work with a family with two children, each parent can carry one to create symmetry.
Another thing to consider is where you position yourself. You could walk ahead of them and take photos of them walking towards you. Or you can take a photo of them from behind.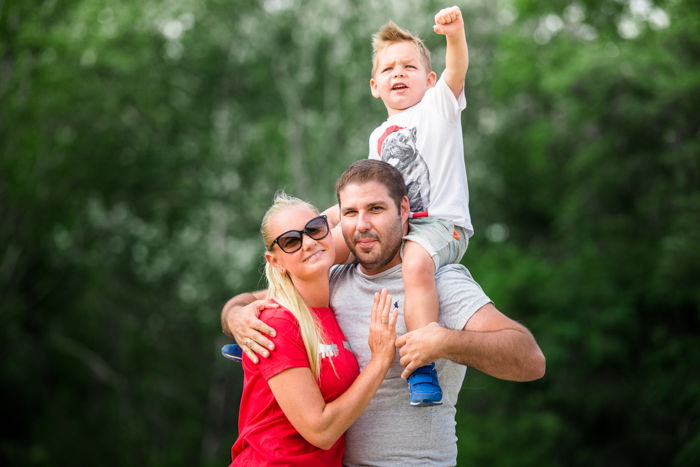 4. Have Fun On The Shoot for Spontaneous Poses
You should encourage the group to play around for one of the best family photography poses. If you have toddlers, a fun trick to try is to make them pass under their parents' legs.
With bigger groups, you can ask them to think of their inside jokes when posing. You will get the chance to catch some nice smiles, and the photos will be lively!
5. Make a Composite of Generations
Putting the generations next to each other is a great way to show how time passes. You can create such composites either with planned poses or in Photoshop.
If you are aiming for the Photoshop version, first, you need a suitable location and lighting. Find an empty wall and put the models in front of it. They should be looking out of the picture, as you will need side portraits. Take an image of each family member with the same settings and lighting in the same pose. After that, you need to put these faces next to each other in Photoshop.
You can also think of a creative pose that puts the different generations next to each other. In this photo, for example, you can see the parents and grandparents of the newlywed bride and groom kissing in front of the happy couple.
6. Sit Down and Get Comfortable
I like to start my photo sessions with a few seated family portrait poses. This is a nice way to get them comfortable with the camera.
It would be best if you kneeled or sit to take photos at eye level with the family. One of the best aspects of this pose is that you can be at eye level with both the parents and the children.
Get the family to sit close so that they can hold hands or each other's shoulders. Make sure that they don't have big gaps between them as this might give a sense of disconnection.
One more important thing is to pick a good place to sit. Pay attention to both safety and cleanliness. This is especially important if you're starting the photo session. No one is going to be comfortable with a smudge on their pants, so avoid sitting on the ground after rain or in the mud.
7. Make a Train
This is a fun variation of the sitting pose. In this case, instead of sitting next to each other, the family sits one behind the other.
Make sure that no one is blocking anyone else from view. Generally, a shortest to tallest arrangement works best.
This is a great way to create family poses for five subjects. With a simple set up, you can capture great photos.

8. Lift the Baby
This is a fun pose that reminds the viewer of the famous Lion King scene at the beginning of the movie.
I suggest doing this photo only if the parents play with the child this way at home too. And if they are 100% sure that it is a safe move. Some children get sick from heavy lifting- and you definitely don't want that ruining your shoot!
If you want to create an impressive perspective, take the photo from down, looking up. Select a fast shutter speed to make sure you freeze the movement (around 1/250, seconds for example). And snap away!
The baby lift is one of those iconic and classic family portraits poses that will definitely warm the heart of the parents.
9. Give Each Other a Hug
For parents, hugging their child is so natural that they won't need too many instructions. This pose works well when the adult is kneeling. This way, the child can easily hug them around the neck.
It is also a good chance to take photos of only one parent and the child. By swapping the subjects around, you can create many family photo ideas from one.
This works with older children or extended family as well. They can even give each other a huge group hug which you can capture. For a unique perspective, try shooting from above while standing on a chair or a bench.
10. Get Down to the Child's Level
In this pose, you have the parents kneeling or crouching near the child. This is a way to have all the members of the family at a similar height.
This pose gives you the opportunity to utilise various compositional methods. You can bring symmetry and balance to the photo by using a central composition and placing the parents on both sides. If the family is leaning towards each other, it can create a triangle, which adds dynamics to the image.
Shooting from close to the ground will give your photo a foreground, which adds depth to the image. Make sure you are using a wide aperture to create as shallow of a depth of field as possible.

11. Kiss the Child
This photo is a must when it comes to family photo poses with a child. The parents will kiss their child even if you don't instruct them to.
You should try to capture those genuine moments but also don't be shy and ask them to repeat the kiss if you missed the moment. They will be happy to oblige.
You can have the parents hold the child and kiss him from both sides. Or they can lie down on the ground, and you can shoot from their eye level.
12. Lay Down
Family portrait posing work best when the family connects to each other, and having them lying down is but one example.
Get down to the subjects' eye level. This will create a foreground and will emphasise depth in the picture.
For lying down poses, I recommend you use a picnic blanket or something similar. If you are at the beach or on wet grass, you should also put a plastic sheet under the blanket.
13. Try a Lower Perspective
When it comes to family portraits, the standard is to take photos from the subject's eye level. Breaking this rule can give your photos a unique perspective if you want to spice your pictures up.
You can crouch and point up with your camera. Tell the parents to stand next to you, holding the child and have them look at each other.
You can play with the focus and have them all in focus or only focus on the child. Change the perspectives and be creative in generating a constant flow of different family portrait poses.
14. Take Images From Above
In contrast to the previous tip, taking images from above is a little more difficult. Unless you have a drone to take this type of photo, you need to either get higher than the family or get them lower than you. They can sit or lay down.
They can put their heads right next to each other while looking into the camera. The closer together you can get them to be, the better.
You can crop this photo so that they are only visible from above the shoulders. But make sure to get the focus right. The closer you get to the subjects, the more visible it will be whether the focus is on their eyes or not.

15. Details Count Too
You can get more artistic photos by cropping the family portraits and focusing on details.
This could be the feet while the family is standing close to each other. I recommend having the children between the parents to emphasise the difference between the adults and the children.
You can do the same with hands, putting the emphasis on interlocking fingers. It is also a fun idea to ask the family to bring a matching accessory to the shoot, such as sunglasses or hats. Focusing on these can make for excellent creative family portraits.
16. Have a Family Holiday Shoot
Holidays are the perfect chance to capture a family spending time together. No matter where they go, there are always free-time activities that can result in great candid family photos.
Whether it is playing in a pool or enjoying a campfire, you can ensure that your pictures will have a heartfelt atmosphere. Holidays also give the family the opportunity to try out a variety of sports, which make for awesome action photos.
Make sure to stay in the background and let the family do their thing. This way, you will get the chance to catch emotional moments.
17. Capture Spontaneous Moments
While family portrait posing can give great results, it is also worth to try catching spontaneous moments. Tell the family to do something they love, such as reading a story to the children, playing board games, or going for a ride.
You can quietly join in the background and capture some quite happy moments while they focus on each other's company.
Conclusion: Family Photo Poses
I recommend you to give the family clear and easy instructions. Please encourage them to be active. Have them walk around, hug, kiss and play. This will give you plenty of chances to take some beautiful candid photos and capture genuine moments!
When working with little children, be patient and don't push them to do any particular pose if they don't want to. You might not get the poses you were planning, but if you keep an open mind, you will find photo opportunities everywhere.
Flexibility is crucial in family photography. Make sure they are having a great time together. This is a sure way to have a successful family photo session and get some great pictures!
Want to take your family photographs online the most effective way? Try our Social Success Strategies and build your online following.


eBooks and Courses for Everyone