When it comes to printing out your photos or sharing them online, you've probably already noticed they look different than on your monitor.
It might be because you don't have a monitor suitable for photo editing, or it's not calibrated.
Let's see which are the best monitors for photo editing, from budget-friendly to high-end.
[Note: ExpertPhotography is supported by readers. Product links on ExpertPhotography are referral links. If you use one of these and buy something, we make a little bit of money. Need more info? See how it all works here.]
What Type of Monitor Should You Choose?
Photography and graphic work require color accuracy and, most importantly, broad color range.
Out of the numerous display types on the market, there's only one that consistently provides these. The technology is called IPS, an abbreviation for In-Line Switching.
IPS monitors generally offer great color coverage, often displaying the full sRGB spectrum, and most of Adobe RGB too. After calibration, you'll get an accurate and full-color display. They give you wide viewing angles and outstanding brightness levels.
Keep in mind that it is mainly for printing purposes. Most people are watching photos on various devices — mostly the screens of their smartphones and laptops. The appearance of the images on other devices will differ from the ones you edit with these displays. But the outcome of the prints will be more accurate.
Always take into consideration that your picture should be bright and contrasty. It has to be vibrant enough for prints and those viewers who are looking at them on their smartphones.
What Should You Look for in a Monitor as a Photographer?
When choosing the best photo editing monitor, you should consider the following factors:
Resolution. The higher the resolution, the more content fits on the screen. This means showing more of the photo or more editing panels. You can see more details when zooming out. For photo editing, aim for at least a Full HD (1920 x 1080) monitor. Even a 4K (3840 x 2160) IPS panel you can get at a reasonable price — but there is basically no upper limit.
Size. Bigger is better. You want to be able to see your art in its full beauty. Bigger monitors are also better for your eyes. Aim for 23 inches or larger.
Color Space. I can't stress enough how vital proper color display is. Your monitor should cover at least 90% of sRGB and 70% of the Adobe RGB spectrum. These color spectrums are industry standards. sRGB is the standard 8-bit color space for web. Anything that gets to the internet is in sRGB. Adobe RGB is a broader spectrum of colors.
Brightness. This factor is not an issue with an IPS panel. Still, keep in mind that having a bright display is useful. Most of us don't have complete darkness in our editing rooms.
Rotatability. A lot of monitors now offer the option to be rotated by 90 degrees. If you're likely to edit a lot of portraits, it's very useful. Not long ago, this was a feature of professional monitors only, so take advantage of it.
Response Time. For photo editing, quick response time is not crucial. However, if you're editing videos as well, keep an eye on it. Aim for 10ms or less.
Black Levels. IPS screens will never reach the same black levels as OLED. But, there are differences between IPS and IPS in black levels as well. Aim for the darkest you can find. There's no standardised measurement for this. You need to look at review sites such as Rtings to check it.
Calibration Settings. If you're buying a cheaper monitor for photo editing, make sure it offers sufficient options for monitor calibration. On most midrange and professional displays, there is a service menu. It allows for complete 8-bit calibration, from RGB (0,0,0) to (255,255,255). Alternatively, some offer color calibration from 1 to 100. For most users, that is enough.
Viewing Angle. Make sure to buy a monitor with adequate viewing angles — at least 160 degrees in any direction. IPS monitors are all great in this respect.
It's important to note that it is best to buy a high-quality monitor from a renowned manufacturer. These include Eizo, Sharp, Dell, LG, BenQ, and a few others.
The most important thing is to do your research beforehand and choose responsibly.
How Does Your Choice of Monitor Influence Your Work?
Accuracy of Color Reproduction
First, color reproduction is essential to any visual piece of art. And, when you're the one creating it, it becomes even more crucial.
Think about it: if you can't see the work in its true colors, nobody can. The final result, be it a photo, a movie, or a graphic, will lack color detail. Such differences can alter a photo significantly. A shift to cooler tones may communicate the exact opposite of what you've intended.
Having a monitor that can show true, calibrated color accuracy is a must. Head over here to learn how to calibrate your monitor, or ask an expert to do it for you.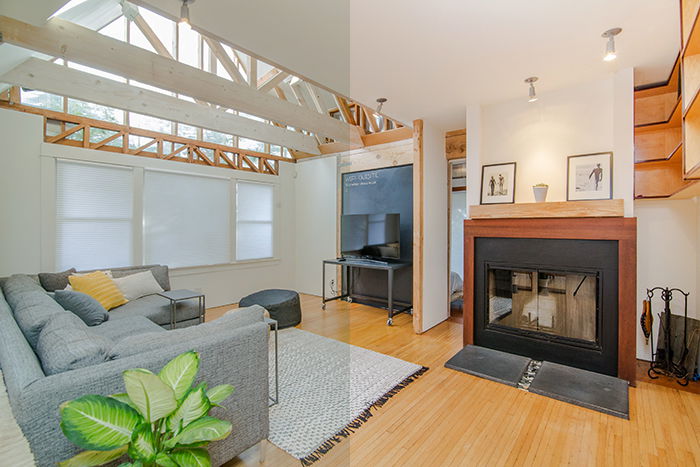 To show you the importance of accurate color reproduction, I edited the next photo on two different monitors. The first monitor was oversaturated; its brightness was turned to full. It was also too warm and had a purple tint. The second monitor was calibrated.
This is an arbitrary example, slightly emphasised to show the point. But real-world monitor issues are often similarly hilarious.
The photo edited on the uncalibrated monitor is cold, dark, and lacks contrast. The second one communicates a better feeling, in line with my intentions.
You might ask: almost no one has a calibrated monitor, so why should I?
The thing is, if you get the image right, it won't look very differently anywhere. But, if your display is too warm, photos viewed on a cooler monitor will look very cold. (And vice-versa.)
Dimensions of the Monitor
Another essential factor is the size and resolution of the display.
With small, low-resolution monitors, come issues. You might not be able to see the photo in full detail. Of course, you can always zoom out, but then the details become blurred.
You have to choose to see either the details or the whole image.
High-resolution monitors can offer the same experience as big prints. You're able to see the whole image but observe the details at the same time. This translates to images that feel fuller and more comprehensive.
A good monitor even has the ability to inspire you. Seeing your images in their accurate scale, color and detail will give you more satisfaction and inspire you to create more.
Best Monitors for Photo Editing 2020
This BenQ PhotoVue monitor (SW321C) is amazing, and one of the best photo editing monitors on the market. It supports 100% of the sRGB, 95% of DCI-P3 and 99% of the Adobe RGB color gamut. This means your prints and uploaded photos will match those you see on the screen in front of you.
This is a 4K monitor, giving you a resolution of 3840 x 2160. It incorporates IPS technology, which is obviously shown in this price range. The aspect ratio of this BenQ is 16:9, the refresh rate is 60 Hz and the contrast ratio is 1000:1.
The monitor uses a 16-bit (3D) LUT, giving you a wider color gamut than what is possible with other 12-bit or smaller LUT systems. It comes with a USB-C port, allowing you to plug in external calibration tools for sustained true color output and accurate reproductions.
The system comes with the Palette Master Element Calibration Software giving you the best quality calibration possible.
Overall: ★★★★★

The 31-inch Eizo ColorEdge is one of my favourites and best monitor for photo editing. This is definitely a professional-grade monitor.
Why? Well, it's down to the accurate color display, which is crucial for professional photographers.
It offers complete RGB coverage and 99% of the Adobe RGB spectrum. 10-bit color is supported, drawn from a 16-bit look-up table (LUT).
The CS2731 offers a 2560 x 1440 resolution. It is the first in the ColorEdge lineup to feature USB Type-C connectivity, which includes DisplayPort signal channel and 60W power supply.
Its calibration tool provides continuous color accuracy, enabling you to have incredibly effective post-processing. The Quick Color Match Software automatically adjusts the monitor, retouching software, and printer settings, thus achieving accurate printing.
This is a neat system for any kind of photography, from wedding to real estate.
Overall: ★★★★☆

Dedicated to working professionals, this Dell Ultrasharp monitor is mainly renowned for its incredible color accuracy. It offers a wide color coverage with 100% sRGB and 99.5% of the Adobe RGB color gamut and a color depth of 1.07 billion colors.
It also comes with 87%  support for the DCI-P3 color spectrum. You fine-tune your colors as well, using the Custom Color mode of the device.
Being a 4K monitor, it offers a 3840 x 2160 resolution. With its ultra-wide 178 degree viewing angle and 31.5-inch screen, this monitor is a perfect workhorse for professional photographers.
The contrast ratio is 1000:1 and the refresh rate is 60 Hz. The 6ms response time makes it suitable not only for photo but for video editing as well.
This monitor also incorporates IPS technology, which makes it worthy for its higher price, while still being affordable.
Overall: ★★★★☆
This is the second BenQ in this article, which is a perfect indicator that they are one of the best manufacturers of photography-oriented monitors. The BenQ PD3200U is a 32-inch screen with a contrast ratio of 1000:1 and a resolution of 3840 x 2160.
Brightness level lands on 350 cd/m². Being an IPS panel, its maximum viewing angle is a wide 178 degree. The response time of the monitor is 5 ms.
The monitor supports up to 1.07 billion colors and its refresh rate hits 60 Hz. There isn't much difference so far between this and the LG.
The monitor supports 100% Rec. 709 color space as well as 100% of the sRGB color space. It also comes with a 14-bit LUT (look-up table) which enables a much larger color palette compared to other monitors. This allows for better color accuracy.
If you are worried about calibration software, there is one already integrated into the monitor. You won't like a USB 3.0 port, just in case you were looking for one.
Alongside this, you also get the Palette Master Element software. By acquiring an external calibrator, you can recalibrate your BenQ PD3200U as and when you feel its necessary.
On top of all of this, you also get an OSD controller. This special remote control ensures that you can switch between different display settings as and when needed.
Overall: ★★★★☆
The 27-inch Dell UltraSharp InfinityEdge monitor comes with a resolution of 2560 x 1440. It isn't a 4K monitor, and it's not even 3K, but still more than Full HD.
If you're looking for USB 3.0 ports, you'll find four on this one.
This monitor, too, incorporates IPS (In-Plane Switching) technology as well a useful anti-glare coating. This gives you a better viewing angle and better contrast, even when used in a brightly lit room.
The monitor comes with a contrast ratio of 1000:1 and support for up to 16.7 million colors. You connect it to your laptop or computer with an HDMI cable.
The refresh rate of 60 Hz is perfect for the photographing father. But not for the gaming son, who probably prefers higher rates such as 240 Hz. There are no USB-C ports, only USB-A.
Overall: ★★★☆☆
The LG 32UD99-W is a 31.5-inch IPS monitor with a resolution of 3840 x 2160 (UHD). High resolution means a detailed image. That comes in handy when you are editing images which have a lot of detail in it. Landscapes, product shots, black and white portraits are just a few examples.
Its width allows for more image on the screen, resulting in a better photo editor. The viewing angle is 178 degree.
In terms of brightness, the LG boasts 350 cd/m² and it has a 5 ms response time. Sure, there are faster monitors out there. But since we are talking about the best monitor for editing photos and not gaming, you won't need anything faster. The monitor supports DCI-P3 95% color standard.
The refresh rate is 60 Hz, perfectly enough for photo editing. Being a gaming monitor, it does have a few cool features as well. AMD FreeSync technology is designed to tune the monitor's refresh rate with that of the frame rate output of the graphics card. The faster your card, the faster the refresh rate.
You get HDR capabilities as well. That means you will be able to get a much better (and detailed) image across the dark to medium to bright tones.
There are several connectivity options, but the one that stands out is the USB-C port. It is the latest and the fastest.
Overall: ★★★☆☆
Conclusion
As a devoted photographer, you've presumably invested a significant amount in your gear.
Using a proper monitor increases the quality of your work. Purchasing a high-quality monitor is a wise decision, a decision that will affect everything you release.
It is best to buy an IPS monitor from a renowned brand. After calibration, you'll have a monitor that's well suited even for professional artists.
Looking for a quick and easy way to edit your images in Lightroom? You can find some great post-processing tips in our course Effortless Editing with Lightroom.