Conceptual photography is all about ideas, symbols, and themes. It's the perfect way to express yourself and make the most of your creative freedom.
For good conceptual photography, you have to come up with an original idea. Then you have to edit your results in a way that communicate your vision.
But how do you come up with conceptual photography ideas? Before you start planning your shoot, inspire yourself with these 32 conceptual photos.
eBooks and Courses for Everyone
Conceptual Photography: Making Your Background Interact With Your Subject
Backgrounds are often used to complement a subject or to make it stand out.
You can use common backgrounds, such as walls, to make a concept come to life. A wall with graffiti art could make your subject look like it has wings, for example.
Look for interesting street art in your area. This challenge will improve your street and conceptual photography skills.
Use Everyday Objects to Symbolise Nature
Many of us live in places full of at least some kind of nature. You can go out and take photos in your local park, for example.
But what if you had to recreate nature indoors using everyday objects? To take the photo above, the photographer used a simple purple background, an eggshell, and dill. This could symbolise a growing tree, finding strength in empty places, etc.
Experiment with different items in your home to boost your creativity.
If you can't find any objects, then you can even use your hands. I love this simple use of green paint. It symbolises that the person is 'green-fingered' – they have a natural gardening ability.
Take Photos in Water to Create a Dramatic Effect
Photos taken in water, or underwater, are dramatic and emotional. This makes water the perfect subject for conceptual portraits.
Here are a few of the many things you can do with water:
If you don't have any beaches nearby, take photos in a bathtub or use running water. The great thing about a bathtub is that you can add coloring to change the color of the water. Be careful not to stain your model's skin, though!
Recreate Your Childhood Dreams for a Sense of Nostalgia
Many conceptual photographers like to use their dreams as inspiration for their work. Your own childhood dreams can provide you with an abundance of original ideas.
Conceptual photography can involve expert editing skills and extravagant backdrops. The image below has been edited so that the sailboat almost appears to be floating in the sky. This creates a beautiful dream-like scene.
But you don't need to use fancy equipment to recreate dreams.  But it can also be very simple.
The photo above is the perfect example of a simple yet nostalgic conceptual portrait.
Share Your Perception of Time with Others
What does time mean to you? Does it feel like a never-ending waterfall, or does it move slowly? Everyone's perception of time is different.
Because time is such an abstract term, it can encourage you to experiment with surreal ideas. The image below shows the sand falling from between their fingers. This can show time slipping through their hands.
You can also give yourself specific keywords to work with.
You could use how something grows, or how the same person or place looks at different times of the day.
Use a Piece of Glass to Create a Surreal Reflection
Reflections are perfect for conceptual portraits. They can be used to symbolise self-esteem, appearance vs personality, and many other important topics.
Any kind of reflective material will work for this challenge. You can use a regular mirror or a body of water. Even your phone screen can create surreal, humorous, or thought-provoking conceptual pieces.
Create Anonymity Using Simple Photoshop Tricks
Some conceptual portraits are mysterious and moody. They often feature people whose faces are hidden by objects or paint-like substances. You can create these in your editing program.
Use brushes, textures, and other resources. You can download these online for free.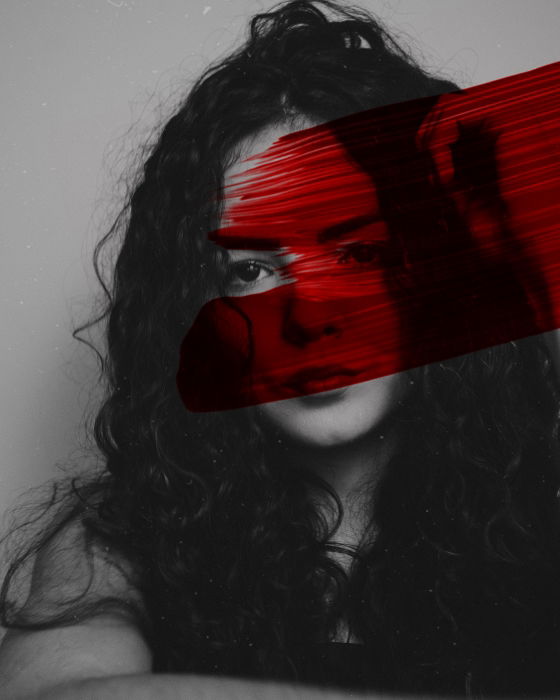 Use Motion Blur to Create Surreal Photos
Motion blur is a popular technique. Anyone with a camera can experiment with it. The right kind of blur will make your photos look eerie and confusing. These are two qualities that many conceptual photographers love using in their work.
You can move your camera as you press the shutter. Or have your model move around while your camera is on a tripod.
You can also use the panning technique. This involves moving your camera in the direction your subject is moving. It will make everything but your model look blurred.
Make Your Favourite Objects Levitate!
You can combine levitation and conceptual photography to create beautiful fantasy-themed photos.
Levitating people can symbolise inner peace or a yearning for adventure. Use levitation to emphasise your love for an object. It can be anything from a specific kind of food to your favourite possession.
Define Loneliness Through Conceptual Self-Portraits
Self-portraiture is a great way to express your feelings without using words. Try to define loneliness using your own experiences with it. Do you associate loneliness with empty rooms or crowded places?
Though loneliness has a negative connotation, it can be a source of joy for some people.
Whatever your answer is, use it as inspiration for your next conceptual photoshoot.
Photograph the Different Stages of Healing
Healing, like loneliness, comes in different forms. It's a powerful concept because it's something everyone can relate to.
You can use a scratch to symbolise heartbreak. Or a bandage to symbolise the healing process after your heart gets broken. You can photograph the different stages of a healing process.
To put it simply, there's a lot you can do with this universal experience.
Look for Concepts Outdoors
You don't always have to come up with your own ideas. Sometimes, all you have to do is go out and photograph your surroundings.
Take the time to explore your area. You might find unusual buildings, landscapes, and vehicles. These could be the stars of your next conceptual piece.
Capture the Struggles of Decision-Making
We've all had to make at least one important decision in our lives. Like healing and loneliness, decision-making is a universal struggle.
Jobs, relationships, and self-care all come with a plethora of obstacles. These could serve as inspiration for your next photoshoot.
A lot of everyday things can represent hard decisions. Think of two roads, arrows, or doors pointing in different directions.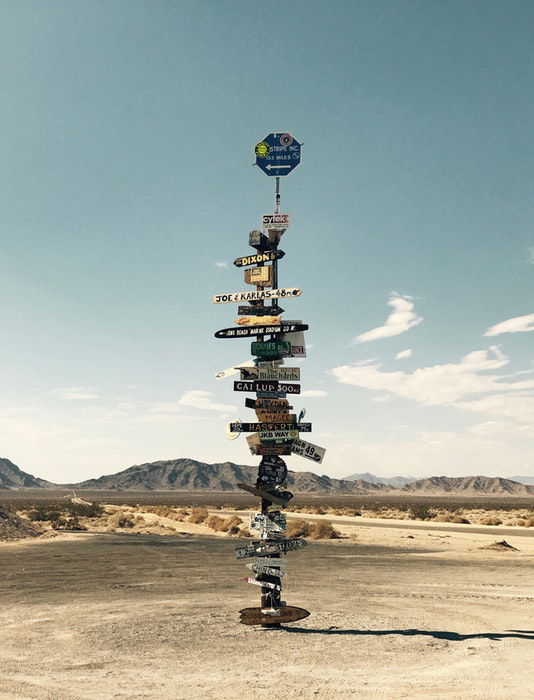 Have your model stand in the middle of these things. It will make it seem like they're trying to make a life-changing decision.
Use Costumes to Create Conceptual Portraits
An unusual costume can make a big difference in a conceptual shoot. Astronaut costumes, masks, and bizarre hats can turn a simple portrait into a surreal work of art.
Using these costumes, you might find it easier to emphasise your ideas. You can use an astronaut helmet to represent loneliness, isolation or enjoying one's own world.
Take Cute Conceptual Photos of Children and Props
Who says conceptual photography has to be moody all the time? You can enhance your photos of children using clever concepts and adorable outfits.
Conceptual photos of children can focus on a child's dreams, ambitions, or favourite toys.
Use Butterflies to Symbolise Freedom and Creativity
Butterflies are not only visually appealing but perfect for conceptual portraits. They represent freedom and creativity. And they're also symbols of hope, the human soul, and resurrection.
You can use stock photos of butterflies to create surreal and exotic photos like the one above. You can also invest in realistic butterfly accessories. These include rings, necklaces, and hair clips to make your photos stand out even more.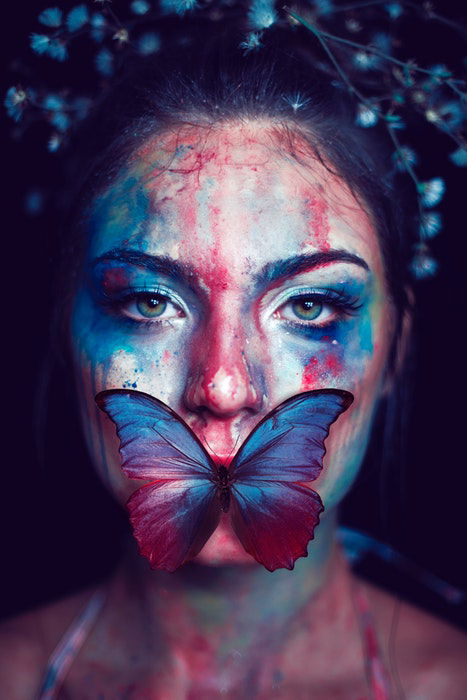 Conclusion
Conceptual photography is an important part of the photography world. Anyone can use it to get out of their comfort zone, express themselves, and contribute their story to the world.
Take the time to create conceptual photos. You'll learn how to come up with original ideas and improve your editing skills. You'll also be more in touch with your emotions.
If you enjoyed these tips, then take a look at our Wow Factor Photography course!
eBooks and Courses for Everyone