Finding photography ideas and inspiration can be a challenge. In this article, I want to share 21 photoshoot ideas that are far from boring!
You will also learn some photography tips and techniques which will stimulate your own creative process.
eBooks and Courses for Everyone
21. Creative Photoshoot Ideas to Try a Different Style
Sticking to your comfort zone can lead to staleness.
Bring some freshness to your next photoshoot. Choose a subject, photography theme, or technique you have never tried before.
Plan ahead to come up with a concept. Have a few ideas in mind of the outcome. How do you want the finished photos to look?
Here's a list of things you might like to try: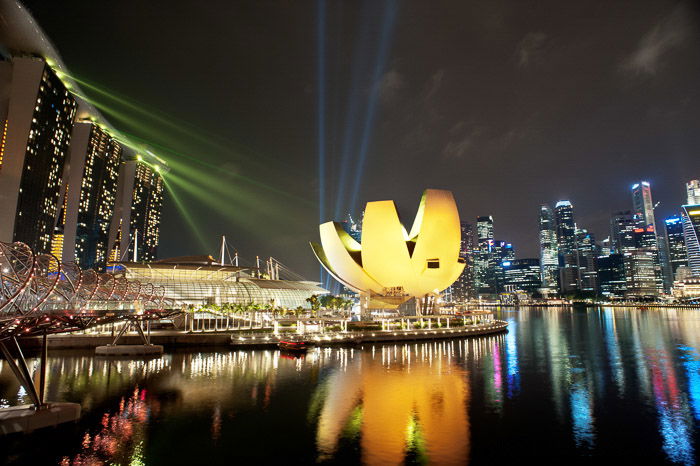 20. Pick a Movie or TV Show Concept
Movies and TV can be a great source of photoshoot ideas and inspiration. Most often though, photographers don't tend to recreate what they see on screen.
For this photoshoot idea, I want you to consider creating a photo, or series of photos, which relate to a favourite movie or TV show.
You might need to sit down and watch it again first. Do so with a notebook. Write down the creative photoshoot ideas as they come to you.
Think as broadly as you like. You don't have to photograph portraits of characters.
You could take pictures of landscapes or cityscapes that appear in a movie you like. Or you could mimic the lighting style or lens choice of a particular director.
I love the way director Tom Hooper's films are often produced with a fairly wide-angle lens and shallow depth of field. The camera often gets close to the actors. This inspires me to take shots in a similar way.
19. Juxtapose Your Subjects
Think of things that contrast. Think of techniques you can use that differ from conventional methods of photography.
Come up with some ideas to photograph concepts of contrast and comparison.
You might like to:
Utilise selective color technique;
Find new and old together;
Explore opposite concepts like peace and conflict or natural and artificial.
18. Look for the Shadows
Photography is all about light. Many photographers prefer not to pull out their cameras in the middle of a sunny day because of the hard light. This is a time when you need to look for shadows.
Challenge yourself to make interesting pictures in sunny, bright conditions when you might not usually be inclined to.
Look at the contrast in light and shadow. Make the shadow the main focus of your compositions.
17. Watch for Reflections
Reflections are all around us. Often we tend not to notice them or include them intentionally in our photographs.
Find reflections and compose your photographs, so they feature strongly. Experiment with including little or no context for the reflection in some pictures.
Move around and watch what happens. Your position in relation to what is being reflected will change dramatically as you move.
Find the best point of view to make your photos from. Take lots, each from a slightly different angle.
You can find reflections in:
Puddles and ponds;
Car windows or polished paint;
Skyscrapers;
Sunglasses.
When you are photographing reflections of things on a colored surface, pay attention to how the color influences your photo.
You might like to try some reflection photos during dusk or at night.
16. Make the Most of Motion
Cameras capture life in a single frame, but life is rarely static. Motion is often all around us, but we rarely include it in our photographs.
For this photoshoot idea, it will be easiest if you have a tripod. If you do not, just get creative about how you can keep your camera steady when you're using slow shutter speeds.
Choose any subject you like that's moving. Find somewhere you can set up and spend time without being disturbed or distracted.
Experiment with using a slow shutter speed while photographing moving subjects.
Try to find a balance between the speed of your subject and your shutter speed. This depends entirely on the look you want to achieve. The longer the shutter is open, the more your subject will blur.
If your subject's moving quite fast, you may not need a very slow shutter speed. Leaving your shutter open too long may mean your moving subject does not appear in your image at all.
15. Photograph the Same Subject Multiple Times
Choose something or someone to photograph and do a photoshoot with the same subject ten times. Preferably without too long a gap between each session. Ten times in ten days would be ideal.
Photographing the same subject many times will hopefully prompt you to become more creative with what you are doing.
Make a plan. Start with a few ideas of what you will do during the first three or four photo sessions. Try and use a different technique each time. Change your lens focal length. Use different lighting. Think outside the box.
Often we just make use of the first thoughts that come to us for a photo session, unless it's carefully planned.
By concentrating on the same subject for ten photoshoots your creative process will be challenged by the familiarity. It can be the same person or a venue, and you might even do self-portraits.
Use presets when editing in Adobe Lightroom to ensure your picture style is coherent across the series.
14. Keep Using the Same Prop
Carry something with you that can be placed in each photograph you take for one month. Don't make your prop the main subject of any of your photos.
This is a similar idea to #4 but is different in that you have interaction. You will have to think carefully about how your prop supports the main subject of your photographs.
You could use:
Your mobile phone;
A scarf, hat, or piece of clothing;
Sunglasses.
Whatever you choose, make sure it's something you can carry easily. It should fit into your camera bag, so you won't forget it.
It could work in a fashion photoshoots to make a consistent series of images. Try some close-ups. They could be perfect for your photography business.
13. Look for a Different Perspective
Most photographs are taken with your camera pointing straight ahead.
For this photoshoot idea, try pointing your camera up all the time. Or down all the time. Locate subjects that look interesting from these perspectives.
Doing this you will train your vision to look for compositions in places you may not normally consider.
Using a wide-angle lens will help when you are photographing things looking down. Otherwise, you will need to find something to stand on.
Balconies, elevated walkways, and windows above the first floor are all potentially good places to make these photos from.
Lie on the ground or find tall things to photograph looking up at. Getting close to your subject will often reveal an interesting point of view.
12. Pick Up Subjects for an Interesting Composition
Pick things up to photograph them. Move around and consider the background. Alter your aperture setting, so there's more or less in focus behind what you are holding.
Often you may see something interesting, but the place it's resting may not provide a good background. By picking it up, this will change the perspective and background.
Change your lens' focal length and make a series of shots each time you find something interesting to hold. You could also place your camera on a tripod or steady surface and use slower shutter speeds. Move your hand during the exposure and experiment to capture a variety of results.
11. Take Couple Photoshoots at Different Times of Day
Instead of focusing on one type of lighting, why not have several photoshoots throughout the day? This will give you lots of exciting photography opportunities and ideas.
Experiment with different poses and photography techniques in each photoshoot. This will give you more pictures to choose from. It will also help you sharpen your creative eye very quickly.
If the couple isn't available for a full-day photoshoot, you can take photos on different days.
10. Take Photos That Represent The Current Season
Every season comes with its own weather, landscapes, and other details. These details don't have to be extravagant. Use this as a challenge to see the beauty in the little things.
Take summer as an example. What kind of products are available in your area during this time of year? What do the leaves look like? What does a typical atmosphere in your kitchen look like? The more details you capture, the more interesting your final results will look.
This is a great exercise for photographers who want to get better at taking fun and candid pictures. You can take this further by taking similar photos every season. This way, you'll get to document how things subtly change throughout the year.
9. Release Your Artistic Side by Photographing DIY Textures
If you enjoy getting creative (and messy), you might enjoy making your own DIY textures for a photoshoot. There's no limit to what you can do with this. You can cover a piece of glass with paint, water, and glitter. You can put dried flowers in water. Use what you have and let your imagination do the work for you.
When your artwork is ready, take macro photos of it. For the best results, use a macro or zoom lens. The point is to make your photos look as abstract as possible.
You can use your photos in other pictures. Textures look great in double exposure photography. You can also use them in photo collages.
8. Turn Your Daily Routine Into a Professional Photoshoot
This is an easy way to look at the world from a more creative perspective. Pick a few things you like to do in the morning. It can be a cup of coffee, a walk with your pet, or a morning view that you like to enjoy, etc.
Use your camera to make these activities look appealing and professional. Be wary of natural lighting, angles, and composition. If you have a limited amount of time, you can challenge yourself to take as many shots as possible within 10-15 minutes.
This exercise will compel you to find creative photo shoot potential in everyday routines.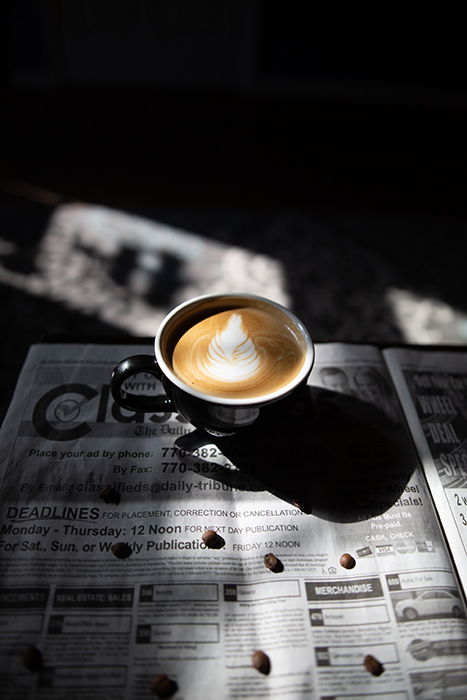 7. Use a Lens Filter or Accessory for Your Photoshoot
If you use the same techniques over and over again, you'll get bored. This doesn't mean you need to upgrade your equipment and move to another country, though. An easy way to make your photoshoots more fun is to use lens filters and other accessories.
There are all kinds of cool lens accessories available online. Bokeh filters will change the shape of your bokeh. Polarising filters will make the skies in your landscape photos look darker and more vibrant. Fractal lenses will distort parts of your images to create an abstract look. These are just a few of the many accessories available out there.
If you use even one of these tools, you might end up with unique photos and a whole bunch of new photoshoot ideas.
6. Have a HONY-Inspired Street Photography Photoshoot
Humans Of New York is a popular photography project that focuses on strangers and their stories. Every photo has a lot of depth because it comes with a unique interview with the model.
You can use this as inspiration during your own street photoshoots. Instead of just photographing people, ask them questions. There will be many people who won't feel comfortable with this, and that's okay. You're likely to find at least a few people who won't mind sharing their stories with you.
This project can make you more comfortable with approaching strangers. It can also improve your storytelling and candid photography skills.
5. Document Someone's Journey for Several Months
Long-term photography projects can be very fun and creative. You can take your time with them and produce beautiful images as a result.
There are lots of journeys you can photograph. A few photo shoot examples are pregnancies, painting progresses, and strength training. The more photos you take, the more significant these changes will look in your pictures.
You can use your final images to create a photo series. Photos series tend to be very influential and creative. This makes them worth all of that time and effort.
4. Take Photos in a DIY Black Background Studio
If you want to find inspiration at home, you can take photos in a DIY studio. All you need is a window and a large black background. This can be painted cardboard, black curtains, or anything that's large enough to look like a decent background.
Black backgrounds make images look professional, atmospheric, and studio-like. Make sure you shoot on a sunny day so that you have enough natural light to work with.
3. Take Funny Action Photos of Your Pet
Many cameras have a handy feature called Continuous Shooting Mode. It's also known as Sports Mode or Burst Mode. This allows you to take several pictures as you hold the camera shutter. Continuous Shooting Mode is a great way to take amusing photos in unpredictable situations.
Take photos of your pet while it's playing or running around. Make sure you take photos in bright daylight so you can experiment with different settings. Use a fast shutter speed to keep your images sharp.
You can also do this while taking photos of athletes or fast-moving objects. Pet photoshoots are almost always guaranteed to give you the funniest results, though.
2. Take Candid Photos in Your Local Market
No matter where you live, you probably have a market in your area. It's a great place for a candid photoshoot with a friend. Go out without a plan and take photos whenever the lighting inspires you.
Markets are usually not associated with photoshoots. You'll need to come up with creative ways to make your model look eye-catching. Don't be afraid of including the actual market in your images. Vegetables and fruit can all add something special to the atmosphere in your shots.
1. Shoot Through Objects
If you shoot through something, you create a foreground. Foregrounds are great for framing subjects and making images look more interesting. They also add depth and can be a colorful addition to your image.
You can either partly or directly shoot through something. If you shoot partly, you cover a part of your lens with that object. In the photo above, a hand is slightly covering the lens to create a blurred black foreground.
If you shoot directly, you cover your entire lens with an object. The object has to be even a little transparent for this to work. This can be a window, a fence, or even a sheet of tracing paper.
Common Photoshoot Ideas Questions
How Do You Come up With Photoshoot Ideas?
You can look at magazines, Instagram accounts, and photography blogs to come up with photography ideas. Museums and galleries are well-known for being great sources of inspiration. You can also watch artistic films, make mood boards, and take photos inspired by conceptual themes.
What Is a Creative Shoot?
A creative shoot helps you use your imagination in new ways. This means trying a new technique, going to a new location, or completely changing your approach to photography. Creative photoshoots are ideal for photographers who want to leave their comfort zones and take their photography to the next level.
Conclusion
As you work through the photoshoot ideas you like, keep in mind how you can build on them. In what ways can you alter them to make more interesting photos?
Set yourself goals for what you want to achieve. This will help you stay focused and more consistent.
With an open mind and a notebook, you will no doubt come up with lists of photoshoot ideas you are excited about photographing.
To take your photography to the next level, try our Photography Unlocked course today!


eBooks and Courses for Everyone