Triptychs appeared in the middle of the 18th century. At the time, they were paintings split into three sections.
Today, triptych photography is a popular technique. It can help you tell a story and improve your photography skills with three photos.


eBooks and Courses for Everyone
12. Experimenting With Triptych Photography to Avoid Boring Compositions
Diptychs and triptychs are often created a very specific way. This can get boring. You don't have to take vertical photos or stick to one format to create a symmetrical triptych.
Instead, you can use both horizontal and vertical photos in your compositions. You can also experiment with different formats, like the square or circle formats. This will make your triptychs stand out even more.
11. Capture a Series of Movements Using Burst Mode
Photos that depict movements are often very interesting to look at. It's not always possible to create a variety of movements in one or two photos, though.
Triptychs are ideal for action photography enthusiasts. You can create a sense of movement by taking several photos of a moving subject.
If you use burst mode, you'll be able to take a series of photos by holding your shutter for a few seconds.
10. Turn Your Mistakes into Art
If your vision doesn't come to life immediately, you don't have to delete all your photos. When you turn your mistakes into art, you'll see potential in your creative failures.
Candid, blurred, or abstract photos can all enhance a triptych in the most unusual ways.
9. Create a Double Exposure Triptych to Show Off Your Editing Skills

Double exposure photos usually feature at least two overlaying photos. These tell a story within a story. This technique is perfect for those who want to improve their editing skills. And they'll learn to express themselves in new ways.
You can take this further by turning your double exposures into a triptych series. Bonus points if the double exposures all share a specific theme!
8. Take Photos With a Specific Theme to Make Your Triptych More Meaningful
There's nothing wrong with creating triptychs made of random photos. In fact, you should start your triptych journey by focusing on composition first.
Once you feel comfortable with your editing skills, you can start prioritising themes.
Themes can be personal or general. They can tell a story about your subject or indirectly represent your emotions.
Common triptych themes are love, nature, and symmetry.
7. Split One Image Into Three Parts
You don't always have to take three separate photos to create a triptych.
Some photographers split one image into three parts, like in the example above.
You can use this to make a simple image stand out or to make a busy photo look more appealing.
6. Put a Spotlight on Details That Usually Go Unnoticed
A single photo isn't always enough to emphasise details. You can use triptychs to put a spotlight on certain parts of your subject. This includes their posture, hair, and outfit.
Some photographers focus on details in their triptychs. Others include wide shots and closeups at the same time.
Both approaches will help you pay more attention to what you photograph.
5. Take Different Photos of the Same Thing to Improve Your Still Life Photography
You can use triptychs to show different parts of the same object. As unexciting as this may seem, it can change the way you look at photography.
When you learn how to take visually appealing photos of simple things, you'll find beauty in any photography genre.
4. Capture Three of Your Favourite Facial Expressions

Portrait photography can't exist without emotions. One of the best ways to improve your portraits is to make them more expressive.
Triptychs can help you do that by giving you room to showcase a variety of facial expressions.
You can also use this exercise to improve your self-portrait photography skills. Making silly expressions in front of the camera will help you relax. You'll feel more confident in front of the camera.
3. Work on a Long-Term Photo Series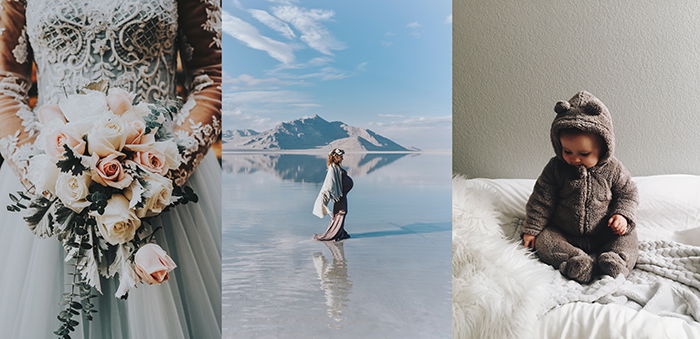 Photo series tend to focus on events that take place over a long period of time. This includes the growth of a pet, a pregnancy, or seasonal changes.
You can use triptychs to document your subject's progress without separating your photos.
This photo series is the most challenging and fulfilling one on this list. It will test your patience and provide you with unforgettable results.
2. Emphasise the Similarities or Differences Between Three Things
If you don't want to experiment with themes, play around with similarities and differences. Creating contrast in your photos will make your triptych more interesting to look at.
It will also encourage you to familiarise yourself with different photography genres.
For example, you can highlight the differences between macro and landscape photography. Or you can find creative ways to create parallels between the human body and nature.
1. Photograph Different Parts of an Event to Make Your Triptych More Exciting
Do you often take photos at events (weddings, parties, etc.)? Then you're familiar with the hundreds of photos you have to deal with at the end of the day.
You can use all your photos to tell a story about your event. That way, you won't waste any of your hard work. And you'll be able to improve your triptych photography knowledge.
Conclusion: Triptych Photography
Triptych photography can help you improve a variety of photography skills. You'll re-discover your love for photography.
If you're not sure where to start, you can experiment with all these ideas. In the process, you'll find a style that works for you!


eBooks and Courses for Everyone