There are a lot of bad stock photos out there. You know the ones I'm talking about. The cheesy, over-the-top, exaggerated images that are so cliché they make you cringe. Unfortunately, these are the types of photos that often get chosen for marketing materials and website design. And why? Because they're cheap and easy to find. But that doesn't mean you have to use them in your own work.
eBooks and Courses for Everyone
Avoiding Bad Stock Photos: What is Stock Photography?
Before I can tell you what NOT to do, I need to tell you what stock photography is!
Stock photography means images that are available to be licensed for specific uses. More often than not, these images are licensed for commercial use. This includes decorating a website, featuring in a presentation, or used as an advertisement for something.
A buyer pays a fee to both the artists that produced the image and the agency managing the image. They acquire the right to use the image legally in different ways, while the photographer retains copyright of their work.
Photographers take stock images or share a collection of their images to make a few extra bucks off of photographs that aren't currently being used for anything. Some photographers even make a living off of producing stock images.
However, not all stock images are created equal. These are the types of stock photographs to avoid:
1. Abstract Images
Stock imagery is not just photography. Illustrators and 3D animators find their work being licensed as well.
But the use of abstract or very general 3-dimensional renderings is a bit too outdated. Anyone getting 90s nostalgic vibe here?
These types of images tend to be a bit useless and visually displeasing. Users have gotten used to very high quality content due to the rise of the internet.
These images are space eaters and are better left in the past where they belong.  
2. Overly Happy Corporate Office Employees
Once upon a time, it was typical to use photographs of happy employees to show that a company is reliable and trustworthy.
That time is long gone now.
No matter how many happy office setting photographs you use, everyone knows what the actual dynamic in a traditional office workplace is. Trust me, you're fooling no one.
These types of images are incredibly outdated and the butt of many jokes. Unless you're finding yourself wanting to be funny or sarcastic, I suggest running very far away from the stereotypical happy corporate office employees.
Customers want to see the actual employees and workplace, not stock images of them. If you're not going to use photographs of your real workforce, and instead choose actors, this may build a level of distrust in your business.
You want to be authentic. Plus, in this current work climate, startups and quirky office settings are very hip!
If you don't want to place the photos of your real office and people working there, focus on something else.
3. Over-Exaggerated Emotions
This goes hand-in-hand with avoiding the "I am so stoked to be in this office" images. Over-exaggerated emotions don't work for the same reason that cheesy infomercials don't work. Everyone thinks they are a parody!
This is because the natural range of human emotions is a bit more subtle (unless you're acting or a very animated individual. But this is not the norm).
Why do you think people will be touched by something that's totally unnatural and looks funny? We want our audience to be able to connect and empathize with the subjects in the images.
Instead of being overly literal about emotion or shoving an idea down someone's throat, consider more organic imagery to tell your story.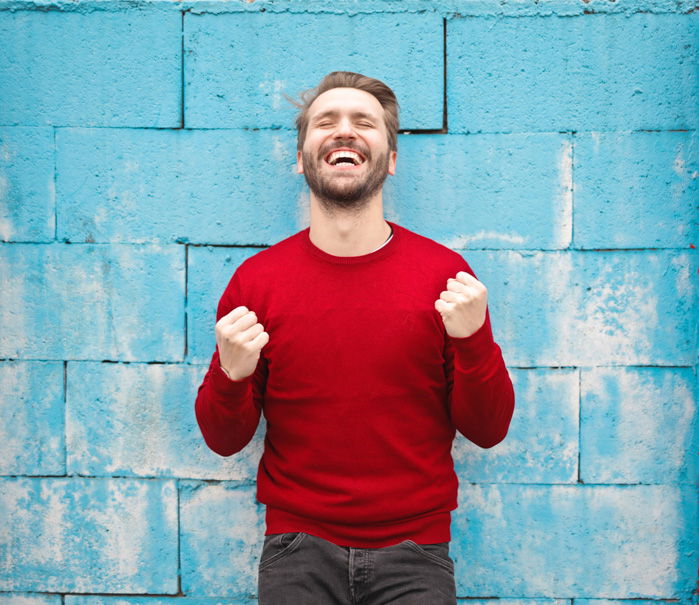 4. Unnatural Activities in an Unnatural Setting
Everyone uses their laptop in a lawn chair sitting in the middle of the ocean in the Bahamas, right? Or is it just me?
Photographs of people doing activities in a setting they wouldn't be doing it in are just plain weird.
A business meeting on your laptop at the edge of a massive cliff? No way.
These images were once the gimmicks of selling "How-To" guides and other products. They attempted to convince you that by following their procedure, you'll be able to work remote anywhere in the world.
But these images are unrealistic and uncomfortable (and at times, terribly Photoshopped). Avoid them.
5. Cliches or Stereotypes
As individuals and businesses, we tend to shy away from being associated with cliches and stereotypes. So why use cliche and stereotypical images?
Some stereotypes can actually be offensive to your potential customer base. It's better to avoid them altogether.
Try to think outside of the box and do something creative! This imagination can set you apart from competition.
6. Outdated References
Technology, pop culture, and news change daily, weekly, monthly, and yearly. You don't want your business to be left behind. Using outdated references will only make your point irrelevant.
Try to use, and photograph, timeless images that cannot be outdated by the changing world. This especially rings true for images of tech and gadgets.
For example, all those using imagery or memes of presidents or those in office will no longer be trendy the moment the officials change.
7. Low Quality or Low Resolution Images
This should be a given, but you'd be surprised! When using stock images, always download the highest resolution or quality available. Don't pay for something too small to be usable.
Sometimes, this happens just due to technological constraints. Older stock images come from cameras that were not capable of having the resolution that current cameras can. 
It tends to be better to select stock images from newer camera models.
8. Bad Photoshop / Editing
Avoid taking, using, or dare-I-say, spending a dime on a stock image that is poorly edited. Images with skin smoothing akin to a cheap phone app that simply blurs the face or overly edited eyes are massive nos.
Your content and imagery will make or break a business venture. Audience members and potential customers are attracted to quality. It is worth spending extra money on a great image than settling for a good one.
This also rings true for purchasing a stock image that you then edit. If you need something specific edited but your skillset is not up to par for the job, outsource your editing to a professional.
Whatever you do, please don't Photoshop your product into a stock image! Yikes!
The final result will look like a late night infomercial that we all make fun of.
Stock Photography Trends for 2019
Much like doing commercial photography or portraits, the content creation trends change yearly.
Agencies such as Adobe Stock use statisticians and professionals alike to predict the photography trends for the coming years. Instead of using or doing the aforementioned bad images, try to switch up your stock photography to the following subjects.
2019 is seeing an increased interest in:
Vibrant pop colors and minimalist compositions. Bright colors are all the rage right now, especially when partnered with simple and elegant compositions.
Robotics and up-to-date technology. Technology has begun infiltrating every aspect of our life. Taking photographs of updated robotics interacting with humans in a pleasant manner is trending.
Travel and natural images. Due to the rise of Instagram travel blogger popularity, beautiful landscapes and exciting travel images are making a huge splash in the stock world.
Social causes. Our modern climate has become more compassionate, sensitive, and receptive to social causes.
Diversity. Along with social causes is the positive portrayal of a variety of races and cultures from all over the world. This creates a beautifully inclusive world.
More candid, organic, and natural portraits. Gone are the days of overly posed and Photoshopped portraits. Companies are now leaning towards more organic, empathetic, and candid portraits.
Adorable pets doing adorable things. Dogs, cats, and other pets will forever be top trending images, both as stock and on the internet!

Leave those dingy stereotype photographs in the past! Your stock photography portfolio will thank you for it.


eBooks and Courses for Everyone