There are thousands of beautiful food blogs that feature stunning food photography.
Read on to see the top 20 food photography blogs you should follow this year.
eBooks and Courses for Everyone
The Importance of Food Photography Blogging
Food blogs used to be a type of personal journal of recipes and short essays about food. Neither the blog design nor food photos were very polished.
A lot has changed since then.
Somewhere around 2007-2008, gastro blogs began to evolve into the stylish and beautiful media that we see today. Since then, our visual culture has rapidly developed. Online consumers can only remember 10-20% of the information they read. When you add imagery or other visual content, that number goes up to 65%.
Bloggers now need to spend time creating the images that will "sell" their recipes to their viewers. Developing new recipes is not enough anymore.
It doesn't matter how great your recipe for dark chocolate cake is. If the image doesn't pull the viewer in, you will have a hard time standing out.
Gastrostoria by Darina Kopcok
Blogs Featuring Stunning Food Photography
There are so many blogs with beautiful food photos out there. Here are some of my top picks to peruse, in no particular order.
Just make sure you're not hungry when you do so!
Béatrice is a food writer, photographer and food stylist from France. She lives in Boston with her family now, and works as a freelancer.
She released two cookbooks. Her work appeared in the Martha Stewart Show, New York Times, Wall Street Journal, and in several other mediums.
You can browse among the delicious recipes inspired by French cuisine on her blog. And she also has blog posts explaining tricks to style and photograph food.
The blog's owner is Laura from Estonia. She studied law but found her real passion in the kitchen. Laura decided to become a full-time food photographer.
She shares recipes and food photography tips on her blog. As the name of her blog suggests, she has healthy recipes that are suitable for people with special diets. My favourite recipes are zoodles which are zucchini noodles.
Anja is an ecology graduate who has a big passion for cooking and lives in Slovenia. After starting her blog, she realised that creating recipes and photographing food is what she wants to do full-time.
Anja loves using local and seasonal ingredients to create simple dishes. She uses a lot of natural props that enhance her amazing food photos.
Julia earned a Bakery Arts Certificate at the George Brown College and lives in Toronto now. She started her blog in 2008 and even published a cookbook ten years later. Julia cooks simple and quick recipes and likes to eat healthily.
Check out her blog for mouthwatering food photos and dishes that are quickly ready.
Sam is a professional food stylist, photographer and recipe developer from South Africa. After spending ten years in the corporate world, she chose to follow her heart and passion for cooking.
Her blog, the Drizzle and Dip won several awards for its content. Sam also wrote two cookbooks, and her work appeared in printed and online media.
Her blog features a lot of international recipes and great food pictures.
Originally from Poland, Bea now resides in the UK. She teaches photography workshops and writes her visually stunning blog Bea's Cookbook.
Bright, full of vivid color and texture, Bea's images are some of the most popular across Pinterest. Several of her images were highly commended in the 2017 Pink Lady Food Photography Awards. This is the biggest and most prestigious food photography contest in the world.
You can look at Bea's recipes organised by season as well as by latest posts.
Winner of Saveur magazine's "Best Photography" award, The Little Plantation is a plant-based foodie blog. It's produced by Kimberly Espinel, a nutritional therapist based in London.
Kimberley also works as a professional food photographer, prop and food stylist, food photographer teacher, and a podcaster.
Oh and she's also an Instagram growth coach, too! With almost 65,000 followers, she is a popular resource in the plant-based food space.
Portland-based Eva Kosmas Flores is an authority on slow food and seasonal cooking. She has more around a quarter of a million followers on Instagram.
She often teaches photography and branding workshops. She also sells Lightroom presets of her signature photography style on her website.
Eva's blog covers a wide variety of topics ranging from cooking to gardening. She also offers several courses on food photography and styling, as well as one-on-one mentoring sessions. Her recipes are categorized by season as well as meal type.
Eva has written two cookbooks and also offers a course on cookbook writing.
Based in Sydney, Australia, Shibani Mishra is a food blogger, food stylist, and food photographer. She is a native of India and has lived all over Asia. This has informed her style of cooking and the recipes on her blog.
Shibani began her blogging journey in 2008, to document the dishes of her homeland. But her love of baking soon took over.
Fast forward ten years, Shibani is now a freelance food photographer and stylist with a stunning portfolio of work. Her blog is still going strong and offers a wide variety of scrumptious recipes, from Chicken Tikka to Rose Water Pavlova.
Evergreen Kitchen is a popular online destination for vegetarians and vegans. Or for those who want to live a healthier lifestyle. Husband and wife duo Anguel and Bri are the creators behind this visually sumptuous blog.
Bri is a Certified Nutritionist and takes care of the recipe side of the site. The photographer Anguel captures the stunning images.
The blog features a variety of plant-based recipes. I love Chipotle Bean Burgers and Harissa Spiced Cauliflower Steaks.
"Seasonal recipes from a recovering pastry chef" is the tagline for this popular alternative baking site.
Alanna Taylor-Tobin is the food stylist, photographer and chef behind The Bojon Gourmet. She studied baking and pastry in her native San Francisco. She worked as a pastry chef, caterer, and personal chef for many years before turning her attention to her blog full-time.
Noted as a food photographer as well as a chef, Alanna is a contributor to The Picture Pantry. This is one of the most respected food stock agencies in the world.
Her gluten-free cookbook The Alternative Baker won the IACP Cookbook Award and was featured in GOOP's Gift Guide.
Based in Berlin, Laura Muthesius and Nora Eiserman make up the dynamic duo behind Our Food Stories.
A staggering one million followers follow their Instagram feed. They post inspirational food and lifestyle photography with a cool and moody Nordic palette.
As a food stylist and food photographer, the two make a perfect pair. The recipes you find on Our Food Stories are just as noteworthy as the sumptuous visuals.
The blog is a collection of gluten-free, vegetarian recipes as well as "Dinner Stories". This series is all about gathering to eat with others.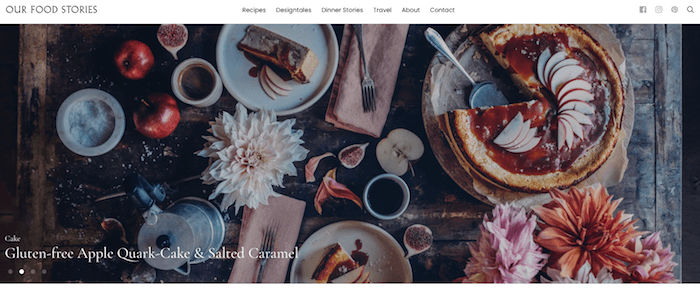 Linda Lomelino of Call Me Cupcake has forged an amazing career out of a hobby. It took root when cupcakes were all the rage in her native Sweden. She now has 780,00+ followers on Instagram.
When she first began her blog back in 2009, she had no particular intention for it but found how fun baking can be.
Almost ten years later, she has written four cookbooks. She also has a side business of selling props and prints of her rustic and moody style of photography through her site.
Linda's books are available in English on Amazon.
Born in Canada, Joanne Rappos now lives on the Caribbean island of Trinidad with her husband.
Olive & Mango offers inspiring ideas for authentic and delicious home cooking. The blog contains lots of recipe of healthy comfort foods.
The exquisite photography in itself will inspire you to get into the kitchen.
Another popular site for real, wholesome home-based cooking is Half Baked Harvest by Tieghan Gerard. The site was borne out of her experiences of cooking for her large family of nine.
Tiegan lives in a converted horse barn in Colorado where she spends her days creating and photographing new recipes.
Since starting her blog in 2012, she has gone on to win several awards. These are including the "Readers' Choice Favourite Food Blog" by Better Homes and Gardens in 2014 and 2016.
Her cookbook Half Baked Harvest is available through various booksellers, including Amazon.
Little Upside Down Cake is the journal of Sanda Vuckovic Pagaimo. She's a food and lifestyle photographer based in Lisbon, Portugal.
She has education and years of experience working in Information Technology. Then Sanda left a stable career to explore her passion for taking food pictures.
She took photography courses and workshops and taught herself about food images. Sanda now works with photographers and stylists that she has long admired.
The Curious Pear is comprised of Meg, a writer, and Issy, a photographer.
The two are best friends that have been traveling and eating together for more than eleven years.
Their blog is not a traditional one. Rather it is a collection of travel guides and their published works, which are numerous.
The Curious Pear offers something different from the typical food blog. For example, the blog features interviews with important figures in the culinary industry.
Marta Gerber loves breakfast.
But What Should I Eat for Breakfast Today is more than a collection of breakfast recipes. Though there is that, too.
The blog also offers travel guides to some of the world's greatest cities that Marta has traveled to.
The unique recipes range from Millet Waffles with Bleu cheese to Passata Beans on Toast.
Plenty of sweet things are thrown into the mix, as well as Marta's gorgeous photography and impressions from her travels.
Susann and Yannic are a couple from Berlin who live in the city but are drawn to nature. They share a passion for cooking and photography, and it shows.
They were chosen as one of the six finalists for Saveur's Best Food Blog Awards in 2017 in the Photography category.
As vegetarians, they focus on wholesome, seasonal plant-based ingredients.
Besides sharing what's on their table, they take their readers on the road with them on their travels. They also share their kitchen and garden stories.
The couple also teaches food styling and photography workshops in Berlin. They share their knowledge and experience as food bloggers and professional photographers.

Margaret Pahos started her blog Create.Cook.Share when her daughter began exhibiting the symptoms of celiac disease.
The switch to a gluten-free diet was swift. Margaret made it her mission to create healthy and fresh food for her family that was anything but boring.
With her ethnic Greek background, Margaret was no stranger to the importance of home cooking.
Her recipes are cleverly organised according to various Greek gods and goddesses. For example, Artemis is the Goddess of Sweet Desires and where you'll find Margaret's dessert recipes.
Although Margaret insists she is not a photographer, we beg to differ. She makes even the simplest ear of corn look delectable.
Blogs to Learn Food Photography From
Here are some of the best blogs to go to as a learning hub for all things food photography.
Rachel Korinek is an Aussie food photographer now based in Vancouver.
Her blog Two Loves Studio is an aesthetically beautiful space. It is a premier destination for budding food photographers wanting to learn all about the art of food photography.
Rachel is a master in Lightroom editing and natural light food photography. She offers online Masterclasses in food photography post-processing and composition. She also provides in-person workshops around the world. During these, she takes you through her food photography and styling process..
Subscribers to her site receive a free 7-Day course about improving your food photography.
You can check out this article she's written on our website: 10 Delicious Food Photography Tips for Food Bloggers.
If you're looking for information from a seasoned pro, this is the photography blog to go to.
Christina Peters is a long-time food photography veteran based in Los Angeles. She began shooting in the days of film. And she has worked for all the big name brands like Burger King and Taco Bell.
She still shoots advertising and cookbooks. But she has turned her focus (pun intended!) to her online food photography learning hub The Food Photography Club.
The Food Photography Club is the place to go if you're serious about food photography. You can get a live critique of your images or talk shop with other food bloggers and photographers.
Skyler Burt is a professional food photographer working out of his studio in California.
His blog We Eat Together offers a blend of recipes and food photography tips. But his real claim to fame is his YouTube channel and the online Masterclasses. He teaches you everything about shooting and editing professional-level food photography.
Whether you are a beginner or a pro, you will learn a lot through his blog and videos.
Swiss-based Lauren Caris began her career as a vegan food blogger. But she soon discovered that her passion was really taking pictures of food.
That's Sage was created to teach others the technical side of food photography.
Lauren shares her inside knowledge through her Manual Mode Master course.
She also offers a masterclass of composition and a free "Manual Mode Essentials" course for signing up to her mailing list.
Her blog covers a variety of topics on food photography and styling.
Brooke Lark has been cooking and shooting food since 2006. Her client list includes high profile brands such as General Mills and Disney.
She shares her knowledge through her online "crash courses". These will teach you everything you need to know to up your food photography game.
Her Facebook group is one of the biggest gatherings of food imagery creators with over 10,000 members!
Conclusion
You may be a budding food photographer or a just foodie who loves reading blogs. Hopefully, you have discovered some gems that you didn't know about!
If you want to learn more about food photography, don't miss our eBook – Edible Images!
We have a great post on the best food photography backgrounds to check out next!
eBooks and Courses for Everyone