A photography blog is one of the most powerful tools at your disposal when it comes to promoting yourself as a photographer, and finding new clients.
Think of how many people search Google for a photographer in their area. If you're not blogging, you're not in Google as a portfolio just isn't going to cut it anymore.
It seems that the majority of people who build a photography portfolio, build some kind of photography blog to go with it, usually in an effort to find more clients.
But let me ask you this: how many photographers do this effectively?
Not many, I can tell you that.
It's not as simple as creating a blog and adding some photos to it. Nobody is going to pay this much attention, probably not even you.
This blog gets hundreds of thousands of visitors every month, and I'm going to reveal to you how I do it, and how you can build a blog using the same techniques in a local market.
WARNING: This post is not for everyone– It's probably not relevant for 75% of people who follow this blog.
If you're serious about blogging to increase your profile as a photographer and find more clients, then read on, but if you're not quite there yet, then bookmark or pin this page and come back to it later. This is not a short post.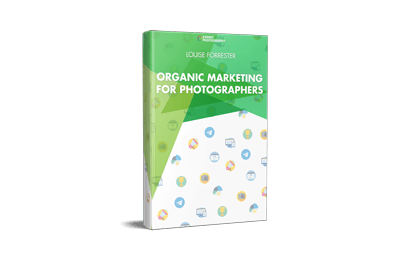 Organic Marketing for Photographers
Are you struggling to attract readers to your photography blog? Our eBook and Cheat Sheets on organic marketing for photographers can help you rank higher on Google and increase your website traffic.
How to Create a Photography Blog
How Blogging Will Raise Your Profile As A Photographer
The most obvious benefit is that you will start to organically grow new clients, merely by becoming a presence in Google.
If you can master this (and this isn't easy, but I'll show you how), then you will start to see more people enquiring about your services.
This all comes from a certain type of blogging, which I will get to in the next heading.
People love sharing photos, especially when it's photos of themselves.
Once you've taken photos, whether it's for a client, or just some friends, then it's a good idea to create a post on your website.


Then when you share these photos with people, you're driving them to your website, and they're seeing even more of your photos (in good quality), and any calls to action that you may have, such as 'Looking for a photographer in LOCATION, call me today on YOUR NUMBER'.
Whether you're looking for more fans, or more clients, if you can send people to your website, then you're going to stand out from any other photographers on Facebook.
And it goes without saying that a photographer with a good looking website is going to stand out much more than some boring fan page with 17 likes.
What to Blog About
This can be broken down into two different sections.
How do you want to share your work with potential clients, and what does Google like?
Lets start by looking at how you want to share your work with clients.
This is how the majority of photography blogs operate- just as a way to share their new photos with clients.
It looks something like this, and I've chosen a particularly good example of this here.
It's a beautiful website with beautiful photos, which every client is going to share on Facebook, and through email, with their friends and family.
They have complete control over their image quality, and make an excellent impression with potential customers.
All the information anyone would need to hire them is readily available, and their business will grow substantially through word of mouth because of it.
Now lets look at what Google likes.
And that's the critical question here, because Google is who you're pandering to.
Google likes it when they send someone to a website, and the visitor has a good user experience and doesn't need to look any further for what they're searching for.
What's why Wikipedia is always at the top of Google. Same reason if you search for a film, IMDB is in the Top 3.
This means that not only do people have to find what they're looking for, but the content needs to be well written in proper English, that's appropriately laid out, and keep people on your website for a good amount of time.
All of this shows Google that it's a good thing to send people to your website.
If you can create content that people are searching for, then Google is going to send people to your website.
How to Write Content That Appears In Google
This isn't actually that hard, because you will probably find that your competition isn't doing an outstanding job. Creatives often have a hard time managing this side of their business.
I'm going to go through some search engine optimisation stuff in the next section, but for now, I'm going to cover how to correctly optimize a post, rather than your whole website.
This starts by choosing the right content to write about.
Ask yourself this, what do you do, and what are people going to search if they were looking for someone like you?
Lets say that you're a portrait photographer, and you live in Brighton.
Chances are that anyone from Brighton who's going to be looking for someone like you is looking for a portrait photographer in Brighton.
So their search term is going to be 'Portrait Photographer Brighton'.
This is by far the most important thing to know. Because then you can write content that revolves around the terms people are searching for, and this will send clients your way.
And I mean clients, because people who are searching for that term are looking to buy.
When I'm tailoring a post to Google, I always start with the title. It needs to be both relevant, and enticing. Here's what I'd write for this keyword term:
Portrait Photographer in Brighton – 10 Things You Need to Know.
If you're looking for a portrait photographer in Brighton, that post is very relevant to you. And if it's on a website where you can offer your own services, then you're off to a great start.
You can reassure your clients what to expect in terms of cost, and overall experience, and then you can offer it to them.
Perfect.


When you write posts, you want your target keyword(s) to appear in the name of the post (preferably at the beginning), in the first paragraph of your content (preferably the first sentence), in one of your sub headings, and throughout the whole post.
Just be careful not to stuff your content with your keyword though, as Google doesn't like this.
Here's the beginning of the content I would write:
Portrait Photographer in Brighton – 10 Things You Need to Know.
It's hard to find a good portrait photographer in Brighton these days, so I've written this guide on what to look for when choosing one who'll produce the best possible photos.
1 – How Much to Pay a Portrait Photographer in Brighton
I've bolded my keywords in there for you, so that you can see how to structure your posts so that they're optimised to appear in Google.
As you can see, I've enticed my reader, used my keyword three times, and started them down the path of wanting to hire me.
This is the great thing about blogging; you can completely soft-sell your client, so long as you're providing them with the information they're looking for.
I could write a whole post on 10 things they need to know specifically about me, but because they think it's for the whole city, they assume that I'm the industry standard.
I then fill the post with lots of great photos, and before they know it, they've read my whole sales pitch. At the end of the post, I have a contact form on which I offer my services.
This is such a fantastic technique, because all the way though the client is learning about how I operate and what I do better than other people, and this makes me look like a complete professional.
This way, when you get leads, they're worth a lot more to you; the potential client already knows how much you charge, what you offer, how you structure your pricing etc.
You're not going to appear in search engines over night- give it a few months of blogging once a week and the results will pay off.
I have tens of thousands of fans on Facebook and Twitter, yet I still see more traffic from Google.
Put in the effort today, trust me on this one, it will pay off tenfold.
Here's a few other terms that people are probably going to search for:
And here's the three posts I would write to rank for them:
The 10 Best Portrait Studios in Brighton
How to Get The Best Portrait Photography in Brighton
5 Ways to Prepare For Your Corporate Headshots in Brighton
So long as you know your customer, you can predict how they will think, and start putting yourself in a position where they will find you.
It's easy when you know how.
One final thing that's worth stressing. Make sure you write good quality content.
The last thing you want is to capture a potential client's attention, only to lose it because of poor writing or structure.
Use headings like I have in this post. Proof read everything twice. Write at least 500 words per post.
Now that we know how to blog, lets get one set up…
How to Set Up a Photography Blog
In this section, I'm going to walk you through all the complicated, technical parts of setting up a website, which may have put you off blogging in the past.
Follow what I do, and you will have no problems. If you're stuck, you can always leave a comment.
Purchasing A Domain Name
This first step is essential, but not nearly as important as it used to be.
JoshuaDunlop.com is OK, JoshuaDunlopPhotography.com is better, JoshuaDunlopPortraitPhotographer is too long, but getting there, BrightonPortraitPhotographer is perfect.
Your name isn't that important; what you do is. You could also own YOURNAME.com and have that link to your website. That's good for business cards and flyers.
Google doesn't pay as much attention to exact match domains like this anymore, but they're still useful for reassuring your potential client that they're in the right place.
It's all about using your keywords. You'll be surprised at what you can get.
I bought brightonportraitphotographer.com for about £7 for a year.
Now let's go through the process of buying a domain name.
I recommend using GoDaddy. They're competitively priced, and the process is pretty painless. However, do not set up your hosting with them!
They are old, out of date servers, and you shouldn't really have your server and domain name in the same place.
There's a video for this step below, but if you prefer text, then read on.
Go to GoDaddy.com. Enter the name you wish to buy, and if it's available, go through to the checkout. If it's not, then keep searching.
BrightonPortraitPhotographer.com was available for me, which is actually a little bit surprising.
Sign up with GoDaddy, and fill in all the necessary forms. Then you can either pay with card, or PayPal. I always choose PayPal because it's easier.
When you're all done and paid for, they will send you all the information you need for the next step.
Setting Up Hosting
Hostgator is my host of choice, I have a few websites and they're all hosted with HostGator. They're also really cheap. You'll see that you can get hosting for as little as $4 a month.
I can't stress how cheap this is, I pay so much more than this to keep this website online.
You'll see that the longer you choose to host for, the cheaper it will be. I recommend choosing one or two years for now.
Then follow their payment process and when you're complete, you will get an email from them with crucial information.
You need to pay attention to the following items:
Username
Password
1st Nameserver
2nd Nameserver
Check your email for an email from GoDaddy, and it will look something like this:


Click on 'go to my account'. Then under the products tab there will be domains. On the right hand side, click launch.
Then select your domain name, and you will be taken to this screen: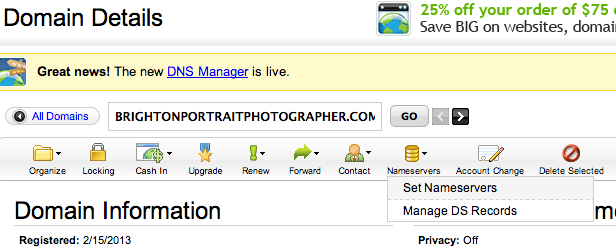 Select 'Nameservers', and then 'Set Nameservers' from the dropdown box.
This will then appear:


Input your name servers from your email, and select OK.
These changes usually take 2 hours. However, it may take up to 48 hours for these changes to take effect. It took me about 30 seconds though.
Congratulations, you've now set up your hosting with HostGator.
Installing WordPress
To install WordPress (trust me, this is so easy), you need to go to your control panel, which can be found at website.com/cpanel so for me it's brightonportraitphotographer.com/cpanel.
Now remember the information I told you to keep handy from your HostGator email? This is where you input your username and password.
When you're logged in, scroll down until you find Software/Services. Then select Fantastico, which looks like a smiley face.



Then in the left hand side, select WordPress, then new installation, and then fill in this form. If you want WordPress to appear in a subfolder, rather than the whole site, such as /blog, then select the directory here. You probably don't though.


Fill in the WordPress username and password you want to use, as well as your email address, site name and description and then press install WordPress. It's that easy.
On the next screen, you will see a link to login to WordPress, which will be YOURWEBSITE.COM/wp-admin.
Go here, and input the username and password you just input in Fantastico, and congratulations  you've set up WordPress. Easy, huh?
You're website is now live, and you can view it, but it's going to be pretty boring. It's time to find a good looking theme.
Finding A Theme
There are a lot of free themes available, but I personally like to invest a few dollars in something like this.
Potential clients are going to be judging you on the whole experience, not just the quality of your photos, so an impressive, easy to use website, is a must for me.
There are plenty of places to find a theme, but my favourite is ThemeForest because there's such an extensive selection available, and you can see a live preview of each.
Just a quick search of photography churns out over 750 themes, at a variety of prices.
Here you can easily browse themes you like, check the ratings, view the comments, etc., and then when you purchase a theme, they will give you a .zip file to upload and activate.
Installing The Theme
This is super simple. As I mentioned above, you will be given a .zip file.
Go to your dashboard (/wp-admin). Then go to Appearance>Themes. There are two tabs here, 'Manage Themes' and 'Install Themes'. Select install themes.


The second subtab is 'upload'. Choose the zip file you've been given, upload it here, and then select activate.
Congratulations, you've just installed your first theme. Your website now looks completele different. Go and check it out.
You'll notice that it probably doesn't look much like the site you previewed when you bought the theme, and that's because you need to add your own content to it first.
Go to Appearance>THEME NAME options. Here you can go through all the different options to make your site look exactly how you want it.
Plugins To Install
One of the best things about WordPress is the ability to install a huge range of free plugins to make your website work the way you want it to.
To install a theme, simply go to Plugins>Add New. And then you can search for plugins, and when you find the one your like, just click install, and then activate.
These are the ones I suggest you install. I've linked to their location in WordPress, but it's a much better idea to search for them within the WordPress dashboard, because otherwise you have to download the plugins, and then upload them again.
WordPress SEO – This is the best plugin for optimizing your website for search engines. Read everything you need to know about WordPress SEO here. Long, but worth it.
SEO Friendly Images – This will take your post title, and add it to the alt tag of your images. This will help them to rank in Google.
Digg Digg – See the bar on the left that follows you down the page with sharing options? This is DiggDigg. It's a must for any blog wanting to be shared.
Comprehensive Google Map Plugin – It's important to list your address on your website if you want to be found in local results. I would also recommend using this plugin to show visitors (and Google) a map of your location.
Akismet – Spam comments can be a real problem in WordPress (I see people reply to them all the time). Akismet helps to block them.
Google Analytics – Track how many visitors your website gets every month by installing Google Analytics. You can learn how your visitors behave, and then use that information to make your website better.
WP Super Cache – This will help to speed your website up, and that's something that Google looks for these days.
Writing Your First Post
You've come all this way, let me show you how to write your first post.
Really simple. In your dashboard, go to Posts>Add New.
Here you can add text, photos, tags, featured image, categories, and anything else that may taken your fancy.
As you're writing, you can click on preview to see what your post looks like, and when you're done, simply click publish and it will be live.
It's that simple.
This is a long post, but the information isn't hard to follow, as it's a fairly easy process.
As you saw from my video, I went from buying a domain to writing my first post in under 12 minutes.
So here are the links you need for a domainhosting, and a theme.
If you have any questions, please feel free to ask, and if you've enjoyed this post, all I ask is that you share it with anyone else who may find the information useful.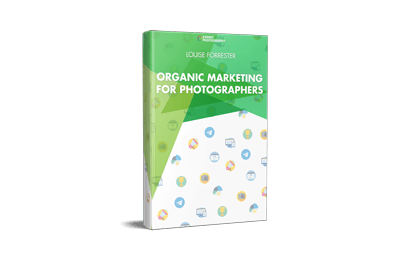 Organic Marketing for Photographers
Are you struggling to attract readers to your photography blog? Our eBook and Cheat Sheets on organic marketing for photographers can help you rank higher on Google and increase your website traffic.