As a food photographer or someone who regularly shoots food, you need to have a collection of food photography props. Even if your style is more on the minimalist side, you'll require some accessories to tell your visual story.
Here are ten must-have photography props that food photographers use on a regular basis.
[Note: ExpertPhotography is supported by readers. Product links on ExpertPhotography are referral links. If you use one of these and buy something, we make a little bit of money. Need more info? See how it all works here.]
Where Can You Buy Food Photography Props?
One of my first stops for prop shopping is any type of secondhand or charity shop where they sell kitchenware. It can take some rummaging, but you may find a few gems.
You might find a couple of stores in your area with a large selection of housewares at great prices. For me, this is a Salvation Army store in a local suburb. I bought the copper pot in the image below for less than three dollars.
No matter when I go, I always find something.
Etsy and eBay are great places to shop for vintage props.
For new kitchenware and props, the following stores are great online sources:
10. Buy Backgrounds and Surfaces… or Make Your Own!
You can use a variety of items for backgrounds, like fabric, craft paper, or large floor tiles. You can also get creative and make your own.
If you're in a DIY mood, buy sheets of wood and paint or stain them yourself.
There are also some great online resources for buying professional food photography backgrounds, and they ship worldwide.
Professional backgrounds are perfect options if you don't have the space for undertaking these messy projects. But they're more expensive than the DIY approach.
9. Balance Your Composition with Linen
Linens are among the essential food photography props. Even if you don't have a lot of kitchenware, I recommend collecting a variety of serviettes and fabrics for your food photography.
You can't have too many tablecloths in a solid neutral color. And it's especially if they are 100% linen, as the linen has a beautiful, natural texture that looks great in photographs.
The same goes for napkins. They can be pricey so that you can invest in a square at a time. Alternately, you can buy a metre at the fabric store and cut them into squares and dye them.
Linens are the secret to saving images that look a bit boring. You can use them to fill blank spaces in your frame, or add a pop of color in your shot.
8. Use the Correct Dishware When Styling Food
Plates and bowls are among the most crucial props for food photography. And using the wrong ones can easily ruin your image.
There are different types of dishware you can buy from porcelain to melamine and china. It will help a lot if you have a variety of these food photography props. That way, you can easily select the ones that fit your aesthetic and the food you're photographing.
For instance, if you want to convey a rustic vibe, perhaps you can try using dark-colored stoneware. And if you are going for a more elegant aesthetic, then chinaware would be more appropriate.
7. Choose Silverware That Matches The Look You Want
You don't want to use the same set of forks and knives all the time. You need to have silverware that matches the dishware you have.
If you want a farmhouse look, you can try old silverware that appear old and a bit worn-out. You can even use ones with aged wood to complete the look.
For a more elegant setup, it would be best to use silverware that appears shiny and clean. You can also use copper or gold-colored variations to add some pop and character to your image.
6. Photograph Drinks in Their Matching Glassware
Different types of drinks require specific glassware. That's why it's crucial to know what liquids you plan to include in your shot. That way, you'll know which food prop you'll need.
For wine, you'll need wine or a stemless glass. Meanwhile, spirits often require a shot or an old-fashioned glass. Although for cocktails, you may also use a highball glass. When pouring juices, tall or punch glasses are more appropriate.
Make sure you do your research on what type of glassware you'll need for any particular drink. It's crucial to use the proper food props for photography to create an authentic look.
5. Choose Chopping Boards with a Rustic Feel
Chopping boards are like the swiss army knives when it comes to food photography props. You can use them as backgrounds or as platforms to display dishes.
There are a variety of chopping boards out there. But when possible, only choose options made of wood or other natural materials. Stay away from plastic – they look cheap.
New chopping boards are always lovely. But you should also look for ones that show some wear and tear. Why? Because they add authenticity to the shot. They make your set up feel like it's an actual kitchen.
4. Find The Correct Knife For the Food You're Shooting
Like silverware, different types of food also require specific knives. You can't use a butter knife when you have a dish with steak in it.
As you expand your collection, organize your knives depending on their use. Separate bread knives from boning knives, etc. That way, you won't get confused about which ones to use.
Remember, use the appropriate knife for your pictures. If you have raw meat, use a cleaver or a chef's knife. And if you are displaying a dish, then you can try dinner or butter knife.
3. Include Cookware For a Homecooked Vibe
There are all sorts of cookware you can use as photography food props.
Photographers often use cookware when photographing ingredients and kitchen shots. But you can also use them when displaying anything from casserole to pot pies.
Large pots and pans require a lot of space. So feel free to use smaller ones when you can. That way, you'll have an easier time setting up your other food photography props in the frame.
2. Add Kitchen Utensils to Fill Space in the Frame
Kitchen utensils come in shapes and sizes, and you can use them in a variety of ways.
As you might expect, a lot of food photographers commonly use kitchen utensils for cooking shots. But you can also use the as vessels when featuring individual ingredients (e.g., powders and spices on wooden spatulas.).
Of course, you can also use kitchen utensils as props to fill spaces in your composition. If your photo feels off-balanced, perhaps placing a ladle might do the trick. Just remember only to include the ones that are appropriate for the shot.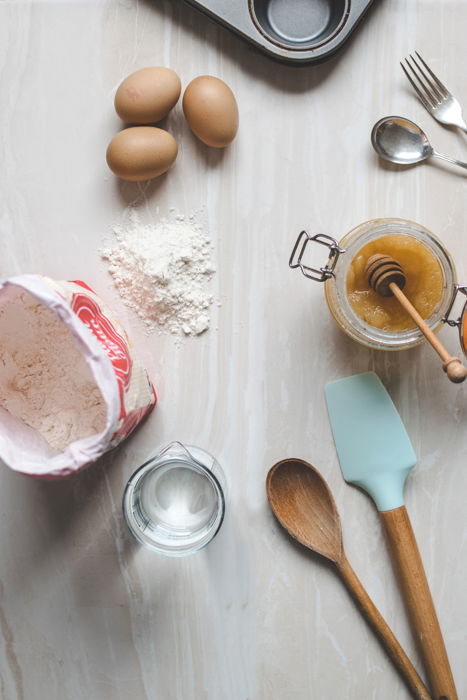 1. Find the Best Mugs for the Hot Drinks You Are Shooting
Like glassware, there are specific cups and mugs for various types of drinks.
Coffee cups and mugs are often larger while teacups are usually small and served in saucers. But it doesn't stop there. Certain coffees such as espresso have specific types of cups, while some teas can also be in mugs and even glasses.
When photographing coffee or tea, don't just assume that you can use a teacup for tea and a coffee mug for coffee. Always get the proper vessel for the drink you're photographing.
Conclusion
Whatever photography props you choose to use, they should make sense and be cohesive within the context of your image.
They need to tell a story and shouldn't distract your viewer from the subject—the beautiful food.
Eager to take your food photography to the next level? Why not check out our ebook Edible Images next!