The art of taking food photos is about creating images that give a full sensory experience. You want the food to stand out so the viewer can almost smell and taste the images. And to do this, you often need food photography props.
Sometimes the food speaks for itself. But you can use props to enhance your imagery. That's why we've compiled a list of our 15 favourite food photography props for you here.
BColorpic Wood-Texture Backdrop Set
Elevate your food photography props with versatile wood-texture backdrops. Choose from 8 patterns to showcase your dishes and bring your creations to life.
Where to Buy the Best Food Photography Props
Dishware, utensils, and cooking equipment are the most helpful food photo props. If this is what you're after, go to your local cookery store.
These stores are the place to go shopping if you need brand new kitchenware. Shiny metal utensils can make great food props if that's the look you want.  And If you know exactly what props you need, you can even order food photography props online (Amazon)!
But if you're looking for something more retro or rustic, there are different avenues you can go down.
Second-Hand and Online Stores
If you want to find more unique items, take the time to explore antique stores other second-hand shops. Antique stores are excellent for old-fashioned pieces of cooking equipment and accessories. You find rare or obsolete props, which can help create fascinating food photos.
Garage sales, charity shops, and flea markets are also good places to find great props. It can take some patience and time to rummage through things. But you can find simple pieces and vintage food photography props that you won't be able to buy in a modern cookery store.
Our Favourite Food Photography Props
Now that you know where to go shopping, we'll give you tips for the best props to use. This list will show you what you need to make your food photography come alive—to evoke flavour and taste.
1. Present Food on Wooden Boards
A wooden cutting board has become a favourite prop for food photographers. Not only is it one of the most common pieces of equipment in the kitchen, but it also invokes the idea of authentic home cooking.
Buy a new wooden cutting board or find second-hand cutting boards showing signs of use. Age and knife grooves will give the feeling that you're working with an experienced chef.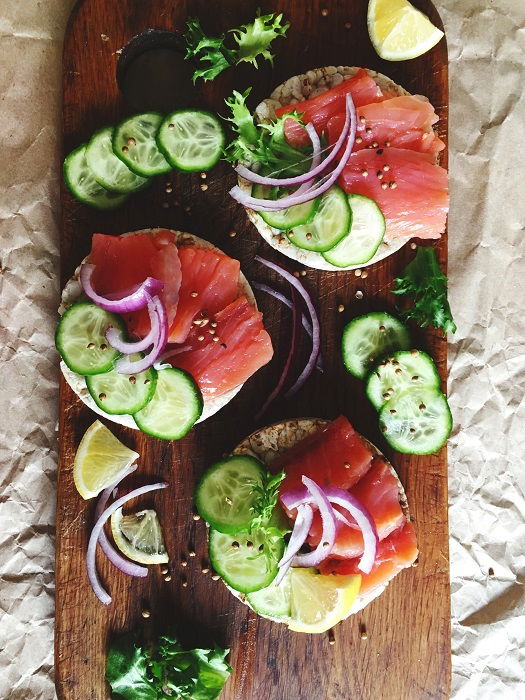 2. Use a Wood Surface Background
You can also use wood as your background surface. A wooden surface gives food a rustic feel. The grained texture places your imagery in settings like a farmhouse kitchen.
If you don't have a wooden table, you can cheat. You can use large wooden chopping boards for close-ups. Or you can create a mini tabletop using planks of wood. You can paint or treat them with varnish to color or age them.
You can also buy wood imitations backdrops instead, or realistic duo boards with different textures on each side.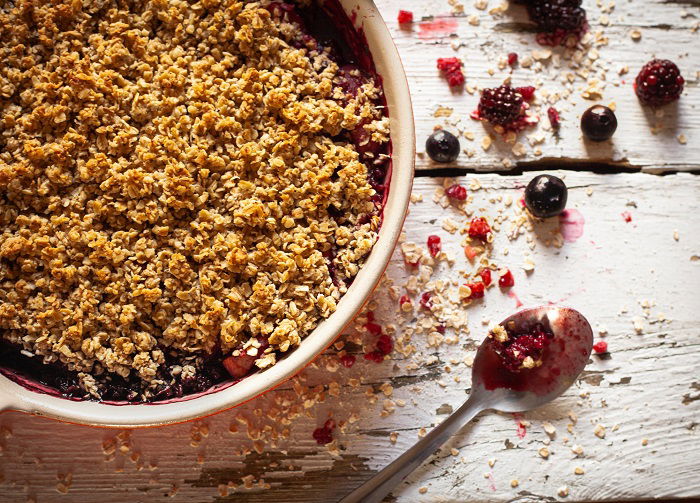 3. Experiment With Different Tablecloths
Go crazy with gingham. Gingham cloths have a simple design. But they're also a powerful visual prop in food photography. They invoke feelings of summertime, picnics, and bake sales.
Go stylish with stripes. Striped tablecloths are great food photography props. The lines and angles of the pattern can help add dynamism to your food photography composition.
Use the power of plain. Try plain tablecloths if you want something more neutral. They are the perfect prop if you want to enhance food colors. And they work well if you want a minimalist food photography style.
4. Make Use of Marble Backgrounds
Many modern kitchens have marble work surfaces. If you're shooting in one of these kitchens, that's perfect. But you can also replicate the upscale look in a studio or at home.
You can buy marble cutting blocks from homeware stores. But, these can be pricey. A cheaper alternative is to use vinyl imitations. You can buy them by the roll. They're an inexpensive and easy-to-use prop, providing texture and detail for food photography.
5. Use a Slate or Chalkboard Backdrop
Slate has become a favourite food photography prop. And you'll often find dishes served on slate surfaces in modern restaurants. It can bring a solid tone and texture to your food photography.
But another great prop for food photography is a chalkboard. You can draw lines and pictures on it. Or you can write words and phrases. And the dark background can make colors pop in food flat lay photography.
6. Match the Food With Cooking Utensils
Kitchen utensils are the most commonly used food photography prop. The reasons are obvious. But the best way to use them is to match the food with the utensils used to make the food.
For cookies, you'll use a rolling pin and cookie cutters. And for cakes, tarts and other baked goods, you'll use baking tins. If you incorporate these props in your food photography, people will better understand the cooking or baking process.
7. Photograph Drinks in Correct Glassware
Every alcoholic drink has a specific glass it is meant to be served in. Most people will be familiar with stemmed wine glasses or champagne flutes. But you also have glass tumblers for whiskey and rounded glasses for brandy.
Using the correct glasses for each drink gives your photography an extra level of professionalism. If you're working in product photography or advertising, this attention to detail is critical.
8. Pick Dishware to Elevate Presentation
Selecting dishware is one of the most important aspects of food photography. You need to choose plates or bowls that will enhance your food images.
Colorful food will jump off a white plate. But bowls with rich tones might set a warmer mood.
You can also choose between glossy and matte plates, big and small bowls, or square and round dishes for different types of presentation.
Plus, there is a whole art in how you display food on a plate with additional garnishes. Keep this in mind when selecting the look of your dishware.
9. Arrange Cutlery for a Dining Experience
Forks, knives, and spoons are other favourite food props. They create a link between the food and the viewer.
In the western world, culture dictates that we eat food with a knife and fork. But if you're photographing Asian food, chopsticks also do a great job of representing the act of eating.
Add different styles of cutlery to your prop collection. Then, mix and match to create different dining experiences to draw the viewer in.
10. Display Infusions in Transparent Vessels
For teas and infusions, clear glass vessels make perfect props. They allow you to see the beautifully colored liquid within. You can capture the water as it changes color for some vibrant photos.
Clear glass cups and mason jars can also be used for mixing coffee and other colorful drinks. Show the color transformation when you add milk to coffee or mix other drinks. That's a great moment to snap a photo.
11. Find and Use Mugs With Cool Designs
The first coffee of the day or hot chocolate by the fire can be intimate and comforting moments. And many people have their special mug.
You can buy sets of mugs and saucers for hot beverages. But these are often dull, lacking in personality. Use a cup from a second-hand shop or find a mug with a more distinct or personalised design.
12. Lay Out Napkins for Color and Patterns
Cloth napkins have become a regular part of our dining experience. But they also make an excellent prop for your food photos. You can use napkins to bring color and form to your photos, creating more visual interest.
Cloth napkins can blend with the colors of the food. Or they can add strong color contrast. The shapes and patterns can also bring structure to a food photo. You can collect many colors and styles, as they're a versatile prop.
13. Use Parchment Paper to Imply Baking
Cooking parchment is a valuable item in the kitchen. It can be used for baking cookies or cakes. Or you can use it for baking meat or fish. As a food photography prop, it adds authenticity and texture.
In the photography studio, you might not even bake anything. But adding baking paper to your shots makes it look like you have baked goods in the oven.
14. Keep Things Together With Toothpicks
Toothpicks are an essential food photography prop. Food doesn't always stay in place, while components can slip and slide over the plates. A well-placed toothpick will keep your culinary compositions in position.
15. Create Steam With Cotton Buds
Real food doesn't stay hot for long. And with many food photoshoots, the food isn't hot to start with. But there's an industry trick that gives you steam no matter cold the food is.
Soak cotton buds in water and put them in the microwave. They only need a few seconds in there. Once they're steaming, they're ready to use. Place them wherever you need steam. Just make sure you hide them well.
Conclusion
There are many different food photography props to create unique and exciting food images. Experiment with backgrounds with simple patterns. Use fun coffee mugs. Or create your own food photography props (DIY) for a more personal touch.
Then, create a catalog of your favourite food photography props. And keep adding to your prop collection, so your food photography never stops evolving. We hope our suggestions and tips will help you make some fantastic food images!
Try out our Products In Focus e-book to create dynamic compositions!