Many photographers dream of having their own home photography studio to practice their craft. So you must be wondering, how can I make a photography studio at home?
Well, what if I told you it's easy to get started? Here are some tips on how to set up a low-cost photo studio at home!
MSMK Photography Lighting Kit
Looking to set up a low-cost home photography studio? Our complete lighting kit includes everything you need for professional-quality photos, including backdrops, softboxes, umbrellas, and bulbs.
[ExpertPhotography is supported by readers. Product links on ExpertPhotography are referral links. If you use one of these and buy something, we make a little bit of money. Need more info? See how it all works here.]
How Do You Set Up a Home Photography Studio?
Planning how to set up a home photography studio can be overwhelming. With so many things to consider, where do you start?
The first step for me was to do some research on the photo studios near me. Of course, I didn't have to visit those places physically. A simple internet search was enough.
A photo studio near me even had images of their facilities. Seeing their setup allowed me to figure out how to arrange my equipment at home.
Remember that it would take years to acquire the expensive equipment you see in professional studios. So for now, don't be afraid to start small with the essentials.
Which Is Better: A Fixed Location or a Portable Studio?
Think about how you intend to do your photoshoots. Do you want to stay in a single place? Or do you see yourself shooting in different locations often?
If you're not doing photoshoots on a regular basis, you can get away with a clean wall and natural light from a window. That's all you really need for simple portraits.
But what if you're shooting product photography several times a week? Then a dedicated home photography studio is ideal.
It's best to invest in equipment that is compact and easy to store. That way, you have the option to have a permanent studio. But you still have the ability to move your gear to different locations.
How Big Should Your Photography Studio Be?
You don't need to have access to a 100-square-meter venue to take studio portraits. You can convert a spare room or even a tool shed into a home photography studio.
But working in smaller spaces can be quite challenging. It demands a good deal of flexibility, compromises, and a lot of creativity.
But then again, you don't need a lot of equipment for your home studio. In most cases, even a 100-square-foot room is enough to fit all of your photography gear. Place your background stand against one of the walls, set up the light stands in front, and that's it!
One factor you need to consider for your studio is the number of people you can fit in it.
Do you like to photograph groups of people? If so, look for big spaces that allow for unobstructed movement.
For single-person portraits and headshots, a few square meters are enough. Portraits of newborns and toddlers are possible almost anywhere.
You should also beware that the size of your home studio may affect the light in your photos.
It's easier to control artificial light in large photography studios. In very small places with low ceilings, stray light can be more of a problem.
So if your space is small, it's best to stick to window lighting. It creates pleasing light no matter the size of your studio.
How Do You Manage a Small Studio Space?
Building complicated lighting sets can be trickier to do in small studios. This is because of the lack of space.
For the same reason, your expensive 70-200mm f/2.8 could end up being too "long" for your space. With a lens of that focal length, you will only be able to take headshots (at best).
In small photography studios, it may be better to invest in lenses with shorter focal lengths. Try any option between 80-100mm for taking larger portraits.
Finally, your home photography studio setup should have a few power outlets around.
You'll likely have to plug in gear all the time when taking pictures. These could be lights, a laptop (if you shoot tethered), and chargers. You may even need fans for cooling your place or for portrait effects.
What Is The Basic Gear Setup for a Small Photography Studio?
There are tons of studio gear to choose from. And it can be difficult to know which ones to buy first. So what equipment do you need for a photography studio?
Don't obsess over buying all the gear as you start building your studio. It's surprising how little equipment you need for most photoshoots.
Here is a handy list of a basic gear setup for a small home studio.
Other Optional Gear
It's best to have more than just photography equipment for your home photography studio. You should also get these everyday accessories you'll likely need for your shoots.
Step ladders—Ladders are useful to change your point of view on your model. But you can also use it to change the orientation and settings of your lights.
Fans—A fan can introduce some motion into your portrait (think wind-blown hair or clothes). But they also make it more comfortable while working in hot studios. Continuous studio lights and strobes with modeling lights generate a fair amount of heat. A fan helps provide some relief.
Extension cords and power strips—If you use studio lights other than portable lights, think about getting extension cords and power strips. You'll need space to plug in your lighting equipment.
Furniture—If you are going to do portraits larger than headshots, you should consider having some furniture around. Chairs and stools are must-haves.
How Much Does It Cost to Build a Photography Studio?
When it comes to building a photography studio, you want to ensure your equipment meets your needs. Do not spend a lot of money on a light that you'll never use.
The good news is you can find plenty of home studio kits online for a reasonable price.
Most kits include two light stands, two modifiers, a background stand, and muslin backgrounds. The stands can be a bit flimsy, but they will last you years if you keep them in your home studio. If you plan on shooting in different locations, I suggest getting sturdier professional options. They may be more expensive, but they'll last much longer.
You should also beware that the lights from the kit are simple white bulbs and aren't that bright. But you can easily swap them out with the Speedlites you already have.
Setting Up a Home Studio For Portrait Photography
Think about the types of portraits you plan to take and how you want them to look. Do you like working with natural light? Then you will need a home studio with big windows.
Are you a flash photographer? Then an empty wine cellar or basement is great for shooting studio portraits.
How to Choose the Best Lighting Equipment for Your Home Studio
You have plenty of options when it comes to lighting in your home studio. We'll discuss the two most popular types of lights below.
Speedlites
Pros:
Perfect in small photography studios and for portable setups.
Lightweight and small.
Cheap—particularly manual units like Yongnuo, Phottix, etc.
Cons:
Low power.
Lack of modeling light prevents you from seeing where the flash beam goes and fine-tuning your autofocus.
Can have a long recycle time (particularly at full power), making it hard to shoot in burst mode.
Some of the Speedlites' shortcomings can be overcome by using flash units such as the Godox V850II. These are much more powerful than Speedlites, and they're still portable. Unfortunately, these units are quite expensive.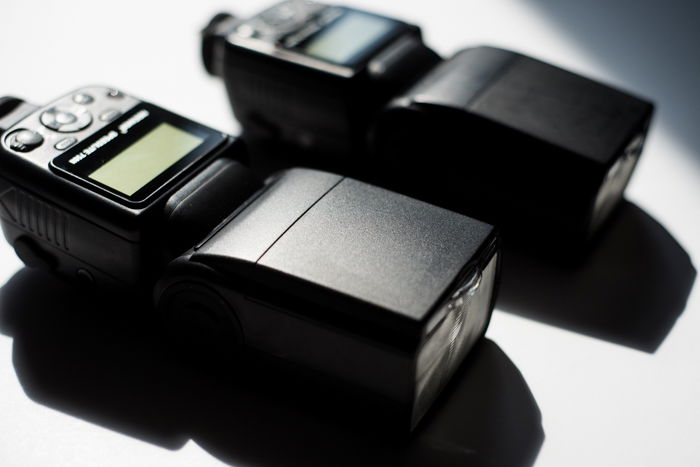 Photography Studio Flashes
Pros:
Powerful light.
Can have a built-in modeling light.
Includes an AC plug for batteryless operation.
Cons:
Price.
Heavy and bulky.
Need sturdy light stands.
Cheap units can overheat and stop working until they cool down.
So how many lights should you have? I would say three. These will give you a great deal of flexibility in your work.
Whatever option you choose, remember that you'll need one light stand for each flash unit. In most cases, two or three should be enough.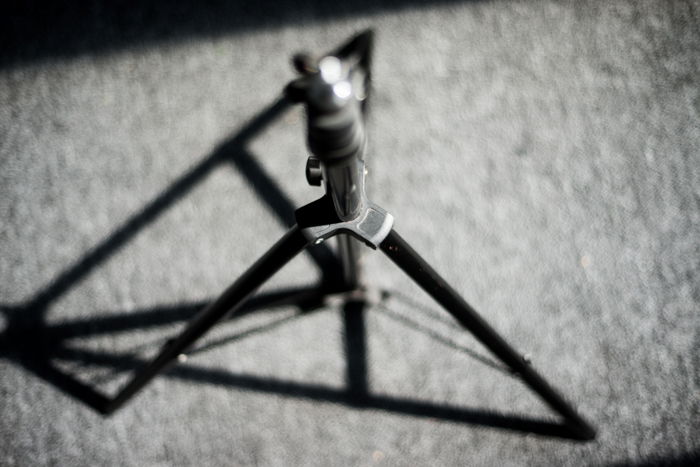 But don't let shopping fever get you. Start with one light. Learn the basics and build your equipment kit once you need more flexibility. You can also take great portraits with a single Speedlite, as you can see in the example below.
Must-Have Light Modifiers
Reflectors—They bounce light back into the scene. 5-in-1 reflectors provide various types of reflective surfaces. In one package, you get silver, gold, white, black, and translucent.
Umbrellas—These are the cheapest light modifiers you can buy. They soften the light from the flash. But the problem with them is that they let light spill everywhere. As a consequence, they reduce your ability to control the light, particularly in small studios.
Softboxes/Octaboxes—They're more expensive than umbrellas, but they give you better control over your light. They also produce a softer glow in general.
Grids—Grids concentrate the light in tight beams, making light very directional.
Gels—Gels are sheets of semitransparent materials. They come in different shapes and colors. They change the background color when used on a background light. And they introduce light effects in your portrait. They are cheap too.
Flags—They stop stray light from bouncing around the set. You can make flags from any black material. A panel, cardboard, a curtain, a cloth, etc. work really well. 5-in-1 reflectors have a black side allowing you to use them as flags.
Bear in mind that, the larger the light modifier is, the softer (but weaker) your effective light will become.
DIY Speedlite Flash Modifiers
If you have a Speedlite, why not try creating DIY modifiers?
Creating softboxes at home means that you get to try different ways to light your portraits. All without spending a lot of money!
With a few small pieces of plastic, you can create a few different modifiers. Other items you might have laying around the house.
You might need to buy a pack of Pringles, but then you can enjoy them too!
How to Choose a Background for Your Home Studio
There are two kinds of photography studio backgrounds you can choose from. The first is a collapsible portrait backdrop. The second is a professional photography studio backdrop on a support or on a rail/roll system that's fixed to a wall or ceiling.
Collapsible Backgrounds
Pros:
Cons:
Small—most suitable for headshots or single-person portraiture.
The tissue can have creases.
Folding them is an art difficult to master.
Professional Portrait Background
Pros:
Paper, vinyl, or tissue backgrounds.
Comes in many background sizes.
Cons:
Often large and heavy.
Cheap models will not support heavy backgrounds, such as a 3 x 11-meter paper roll.
As for the background color, they come in black, white, and grey. For small studios, a grey backdrop is often the best solution. It can be black or white depending on your lighting setup.
Gels can also change the color of the background in your images.
How to Get Rid of Ambient Light
Keep in mind that when you work with a flash indoors, you do not want natural ambient light. This can contaminate your studio lighting setup.
Of course, not using ambient light does not mean you should work in total darkness. But it's good to have a low level of ambient light. This will improve your portrait home photography studio setup.
You can achieve this by shielding the windows with curtains or by using flags. This will stop unwanted light from bouncing around the set.
To ensure your ambient light will is not affecting the photo, do a few test shots. Set up your camera to take a photo without firing your flash. Make sure that the resulting image is completely black.
You can then manipulate your lighting to achieve the exposure you want.
I usually photograph at f/8, ISO 200, and 1/125 s. I then use a flash meter or a trial-and-error process to set the power of the lights to match my target exposure.
How Do You Start a Home Photography Business?
Having a small studio is enough to start a business. Once you're comfortable with your lighting setup, ask your friends if they need professional portraits.
Remember that presentation and professionalism are crucial elements for success. So if you're not ready yet, stick to the people you know first. They'll be more forgiving with your studio setup and are usually more excited by your talent.
So what if taking paid portraits of strangers is still not possible? There are also tons of brands out there that need pictures of their products. You can ask local businesses if they need e-commerce photos and photograph their products. Use the money you earn to buy more equipment and eventually rent a real studio for your business.
Conclusion
I hope these tips give you a good idea of the basics you'll need to build your own home photography studio.
My advice is to not get too stuck on the idea of the perfect photography studio and equipment. What counts the most is your creativity and your willingness to squeeze the most out of what you have to work with.