Have you ever wondered, What's the best camera for capturing a picture of myself? Or, have you ever struggled with portraying yourself in the perfect light? Well, look no further! Today we're going to find the best selfie camera for you!
Often, a smartphone is a perfect selfie camera. So we'll explore a few of the best smartphone options on the market. But we'll primarily focus on digital cameras. They can provide a more dedicated and streamlined shooting experience.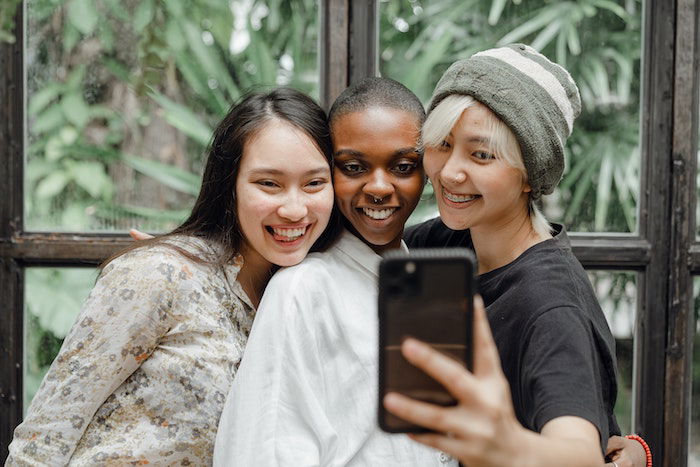 Who Needs a Camera for Selfies?
Selfie cameras are really for everyone nowadays. Luckily enough, some of the best selfie cameras are the smartphones we have in our pockets. But, for certain people, a dedicated camera for selfies can help them take more high-quality selfies.
The perfect candidate for a dedicated selfie camera is an influencer or vlogger. This job requires a camera that is portable, quick, and reliable. Image quality is important too.
People are trying to sell a product or lifestyle in their pictures or videos. So a good selfie camera is needed to provide sharp photos and video quality.
Another reason you might need a good selfie camera? They're great if you're traveling the world and want an excellent camera with you for more traditional portraits.
It's particularly helpful if you don't want to use your phone for picture taking. You can take a real break from your phone. And you reduce the chance of losing it because you don't have to take it out as much!
Selfie cameras are also useful for family members who aren't too confident in using a phone camera or organizing their images on it. A point-and-shoot camera for family pictures and selfies makes the shooting process easy. It's then easier to help family members upload and disseminate images.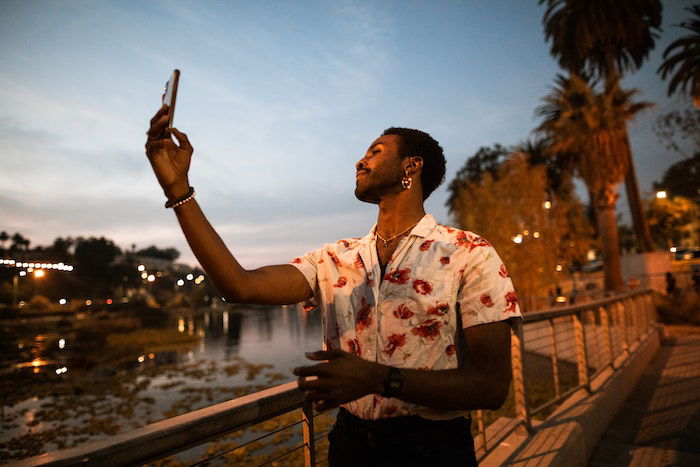 10 Best Selfie Cameras
We've divided our list into two sections. First are the seven best digital selfie shooters. Then we follow that up with the three best smartphones.
7 Best Digital Selfie Cameras
These are the best selfie cameras available on the market today. We list their megapixels, weight, video capabilities, screen size, and price. These cameras will help you take detailed selfies!
Best for Beginners
Megapixels: 20.1 MP
Weight: 0.27 lb (127 g)
Video Resolution: 720p HD
Screen Size: 2.7″ (6.8 cm)
Price: $
The Sony Cyber-shot DSC-W810 is one of the best selfie cameras for beginners due to its size and ease. It is so small that it can easily fit in a bag without adding too much extra weight. You can even fit it in your pocket for quick, convenient shooting.
In terms of selfies, the SteadyShot feature is handy in multiple situations. A tired arm can cause bad camera shake. This feature ensures your photos are crisp when holding your camera at arms-length from your face and a great self-portrait.
Another fun feature this camera has is Party mode. This shooting mode combines an advanced flash with the camera's ISO, exposure, and chromatic intensity.
It's perfect for clear, low-light night shots. And it's ideal for people who love to dance the night away with their friends and want to remember every step along the way.
I'm also a fan of how easily accessible the video mode is. There is a perfectly situated button where your thumb naturally lies when taking a photograph. This means you can quickly and seamlessly change to recording a video if something unexpected is worth capturing.
Best for Action Selfies
Megapixels: 23 MP
Weight: 0.34 lb (158 g)
Video Resolution: 5K / 60p Ultra HD
Screen Size: 2.3″ (5.8 cm)
Price: $
The GoPro Hero series has solidified itself as the best selfie camera for action photography on the market today. You may have seen their promotional videos. They take you on snowy landscape adventures or skydives from a plane. And they often feature a person holding the GoPro on a stick against a beautiful backdrop.
The GoPro Hero10 is primarily made for video. But it also allows you to take high-quality images. Its specialization in video recording benefits the camera's still photography.
It's most evident in the camera's HyperSmooth 4.0 stabilization. Because GoPro optimizes for smooth-looking video, you also get sharp image quality photographs. Plus, you can grab amazing 15 MP photos from your 5K video recordings.
Arguably, its best feature is a small front screen showing what you're recording. This means you spend time less time changing poses if you're taking a simple selfie.
Another feature I like is its waterproof capabilities. It allows you to take pictures and videos underneath the water in some beautiful settings.
Megapixels: 12.8 MP
Weight: 0.77 lb (351 g)
Video Resolution: 4k / 30p Ultra HD
Screen Size: 3″ (7.6 cm)
Price: $$
The Lumix DMC-LX100 is a great selfie camera. It combines the top requirements of portability and great image quality.
It seems to work best as a standard point and shoot. But you can use it with manual functions. This means it could be a great camera for beginners who want to slowly introduce themselves to manual settings.
Lumix also has the advantage of being in a partnership with Leica. So its lenses provide excellent image quality that is hard to find elsewhere. This means that even though it doesn't have the highest megapixels, you still get sharp photographs.
A special feature you won't find in most cameras is its automatic lens cap. This won't improve the quality of your selfies. But, it gives you one less thing to worry about. And it keeps your Leica lens clean and scratch-proof.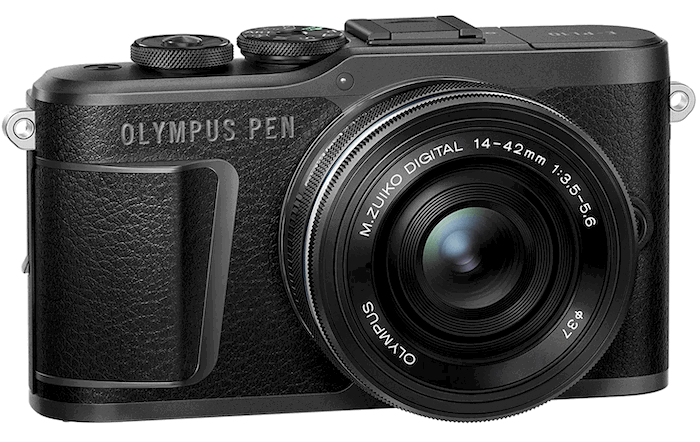 Megapixels: 16 MP
Weight: 0.99 lb (453 g)
Video Resolution: 4K / 30p Ultra HD
Screen Size: 3″ (7.6 cm)
Price: $$
The Olympus PEN E-PL10 is a digital camera based on its older, analog point-and-shoot brother, the Olympus PEN. These cameras were known for being super portable and easy to use. And they still take up the same role in their digital form.
One of my favorite features is the 3-axis image stabilization. This intelligent image stabilization technology means the image quality is top-notch, even in challenging low-light environments.
I also really like that you can charge the camera using portable devices. This is handy when traveling on the go. And everyone should have a power bank nowadays.
As a digital camera, it comes through with the most important feature for selfies. It has a versatile flip screen that activates a Selfie mode.
And the E-PL10 also has a built-in flash. This means you can take selfies in low light with no issues at all.
I'm a big fan of this small and portable camera. It would definitely be a great travel camera. But one issue may be its interchangeable lenses. They can add extra travel weight. But the 14-42 mm f/3.5-5.6 kit lens provides a nice wide angle for selfies.
Megapixels: 24 MP
Weight: 0.7 lb (320 g)
Video Resolution: 4K / 30p
Screen Size: 3.5″ (8.8 cm)
Price: $$$
The Fujifilm X-A7 is a powerful camera with a beautiful sensor. It gives you great image quality and an amazing dynamic range. And Fujifilm is well known for its color simulations. So all parts of a good photograph are covered!
One of the best features of the Fujifilm X-A7 is its superb face and eye autofocus system. It can quickly track faces even in motion. This gets you the sharpest possible image quality on the most important parts of your face. Fujifilm has also included a Portrait Enhancer setting that provides a beautiful rendering of skin tones.
Of course, one of the top features is the flip screen. It allows you to easily see how your selfie will look. You can even put film simulations on the Live View, so you have a great idea of how your picture will look.
Along with all these great features, it still has a fantastic 4K video setting as well. And because this camera is so small and light, you can hold it at arm's length or even put it on a stick for convenient selfies.
There is also a Fujifilm camera remote app for added ease in shooting selfies. I also think the Fujifilm X-A7 is the classiest and best-looking camera on this list.
Megapixels: 20.1 MP
Weight: 0.67 lb (304 g)
Video Resolution: 4K / 30p, Full HD / 120p
Screen Size: 3″ (7.6 cm)
Price: $$
The Canon Powershot G7 X Mark III is one of the best selfie cameras. It's tailor-made for vloggers or live streamers. It even has a feature that makes it easier to live stream directly to YouTube.
The G7 X is small and easily positionable in difficult spaces on different tripods. This includes on top of a computer or among a bunch of books on a shelf.
The video functions are one of the main features that separate it from other cameras on this list. You get the ability to shoot either in 4K quality or in Full HD. This means you can take super crisp videos for streaming and also take some great action shots when out on the go.
Again, we see a flip screen, which is such an important feature. It also comes with a great touchscreen. So you can make slight adjustments, even while recording.
If your arm starts to get tired, you can set it down and control everything from the Canon Camera Connect app. It allows you to take both videos and images and also make adjustments.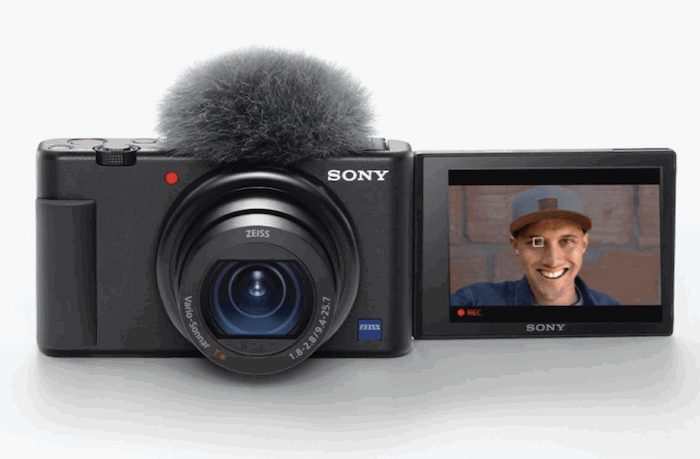 Our Top Pick (Digital Camera)
Megapixels: 20.1 MP
Weight: 0.64 lbs (294 g)
Video: 4K / 30p, HD / 120p
Screen Size: 3″ (7.6 cm)
Price: $$
The Sony ZV-1 is the best selfie camera, specifically for influencers, vloggers, and content streamers. It even won multiple awards as the best vlogging camera in 2021.
One of its key features is having a button right on the top for blurring the background. This instantly puts a bokeh in the frame and separates the subject from the background. It's particularly helpful for traditional portraits and busy environments.
There is also an amazing Product Showcase setting that switches focus seamlessly between your face and an object you hold up. This means no more waiting for the camera to slowly adjust the focus.
Another great point Sony has considered is how important sound is on a point-and-shoot camera. If you don't want to get an external mic, the ZV-1 has a great built-in mic. It also comes with a windscreen to capture good audio in unfavorable conditions.
Its quick autofocus may be the best feature of the camera. It allows you to always keep track of your face and finds you quickly when you re-enter the screen.
Another feature I like is that it allows you to take videos in portrait orientation. It's particularly helpful for creators who work with mobile apps as their main output.
3 Best Smartphone Selfie Cameras
For those who don't want to keep their camera separate from their phone, we give you the top three smartphones for self-portraits.
Megapixels: 8 MP / 50 MP
Weight: 0.45 lb (207 g)
Video Resolution: 4K / 60p, 4K / 30p (ultra wide)
Screen Size: 6.4″ (16.2 cm)
Price: $$
The Google Pixel 6 has an amazing rear camera. It can take shots at a whopping 50 MP. But it falls short with its front camera. This front camera can only shoot at 8 MP. But still has great image quality.
For those of you who want a better rendering of color on smartphones, this may be the phone for you. Pixel 6 has a new Real Tone feature that takes better portraits through various adjustments, including color temperature. This feature also reduces stray light so nothing can get in the way of a good picture.
I'm also a big fan of the Magic Eraser feature. It allows you to take people or objects out of the background. This is excellent if you plan to use the smartphone for an important shoot and don't want to risk anything in the background ruining the perfect moment!
Megapixels: 12 MP
Weight: 0.52 lb (238 g)
Video Resolution: 4K, 1080p / 780p HD
Screen Size: 6.7″ (17 cm)
Price: $$$
The iconic Apple iPhone only takes second place on this list despite the famous 3-lens system it now uses. This doesn't mean it's not great for selfies. It is still one of the best smartphones for photographs in the world.
Apple was one of the first companies to introduce the Portrait mode that gives you beautiful bokeh in your photographs. It's a feature that's now available almost everywhere because it produces spectacular portraits with ease.
You can now adjust the aperture when taking selfies. This gives you different bokeh intensities. And they're also adjustable after you've taken the shot!
I'm constantly using the Live Photo feature as well. I find it particularly useful for self-timed shots or situations where there's a lot of action. This feature also allows you to choose a picture from a short video it takes before and after you press the shutter.
Apple has now put in a great Cinematic mode. It's perfect for content creators.
This video mode allows you to adjust the focus during your filming. It's not as comprehensive as the Sony ZV-1's autofocusing features. But it is definitely a welcome feature for smartphone cameras.
Our Top Pick (Camera Phone)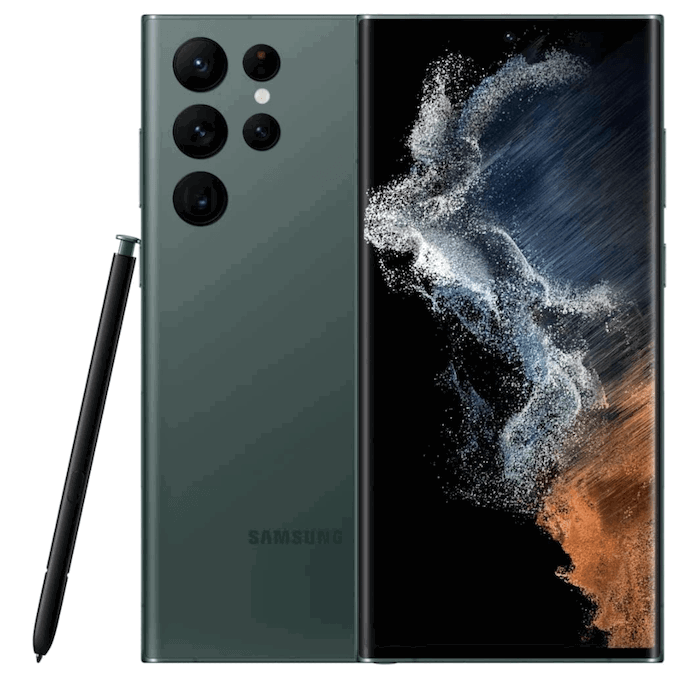 Megapixels: 40 MP
Weight: 0.5 lb (228 g)
Video Resolution: 8K
Screen Size: 6.8″ (17.2 cm)
Price: $$$
The Samsung Galaxy S22 Ultra comes first among the top smartphone cameras due to its unbelievable 40 MP front-facing camera. It also has a 108 MP wide-angle lens among its four lens elements. This clearly puts it far above the competition with its excellent image quality.
Samsung has also spent a good amount of time fine-tuning its Portrait mode. It has trained its AI to learn about thin objects. These can sometimes render as a background with other cameras.
This means the Galaxy's bokeh effect stays true. It doesn't ruin the illusion created by its AI. You can even add this effect after taking a photograph.
Another feature I like is how you can select and change the location of the lighting direction. It's something photographers would have considered magic only a few years ago. Now it's on a smartphone!
I also really like how you can now see all the camera's manual settings. You can find this at the bottom of the camera screen. It tells you the ISO, shutter speed, and white balance. This is helpful for amateur photographers looking to take photography more seriously.
Conclusion
After looking through this list, you will perhaps see the benefit of having a dedicated camera for selfies rather than using a camera phone. The digital cameras listed provide a greater number of features. And they have bigger sensors to better handle color, depth, and tones.
You must decide for yourself if these are worth the trade-off of convenience in having a top-quality smartphone camera for selfies. The other main features you want to keep in mind for the best selfie camera are portability, ease of access, and shooting capabilities.
Apart from that, there's not much more you need! Well, maybe a tilting screen, but we have already stressed its importance in the article.
Check out our Next Stop: Travel Photography e-book! It includes tips for taking portraits of yourself and others!