The best softbox for speedlights can transform portable gear into a foldout studio! If you're looking for a way to improve your photography, adding a softbox to your speedlight might be the answer. A softbox diffuses the light from your flash, creating a softer, more flattering light. This makes it ideal for portrait photography, where you want to avoid harsh shadows and unflattering highlights.
There are many different options when it comes to softboxes. So it can be hard to know which one is right for you. We think the Triopo KS55 Portable Softbox is the best option available. This is thanks to its great price for studio results and its strong design.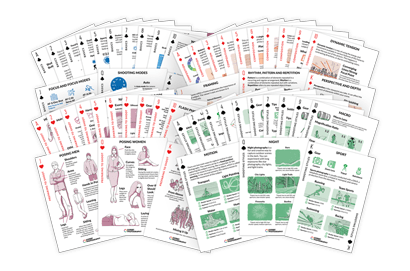 Quick Capture Cheat Sheets
Want to master aperture quickly and easily? Our Cheat Sheets cover 52 different aspects of photography, including aperture, with beautiful designs and illustrations that make complex concepts easy to understand.
[Note: ExpertPhotography is supported by readers. Product links on ExpertPhotography are referral links. If you use one of these and buy something, we make a little bit of money. Need more info? See how it all works here].
What Is the Best Softbox for Speedlights?
Here is a quick roundup of our favorite softboxes for speedlights!
Best Softbox for Speedlights (Top 8)
Read below for an in-depth view of each of our selections. 
1. Triopo KS55 Portable Softbox
| | |
| --- | --- |
| Brand | Triopo |
| Size | 21.6 inches (55 cm) |
| Mounting Method | S-type Grip |
| Material | Nylon, aluminum |
| Key Features | Wide, collapsible octagon softbox that spreads light over a broad area |
| Best For | Professional-standard shoots |
The Triopo KS55 portable softbox is our favorite because of its versatility and ease of use. Its fully-expanded 21.6-inch (55 cm) diameter makes it as good as regular softboxes often found in studios.
And it has a collapsible construction that makes it portable. You only have to push it up like an umbrella to use it.
Since this softbox is octagonal, it's the best option for portraiture. It diffuses light effectively. And it creates circular catchlights that make your subject's eyes glitter.
And if you feel like creating moody photos, you can always use the egg-crate grid that comes with it. It cuts the light and concentrates it on your model. So it doesn't spill into the background.
But what truly makes the KS55 portable softbox our favorite is its handle. Of course, you can always install it on a light stand. But you can also detach it from the octagonal softbox and handhold your speedlight.
Plus, it has a mounting hole for an umbrella in case you wish to use that type of light modifier. And it comes with a carry bag.
2. Neewer Octagonal Softbox
| | |
| --- | --- |
| Brand | Neewer |
| Size | 32 inches (80 cm) |
| Mounting Method | C-stand or tripod |
| Material | Nylon, aluminum |
| Key Features | Wide octagonal shape to spread light effectively |
| Best For | Product and portrait photography in a studio environment |
Another great option to consider is the Neewer octagonal softbox instead. It's 32 x 32 inches (80 x 80 cm). And since it's octagonal, it creates beautiful catchlights in your subject's eyes. So it's great for headshots and portrait photography.
This softbox is also larger than many options. So it creates even softer light than its smaller counterpart. It also comes with a detachable internal diffusion panel. This lets you control your photo's highlights and contrast.
But what really makes the Neewer softbox better than most? It opens and closes like an umbrella, making it highly portable and easy to use.
But it's very large when opened. So Neewer made an excellent decision to include a speedlight bracket. This attaches easily to a light stand!
3. Godox AK-R1 Dome Diffuser Kit
| | |
| --- | --- |
| Brand | Godox |
| Size | Various |
| Mounting Method | Magnetic |
| Material | Various |
| Key Features | Various diffusers and accessories for several soft lighting options |
| Best For | Godox speedlight users |
Consider the Godox AK-R1 dome diffuser if you want an affordable softbox kit. Godox prides itself on well-priced lighting equipment. And it now competes head-to-head with some of the biggest photography companies.
This kit includes various light diffusers. It includes a flash dome, plates, snoot, color filters, and gels. It also has a magnetic mounting system. So you can attach and detach the lighting accessories in seconds.
The Godox accessories kit is compatible with their round flash units. That includes the Godox V1-S and the AD200. But it also comes with a speedlight bracket. This lets you use the more common rectangular flash heads.
The AK-R1 dome diffuser kit is a compatible, affordable, and good-quality option. That's why we list this ahead of the Magmod kit. And you can also just buy the Godox flash dome by itself.
4. MagMod Speedlight Diffuser Kit
| | |
| --- | --- |
| Brand | MagMod |
| Size | 6 inches (15 cm) |
| Mounting Method | Magnetic |
| Material | Various |
| Key Features | 3 kinds of compact soft lighting diffusers |
| Best For | Beginners and professionals who want a portable travel option |
The MagMod speedlight diffuser is your best bet for a professional, high-quality speedlight softbox. But this kit costs much more than the others on our list!
It comes with a whole system of accessories. It includes items like a snoot and gels for all sorts of shooting situations. And Magmod is among the first to sell speedlight softboxes with a magnetic mounting system.
It uses strong, noise-free magnets to stay in place. So you no longer need to screw on your softbox. All you have to do is "stick" your flash dome to your flash unit. And when you finish taking pictures, pull it off and store it safely in your bag.
And apart from these light modifiers, they now also offer regular-sized softboxes like the MagBox Pro. You can use them off-camera. They may look like your average studio softboxes. But they're collapsible and feature a magnetic mounting system.
5. Gary Fong Collapsible Gen5 Lightsphere
| | |
| --- | --- |
| Brand | Gary Fong |
| Size | 6 inches (15 cm) |
| Mounting Method | Cinch strap |
| Material | Clear silicone |
| Key Features | Easy-to-use, durable and collapsible design |
| Best For | Wedding and event photography, throwing in a camera bag |
Gary Fong released their Gen5 Lightsphere in 2004. For decades, we saw all sorts of speedlight light modifiers. But this collapsible flash diffuser offered a novel design.
Essentially, it's a translucent bulb with a cinch strap that attaches to the flash head. But the results you get from it rival that of more complicated options.
When you expand it, the dome spreads the light from the flash. This creates a soft, diffused light like a large softbox or a photography umbrella.
This device also comes with a detachable top dome. You can remove it to create more contrast in your lighting.
The Gary Fong Gen5 Lightsphere is made of soft silicone. So you can quickly push it down to the size of a hockey puck and store it in your camera bag. So it's durable and portable.
It's become a favorite for event and wedding photography. And you don't have to worry about assembling or storing it in special bags. All you do is pop it on, and you can start shooting!
6. FOTOCREAT 12-inch Round Softbox
| | |
| --- | --- |
| Brand | Fotocreat |
| Size | 12 inches (30 cm) |
| Mounting Method | Velcro |
| Material | Nylon, aluminum |
| Key Features | Circular, collapsible design and grey card |
| Best For | Travel photographers, and those who want a circular softbox |
We're all familiar with octagonal and rectangular softboxes. But did you know that there are also circular options for speedlights?
Fotocreat is one of the few brands offering this light diffuser type. And we must say the FOTOCREAT 12-inch mini round softbox is among the best choices for producing the softest light. So what makes this softbox exemplary?
The 12-inch (30 cm) diameter makes it large enough to spread the light evenly and create soft lighting. And its circular structure disperses the flash beam in ways other softboxes, like rectangular ones, can't.
Its round shape makes for a perfect catchlight. And it's more natural than an octagonal option. It also features a grey card in the back for exposure and white balance settings.
This softbox comes with a Velcro mounting system. Typically, Velcro is terrible at keeping a softbox in place. But you insert this particular diffuser into the flash unit vertically. So there's less chance of it slipping away.
The FOTOCREAT's round softbox also has a slimmer profile. So it's lighter and less cumbersome than other options, even when mounted on a camera! Plus, It's collapsible. So it's a great option for travel photography.
7. waka Flash Diffuser Reflector Kit
| | |
| --- | --- |
| Brand | waka |
| Size | 11 inches (28 cm) / 9 inches (23 cm) |
| Mounting Method | Elastic |
| Material | Nylon and PVC |
| Key Features | 2 types of reflectors, water repellant |
| Best For | Outdoor photography |
What makes the waka flash diffuser reflector kit special is that it comes with more than one softbox. The kit includes rectangular-shaped and hexagonal-shaped reflectors. You can attach either one directly to the flash using a Velcro strap.
The octagon softbox has a diameter of 9 inches (23 cm). The rectangular option is 11 x 10 inches (25 x 28 cm) in size. Despite their sizes, they look and function like full-size light diffusers.
They even have detachable diffusion material inside. And you can remove this to create harder light with stronger shadows.
The waka reflector kit is also highly portable. You can easily collapse them and store them in your camera bag when not in use.
And even if you use your softboxes all the time, you don't have to worry about them getting damaged. They're made of durable black nylon and PVC. It effectively repels water and other elements. So they're great for outdoor photography.
8. Altura Photo Flash Diffuser Softbox
| | |
| --- | --- |
| Brand | Altura Photo |
| Size | 6 x 5 inches (15 x 13 cm), 9 x 7 inches (23 x 18 cm), 11 x 8 inches (28 x 20 cm) |
| Mounting Method | Velcro |
| Material | Nylon |
| Key Features | Secure rubber mounting, 90-day money-back guarantee |
| Best For | Photographers who need a simple but effective softbox |
The Altura photo flash diffuser softbox is the perfect option for a classic speedlight softbox. It has Velcro straps and a rectangular shape. And despite its small size, it has all the features of a regular softbox.
It has a silver interior to spread the light around. And it features double diffusion material that creates soft, natural-looking light.
The Altura comes in three sizes or a combo:
You have the option to buy them individually or as a kit. Usually, I don't like using softboxes with Velcro mounting systems. That's because they easily slip. But the Altura softbox features rubber mounting to ensure they don't fall off the flash unit.
It's small, versatile, and light enough to use while your flash unit is on your camera. But it's also perfect for off-camera flash situations if you need to place your speedlight on a light stand.
Finally, it has a 90-day money-back guarantee. So there's no harm in trying it out!
Softbox Speedlight Buyers Guide
We wrote this section if you don't know the different flashes, softboxes, and mounts. It may help you narrow down your choices of softboxes.
We discuss some of the most common softboxes for speedlights. And we also talk about the various mounting systems they use.
What Is a Speedlight Softbox?
Speedlights and studio strobes both produce flash. But there is one main difference between the two.
A speedlight tends to be smaller and fits on your camera's hot shoe. On the other hand, a studio strobe is much larger and produces more intense light. Due to its size, you'll need to install it on a light stand.
It's crucial to find the correct type of softbox. That's because speedlights and studio strobes are physically different.
In general, softboxes for speedlights tend to be small and light. On the other hand, the options for studio lights are often larger and aren't as portable.
The Different Types of Speedlight Softboxes
Here we list a few softboxes you can use for your flash unit. Apart from having distinct designs, they also differ in light quality. Some may be good at creating softer light. Others may provide better contrast.
Rectangular Softbox
This softbox is the most common and available light modifier. It has a rectangular shape perfect for recreating natural light from a window. There is the waka flash diffuser reflector kit and the Altura photo flash diffuser softbox on our list.
Octagonal Softbox
This kind of softbox is also known as an "octabox." It's a light modifier that functions much like a rectangular softbox.
But the difference is that it spreads light in a circular shape instead of a rectangular one. Photographers love to use this for portraiture. It creates a beautiful circular catch light in the eyes.
Mini Softbox
This speedlight softbox is much like a regular softbox. But it's explicitly designed to fit a flash head. So it's exponentially smaller than a standard softbox. It comes in a variety of shapes, including rectangular and octagonal.
Due to this light modifier's tiny size, its light quality isn't as good as its larger counterparts. But it still softens the light from the flash significantly. You just have to know how to use a softbox properly.
An example is the FOTOCREAT 12-inch mini round softbox.
Flash Domes
This light diffuser isn't precisely a softbox. But it acts much like one. The dome is made of translucent plastic or silicone. This softens the flash from the speedlight. It's small and durable. And you can easily carry it in your camera bag.
Our list features the Godox AK-R1 dome diffuser and Gary Fong Gen5 Lightsphere.
Mounting Systems for Speedlight Softboxes
The regular flash head from a speedlight wasn't designed to fit all sorts of attachments. That includes softboxes.
A sturdy mounting system is necessary. It ensures a speedlight softbox doesn't fall off easily while in use. We discuss some of the most common options below.
Elastic Velcro Strap
Most smaller softboxes use an elastic Velcro strap. It wraps around the speedlight head. Since this mounting system is lightweight, it's perfect for on-camera flashes.
Unfortunately, most softboxes that use Velcro tend to be small. That's because Velcro loses its grip when handling heavier objects. FOTOCREAT's mini round softbox, waka's reflector kit, and Altura's softbox use Velcro.
S-type Speedlight Bracket
This is the most versatile mounting system for your speedlight softbox. The S-type bracket is sturdy and can hold large light modifiers. It comes with a Bowens mount, compatible with many regular-sized softboxes.
Since this bracket tends to be bigger, it must often be installed on a light stand. But that's not an issue because you get the best results when the flash is not physically on your camera.
The Triopo KS55 portable softbox has an S-type mount.
Magnet
This mounting system uses magnets to attach softboxes to your flash unit. It's perfect for quickly swapping one light modifier with another when you're on the go.
The downside of using this design is that you can only use softboxes that have magnets. And light diffusers with such a mounting system tend to be small. That's because magnets can only carry so much weight.
Godox's AK-R1 diffuser and MagMod's speedlight diffuser use this mount.
Conclusion: The Best Softboxes For Speedlights
There are various features to consider when looking for the best softbox. This includes their shape and mounting system. But our eight choices have you covered no matter what kind you want.
We recommend the Triopo KS55 as the best softbox for speedlights. It is lightweight, easy to set up and use, and has an adjustable mount. And it provides excellent light quality for all your photography needs. Its durability and portability make it an ideal choice for professional and amateur photographers.
Triopo KS55 Portable Softbox
This portable softbox is perfect for photographers looking to improve their lighting setup. It offers great portability and excellent light quality.