A light box for photography is a great addition to any photographer's toolkit. It's perfect for product and food photography, as well as for photographing small items or details. Here are twelve of the best light boxes for photography on the market today.
[Note: ExpertPhotography is supported by readers. Product links on ExpertPhotography are referral links. If you use one of these and buy something, we make a little bit of money. Need more info? See how it all works here.]
12 Best Light Boxes for Photography in 2021
A photo light box is a great lighting system for quite a few different photography fields. Be it product photography, still life photography, or even macro photography.
Having a light box will help you shoot professional-quality photos of your products. In turn, this will help you attract more customers and increase sales.
Light boxes provide a controllable area where light can be maintained. This is a perfect solution when you need an all-over, balanced exposure.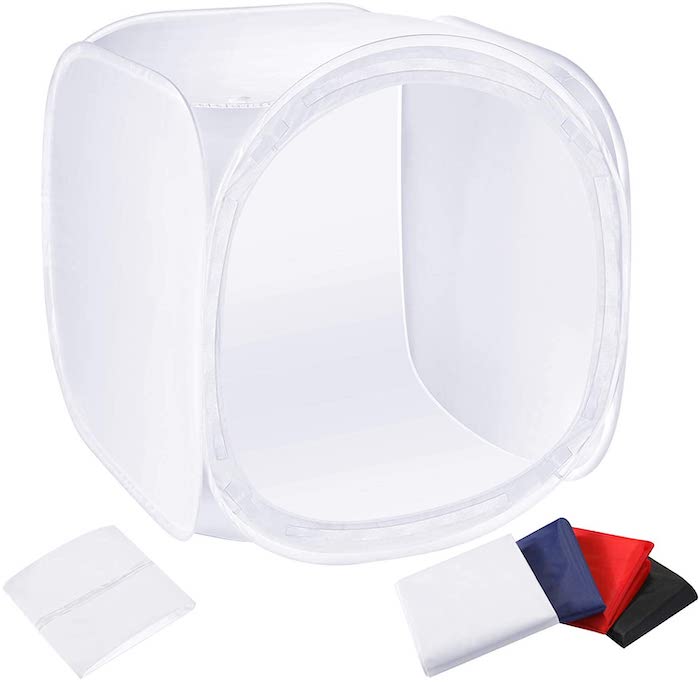 Item size: 24″ x 24″ x 24″
Lightning: Not included
Colour temperature: –
Brightness: –
Backdrops: Red, blue, white, black
Portable: Yes
Material: Translucent light diffusing white nylon fabric
Neewer is a camera gear company that offers a cheaper, budget alternative to many camera gear items.
For photo light boxes, there is no difference. Neewer is here with their 24 x 24″ version, which might be enough for those capturing some of the smaller to mid-sized products.
Don't be mistaken. This is the basic kit, meaning all you get is the light box. So you will find no lights alongside this fabric cube. But you will get four different coloured backgrounds and a carrying case for portability.
The only problem with this kit is that folding and refolding can cause wrinkles in the backdrop fabric.
On top of that, you will need lights to turn this into a light box. If you're looking, we recommend the Emart LED Continuous 5500K Light Lamps.

Item size: 8″ x 8″ x 8″
Lightning: Lighting-bar with 20 PCS high-quality SMD LED beads 
Colour temperature: 6500K-7000K
Brightness: –
Backdrops: Black, white
Portable: Yes
Material: Hard polypropylene with a matte finish
What sets the BrightBox Portable Mini Photo Studio apart is its hard polypropylene material. This makes it durable and less prone to damage, as you could experience with fabric lightboxes.
On top of that, you get a free ebook that provides tips from professional photographers. This is especially helpful for product photographers who are just getting started.
LED lights are built-in and powered by a Micro USB cable that will run from a laptop or power outlet. They emit white light, ensuring a constant, easily white-balanced exposure.
You can set this lightbox up anywhere. You will need nothing except for the magnets which are already installed. It comes with a black and a white background. This gives you some flexibility in the products you capture.
Item size: 24″ x 60″
Lightning: LED light
Colour temperature: 5000K
Brightness: –
Backdrops: White
Portable: Yes
Material: Nylon cloth
For all your portable and professional needs, the MyStudio PS5 Studio lightbox has it all. This tabletop kit provides a great base from which to work.
Unlike other lightboxes, this one does require a little construction. But the benefit is that you can incorporate any background with this frame quickly and easily.
This isn't just a lightbox. It is an entire kit. This means you get lighting alongside it and colour corrected for daylight at 5000K.
If this is your first lightbox, then this will be helpful. Inside the pack, you will find a camera tip sheet aimed at getting you started immediately.
This might be of interest to you, but a little small. If you are looking for a bigger version, see the number 1 on our list.
Item size: 25" x 30" x 25"
Lightning: Balanced LEDs with high Color Rendering Index
Colour temperature: 5600K
Brightness: –
Backdrops: White
Portable: Yes
Material: –
Do not be put off by the name. It might be a Basic photo studio box, but it comes from Amazon, which is a name you can trust.
There are many features regarding this lightbox that make it a huge benefit to your photography and workflow. Firstly, it takes less than a minute to set up. So this is perfect for any indoor or outdoor shoots where you are pushed for time.
Secondly, it is very portable. It collapses into a thin case, allowing you to take it anywhere with you. The light box that you enjoy using is the one you will shoot with the most, creating great product images.
Out of most of the photo lightboxes in our list, this is one of the largest. This makes it perfect for those medium-sized items.
On top of these benefits, you will find built-in 5600k daylight balanced LEDs. There is nothing else you need, except your camera and some time.
Item size: 24" x 24" x 24"
Lightning: 120 LED lamps with gradual dimmer
Colour temperature: 5500K
Brightness: 26100 Lumens
Backdrops: Black, white, grey, orange
Portable: Yes
Material: Silver film reflective fabric + aluminium shell light plate
If you have already experimented with light boxes in the past, you might find extra front flaps are annoying to work with. This box is different.
As the front is very much open to the world, you get a lot of play in the perspectives you place your camera in. This allows a variety of angles in which to capture your items.
The LED lights are built-in, and there are quite a few of them. This allows an all-over coverage of a 5500K colour temperature providing 26100 lumens.
On top of the power, it is foldable, making it portable for all situations and environments. To help with the range of items you will shoot, there are four different background colours.
Item size: 16″ x 16″ x 16″
Lightning: 84 pcs LED lighting
Colour temperature: 5500K
Brightness: 2900 Lumens
Backdrops: Black, white, blue, grey, red, beige
Portable: Yes
Material: Reflective fabrics
SAMTIAN is a name you should know when it comes to photography light boxes. There are two on our list, and this is the smaller of the two.
This is the 16″ cube, which is more than enough for the small and medium-sized items you need to capture. The 84-piece LED light comes in strips and can be placed in multiple positions to ensure all-over lighting.
Not only is it easy to set up, but it is also portable and easy to carry. This can go on-location to any environment, indoors or outdoors.
There are six different backgrounds, allowing versatility in the products and items you shoot. The reflective silver sides bounce the colour you are using to keep it consistent.
Item size: 16″ x 16″ x 16″
Lightning: 2 x tabletop LED lights
Colour temperature: 5500K
Brightness: 600 Lumens
Backdrops: Red, black, blue, white
Portable: No
Material: –
Extra features: 1 x mini tripod, 1 x cellphone clip holder
Another 16″ photo lightbox that is great to use is the LimoStudio 16 x 16″ Light Tent Kit. As it is a kit, it comes with many features that make it a joy to work with and shoot inside. 
Firstly, the four different backgrounds allow you to capture most items easily when white does not quite fit. It comes with a mini camera stand, which is adjustable to 8″ in total.
The two tabletops LED lights reach 600 lumens. Lighting the product through the fabric walls will not be a problem. The fabric is polyester, making it easier to clean for those more experimental shoots.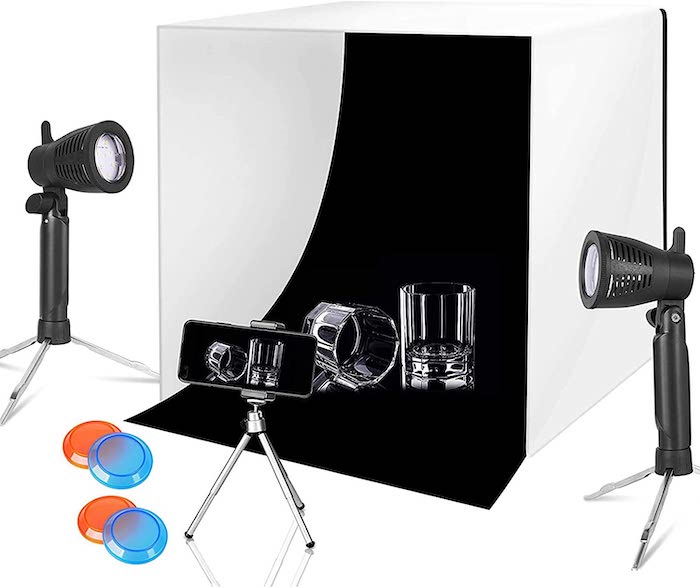 Item size: 16″ x 16″ x 16″
Lightning: 2 x 15W LED tabletop lighting
Colour temperature: 5500K
Brightness: 600 Lumens 
Backdrops: White, black, red, blue
Portable: Yes
Material: High-quality fabric
Extra features: 1 tabletop phone tripod, 4 colour gel filters
If you are looking for a photo lightbox that needs colour input, then the Emart 16″ studio box kit is for you. Not only does the kit come with four different backgrounds, but you also get four different colour gels to change the colour of the lighting.
The lighting comes in the form of two 15W LED lights. The benefit of these is that they don't heat up, meaning more power and reliable safety. They have a colour temperature of 5500K, making it easy to colour correct in post-production editing.
It is a photo light box that is easy to set up and fold away when not needed. It is also portable if you need an on-location product shoot.
If you prefer to shoot using your mobile, then there is a universal bracket adapter for smartphones. This is handy alongside the included mini tripod.
Item size: 32″ x 32″ x 32″
Lightning: 126pcs LED light beads
Colour temperature: 5500K
Brightness: 13000 Lumens
Backdrops: White, black, red, orange
Portable: No
Material: Aluminum, iron frame, Oxford cloth
Extra features: Front middle window, front open window and a top hole
This photo light box is the big brother of number 5 on our list. This beast is large enough to photograph almost anything except for an electric scooter.
As you would imagine, due to its size, there are quite a few LED lights. There are 126 pieces in total, which come in beads allowing them to be placed in many different in-box configurations.
One of the biggest advantages of this photo lightbox is the dimmer switch. This allows for moody lighting or a strong blast to separate the items from the white infinity curve.
The thing I like the most is the multi-angle shooting option. You can open the front completely or close it where a small window lets you capture a situation where light doesn't escape. Even top-down shooting is possible.
Item size: 20″ x 20″ x 12″
Lightning: Color-corrected "daylight" fluorescent lighting
Colour temperature: 5000K
Brightness: –
Backdrops: White
Portable: No
Material: Durable, lightweight ABS plastic
Extra features: 90-degree corners provide maximum shooting angles and depth
The MyStudio MS20 Professional photo lightbox is the professional version of number 3 on our list, coming in larger and stronger, with a price to match.
Similar to its younger brother, the MS20 gives you a base construction to work from. Here, you attach any card or paper you wish, allowing for any tone, shade or colour. White works the best, as you get a premade infinity curve and corners to reflect the light.
The infinity curve helps to cut down on time in post-production editing. This gives you more time to experiment, shoot, and ensure your images are tack sharp.
This kit comes with lighting, which has a colour temperature of 5000k. This makes it easy to ensure a 'white' and correct exposure. The difference here is they are not LED but more professional fluorescent.
I like the size, as it is expandable and versatile. The lighting gives it more of a professional edge, and it is easy to set up. It is an all-in-one kit but not built for portability.
Item size: 32″ x 32″ x 32″
Lightning: 336-Dimmable SMD LED lights
Colour temperature: 5500K
Brightness: 26000 Lumens
Backdrops: White, black, orange
Portable: Yes
Material: Light-diffusing fabric
The HPB80XD from HAVOX comes with an adjustable LED ramps system, which provides the brightness needed for a perfect shot. 
This photo studio light box delivers great results thanks to its 5500k colour temperature and 93 Color Rendering Index. These features will help to get professional-quality photos of your products, attracting more customers.
With the HAVOX HPB80XD it is possible to shoot from the front, or the top, thanks to its multiple openings. The HAVOX lightbox also comes with three waterproof, dustproof, anti-wrinkle background shades.
The HPB80XD Photo Studio Box is made with light-diffusing fabric, providing a perfect anti-reflection system to photograph shiny objects.
Item size: 20″ x 20″ x 20″
Lightning: Integrated, customizable light bar, 20 pieces of SMD LED beads
Colour temperature: 5500K
Brightness: 550 Lumens
Backdrops: White, black, yellow, red, green, blue
Portable: Yes
Material: Nylon cloth 
The PULUZ Photo Studio Box comes with a compact design perfect for carrying with you. Despite its size, it has enough space for many kinds of smaller objects to fit in.
The PULUZ mini light box features an integrated light bar with 20 pieces of high-quality SMD LED beads. This provides the perfect lighting to achieve high-quality results.
The light box allows multi-angle shooting, thanks to its horizontal and vertical windows.
If you are a photographer, you can even bring this light box to your customers' shops or offices, as it is easy to carry and set up. The box is completely detachable, and all the installation is made with velcro.
Conclusion
Whether you are a product photographer or an entrepreneur, having a photo light box will make your life easier. You will be able to take great shots of your products, highlighting their features and drawing attention.
We hope our list has helped you choose the best photo light box for your needs.