Boudoir photography is a popular niche, and it has been focusing on the female body for a long time. But the trend of "dudeoir" is, in fact, a thing. This means the male version of the classic boudoir photography.
Celebrating the human body has always been popular in art history. Take Michelangelo's David, for example. Yet, in photography, it's just on the rise.
eBooks and Courses for Everyone
10 Male Boudoir Photography Photoshoot Ideas
Here are ten ideas to try if you are shooting male boudoir photography.
1. Do a Short Brief Before the Session
Chat with your male model before the boudoir photography session starts. Find out the purpose of the photoshoot. Does he want to improve his body image? Or is it a gift for his partner?
Often, men want to have a boudoir photography session after achieving a certain body shape. In that case, make sure you highlight every muscle he gained.
2. Give Your Model Ideas on The Outfit
Men often feel lost when choosing an outfit for a boudoir photo session. Help your model by asking what clothing makes him feel comfortable about his body. Underwear or nudity are obvious choices in male boudoir photography. Think about a typical Calvin Klein ad, for example.
But these are not the only options. Your model can wear an unbuttoned shirt. Or a singlet with jeans. You can also get creative with a towel, bed sheets, or a kitchen apron.
And don't forget about outfits you see in male calendars! Dressing up as a firefighter or policeman can get you masculine and sexy photos. Discuss what makes him feel confident, and choose the clothing accordingly.

3. Make Your Model Feel Comfortable
It is an absolute must for boudoir photographers to know how to make women comfortable in front of the camera. We accept that women complain about their bodies. But if a man does it, we don't know how to handle it.
Men need compliments, too, to feel confident while posing. And your job is to find ways to make your models feel comfortable.
Keep saying positive things, but not only about his body or muscles. Compliment his smile, eyes, or a certain pose he does. Make sure to give a boost to his masculinity. You can also play background music, chat, and tell jokes to ease the mood.

4. Play With the Light
The male body tends to look great in various lighting settings. In your male boudoir photography session, you generally want to highlight the muscles and the masculine body shape.
Use natural light when possible, as it is the most flattering for this niche.
5. Inspire Your Model with Posing Tips
Posing is crucial in boudoir photography. Your subject perhaps has never posed in front of a camera and feels nervous. You can help them relax by asking them to do some silly poses between the more serious ones.
To highlight the beauty of the male body, you have to pay attention to the model's posture. Many poses that work for women are not suitable for men. Remember that you aim to highlight the masculinity of your model.
You are not focusing on curves but on angles to show power and masculinity. But you also want to show your male model's more intimate side. For inspiration, read our article about posing men during a photoshoot.

6. Use Minimal Props
You don't need a lot of props for male boudoir photography. In fact, the fewer props you're using, the better the result will be. If you have too many props, the viewer's attention will be drawn from the subject.
You only need a few simple props to enhance the image. Consider bedsheets, towels, or curtains.
Ordinary objects such as mugs, glasses, or books also work well. Choose props that fit your model's character and compliment his body.
7. Photograph Silhouettes for a Dramatic Effect
Just like in female boudoir photography, silhouettes can give your boudoir photos a mysterious and even more sensual effect. Place the light source behind your model to highlight his beautiful shape. If you are working with natural light, position your model in front of a window.
Silhouettes are great if your model is shy or doesn't know what facial expression to put on. Knowing that only his silhouette will show in the photo, he can relax and get into the mood more easily.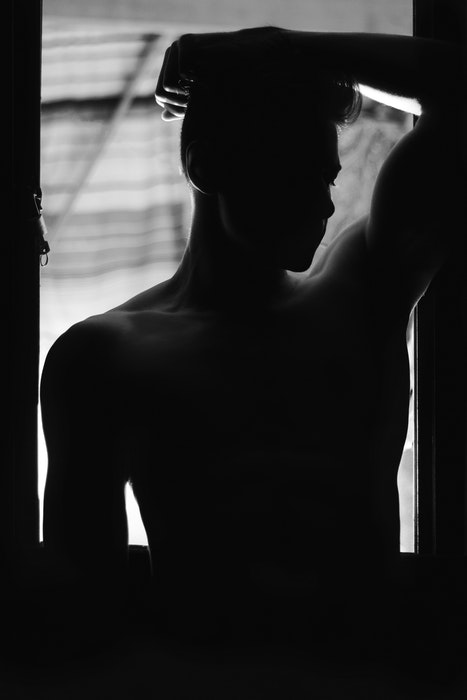 8. Give Your Boudoir Photos Character
There are male stereotypes you can rely on when shooting men's boudoir photoshoots. But as a professional photographer, your job is to highlight your model's personality in the image.
Maybe the man you photograph is a sweet, innocent man who doesn't look natural in macho postures. Get to know your subject's personality and let it shine through your boudoir photos.
9. Tell a Story With Your Boudoir Photography
Boudoir photography can look staged and unnatural if you only work with clichés. Being creative can be draining, but it is usually a worthy investment.
To get inspiration, talk to your model. Maybe you could 'document' his daily routine at home through your photos. Or you could have a look at fashion editorials or ads. They often tell stories you can draw inspiration from.
10. Involve His Partner in the Photoshoot
Many people feel more comfortable if their partner is around. Turn your male boudoir photography session into a couple's boudoir shoot. His partner can also be on the sideline and help him with compliments or jokes.
People find it easier to act naturally and show a more intimate side if there is someone to pose for.

Conclusion: Male Boudoir (Dudeoir) Photoshoot Ideas
Male boudoir photography is getting more and more popular. It is similar to women's boudoir photography, but some differences can be challenging. Use our tips to nail your male boudoir shots and get more experience in this niche!
Are you looking for tips to start a portrait photography business? Why not check out our eBook, Profit from Portraits, next?
eBooks and Courses for Everyone