Boudoir photography is a niche within portrait photography. It comprises portraiture, fashion, fine art, glamor, and erotic photography.
Our guide to boudoir photography will take you through everything you need to know. This complete guide can help you get started in a brand-new photographic genre. Or it can be a refresher for your existing knowledge.
eBooks and Courses for Everyone
The word boudoir comes from the French language. A boudoir was an area where the woman could have time to herself. Depending on the budget, this area could be a whole room or an area separated by a divider.
Boudoir photography is a trend that has grown to be quite popular in recent years. But the style itself has been around since the 1940s. This photography niche uses varying degrees of posing, composition, and lighting patterns.
When it comes to boudoir photography poses, these offer a sensual, intimate look at a person. The photos focus on their mood, their clothing, and the landscape of their body.
Most clients are women, but male and couples boudoir photography also exists. People are looking for boudoir photos of themselves to keep and look upon as time passes.
They might even give them to a partner to reaffirm their connection and sensuality. It could be a precursor to a wedding. This is typically one photographic theme that boudoir photos concentrate on.
Boudoir photos aim to appear candid and unposed. The style is playful and provocative. It enables those photographed to give off a strong presence. Nudity is implied yet rarely shown.
Boudoir Camera Equipment and Accessories
Capturing boudoir photos starts with your camera gear. What camera equipment do I need? How many lenses? Do I need a different camera or new lenses? Well, this all depends on what you have and want to get from your boudoir photography.
Lenses are almost if not more important than the camera body. If your lenses produce low-quality, blurred photos, your camera body can do nothing about it.
The lens is where you can control the light using the exposure triangle. It also helps you work with movement and, more importantly, depth of field.
Pair your equipment with a few compositional and lighting techniques for amazing boudoir photos. Also, research poses and identify your favorites. (We delve into this in excerpts and linked articles below).
When it comes to boudoir photos or portrait photography, there is no standard of what you should use. You can use a DSLR with a full or cropped frame or a mirrorless system.
They all have their benefits and drawbacks. It only matters what you want to use the camera for and what you want to achieve.
The next thing you need to consider is your budget. A better lens for your mid-range camera might get you much more content. Buying an expensive camera body and buying a cheaper lens might not be the way to go.
Knowing which lens you need is half the battle. As a boudoir photographer, you will capture portraits, details, and the environment in which the subject is captured.
This means you need a wide range of focal lengths, fields of view, and apertures. You can opt for a few lenses. But one zoom lens might provide you the versatility you need.
For example, a standard zoom lens with a 24-70mm range is a great choice for most boudoir photography. It lets you both get close to the subject and photograph from afar.
When subjects arrive for a photoshoot, how do you ensure you are well-prepared? You might have all the camera and studio equipment sorted. Maybe all your batteries are charged and the props ready. But what else can your photoshoot benefit from?
Look outside the scope of just your work tools. These women and men will wear makeup, like foundation and nail polish. It's a great idea if you provide them with removers to clean nails or faces after the shoot.
Have you thought about snacks and water? Music is also a great way to help people feel comfortable. These are just a few ways to make the experience more comfortable for you and your model. The more comfortable your model, the better your boudoir photos will be.
Boudoir Posing and Composition
Making the model comfortable at the photoshoot is paramount. Their body language and expressions scream their mood. You will see it in the photos if they feel out of place or nervous. Communication is very important, but so is your professionalism.
Creating images that show the subject in beautiful, sensual ways will help their confidence. This, in turn, lets you get the most out of your subject and your photos.
It's best to start with the things they like about their body. Ask them questions and work with their answers. Take photos that show off what they like about their bodies. Slowly, as their confidence and trust in you strengthen, you can begin shooting images emphasizing other areas of their body.
Posing women across all types of photography is similar unless you want to break the rules and try something outrageous and specific. When it comes to portraits of any kind, communication is key.
Building trust between you and the subject is a must to make them feel comfortable. This is how you photograph great moods, expressions, and the image's tone.
Take a look at our list of 30 female poses. They can be used even in boudoir photography. Getting inspiration from this collection will help you come up with new ideas. Practice these poses yourself to see how it affects your body.
Visual instructions are very important. The models might not understand photographic terms and get agitated if confused. Be clear, kind, and understanding. Show them the poses you would like to see from them.
Boudoir photography can be challenging. Photographing someone who might be nervous or uncomfortable is 50% of the battle, if not more. Another huge trial comes down to posing the model. Capturing a natural, spontaneous look takes practice, technique, and know-how.
One great asset is "flow posing." This system keeps your model in motion, which helps keep a natural look in the photos. It works well because you can take many photos without excessively moving to and from different settings.
This system keeps a good rhythm with the shoot and demands little from your subject. It lets them focus on that smoky, sultry look. Look at our list, and prepare for the photoshoot by learning which pose is good and when.
What's true when posing women does not necessarily apply when posing men. The keywords for how women want to look could be cute and pretty. Photographers look for this when focusing on the female body's curves.
With men, they want to be seen as strong, tough, cool, and tall. So how do we show these things? Boudoir photography poses are slightly different from other portrait poses.
The two things that should be focused on when photographing a man are the "V" frame and jawline. Our article looks at these in great depth.
The trend of "dudeoir" is, in fact, a thing. This is the male version of classic boudoir photography. Our article looks at 10 ideas to try when shooting male boudoir photography.
Do a short brief before the shooting session. This way, you get to know the purpose of the photo shot and enhance the different aspects accordingly. And give your model ideas on the outfit. This will help him feel comfortable.
Inspiring your model with posing tips and playing with the light is crucial for making diverse images. Using minimal props and silhouettes is also helpful for creating a dramatic effect.
Tell stories of your model with your boudoir photography. You can even involve the model's partner in the photoshoot.
Boudoir photography is a more risque version of portraiture, but the same rules apply. Our article focuses more on the technical aspects of portrait photography than the poses.
Apertures are best used at f/8 to f/16, as this will give you the sharpest images. It will also give you a slight blur to the background.
The eye direction of your model is important. They either look straight into the camera or follow the model's nose. Every other option doesn't work.
Off-camera lighting is necessary. This plays a big part in showing the form of the model in the best possible light (pun intended). It gives your images depth, and shadows can be used to downplay certain body parts.
Having boudoir photos taken by a professional photographer can be daunting. But it shouldn't stop you from being photographed.
You can photograph boudoirs of yourself. This saves you money and lets you take your time. You can try a lot of styles and see which one fits you the best.
Also, you might feel much more comfortable posing for yourself. If you don't like an image, you can just delete it and move on.
Not to mention the improvement you can achieve by practicing with yourself—this will make it easier to shoot other models. You get to know how they feel, which poses are comfortable, and which are not.
Our article shows images of a photographer who photographed herself in a boudoir style. Throughout the whole project, she overcame challenges on her own.
Every woman is beautiful. Everyone's body, with its unique curves and proportions, is a work of art. As a boudoir photographer, it is your job to help each woman feel beautiful, desirable, and confident.
It is important to remember that different body types have different features that can be highlighted. Hence, everyone also needs to be posed differently. Our guide has 12 simple posing tips to help you photograph voluptuous curves and highlight beauty.
Besides the poses, communication is crucial here too. Listen to your model, ask her questions, and empower her. Starting with more clothes on may also be a good idea, but it may not always be the case.

Couples boudoir photography is about highlighting the intimacy between partners. You are there to capture aspects of their relationship they might not know about.
The same rules apply here, as in the one-person photoshoots. It's best to brief the couple briefly before the photoshoot. Help them with the outfits. Make compliments. Make them feel comfortable and loose.
You can get creative with the location. Find a place that is close to the couple's hearts. Telling a story is a nice idea for couples, too. Plus, a themed boudoir session can result in intimate and warm images.
It's also important to direct their moves. They usually don't know what is going to look great in images. Try combining their love language with your expertise in poses. Capturing smaller details also adds an intimate feeling to couples' boudoir images.
Wedding boudoir photography is getting increasingly popular as it is a perfect gift for the bride or groom and their partners. Read our 10 ideas for how to shoot stunning bridal boudoir photography.
Using props that fit the wedding's theme is a nice idea. Using wedding decoration colors is also a good idea if there is no specific theme. You can include the flowers that are used as decoration, too.
Include accessories like the wedding veil, shoes, or wedding night lingerie. These will give a more authentic look to the wedding boudoir photos. And the bride's or the couple's home as a scene for your session will make your images more personal.
Use props that belong to the groom. This will show that although this session is about the bride, the groom is still in her mind. But you can best capture the intimacy by including the groom.
You don't necessarily have to make it a separate photoshoot from the wedding. You can capture the preparations before the wedding. This is an ideal time because the bride's hair and makeup will be perfect.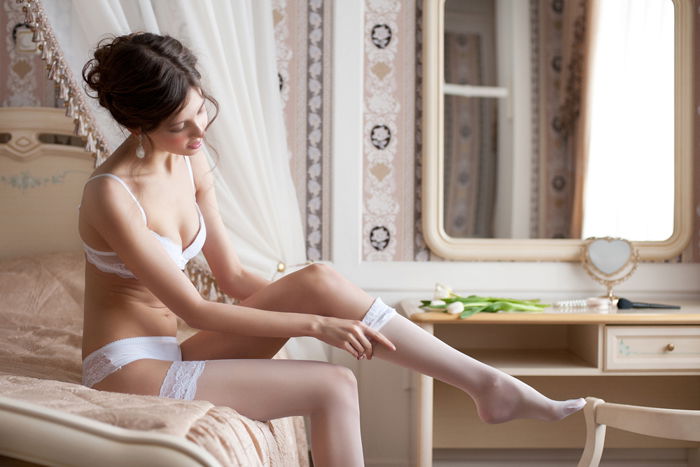 A pregnant female body is a perfect example of raw and natural beauty. Like standard boudoirs, the pregnant model is photographed in lingerie, naked, or with very light clothing. Getting to know your client is essential in this genre, too.
Maternity boudoirs can celebrate the pregnant body's beauty and give the mother self-confidence. Use simple outfits to keep the attention on the body. The poses and the clothes should emphasize the belly and make it look good.
You can use simple props, like little shoes, that fit the maternity theme. These make the images cuter. Including the other parent is great for showing emotional connections. Plus, shooting at home will create an intimate atmosphere, too.
Also, taking the boudoir session outdoors is a way to create a close-to-nature feeling. This can result in beautiful images that enhance the natural beauty of pregnancy.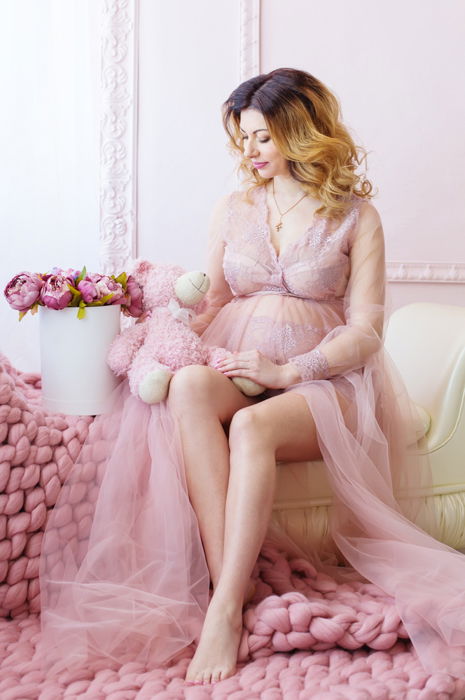 Hands are a very important part of any portrait or boudoir photography session. But many people don't know what to do with them. Within portraiture, they can sit gently in their lap. Or they can prop up or frame the face, like 'The Thinker" sculpture by Rodin.
Here, we have a few great tips for boudoir models to use their hands effectively in your photoshoots. Boudoir photography poses with the best hand postures are very important. Hands are extensions of your subject's emotions and mood.
Have your model use their hands to give off that sultry, sexy feeling. Have the model caress their skin, touch her lips, or play with their hair. These details can all be very powerful in boudoir photography poses. Also, relaxed hands make your images more natural, and clenched hands can portray passion.
Boudoir photography doesn't have to be about props and lots of clothing changes. Focusing on the model's fully-clothed or scantily clad shape is best.
Believing that you need more photography equipment for your camera or building a studio can be a setback. You can create stunning, classic images with a minimal amount of kit.
This could be simply dressing a chair with a sheet or something that has a little texture. You can take quite a few different images from one setup by changing your shooting position, perspective, and model placement.
Even by using two or three outfit changes, you can photograph a whole portfolio of 15 to 20 images. You only have to move around more and take a creative approach to the photoshoot.
Improving your boudoir photography knowledge takes time and practice. One important approach photographers have found in this area of photography is "less is more." Do not go overboard with lighting, the setting, or even clothing changes.
Boudoir photography becomes successful when the model feels at ease and gives their best. This comes from simple setups, as they need less time and tinkering.
It also comes from you, the photographer, giving directions with confidence. You know what poses and setups are best. You have all the research and information, so put it into your work.
But set limits for yourself and for your model. Make it enjoyable for the model, and they will give you the best images. Getting frustrated and pushing for longer shoots produces weak images.
Boudoir Lighting
Our helpful article describes the five best lighting patterns for a boudoir photoshoot. They involve natural light, studio lights, or a mixture of both.
Natural light is one of the most flattering forms of light. It is also easy to use. Have the model stand in front of a window. The distance depends on the harshness of the light.
Using one studio light and a backdrop, known as a Colourama, is another nice, simple choice. The light should be just off of the camera, as it will give you complimentary shadows.
If you place the light slightly above the model, then the light will drop off. This is great for transitioning parts of the body that leave the frame.
A proper grasp of boudoir photography lighting separates the lingerie snapshot from a professional work of art.
You can reference the lighting tips you would use for a simple portrait. But in a boudoir photoshoot, it's more important to find what suits the body type of your model the best.
Use available natural light for softness. You sometimes have to be lucky to have the perfect light as you may not have much control over it. But if you have it, it can give your images a natural and silky atmosphere.
Experiment with one or more light sources. Add a little extra to your boudoir photos with color gels. And finally, emphasize your boudoir photography lighting with proper post-processing. (We discuss editing images more below).
Chances are, you don't have a studio at home, so you may have to make the most of what you have. But most settings can be cropped out in post-processing. Or you can use a closer, tighter framing with your boudoir shots.
Boudoir is about showing off what the model likes about her body and downplaying what she doesn't. This can be done without a huge budget or renting a professional studio or setting. You can read our article for ideas and costs for setting up a boudoir photoshoot in your home.
Creative Ideas
One area that your boudoir photography could really benefit from is color management. This could complement the colors of the setting and the clothing worn by the model. They could be of the same color range if you use different shades and tones.
If you photograph in black and white, you must think about this too. If the background is plain and white, you could use gels over the lights to add color. This would help to isolate the subject from the background.
A model wearing black lingerie on a white sheet background is very powerful. White on white is difficult to separate. Black on black could work very well if the lighting highlights the curves of the model's body.
Use a color wheel to see which colors work together and which don't.
Boudoir photography requires creativity and taste. If you feel a bit stuck for inspiration, here is a list of 16 great ideas. These will help kickstart your photos with lots of creative elements. The list includes tips on what to do before the shoot and different ways to make your boudoir photos pop.
Consider taking boudoir images from behind to create mystery. Photograph a boudoir pose from above to make your client look taller. Use mirrors to create drama and interest. And add negative space to the images to draw attention to your subject. The list goes on, so take a look at it!
Nude photography can be quite intimidating for both the model and the photographer. Before taking on this genre, you should be aware of some of the general conventions. But that doesn't mean your creativity will be limited.
If you are unsure where to begin and how to create artistic nude photos that aren't just sexual, check out our article. Begin by considering a basic tip, like shooting in a warm place. Your models can't relax if they're freezing!
Start by shooting with limited light. This will make your subject feel more comfortable. The same is true about beginning a shoot with the model having (more) clothes on. Also, a telephoto lens can give them more personal space.
Props, other models, and shooting in black and white are just a few other ideas that may add the right elements to a nude photography photoshoot.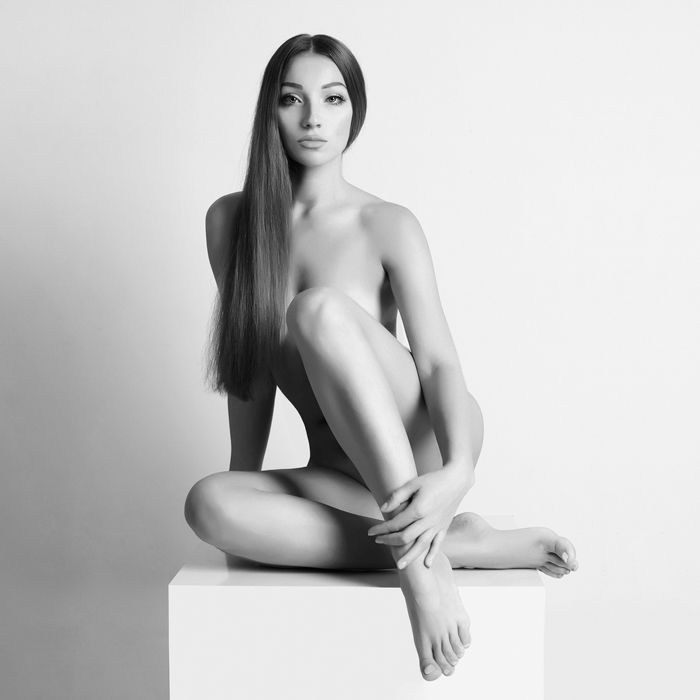 Getting inspiration from other people's work is always a good idea. This is true for boudoir photography, too. Reading other, more experienced photographers' thoughts on this topic will help you to feel comfortable.
Also, it's essential for creating your own style. You can decide what you like by looking at other artists' images. And, of course, what it is you would like to avoid in your images.
In our article, we collected 20 boudoir blogs you should follow. No matter which kind of boudoir photography you are interested in, you will find one in almost every style. You may find ideas for other fields of photography, too.
Post-Processing Boudoir photos
Editing boudoir photos is like editing other forms of portraiture. There are things you need to consider before photographing the subject and editing.
The more work you put into taking the photo, the less work you have in post-editing. But, if time is a luxury, you can definitely use Adobe Lightroom to change some basic settings.
Lightroom is a great place to store and work on your images as and when you wish. Their keyword system lets you find photos very easily. Also, their Collection tool is very useful. If you are unsure how they operate, read our article about the Lightoom Catalog.
Adobe Lightroom presets that you can copy and paste also help make your workflow faster and easier. For help with presets, read our article on how to install Lightroom presets.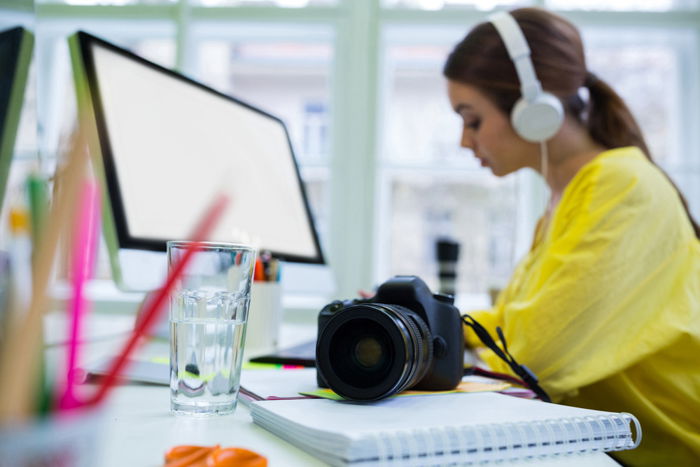 You might find yourself asking, "Lightroom or Photoshop?" Both are very good post-processing and editing software packages. Some might even use both. You can use Lightroom's library and simple interface, then Photoshop for more dramatic changes.
Photoshop forces you to work on one image at a time, focusing your attention entirely on that image. The workflow is a little different, and Photoshop can be a bit confusing. You can do almost the same things in Photoshop as in Lightroom. But Photoshop is a lot more in-depth and not just for photographers.
Our Photoshop article for editing portraits goes from color management to how to remove bags from under the eyes.
If you are passionate about boudoir photography, maybe building it into a business is a good idea. You will need a designated space (or a few of them) to use as a setting.
Create a strong business plan, research your competition, and make sure your web presence is strong. A portfolio is a great place to start. Create a physical portfolio and one online, like a website or a blog.
Contracts and release forms (more on both below) must be a regular part of your business. These allow you to use the images on social media or commercially. In our article, you will find all the tips to help your business flourish and succeed.
A photography contract for boudoir photography is to ensure both parties keep their rights. It ensures neither side can do anything with the images unless it was discussed and agreed upon beforehand.
The risk of prosecution from either side can be enforced without consent. As boudoir images are very intimate, take your models' wishes seriously.
One rule for photographing people is to get a model release. This contract between both parties allows the use of the model's image. Most stock photography requires this if you wish to sell the images online. Read our ten tips on what your photography contract needs to have.
Conclusion: The Ultimate Guide to Boudoir Photography
If you are looking into portrait photography niches, take some time to explore boudoir photography. It is a great genre where you can be creative and create unique shots. You also get to boost the confidence of your client.
Using our tips, you can create beautiful, empowering boudoir photos that your clients will love! The camera settings and the lighting you use are like the ones used in "simple" portrait photography. You just have to work with the whole body in a more sensual aesthetic.
The most important thing you should always pay attention to is making your models feel comfortable. This is true for any portrait photography, but boudoirs are quite intimate. This can be a problem with shy subjects, so make time for a talk before the session. And keep a kind, supportive attitude throughout the whole photoshoot.
To get ahead in your portrait photography business, don't miss out on our eBook, Profit from Portraits!
eBooks and Courses for Everyone