As a photographer, you may have experienced a lack of originality in your boudoir photography. To make your photos stand out more, you can experiment with creative poses. I often do project pieces with models to recharge my own posing techniques for my clients.
This article will take you through 30 boudoir poses and ideas that can help you take outstanding photos.
30. Looking Over the Shoulder
If you are just getting into boudoir photography, consider looking back at great painters.
Renaissance, baroque, romanticism movements are the perfect place for your research to begin. These works of art can give you a lot of boudoir photography ideas.
My personal favourite is Jean Auguste Dominique Ingres' The Odalisque. You can use something like this as inspiration.
Ask your model to place a pillow under her arm. This will prop her up and create a gentle curve on her body.
She should slightly bend her knees and look over her shoulder. This will create a mysterious and elegant effect.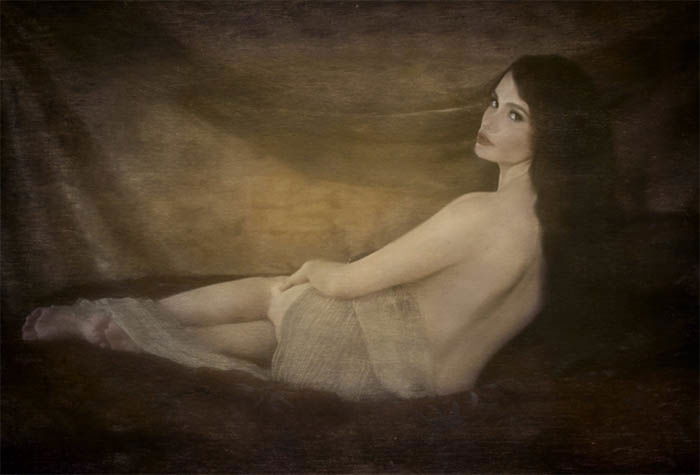 29. Arched Back Pose
If your client is flexible, ask her to lay on a bed and arch her back. She can also move her back and twist her hips to one side to flatter her body. You can use the boudoir pose below as reference.
If your model isn't very flexible, you can shoot above her to create a dramatic curved look.
28. Lying on a Rug Pose
Floor posing is one of the easiest ways to experiment with different poses in one go. In these poses, you can add rugs, throw blankets or keep it clean with a bare floor look (especially if it has a shine for reflections).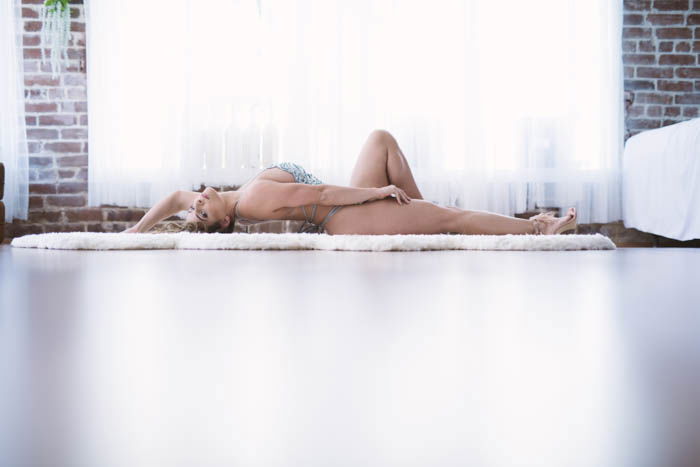 Your model can start by lying on her back. Ask her to lift her shoulders to show the arch of her back. Experiment with different arm and leg positions to make the most of this boudoir pose. You can also try utilising the negative spaces when composing your image.
27. Sitting on a Chair Pose
Selecting the right chair for each image is important, especially in terms of colour. If you are using print lingerie, keep the chair simple and choose complementary colours.
Ask your model to sit on a chair. The bigger it is, the more room she'll have to try different boudoir poses. Her bottom should be tucked to the back edge. She can also arch her back to bring her chest forward and make her body look more striking.
26. Pushing Hair Upwards to Create Volume
Don't ask your models just to hold their hair. They should push it above their heads to add more volume and movements. Simple boudoir poses like this can make a huge difference.
25. Hand on Chest Pose
This is a simple but effective boudoir pose that you can use in any setting. Ask your model to place a hand on one of her breasts softly. Make sure she doesn't look directly into the camera, as that could make her feel awkward. Instead, ask her to look down.
This pose is great for emphasising curves and suggesting confidence.
24. Sitting on the Edge of a Chair Pose
Ask your model to sit on the very edge of a chair. This is one of the most elegant boudoir poses out there.
Make sure you shoot in front of a large window to create soft and dreamy light. Your model should look directly into the camera while holding her hands in front of her body. This will make her look elegant and confident at the same time.
Adding a robe or an oversized sweater will expose the shoulders and collarbone, adding a story to the image.
23. Elongating Legs on a Couch
Ask your model to lean on her arm as she elongates her legs. She can place her top leg on top of her bottom leg to emphasise her curves. If you want to make her body stand out more, ask her to place her top arm on her top leg.
You can use this pose on any surface you want, including beds, floors, and couches.
22. Focusing on Legs to Create Anonymity
Detail shots should not be overlooked when posing for boudoir. Many large wall art sales will happen if the images have an anonymous feel. This is ideal for shy or modest clients.
Ask your model to place her hand on her thighs or chest. This will draw attention to one part of her body and create a sensual atmosphere.
21. Bringing Attention to Jewellery
Bringing attention to other items such as engagement or wedding rings has also been a huge seller for wall art or album covers here at the studio.
A close-up shot is a great addition to boudoir photography portfolios. Make sure you focus on your model's hands, keeping her jewellery in focus. She can hold her hands in front of her chest, brush through her hair, or just place her hands on a beautiful surface.
20. Standing in Front of a Mirror
You can use simple props to add emotion and depth to your boudoir poses. Mirror reflections and sheer curtains are great examples of this.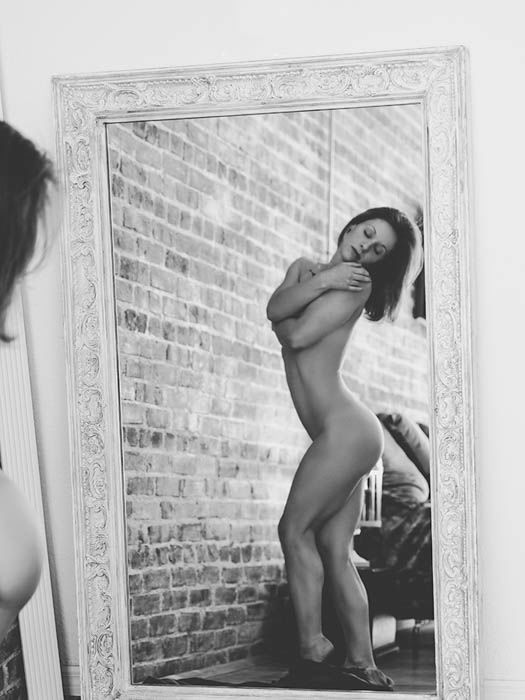 Ask your model to stand in front of a large mirror. She can curve her spine or lie on the floor. Experiment with different boudoir poses to make the most of your prop.
19. Sitting on Furniture
Furniture is another great and accessible prop for boudoir poses. It can tell a story about your model and add drama to your boudoir photography. You can use beautiful pianos or tables for this.
For this first image, I had the client simply pull down the straps of her bodysuit to expose her back. Always ask your models to arch their backs.  Even if they're laying on a surface, this is key to making their shoulders and bottom stand out more.
18. Or Doing Gymnastics on Furniture!
If your model has experience with gymnastics or acrobatics, you can experiment with unique boudoir poses.
In this image, the model was extremely skilled in body movement and balance. Keeping her head and bottom on the piano, she only lifted her shoulder to create this fantastic arch.
Using her arms to brace and balance, she was able to point her legs and toes out for a more elongated look.
Bodysuits are important in any pose that creates an arch. Otherwise, you lose sight of the arch. The clothing must be form-fitting here.
17. Lying in Bed With Chin Up
One of my favourite posing ideas is the overhead look. It brings the viewers' eyes to long lashes, chest and legs, all in the same shot.
Ask your model to arch her back and lift her chin. Everything needs to line up so that you can take an elegant boudoir image. She can then move her hands around to create a natural boudoir pose.
16. Looking at the Camera and Slowly Breathing Out
This is a quick tip that you can apply to all of your boudoir poses. Your model has to look straight into your camera as she takes deep breaths.
When she takes a deep breath, her chest will naturally stand out. When she breathes out slowly, her lips will part and form a natural pout.
Deep breaths are perfect for relaxing your models, too.
15. Resting Under a White Sheet
This is one of the most classic boudoir poses out there. The sheet will create perfect lighting. It will also give your model a chance to relax.
All you need are two bedsheets. Both should be perfectly white so that your boudoir photoshoot has a minimalist feel. Your model should lie on one sheet. The other should be held right above her to create a tent.
Now, all she has to do is gently put her face on her arm. Make sure she doesn't rest on it completely. If she does, she'll push one of her cheeks and look unflattering.
14. Looking up From a Low Angle
For this boudoir pose, your model can lie on a comfortable surface. You have to shoot at the same level to create an intimate atmosphere.
Ask her to look up without lifting her head. This pose can highlight dark circles, so you can use a mask. Some masks, as pictured below, are perfect for sensual boudoir poses.
13. Covering Chest With a Foreground
This is one of the most creative boudoir poses ideas on this list. You can use it to cover a part of your model's face or body to create mystery.
A foreground is closest to the camera. The closer it is, the more blurred it looks. You can intensify this blur by using a large aperture.
Hold something in front of the camera so that it hides the model's chest. You can use flowers. If you can't hold them yourself, ask an assistant to do it. All your model has to do is stare directly into the camera.
12. One Leg in Front of the Other
You can combine this pose with other boudoir poses. Your model has to put one leg in front of the other.
This is an especially beautiful boudoir pose for curvy women. It will emphasise their curves and waist.
11. Covering Chest With Arms
This is a simple but effective pose for topless boudoir photos. Your model has to cover her chest with her arms.
Make sure she doesn't press too hard or else the results will look unnatural. She can look out of the window or look down as she does this.
10. Smelling a Rose
Roses are the epitome of romance. You can use them in various boudoir poses to create eye-catching images.
Your model should smell the rose and close her eyes to create an intimate feeling.
9. Daydreaming in Bed
Boudoir poses can't be candid, but you can make them look spontaneous on purpose.
Ask your model to lie in bed or sit on a comfortable couch. She can look out of the window, talk to you, or act like she's completely unaware of your presence.
Take photos of her through something. This will create an intimate atmosphere that's perfect for 'candid' boudoir poses.
8. Turning Body Away From the Camera
Boudoir poses don't all have to include your model's face. You can ask your model to turn away from the camera and look behind her. She can also look out of the window without turning her head.
Ask her to curve her spine so that her chest moves forward. For a more sensual picture, ask her to hold parts of her body.
7. Lifting Head and Laughing
There aren't many boudoir poses that focus on smiles and laughter. You can change that in your photoshoot.
Your model can sit down and lean on outstretched arms. When she does this, ask her to slightly lift her head and laugh or smile. To avoid forced boudoir photos, make sure your model already feels relaxed.
6. Lying in a Bathtub
This is a creative pose that will make every boudoir picture look glamorous. It will also make the model's body and hair look elegant.
Fill a bathtub with water. Your model can comfortably lie in it as you take pictures. Ask her to put one leg over the other and look straight into the camera.
Make sure you shoot in a room full of light so that your photos look professional.
5. Lying on Stomach With Legs Lifted
This is a casual boudoir pose that will make your model look relaxed. Ask her to lie on her stomach and lift her legs, as pictured here. She can also rest on her arm.
You can shoot slightly above eye level to capture her entire body.
4. Covering Up
Many boudoir poses are mysterious in order to grab a viewer's attention. To add more mystery to your boudoir poses, you can cover parts of your model's body with an item of clothing.
Ask her to hold something, like a jacket, in front of her bottom or chest. She doesn't need to be naked for this. She can just suggest nudity by covering her body.
3. Putting Hands on Hips and Looking Up
This is a great boudoir pose for sunny days. Your model can lift her head and face the sun. She should close her eyes to make it seem like she's completely lost in the moment.
Ask her to put her hands on her hips. This will elongate her arms, emphasise her curves, and make her look confident.
2. Leaning on a Balcony Railing
If there's a balcony nearby, you can use its railing to create beautiful boudoir poses. Your model has to slightly lean on the railing and look outside.
This is a fantastic pose that will make every boudoir picture look atmospheric. If there are too many people outdoors, feel free to use any other railing you find.
1. Leaning on a Couch and Drinking Tea
Boudoir photographers like to create a balance between posed and natural photos. This is the perfect pose for relaxed boudoir photos.
Your model should relax her body, lean on a couch, and drink some tea. Make sure she's not completely naked or else the images will look strange. This will give you lots of opportunities to take candid and happy boudoir photos.
Common Boudoir Photography Questions
How Do I Prepare for a Boudoir Photo Shoot?
Talk to your model about her preferences and share your ideas with her. Ask about her favourite clothes, themes, and poses. If you're a model, be very honest with your boudoir photographer about what you're comfortable with. Bring a robe with you so you can have some privacy during breaks.
How Much Is a Boudoir Photo Shoot?
Generally, photoshoots range from $100 – $400 per hour.
Conclusion
Boudoir posing doesn't have to be over the top like a high fashion set. It can be more subtle and relaxed. Make sure you try out different boudoir poses and ideas for the best results.
Keeping these boudoir posing tips in mind will keep you away from mediocre photoshoots and help you take images that sell big.
For more great boudoir tips, check out our boudoir photography checklist, or try our article on yoga photography for a totally different posing style!