Boudoir photography is all about capturing the sensual side of a woman or a man. It's not about nudity or sex. It's about creating beautiful images. It's celebrating femininity and masculinity. And it's showcasing the subject in the most flattering way possible.
If you want to get into boudoir photography or just looking for inspiration, these 20 boudoir blogs are a great place to start.
eBooks and Courses for Everyone
20 Best Boudoir Blogs to Follow
These 20 boudoir photography blogs provide a wealth of information for budding photographers. They also show how accessible boudoir photography is for women, men, and couples to capture sensual photos of themselves.
This blog was established in 2013 in Vancouver. Kelly and Jennifer are the "Gloss Bosses" who opened up the studio and started the blog. They have shot more than 2,000 boudoir sessions.
The two ladies started a boudoir business. They wanted to provide women an affordable, approachable, and fun boudoir photography studio. They both believe that a boudoir session boosts confidence and feminity.
The blog inspires both boudoir photographers and clients. You can read tips about preparing for the photoshoot and find excellent boudoir poses.
The blog's owner is Critsey Rowe, a popular female boudoir photographer in the United States. She describes her style as sexy and sensual. She loves to capture the unique and intimate beauty of every woman she photographs.
Critsey also wrote a book about boudoir photography, and she shares her insights on her boudoir blog. You can find many useful tips on her blog, including Instagram tips for boudoir photographers and outfit ideas for a boudoir session.
Black Lace Boudoir is a private boudoir studio offering luxury boudoir photo sessions for women. The owner is Rami, who quit her office job to follow her true passion.
She aims to encourage women to embrace their stories and learn to own them. And what is better than a boudoir shot highlighting their beauty and sensuality?
Her boudoir photography blog provides advice for clients and photographers as well. Make sure to check out her Instagram feed as well. It is an excellent source of inspiration.
Adrienne Richgels is the owner and the photographer of Demi Girl. She has photographed more than 500 women and often works with plus-size clients.
Adrienne believes that every woman is beautiful regardless of shape and size. And she is right! Her blog is a wonderful place to find information on making your boudoir clients feel more comfortable for the photoshoot.
Nothing describes Moss Photography's goal better than its warning sign on the blog.
"Caution. Side effects may include but are not limited to… increased self-confidence, falling madly deeply in love with yourself, … increase in general badassery, uncontrollable urge to celebrate yourself and lift up those around you."
They also refer to themselves as an empowerment boudoir photography studio. This is because their boudoir photos are all about empowering women. Their blog offers inspiration on various topics. From posing to neon portrait shoots, you can find interesting boudoir insights.
Magdalena Iskra is the owner of Pure Boudoir. She is an award-winning boudoir photographer based in Chicago. She grew up in Poland and worked as a model. So, she learned the art of fashion poses before capturing her clients.
Magdalena's passion is to make women meet their best version of themselves in front of the camera. Her blog includes insights into boudoir shoots. It even covers serious topics like how to regain self-confidence during infertility.
Revealed Studios is not only a boudoir photography studio. It is also a boudoir photography blog. It is a place of female empowerment, body positivity, and a self-affirming community.
Revealed Studios is owned and run by two ladies, Maggie Rife Ponce and Kelly Feldmiller. The staff consists of women only, focusing on bringing the best out of their clients.
Their blog is a great source of inspiration for a boudoir photographer and a place for women to learn to love themselves.
Our favorite post is from Kelly. She swapped sides of the camera and became a boudoir client instead of being the boudoir photographer. Her experience is very educational for other boudoir photographers.
Jamie Pfister is The Adore Girls's photographer and owner in Nashville, Tennessee. She and her team aim to provide the highest quality experience to their clients.
They want to change the way women feel about themselves by showing their unquestionable beauty.
Their blog has a "Featured Girl Friday" section. Clients share their thoughts and feelings about their boudoir experience. It is a useful read for every boudoir photographer because they can understand better how the clients feel during a boudoir shoot.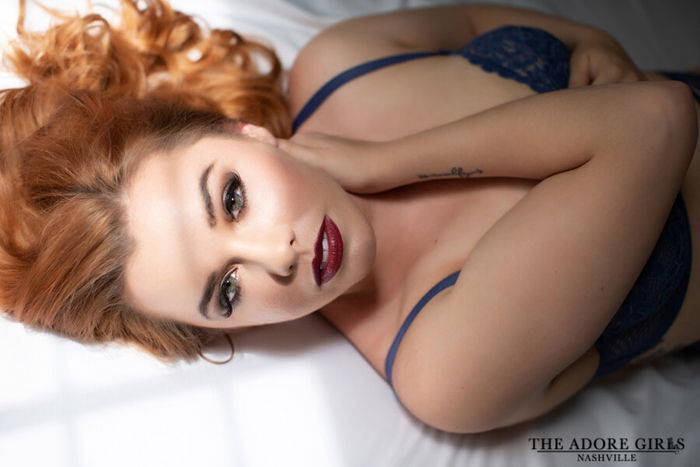 The ladies behind Duluth Boudoir are Jes, Emily, and Katie. Besides being women and artists, they also consider themselves body liberators. They want to liberate women from negative societal norms.
They share their clients' stories and insights into boudoir shoots on their blog. They also have "raw" sessions that show the unfiltered, imperfect, and raw beauty of women's bodies. They also do masculine and couple's boudoir sessions.
Christie Conyer is an award-winning, international boudoir photographer based in Oklahoma City. She has been empowering women since 2011 with the boudoir experience she offers.
She is a photographer at the Modern Muse boudoir photography studio. And her blog provides insights from clients, outfit tips, and creative boudoir ideas and solutions.
Stephanie is the photographer behind Brooklyn Boudoir. She believes that boudoir is not only about physical beauty. She believes it is about freedom, stepping out of the comfort zone, and connecting with sensuality.
"My mission is to make women feel fantastic about themselves… To help them remember the fierce, fabulous, sexy woman within them, regardless of age, weight, or relationship status.
And I am really good at it! It's about capturing the essence of a woman's beauty and personality while giving… an experience that is transformative, sexy, adventurous, and fun."
Her blog features detailed client-experience posts. These are handy for any boudoir photographer who wants to learn more about how their clients feel about a boudoir shoot.
Virago Boudoir has a very descriptive and suitable name. Virago is a noun coming from a Latin word. It means a strong, brave, or warrior woman—a woman who demonstrates exemplary and heroic qualities.
Sarah is the photographer behind Virago Boudoir. And she is based in West Asheville, in the United States. She used to be harsh on her appearance and body. But she learned to love herself and now wants to give the same opportunity to other ladies.
Her blog features client experiences, couple's boudoir tips, and outfit ideas. Her Instagram feed is a must-see for inspiration!
Alomia is run by Iwona, a Polish photographer based in Canada. She specializes in outdoor and indoor boudoirs and maternity, bridal, and beauty shoots.
Her photography mission is something that other boudoir artists should also live by. "As a professional photographer, it is crucial … I understand your inhibitions, your likes and dislikes, and your passions… the person who, for that fabulous moment of time, becomes the center of my photography universe."
Besides client stories, her blog features tips for outdoor and bridal boudoir shoots.
Marie started to specialize in boudoir photography in 2013. She was photographing her friend in boudoir style. Marie was impressed by the transformation her friend went through during the shoot.
Her friend became more confident about her beauty, and Marie decided this was what she wanted to focus on. Her studio is based in Memphis, in the United States.
Her blog features the photography of her clients, advice about facial expressions, and posing tips. Scroll through her Instagram feed for breathtaking and inspirational boudoir photos. It's worth it!
Kissed by Light is based in Toronto, Canada, and was founded by Lora Vertue. Her photography is bright and airy. And her images are full of love, intimacy, and fine details.
Lora thinks about every subject as her muse and lets them show their unique personality. Her blog features a lot of great inspirational posts. She also includes maternity boudoir sessions.
Melisa offers not only a boudoir photography session but also a self-love experience. She is based in North County, San Diego, in the United States, but can travel worldwide.
In her bio, she includes boudoir photographs of herself. They all convey the message of self-love. Her blog features various boudoir sessions, from sexy and glamorous to powerful, timeless shoots.
The website was created by Kimberlee West and Marissa Boucher, who own 'The Boudoir Divas" photography studio. They created a referral site for clients who cannot travel to their studio.
Boudoir International features boudoir photographers whom ladies can look for in their area. The blog features personal client stories and useful advice about preparing for a boudoir shoot.
Rebecca is a professional photographer living in Israel. First, she focused on wedding and portrait photography. But then she tried boudoir and found her true passion.
"Just a few sessions in, and I was hooked. I was not only humbled to be allowed into the personal and vulnerable spaces of my clients, but I saw what it was giving to women. Empowerment, healing, celebration, renewed confidence, among many other things. I knew at that point I had found my calling."
Her blog features very intimate and personal client stories. They are great photography inspiration and life lessons at the same time.
MyBoudoir was founded by Nicola Grimshaw-Mitchell, based close to Manchester, United Kingdom. She is an experienced photographer who first began as a wedding photographer. But she has created a successful boudoir, pin-up, and make-over model photography business.
She has also launched a boudoir book and an alternate fashion magazine. They focus on a client-centered experience. They're concerned about the person's well-being and showcasing individual beauty.
Her blog has posts about getting the most out of your boudoir shoot and what to bring to it. And you will get a lot of inspiration from following her on Instagram.
Lovely in Lace is a boutique boudoir photography studio in Orlando, Florida, United States. They offer a personalized boudoir experience to motivate and help women rediscover their sensual side.
Their photos give the viewer the impression that a boudoir shoot is the best way to spend some me-time and find self-love.
Their blog features client stories and their motivation for booking a boudoir photoshoot. Reading them and discovering why women look for boudoir photographers is useful.
Conclusion: Best Boudoir Blogs
To provide an outstanding boudoir experience, you need to know what the top players offer. Check out these blogs, learn from their tips, and find inspiration in their photography.
Don't forget to read the client stories. They will help you understand how to make your clients more comfortable during the boudoir shoot! And if you're serious about developing your portrait business, don't miss out on our eBook, Profit from Portraits!
eBooks and Courses for Everyone