Maternity photography is a beautiful way to capture the wonderful moments of expecting a child. Maternity poses are endless, but there are some foolproof postures that you can apply both indoors and outdoors.
Posing can mean the difference between an okay and an amazing photo. Here are 10 tips to help you achieve better maternity photos at your next maternity session.
Looking for inspiration to enhance your maternity poses? Try using a versatile and safe exercise ball to improve posture, flexibility, and body alignment.
10 Maternity Poses to Photograph Mom Alone
If you are photographing a couple, don't forget to take photos of just the mom. Getting good maternity portraits of her embracing her bump is going to make for tender and meaningful photographs.
Posing her in flattering ways can also create more depth and warmth to the photograph. Try putting her at a 45-degree angle from you. This way, we are putting more focus on the bump's silhouette. This is especially helpful when the baby bump is small.
Tell her to rub her belly and talk to her baby.  If she feels awkward doing this, have her smile while looking down at her bump. Have her think of meeting the baby. This will get more authentic expressions in the maternity portraits.
Take full length, mid-length, and up-close photos of her. Once you feel like you have taken enough solid portraits, experiment with different crops.
Ask her to bend one leg. This pose helps to relax and shift the weight. It also adds more interesting lines leading to the baby bump, which is the focal point of the whole maternity photoshoot.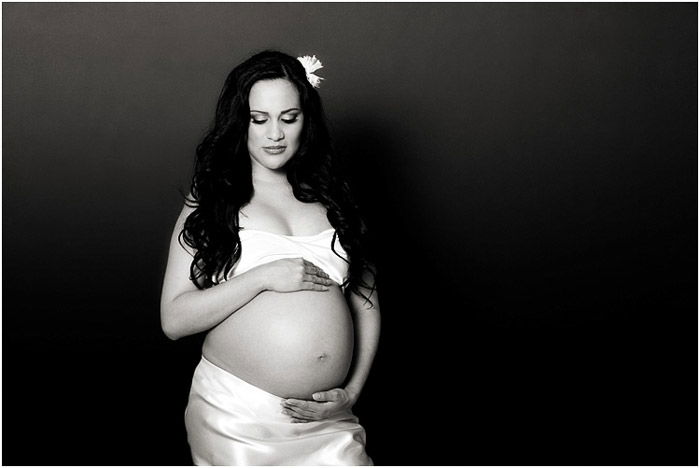 During her portrait session, try and keep her hands moving as well as where she is looking.  Have her look at you, at her partner, down her shoulder, at her belly.
When she looks at her belly, have her poke her neck out towards the camera and actually look at her feet. This will avoid getting any squished chins.
9. Shoot Dad With the Belly
Just because the belly is the focal point doesn't mean dad can't have his time in front of the camera. Have dad kneel and get close to the belly with both hands on each side. Have him talk to the belly and enjoy the closeness.
Another great maternity pose idea is to have dad stand half behind the mom and place his hands on her belly. Get in close so that you just get the hands. Take a photo mid-length and focus on the dad's eyes rather than on the mom.
Have him look at the camera and then down at the belly. If dad has a special request for a pose, do it. Letting them feel like a part of the maternity photography session is going to produce more intimate photos for your clients.
8. Direct Walking Maternity Poses
Walking poses can add dynamics to the maternity photos. It also helps your clients relax and feel more comfortable. Sitting in one place, especially with a baby bump, can feel uncomfortable after a while.
You have a few good options for walking maternity poses. The mom can lead the dad while they are holding hands and smiling at each other. Ask her to put one of her hands on her belly from time to time.
You can also take photos of the couple as they are walking towards the camera, looking at the lens or at each other. To show more intimacy, ask them to walk in a slow and natural way.
You can also ask them to talk about the baby. This will trigger them to look at the mum' belly or touch it. This way, the maternity poses won't look staged.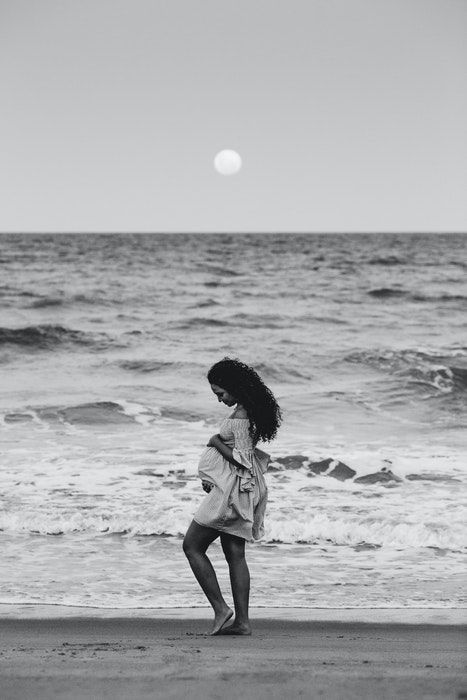 7. Shoot Silhouette Maternity Poses
If the mom is shy in front of the camera, silhouette maternity pictures are perfect for easing the atmosphere. Her body shape and belly will pop out in the pictures. But she doesn't have to worry about her facial expression.
You can take silhouette maternity photos while the mother is standing or sitting down. To make the baby bump stand out, ask her to turn and show one of her sides to the camera.
You can also involve the father to give a kiss on her belly. This will create a very intimate scene, almost as if we were watching them in their home.
6.  Use Legs and Hands to Highlight the Belly
Maternity photography is all about the belly. To make sure our focus stays on the belly and couple, hands and legs are great tools.
Place both hands below the belly or one above the belly and one below. You can position one above and slightly to the side and the other opposite. Or just have your client rub her belly as she normally would if she were just standing alone.
Always try and place hands so that fingers are close together and hands are overlapping but not overwhelming the belly.
For legs, have mom cross her legs if she is facing you so that you can add more lines toward the belly. This will add focus to the bump much more than if she were straight-legged.
In other maternity poses, try to have her bend one leg at the knee so that it gives the same effect as well as give her more shape.
5. Shoot Active Maternity Poses
There are lots of moms who love fitness or maternity yoga. Why not taking maternity pictures while she is exercising? You don't have to worry about fast movements. Maternity yoga or aerobics isn't that dynamic.
If the mom is comfortable about her belly, you can ask her to wear activewear that shows off the baby bumps. You might want to use large fitness balls that will create a funny resemblance with the belly.
Pregnancy is about growing a new life, and the mother's body needs extra care. Exercising is a good way to show how much the lady cares about her body.
4. Remember All Bodies Are Different
Pregnant bodies are all different, and not all maternity poses will work for each mom. Also, not all maternity poses will be comfortable to get into either.
Remember to always ask before putting your client in a difficult or uncomfortable pose. Great maternity photos are made because people are comfortable in the pose, in the location, and in front of the camera.
You can tell right away if someone is uncomfortable so try your best to watch out for this and repose your client.
Remember that some maternity sessions you'll need to accentuate the belly more by the use of hands or perhaps a belt, or turning your client at an angle.
Try and let poses evolve organically and allow for interaction to flow. It's the in-between moments where the couple is laughing or enjoying the moment where the best photos are made.
3. Build up the Maternity Poses
You can easily build and get various poses all without having to move your clients very much. Keeping your clients in one spot also allows your client to relax. It can be tiring to walk around a lot while being 8 months pregnant.
For example, start with the couple facing each other and with the outside hand embracing the belly. From there, you can ask your clients to look down, then look at each other. Have the dad look at the belly and the mom at the camera, hug a little tighter, kiss, or hold hands.
Another example is having the dad behind the mom and with the hands close to the camera holding the bottom of the belly.
From there, you can have the dad kissing the mom on the temple while the mom is looking down. They can hold hands, or like the example, hold the props that they brought to the session. Use longer lenses to get close up shots and far away shots for variety.
For each variation, take about four to five so that you can ensure you got at least one great photo from each pose.
2. Don't Forget to Play and Have Fun
Maternity sessions don't have to be all tender and intimate moments. You can also ask your clients to have a little fun with it. If they're up for it, have them walk around, dance, and enjoy the moment.
Ask them to talk with each other and have the mom say something nice to the dad and then vice versa. This usually causes many of those natural in-between expressions that make for great photos. The photos are showcasing exactly who your clients are during this moment in their lives.
Sitting down maternity poses are also popular. Ask the couple to sit on a bench, cuddle a bit and pretend they are on their couch. They can play around or tickle each other too.
1. Keep Arms and Face Away From the Body
Maternity sessions happen between the 7th and 9th month of pregnancy when the mom's belly is usually much rounder in shape.
But this also means that arms, legs, and face tend to swell as well. Even just by walking a lot because of the excess water they are carrying around to help the baby grow and develop.
Keeping the face away from the neck by asking your client to push their chin toward the camera can help avoid squished necks and double chin.
Keeping the arms away from the body and bent can add shape and lines to the contour of the body as well as not make the arm seem fuller than it really is in real life.
Try and always find the most flattering angle and light so that they can embrace this beautiful phase of pregnancy.
Conclusion
Maternity photos are intimate and a great way to begin a lasting relationship with clients. So that they come back for the newborn session as well as all future ones.
Having these tips in mind during a maternity session will help you to stay focused. These poses also allow for variety and experimentation. Build the poses to have a bigger mixture of photographs to showcase to your clients.
Remember to consider different body shapes, and always give your clients a great experience!
For amazing advice on how to create a portrait photography business read our eBook – Profit from Portraits!