Maternity photography is a great way to capture a fleeting yet important moment in a new mother's life.
Here are 10 maternity photography tips and ideas to use in your next photoshoot.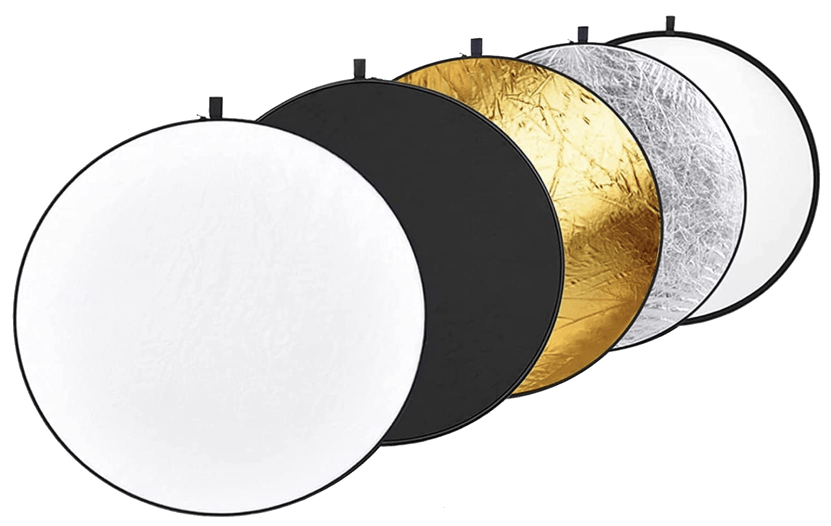 Neewer 43 5-in-11 Light Reflector
Create stunning maternity photography with a versatile 5-in-1 reflector. Diffuse and reflect light for warm glowing skin tones and softer shadows. Get inspired with this must-have tool.
10. Tips for Nailing Maternity Photography: Go High Key or Low Key
Photographing subjects in high key lighting can give your photographs an ethereal feeling. There's a flood of light in your photo. This type of lighting is perfect in a studio or on location.
In a studio, you can use a big soft light to flood your image and another light in front to light your client evenly. The idea is to have a lot of light to give that dreamy effect.
On location, photograph your client with the sun behind her either as the sun rises or as the sunsets.
This will give you the flood of light that you need to blow out the background. That is, to create a white background due to the amount of light that is entering your camera.
Use a type of fill, like a reflector or flash, to fill in your client from the front.
You can also slow your shutter so that you can use the existing backlight to fill in all around. You'll still capture details of your client from the front side.
Giving the session a more dreamy effect can help to translate the anticipation of the baby. You can do this either in a studio or on location. Use light-colored robes for high key lighting to add to the flood of light all around.
Low key lighting is great to highlight the baby bump. Use a dark background and one light, which can be a strobe or external flash.
You can even use your on-camera flash to create low key images.
Position your client 45 degrees to the camera so that you really highlight the baby bump.
Use wardrobe that is lighter than the background. This can help to create a good contrast between the background and your client.
If your client opts to show her bare stomach, this can be a great contrast in itself.
9. Include Family Members
Maternity sessions seem like they can only be about the mother-to-be. That's not true. It's a great idea to include the spouse and siblings as well.
If you include older children in the maternity pictures, you can highlight that the whole family is excited about the newborn.
Spouses and siblings can work great in both a studio setting and on location. If you decide to do a studio setting, have the children bring toys or activities. This will entertain them while you photograph other poses during the session.
If you decide to photograph the session on-location, choose a location that is enclosed and safe. The children will run around and have fun.
While you are photographing only the mother, the siblings can play and stay clear of the photographing area.
Get detail photos of the spouse or siblings kissing or holding the baby bump. Try having the mother interact with them in a way that is natural.
For example, kissing or hugging the younger siblings. Holding hands with the spouse, or carrying a smaller sibling on top of the baby bump.
8. Try Different Styles for the Maternity Shoot
Maternity sessions have the ability to range in style all within the same session. Talk with your client before the maternity shoot.
Offer different styles like the following:
Use two of these options for the maternity session to get more variety. Also, experiment with styles that you wanted to try for some time.  Make sure that it is a style that your client feels comfortable with.
7. Use Baby Props
Ask your clients to bring a few props to the session. Like baby shoes, onesies, or a stuffed toy. Anything that the couple bought to give it to the baby.
It is also very popular to compare the growing baby's size to fruits and vegetables. You can find lots of charts online that tell you which fruit has the size of a baby in a specific month of the pregnancy. Then you can take photos with the fruit or vegetable and the mom's stomach.
Photograph your client with the items that they bring and the items on their own.
They may want to use these detail photographs to decorate the nursery or make a memory album in the future.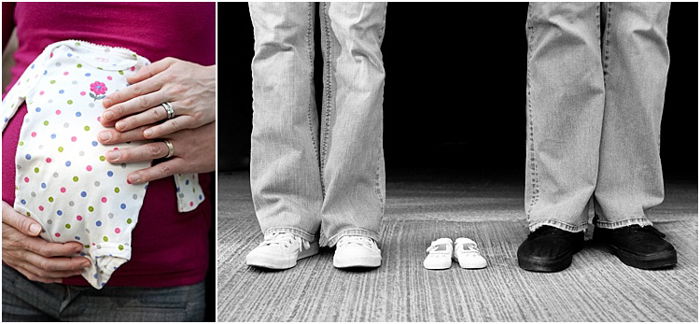 6.  Make the Shoot About the Parents
The growing bump is the main focus of maternity sessions. But it's also about the parents-to-be. Ask your clients to bring props or wardrobe. These should represent their personalities.
For example, a couple who love Disney, or a couple or mama who loves to ride motorcycles.
You're giving the parents-to-be a chance to represent their personalities as well. This will make the maternity sessions even more meaningful and personal.
5. Photograph the Nursery
This applies if you have the opportunity to photograph your client in their home. Take a few moments to capture the baby's nursery.
Adding these detail photos to your client's gallery is a good idea. It can be very emotional and personal for the parents-to-be.
Photograph your client inside the nursery without posing. Ask about the items they've chosen to decorate with.
This will get them talking on a more personal level. You'll be able to capture more natural emotions and expressions.
4. Use Wraps and Textiles
There are wraps that are specifically made for maternity sessions. But you don't have to purchase any if you're just starting out.
Using a few DIY options can make this maternity photoshoot both easy and cheap.
At any fabric store, purchase at least two meters of fabric. Let your client choose colors or patterns.
Use one meter for the top and the other for the bottom.
For the top, twist the fabric in the middle to give it a little more shape. Clip or tie the excess at the back.
For the bottom, wrap your client below the belly. Clip or tie at the back, allowing the extra material to cascade at the back.
It's easy to do this in a studio setting and on-location.
3. Use Gender-Specific Colors for Wardrobe
The most exciting part of being pregnant is finding out the gender of the baby.
Have your clients wear an outfit that is gender-specific. Blue or yellow to represent a baby boy, or red and pink to represent a baby girl. This gives a more personal touch to the photos.
This can also serve as gender reveal for family and friends when they view your client's photos!
2. Use Similar Wardrobes for Newborn Photos
Choose one outfit that is simple in both fit and color.
This will come in handy when photographing the newborn session for your client. You can recreate or match the style of maternity photography.
Something like a black top and black bottoms or jeans for both sessions.
Or having a bare belly and top, then using the same top and having the baby naked during the newborn session.
This can look really beautiful as an album. It can feature both maternity and newborn photographs.
Or a wall gallery set that includes photos from both sessions.
1. Offer a Baby Plan
During the maternity session, or at the gallery viewing, offer your clients a baby plan.
This includes sessions for newborn, three, six, and nine months. End the plan when the baby turns 1.

Newborn photography plans will keep your clients coming back. Try offering a big-ticket item. For example, an album that combines photos from all the sessions.
You could also include one framed print from each session. When the baby plan is complete, your clients will have a wall gallery of the entire baby plan.
You could offer a discount on the maternity session. Or add an item if your clients decide to purchase the baby plan.
The idea is to keep them coming back and purchasing more photos. But also giving them irreplaceable photography throughout the first year.
Conclusion
Maternity sessions are exciting and emotional for parents-to-be.
These tips for great maternity photography offer your clients more options to capture the exciting stage of their life.
They also help you to get different maternity photos to expand your own portrait portfolio.
To get your portrait business on the road to success, read our eBook: Profit from Portraits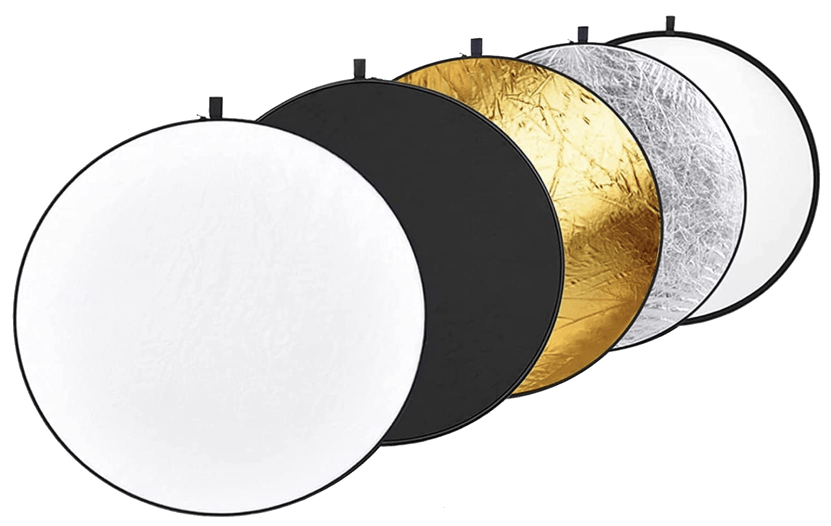 Neewer 43 5-in-11 Light Reflector
Create stunning maternity photography with a versatile 5-in-1 reflector. Diffuse and reflect light for warm glowing skin tones and softer shadows. Get inspired with this must-have tool.