These curvy boudoir photography ideas will have every woman feeling gorgeous, sexy, and, most importantly—confident. Many professional photographers apply the same posing rules to all the women who walk into their studios. That's not a good way to bring out everyone's best side!
If you have a curvy, plus-size model, specific posing tips are exclusive to capturing her body shape. Here is our simple guide to capturing the most stunning plus-size boudoir photography!
eBooks and Courses for Everyone
The 12 Best Curvy Boudoir Photography Ideas
Here's our list of 12 boudoir poses to ensure every curvy woman looks fantastic in her boudoir photos!
1. Capture Curves From Above
Photographing from above your stunning model, or above at a tilt, is a great way to capture her curvy beauty.
Shooting from above allows the subject to lie in a comfortable pose. And it'll highlight many of her beloved features. This pose also flattens out the tummy area and accentuates the bust.
Play with angles, and don't be afraid to shoot from above at a tilt. The tilt helps keep her facial features at a flattering angle. Pay attention to the position of the arms and legs. Direct your subject to allow these parts of her body to appear natural.
2. The Pretzel
The pretzel is a fun pose to use when looking for more unique visual interest via composition! The pretzel is when the model crosses her arms and legs into a bit of a… well, pretzel shape!
Usually, her arms would run crossed on her upper body, and one of her legs would bend over her other leg. Capturing this from above makes a unique visual statement. It can be a great way to show a bit of skin without anything lewd, as all body parts are covered.
3. Legs for Days
Legs are some of the most stunning features of a woman. Highlight those legs in boudoir photos! Many poses help elongate the legs. My favorite pose in plus-size boudoir photography includes using a wall.
Have your curvy model stretch her legs along the wall while lying down. Crossed legs look best in this pose. You'll shoot her from down below to upwards! This will make her legs appear long while highlighting her curves in the photos.
Another wonderful leg pose is to have your subject sit at the edge of the bed. Ask them to pull one leg in and the other out and shoot at leg height.
An important tip for leg poses is to ensure your model points her toes like a ballerina! Feet that are flat or bearing weight can appear broken on camera. Flat feet can cause legs to seem less lengthy.
Pointing toes are popular in boudoir photos because they make the model flex her leg muscles.

4. Pose at The Window
Natural light is a great way to highlight curvy body parts. Try posing your subject lounging in front of a window. If the light is too strong, use a white curtain to soften it.
You can also capture your plus-size model against the window. The halo of light fills the frame behind her and creates a curvy silhouette. Remember to make sure the model's chin is held up. This allows you to avoid double chins and get an elongated neck.
5. Arch the Back
Arching the back flattens out the tummy and highlights beautiful feminine curves. This position is very flattering in the case of boudoir photography for plus-size models.
Try posing your subject against a wall. Ask her to keep her booty pressed at the wall with her hands pressed against the wall. As she pushes off, make sure that her back is arched.
Another great arching pose is to have your curvy model sit at the edge of the bed, arch her back, and look up at the ceiling. This image tends to look euphoric!
6. Highlight the Booty
Highlighting the model's booty is necessary for a plus-size boudoir photography session. When capturing this shot, instruct your model to push her butt out by arching towards you.
My favorite pose for this is to have the subject use a wall as leverage to push her booty out toward you while crossing her legs. Crossing her legs creates that curvy butt shape you'll often see in boudoir photos.
7. Accentuate the Curves
Creating silhouette images is a dramatic and eye-catching way to highlight voluptuous curves. Try shooting against a bright light source. Have your model stretch herself upwards to really show off her incredible body!
A favorite pose of mine for this is to have the model stand upright. Ask her to cross her legs, stretch her arms upwards, and cross them at the elbow while pulling up. Have her head look upwards as well.
You can also direct your model to put her hands on her hips. She can also bend her knee a bit to emphasize her hourglass shape.
8. Lay on the Hip
A very sensual and soft look is the lay-on-the-hip pose. It's best done on a harder surface like a floor. But it's possible on a bed or piece of furniture. Have your model lie on her side while lifting the upper half of her body with her hand.
Ensure her elbows are bent a little so she isn't hyperextending. Hyperextension makes arms look broken on camera!
The arm that is not supporting her weight should be put gently on her hip with her elbow following the curve of her waist. Her head can look either straight at you or off to the side.
9. Implied Nude
Showing fragments of skin or implied nude is an exciting choice for plus-size boudoir photography. This is a popular pose when the photo is a gift to significant others, spouses, and partners.
Cover your model with a blanket (a fluffy blanket is an awesome choice). Only allow parts of their body to be visible with the rest covered.
Try asking the model to pull out her curvy leg or thigh. Or she can pull the blanket low enough to expose cleavage but not the actual breasts.
10. Highlight the Back
Shooting your subject from behind to show off her beautiful back is an iconic and timeless image. This photograph looks great in black and white as well!
Remember to direct her to arch her back still to get those beautiful spine lines. This boudoir pose works well with curvy models because their spines won't appear too bony.
A good tip for long hair is to have your subject throw her head back so that her hair falls slightly lower! This tends to look more flattering than a head that is pulled up at a natural position.
Pose 11. Chairs and Props Are Your Best Friend
In general, professional boudoir photography involves beds. But it doesn't mean you shouldn't use other props for posing! Grab a beautiful chair, a chaise lounge, or a furry rug.
Chair poses are excellent curvy boudoir photography ideas because they allow you to experiment with a slew of poses. Make your subject sit at the edge instead of sitting normally in the chair.
It may be less comfortable than sitting in the usual position. But sitting at the edge of the chair allows unrestricted movement of the legs and helps the model arch her back.
Sitting normally in a chair often looks boring on camera. Sitting at the edge helps you capture a more elegant camera angle. Even if it feels uncomfortable, awkward, or weird, it still looks great on camera.
12. Sitting Pose With Legs Bent
One leg in, one leg out! That is the key pose for any body type, woman, and all beauties. Sitting with one leg bent towards your subject and one stretched out towards you is a great go-to pose.
Bonus Tip: Communication is Key
As photographers, we often catch our clients in their most vulnerable and honest state of mind. This is even more true when it comes to plus-size boudoir photography.
We are responsible for listening to our clients and helping them feel comfortable in their own skin.
Communication is an important skill to have for this very purpose. Before the shoot, and before you figure out a posing plan, ask your subject questions along the lines of this:
What is your favorite thing about yourself?
What is your favorite feature?
What are you uncomfortable with?
Try to keep the conversation positive and lighthearted. Remember to ask questions about what your subject's expectations and needs are. This can help a lot with posing, as you can remove poses from your list that your client may not feel very excited about.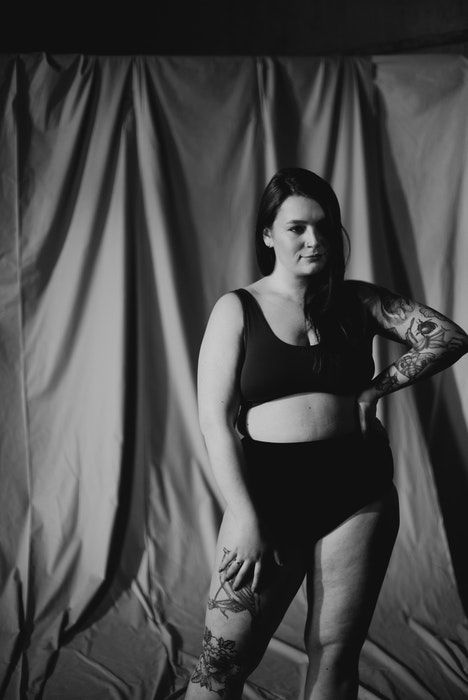 Conclusion: Plus-Size Curvy Boudoir Ideas
Remember that this list is not the be-all-end-all of curvy boudoir photography ideas. But it's a great start! Use your best judgment and pay attention to your subject's wants for the photoshoot.
Read our Profit from Portraits eBook to get a headstart with your portrait photography business!
eBooks and Courses for Everyone