Venturing into how to become a boudoir photographer can be a thrilling and artistic endeavor. And our nine essential tips will guide you to begin creating a successful boudoir photography business.
Boudoir photography is a type of portrait photography that captures intimate, suggestive images. It is often considered very sensual and erotic. This is because it usually features nude or partially clothed subjects.
But despite its risqué reputation, it can be a hugely empowering experience for clients. You can help capture moments of intimacy and empowerment for your subject.
eBooks and Courses for Everyone
9 Tips for How to Become a Boudoir Photographer
So, what do you need to become a boudoir photographer? It is more than you might expect. It's best to have details in place, like a business plan, insurance, a marketing strategy, business cards, and more. Our nine tips set you up to run a successful boudoir photography business.
1. Create a Boudoir Photography Business Plan
A business plan is a written description of the future of your company. This plan explains what you will do and how you will do it over the years.
Making this plan does not have a criteria or special document format. If you write it down on a note section in your planner, you have begun to write a business plan. In this plan, you may want to do the following:
Describe your niche and any products you might sell (such as albums or wall art).
Your business structure of employees and their positions.
Business equipment you may need.
How you will market your company.
From there, you start to see a visual of what your business will need to thrive over the time you plan to be a photographer. These visuals are a great way to help keep you motivated and on track. If your plan changes over time, you can update or rewrite your plan.
Starting any photography business requires photography gear. This can include cameras, lighting, an editing laptop, etc. But it doesn't stop there. You also need to work into your budget other items such as a business license, accounting software, editing software, insurance, etc.
2. Decide on a Style of Boudoir Photography
Part of your business plan is deciding what kind of boudoir photography you want to shoot. And you'll want to decide on this before creating a website or marketing yourself.
The term "boudoir" is constantly debated among artists. Some prefer the classic definition of photographing a woman in a bedroom. Others like to open this definition up to other locations, like outdoors. Some keep to the lingerie tradition, while others explore a more intimate version of boudoir in full nudity.
The truth here is no one is wrong. It is the artist's job to create what the client is searching for in terms of feeling confident.
They will find you based on your work, whether you're more into the intimate lifestyle version or the fine art painterly looks.
Either way, clients are all searching for a specific look. And they honestly do not care about how it is defined. You want to determine what makes your boudoir photography unique and promote that.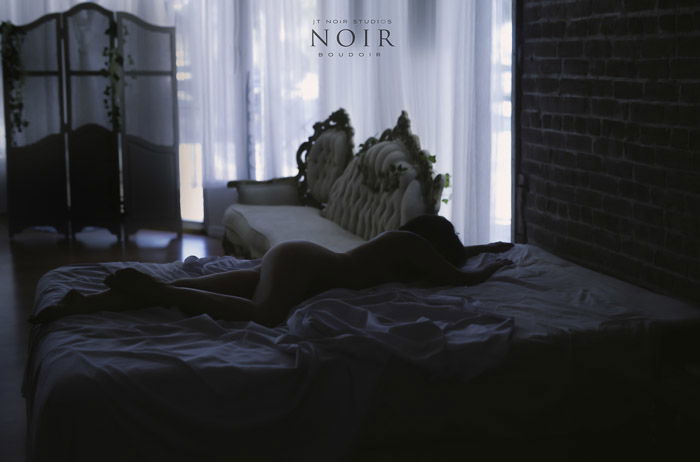 3. Prepare for and Consider the Needs of Your Clientele
Clients for boudoir photoshoots will come at all stages of life. In the past, boudoir has been thought to be female only. Now, many men and couples are looking for boudoir shoots.
They may be coming during a point of weight loss, trying to heal from trauma, or just celebrating a milestone in their lives. I have shot boudoir images for clients anywhere from 21 to 84 years of age, both men and women.
Being a boudoir photographer requires a lot of patience and kindness to make your clients feel comfortable. They are about to do a session where they are in their most vulnerable state of mind.
You may have clients who are carefree about their bodies. But most of the time, you deal with clients who have been through body shaming, have confidence issues, or are perhaps shy. Be considerate of their needs, even if it means missing that shot you were dying to get.
If you want to try new poses, hire a model for these looks before using them with your clientele. This will help remove any problems with them before you get a very nervous client in front of your camera.
4. Get Photography Insurance for Your Boudoir Business
I highly recommend getting PPA insurance (for photographers based in the US). Their low cost will help you in almost any situation, from hard drive failures to legal help. In the case of a hard drive or equipment failure, the team at PPA will guide you through the process.
They will get your camera equipment over to data recovery. And they will also work with you in case you have a client's photoshoot on that specific drive. I've been in this situation myself. And everything was covered before my client's ordering session even took place.
Insurance is an important part of running a business to protect you from any issues that may arise. You may think boudoir photography is less risky than a wedding photography business for losing images.
But think about the possibility of a client hurting themselves on location. Insurance is an important part of running a business. It's best not to treat it as an optional item.
5. Shoot a Variety of Boudoir Photography Poses
Once you are ready to start building your portfolio, posing is a major detail in the final look. Stiff, harsh posing can sometimes work for high fashion looks but rarely in boudoir shoots.
This type of photography is geared more toward the intimacy of the session. Pointed toes and relaxed hands are important. These are sometimes the most forgotten parts of the body with boudoir poses.
When posing people, make the story believable. If your client is uncomfortable, your image will show the same. If your location has a bed, use it for lying-down poses and a background. A blanket on the floor will provide the same look.
An air mattress can be helpful. It can be deflated easily for storage, and you can bring them out quickly. Consider investing in one if you do not have a bed in your studio. They're great for those clients who cannot physically be on the ground due to ailments or mobility issues.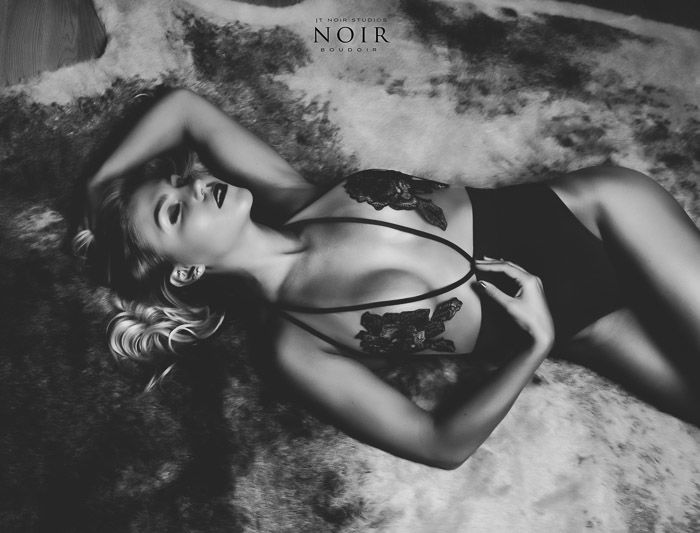 Moving the client to a few locations within your studio is important for a larger photo selection. If you are in a small space, you can still redesign each look to get more variety from your location.
A chair against the wall replaced with a rug on the floor can give two extremely different looks to your shooting space. It is a good rule of thumb to create triangles where you can. It flatters most poses and adds a feeling of movement as well.
The two images above and below almost have the same pose, except one woman is lying down, and the other is sitting. The same pose can be re-used throughout a session, giving you various looks for your client.
6. Shoot Detailed Boudoir Shots
Details and close-up shots are huge sellers with boudoir clients. Make sure to get as much of the details of their wardrobe and jewelry as possible for those anonymous shots they love hanging on the wall.
When I do detail shots, I pose the client even if the rest of the body is in the frame. This not only helps her to feel confident (she isn't just sitting) but also helps you with posture in the image.
I still had the model pose her hands and feet in the image below, even though neither were in the frame. The main saying in my studio is, "Up on pointe." Clients immediately pop their toes up, adding a slight back arch.
7. Set Up a Way for Boudoir Photos to Be Printed
When I first started shooting, it was sometimes difficult to find printers willing to work with the boudoir images I sent to them. Nowadays, you can find a long list of vendors who will print and specialize in boudoir products.
My favorite album vendors for printing are The Boudoir Album and Floricolor. Each has a unique line of boudoir albums and displays for your clients.
When you are choosing a vendor, think about your boudoir business plan. Did you write that you had a maximum one-week return on products? If so, some vendors may not be the choice for you.
Did you decide to go with the highest quality products in the industry? Take a look during trade shows to see how the albums hold up and the quality of the binding.
When choosing what kinds of products you will sell, do not overwhelm the client with choices. Offer a variety that meets their needs. Not every client will want an album. And not everyone will want to hang an image on their walls.
Creating collections of your à la carte items is another great way to give your client an easier selection process.
8. Create a Website and Marketing Campaign
Creating a website does not have to be costly but should be easy to navigate. If your client has to spend a lot of time searching for your information, they may move on to the next photographer. A few key practices are as follows:
Ensure your contact information is at the top or bottom of every page on your website.
Keep only the best images on your site. It's better to have 20 amazing images than 50 from past work.
Use SEO keywords on your site's images to bump you up on a Google search.
Use simple language. Avoid industry jargon. You and your photographer friends will understand, but your clients probably won't.
Check to make sure your mobile version works well. Most clients search for you on devices, so they may move on if the page is cluttered on a mobile.
When marketing to boudoir clients, your style should be reflected. If you prefer to shoot dark and moody looks, then it is important to market with that style. Maybe your ideal clientele is established businesswomen in their forties. If so, marketing to the college crew will be a bad return on investment.
Placing ads in magazines or papers can be tricky. Sometimes, it can be a great investment. Other times, it does not get the return you had hoped for. This is due largely, in part, to the fact that most people need to see an ad three times for it to be in their memory.
If you only advertised once in a local golf club, chances are you've lost out. A great place to advertise is with local lingerie companies. You can even partner with them to create dual referrals for both parties.
9. Get Boudoir Photography Business Cards
Business cards are a great way to market your company. Making your cards stand out is important to gain that client lead. Keep the cards simple and legible. Most people do not want to search for information in a tiny format.
If you add images, I suggest you keep them true to your work. You don't want a client to hire you based on an image you created years ago. Chances are they will be disappointed when they find out you no longer offer that look. So, make sure you use an image based on your current style of photography.
The design and look of my cards are very simplistic (pictured below). I found when I added images, some clients were concerned about holding onto the cards.
Many clients have kept a boudoir shoot a secret from their significant others until they reveal the images. So, having a boudoir card in their wallet was a concern. In the type of card below, they can always refer to the underwater or mentoring section of the card.
Many photographers give their cards an extra flair by adding texture. This tactile stimulus can help someone instantly remember you by your card. When a client puts your card in their wallet with other business cards, it will be easy to retrieve if created with this extra touch.
Conclusion: How to Become a Boudoir Photographer
People may answer the question, "How do you become a boudoir photographer," by saying, "Take glamorous images of beautiful women." While this is partly true, the deeper answer to being a boudoir photographer and business owner involves helping people.
Boudoir photography is one of the most rewarding genres in the industry. This is due to the confidence you see in your clients when they leave with their images. It is not only life-changing for them but for us as artists as well.
Boudoir can help heal clients from body issues or past trauma. It can give a new sense of empowerment to their outlook. And if you have your client's needs in mind, your business plan will easily follow. Check out our Profit From Portraits eBook for more photography business tips!
eBooks and Courses for Everyone