Fine art photography focuses on specific concepts that mean something and are special to their creators. These ideas usually take time to develop and can feature all kinds of subjects.
Some of the best fine art photographers can turn an abstract idea into an artistic masterpiece. We can all learn from them by analyzing, discussing, and supporting their work.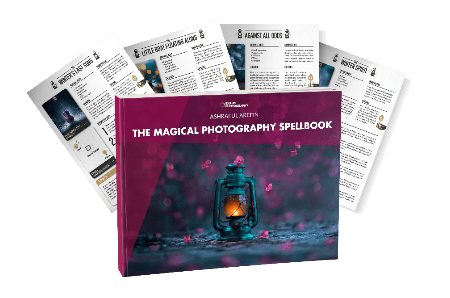 The Magical Photography Spellbook
Looking for inspiration from the best fine art photographers? Our project-based eBook and cheat sheets will help you master magical still-life photography from the comfort of your home.
19 Fine Art Photographers You Should Know
Here are 19 of my favorite fine art photographers. They have inspired many to pursue their creative goals.
Damiano is an Italian photographer who studied in Naples. He gets inspiration from traditional paintings. His style and photos resemble Renaissance paintings.
But they are more sensual and straightforward. Damiano likes to experiment with lighting and admires the female body.
Sarah has been a strong force of inspiration for many years. Her outstanding conceptual photos look like they are straight out of a fairytale. They all revolve around meaningful themes like identity and mental health.
Take the time to appreciate every photo in her gallery. You'll find a plethora of unforgettable stories. These will motivate you to work harder as a photographer.
Inna discovered her love for photography after graduating from law school. She started taking photos of everyone around her. This soon grew into conceptual photoshoots that now define her work.
Inna's love for cloudy weather, sunrises, and sunsets compel her to create soft, elegant portraits filled with deep emotions.
Alex has been an active and influential member of the photography community for longer than I can remember. He's a talented artist. And he can transform a simple theme into an outstanding work of art, regardless of who or what is in the picture.
When I first discovered his photography portfolio, he was working on a 365 project. I was blown away by the effort he put into every piece. To this day, he continues to take exceptional photos.
Olga takes detailed photos of families and children. Her compositions are perfect. But her models always look like they're completely unaware of the camera.
She can photograph candid moments without compromising the quality of her work. It is a skill that's hard to develop and impossible to ignore.
Olga's photos often feature golden light, dreamy landscapes, and quaint houses. These details give her entire portfolio an unparalleled style. They bring a smile to anyone's face.
Marta has been an important part of the fine art photography world for a long time. Her portraits are romantic, mysterious, and soulful.
Her portfolio is full of compositions and expressions that all differ from one another. But none of them look out of place.
Every model in Marta's portraits, including herself, appears comfortable in their skin. This natural confidence makes her images easy to admire and hard to forget.
Carolyn is a prime example of a talented and thoughtful fine art photographer. She finds inspiration in the joys, sadnesses, and mysteries of childhood that every grown-up can relate to.
Her gallery features monochromatic images. They are as dreamy as your favorite childhood memories.
Carolyn's photos have been published in a variety of forms. They've been held in private collections and exhibited around the world.
Lucy's portfolio is filled with meaningful photos. She photographs people and landscapes. She aims to freeze thoughtful moments in time, and she captures dark atmospheres.
Her work's details, lighting, and colors reflect her love for art. They make her the ideal inspiration for anyone interested in fine art photography.
Mike is one of the very first photographers whose work I fell in love with. He not only photographs a variety of people. But he experiments with all kinds of concepts.
You'll find rainbows, fire, motion blur, dappled light, and much more in his gallery. These experiments lead to fantastic photos. His entire portfolio is a fantastic source of ideas.
Eduardo is an editorial and commercial photographer from Mexico. His bold and original portraits make his portfolio a fashion lover's dream come true.
Eduardo has an impressive list of clients. It includes Swarovski, Benefit Cosmetics, Vans, Nike Sportswear, and more.
Despite his success, he's refreshingly grounded and full of inspiring thoughtfulness. These qualities clearly shine through all his photos.
Ruby is a multi-talented artist who has photographed models, couples, and families. She's a talented portrait and fashion photographer. And she's also an experienced film photographer with a vibrant gallery to prove it.
With an Instagram following of over 70,000 people, Ruby frequently delights her fans with outstanding photos. If you like edgy photos with stark lighting and nostalgic, ethereal images, you'll love her work.
Ana is a digital and analog fine art photographer. Her portfolio often features expressive models surrounded by nature. Every photo of hers stands out in its own way. And they show how skilled she is at finding beauty everywhere.
There is vulnerability and colors in Ana's photos. These make her gallery an ideal source of inspiration for all kinds of photographers.
Lotus is a photographer, a poet, a traveler, a teacher, and much more. She uses all these talents to create outstanding photos of people, places, and objects.
Besides taking stunning self-portraits, Lotus photographs life's joyful and haunting sides. She uses rich and varied subjects. Many of her photos are accompanied by heartfelt poems that add even more meaning.
Gina is a multi-talented artist with an extraordinary portfolio. Her emotional fine-art portraits often feature unusual subjects.
Her photos include subjects like flying birds, skeletons on the beach, and floating lightbulbs. These seemingly bizarre objects evoke as much emotion as her human models.
She captures emotions effortlessly, whether photographing herself, a model, or a landscape. This makes her work look like it is taken straight out of a well-written novel.
Masha's photos are as magical as her creative process. Her concepts, like a woman lying in an antique bathtub, are unique and difficult to re-create. She finds inspiration in paintings, dramatic lighting, and square format.
Masha's photography journey began with a 365 project. It compelled her to take one photo every day for a year. This challenge shaped her into an innovative artist.
Her work is an incredible source of inspiration. Especially for all those who enjoy the vibrance and depth of fine art photography. She has more recently focussed on portraits, weddings, and fashion (See her commercial photography Instagram feed).
Luke uses artificial and natural light to create haunting and moving portraits. His deep knowledge of lighting allows him to beautifully light his models. He uses simple things like laptop and TV screens.
Luke's photos range from conceptual pieces to eye-catching portraits. His experimentation is what makes his portfolio deeply interesting to look at.
Willemijn started as a fine art photographer and is still a filmmaker. Her love for these two art forms helped her create cinematic portraits filled with longing and meaning.
Willemijn's fine art galleries focused on children, people in love, and breathtaking natural locations. She creates interesting compositions and thought-provoking stories no matter who or what she photographs.
She has more recently shifted to storytelling and documenting her adventures traveling around the world. But you can still see her fine art photos on Flickr (link in heading).
Sonya is the epitome of joyful photography. Her photos re-define fine art photography thanks to their muted colors and expressive models.
Sonya is also an experienced smartphone photographer. She has almost 200,000 followers on Instagram alone. She regularly talks about her travels on her social media platforms.
Whether you're a fan of adventure, wedding photos, or simple portraits, you'll enjoy following her work. Regardless of its simplicity, every photo on her page has a deep story.
Josefine started taking photos at seven when her father gave her a film camera. She's been taking breathtaking photos of her adventures and those around her ever since.
Josefine draws inspiration from traveling, coziness, and the people she loves. You'll find a rich collection of portraits, landscapes, and weddings in her portfolio. There is also a blog filled with stories.
Conclusion: The Best Fine Art Photographers
One of the best ways to find the motivation to improve is to look at other people's work. Discover new photographers or join a fine art photography community. Experiment with new ideas and learn from the concepts and work of others.
Expose yourself to different photography genres. And don't be afraid of reaching out to your favorite artists. All your efforts will pay off as you begin to take incredible fine art photos! Check out our Magical Photography Spellbook to help create your own breathtaking photos.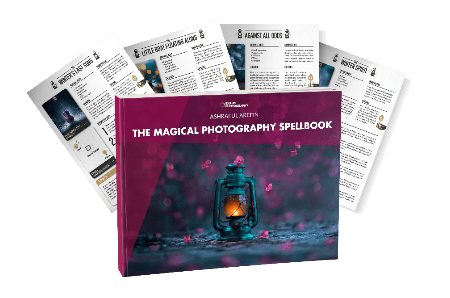 The Magical Photography Spellbook
Looking for inspiration from the best fine art photographers? Our project-based eBook and cheat sheets will help you master magical still-life photography from the comfort of your home.