Street fashion photographers capture the latest trends as they happen on the street. They are a unique breed, always on the lookout for the next big thing. Here are ten of the coolest street fashion photographers to follow in 2022.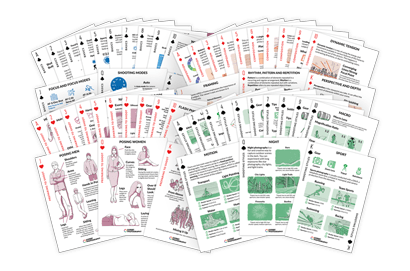 Quick Capture Cheat Sheets
Looking for inspiration to improve your street fashion photography? Our Cheat Sheets cover 52 different aspects of photography, making it easy to master new techniques in just a few minutes.
10. Street Fashion Photographers: Bill Cunningham
This famed New York photographer pioneered street style photography decades before the internet was even a thing.
Cunningham worked for The New York Times non-stop from 1978 until he passed away in 2016. His column On The Street was influential for many photographers in the mid-2000s.
In essence, Cunningham was a documentary photographer who solely focused on the unique fashions he saw in the streets. He loved taking candid images of both regular people and celebrities in a manner that feels approachable to the masses.
Everyone who looks at his photos gets the sense that he doesn't only shoot clothes, but the attitudes of the people he photographs.
It's been almost three years since Cunningham passed away. But still, his work remains a template for many budding street style photographers around the world. Even though he's not an "Instagram photographer," you'll learn a lot from looking at his images.
9. Scott Schuman
This former fashion director first gained fame in 2005 when he started taking photos of stylish individuals on the streets and posted them on his website The Sartorialist.
Since then, it has become one of the most prominent street fashion blogs. And The Sartorialist Instagram account is also proving to be even more popular with 1 million followers so far.
Schuman's work combines the elegance of fashion editorials and the candidness of street photography.
His main interest is taking photos of regular people on the street. But as his fame grew, he was tapped by major companies to photograph celebrities and fashion icons on the red carpet as well.
In 2009, Penguin Press published a collection of his images also named The Sartorialist. Selling 100,000 copies, it remains one of the most popular fashion books to date.
After the success of his first book, he released two more anthologies, Sartorialist Closer, and Sartorialist X.
8. Garance Dore
Some know Garance Dore as the ex-girlfriend of The Sartorialist's Scott Schuman. But don't be fooled. She is a fierce go-getter that deserves sincere recognition.
Even when she was still working as an illustrator, Garance Dore was already collaborating with brands such as Louis Vuitton and Dior. But it wasn't until she started her blog garancedore.com that she caught the attention of the entire fashion industry.
Dore started her website in 2006 as a way to express her passion for fashion. But it started to gain momentum as soon as she incorporated street style photos on her platform. Before long, it became one of the most popular blogs at that time.
She has a proclivity for capturing people wearing simple but elegant outfits. She may be known for her fashion shots, but her talent in portraiture is as potent.
Dore doesn't shoot street style anymore, but she's still involved in the fashion industry. Her website now mainly features personal and professional content.
But you can still see a lot of street photos on her Instagram. She still continues to shoot and illustrate, with her work appearing in different publications that include Vogue and Elle among others.
7. Yvan Rodic
The man responsible for the ever-popular blog Facehunter started taking photographs at art events in Paris in 2005. More than ten years later, Rodic is one of the most respected street style veterans around.
Rodic's ability to mix fashion with culture is incomparable. Although he started out photographing around Europe, he now travels the world to capture the new trends happening in different countries.
His work goes beyond documenting pretty clothes and delves deep into the assortment of styles that are unique to the locations he visits.
As one of the pioneers in the world of street style blogging, Rodic has had the opportunity to work for the likes of GQ and Vogue Italy. In 2010, he also published the celebrated book The Face Hunter which cemented his place in the fashion industry.
6. Tommy Ton
Canadian photographer Tommy Ton's main contribution to street style photography is his ability to foresee the trends in fashion. While other photographers follow what's popular, he hunts for new styles that most of the public has not yet seen.
At 16-years-old, Ton was exposed to the world of fashion by working for the designer Wayne Clark. And as he developed his skills as a photographer, he found his niche taking street style photographs.
His images are all about glamour and prestige. Although he shoots in urban areas, his subjects appear as though they're walking on the catwalk.
Like most street style photographers, Ton has also collaborated with fashion publications such as Style.com and GQ.com.
He also shot advertisements for fashion powerhouses such as Louis Vitton and GAP among others.
5. Tim Regas
This LA street style photographer has a fraction of Instagram followers that some of his contemporaries have. But take a look at his body of work, and you'll see why he's one of the best in the field right now.
While most of his colleagues had to learn from scratch, Regas cut his teeth photographing runways and backstage scenes.
His experience and technical know-how make him a formidable force in streetwear photography.
Regas likes to create images that appear more editorial than paparazzi. Unlike his contemporaries, he is meticulous about the composition and the lighting in his images.
Not to mention that he shoots his subjects against beautiful backdrops of fashion meccas such as Paris or Milan.
4. Phil Oh
Unlike most of his contemporaries, Phil Oh didn't have any background in fashion or even photography when he started. While traveling around Europe, Oh started taking photos of people he saw on the streets for fun.
But then his career then took off once he posted his images to his website.
Oh's approach is less formal and rawer than other street style photographers. Although he's not the most technically proficient, people like his snapshots because they look authentic.
His seeming lack of concern with composition makes his pictures feel you're living in the moment.
Although Oh was still inexperienced at the time, fashion publications took notice of the images he posted on Street Peeper. Eventually, his eye for cool outfits gained him entry into some of the best red carpet events on the planet.
Apart from photographing celebrities for Vogue USA, he now also collaborates with other magazines including Elle and Harper's Bazaar.
3. Adam Katz Sinding
Adam's Sinding's website warns you that "This is NOT a Street Style Blog." And it does a good job persuading you to delve deeper into this American photographer's vast collection of fashion photos.
Sinding sees his work as photojournalistic. He likes to photograph using a telephoto lens that almost feel like paparazzi snapshots but without the superficiality. What makes him different is that he tell stories instead of simply shooting well-dressed people.
He loves to capture people's personalities and moments as much as he loves documenting pretty clothes. He also excels in shooting intimate close-up portraits where his subject look straight into the camera.
Apart from shooting street fashion, Sinding now also photographs editorials for magazines and ad campaigns for fashion companies.
In 2018, he published his first book This Is Not A F*cking Street Style Book.
2. Caroline Blomst
Blomst worked as a model before she became a photographer. In 2005, she found herself shooting stylish Swedes for the street fashion blog Stockholm Streetstyle, which she shared with her boyfriend. Little did they know that it would later on become a lucrative career.
Stockholm Streetstyle was among the first of its kind to appear on the internet. Within months, big fashion publications took notice of Blomst and her boyfriend's work and invited them to work for them.
Not long after they launched their blog, they were getting invites to big gala events to photograph celebrities.
These days, Blomst still continues to photograph people around Stockholm. She also still poses in front of the camera for her blog as well as commercial work.
1. Joshua Woods
Coming from Harlem, Joshua Woods lives and breathes New York Street Fashions. Like the city he lives in, he loves to document the diversity of the people and the clothes they wear.
He not only shoots individuals from different backgrounds, but he also enjoys capturing the eclectic outfits they wear.
A lot of street style photos we see out there tend to focus on high street fashion. But Woods is one of the few photographers out there who fixes his eye on urban streetwear.
As the world shifts towards urban fashion, he's starting to gain the recognition he deserves in the industry.
Woods may be from this generation, but he has the taste for classic fashion photography. He shoots a lot of his photos in film. And he also likes to pose his subjects like they're from the 60s or 70s editorial spread.
Conclusion
Street style photography in its current form has only been around a little more than ten years. But thanks to the people on our list, it continues to evolve into its own entity in the world of fashion.
They help bring fashion to the forefront and influence a lot of people to pick up a camera. Following fashionistas around and taking photos of them seems simple enough.
In reality, it takes a lot of skill and dedication to get better at it.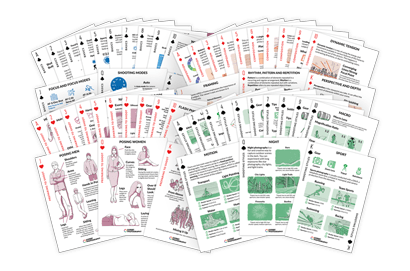 Quick Capture Cheat Sheets
Looking for inspiration to improve your street fashion photography? Our Cheat Sheets cover 52 different aspects of photography, making it easy to master new techniques in just a few minutes.