Long gone are the days when building a photography website was a time-consuming and expensive undertaking.
These days, anyone can use a simple drag-and-drop website builder and create a stunning and user-friendly site in a couple of hours.
In fact, the biggest problem now is deciding which is the best website builder to use.
Here are some of the options for best website builder most popular with photographers today.
Key Points to Remember When Shopping for the Best Website Builder
When choosing a web hosting platform, it's important to select a company with fast performance and good security, as well as accessible customer service.
As a photographer, your website is your primary selling tool and the summary of your brand identity. It will define how potential clients see you.
A poorly designed website will discourage potential clients from contacting you for an estimate. It can even call your professionalism into question.
The key to a successful photography portfolio is to choose a clean, modern looking template. You can then customize it in a way that brings out the best in your work.
You need to choose a template that not only looks great but also fits the genre that you are shooting in.
Having your whole landing page taken up by one image may work great for a landscape photographer. But it may not be as suitable for a headshot or branding photographer.
Photoshelter is an option for best website builder and one that I'm most familiar with because I use them myself.
Over 80,000 photographers use Photoshelter. Depending on which plan you sign up for, Photoshelter offers a lot of e-commerce and marketing tools. These vary from direct image download to the ability to license your photograph as stock.
One drawback with Photoshelter and quite frankly, most drag-and-drop web builders, is that although beautiful, the templates are not very customizable.
Not only that, they only offer 9 website templates. This is surprisingly few for a photography portfolio builder.
When I first created my website, I used their East template. Mosaic-style templates have been very popular lately. They allow potential clients to get a feel for your photographic style with one glance instead of having to scroll through galleries.
I found that with this template I couldn't organize my images exactly how I wanted them to appear on my front page. The template was set up in a way that it pulled random images from my galleries to feature there.
I had no control over the appearance of my landing page. Or the first impression that I was giving to people coming to my site for the first time.
I now use a scroll style template. This allows visitors to see a large, attractive rendition of my images and it's been working for me.
In the template I use now, visitors can easily click on an icon in the bottom left-hand corner of my site to also view each gallery in a mosaic tile format.
One handy feature in Photoshelter and other photography website builders is that you can test out how your images will display in the template before actually hitting publish. You can cycle through the choices and see which is right for you.

Wix is a cloud-based web development platform that has improved by leaps and bounds in the last couple of years.
It's now considered by many to be the best website builder platform. Over 119 million websites live on Wix.
When it comes to design, Wix stands out for offering over 500 different templates with interactive features.
In addition, one of the best things about Wix is how beginner friendly it is. You don't need to know a single line of code. It's a simple drag-and-drop editor with a ton of customizable options, tools, and useful apps.
With its most basic plan starting at $5 USD a month, Wix is great value for the money. As with any website builder, however, there a couple of cons.
One is that the sheer number of templates and customization option can be overwhelming. Where not having enough template options is a definite drawback with some sites, the reverse is also true.
There is a lot to go through when it comes to the offerings on Wix. This can end up sucking up a lot of your time if you don't know exactly what you want.
Another negative to consider is that once your site goes live, you can't change the template. This means that your content and customizations will be lost–a major downside.
One that can be a major dealbreaker for some. If this is you, you might want to consider Squarespace.
Squarespace is a web-builder that powers over a million websites and has been hugely popular with photographers. The templates are clean and minimalist and very modern-looking.
This best website builder contender is not targeted specifically at photographers, but anyone who needs a professional and attractive-looking online presence. Squarespace is one of the biggest names in website building, and for good reason.
It has dozen of templates to choose from and all of the cropping and resizing is done within the interface for you.
Squarespace offers a lot of flexibility in how your images appear. Keep in mind that as with any template website builder, there are some design limitations to what you can do.
Also, it's not always the easiest builder to use. Yes, you can drag-and-drop, but you can't do so just anywhere. It's not 100% beginner friendly or as easy to use as Wix.
Another great bonus with Squarespace is the customer service is excellent, with one-hour email-response and live chat.
Creating and managing a website is still not a completely hassle-free endeavor. It's great to have superior customer service at your fingertips.
Format makes building a portfolio website simple. It's lesser known than some of the other options, but a good option for your online portfolio just the same.
You can use your own domain but all plans include hosting.
Format offers 23 customizable templates and also works with independent designers to offer premium themes as well. Each theme adapts automatically, depending on the device used, which can be previewed in your browser.
There are three pricing plans to choose from. The most expensive option is only $25 USD a month. This offers unlimited images, pages, and blog posts.
Format offers a 14-day trial to test out its templates and various features.
SmugMug is a dedicated photography website builder marketed to professional photographers and memory makers or photo enthusiasts alike.
The company has been around since the early days of digital photography as a home for all your digital files. It has evolved into an option for professional photographers to build curated sites with options for e-commerce, including photo prints and digital photo downloads.
Another code free website builder, SmugMug allows you to create a site just as attractive and professional looking as the big name builders.
Smug Mug pros are that your photos will look amazing. There are many templates to choose from and they all will all look great no matter what device they are viewed on.
You can easily switch between templates, and the whole process from A to Z can be done very quickly.
All SmugMug plans allow to you turn your portfolio into an online print store, which is a great option, depending on what type of photography you do. For example, Fine Art photography or landscapes are a natural fit.
The cons to choosing SmugMug is that there are not as many template options as most of the other best website builder options.
Also, the customization tools feel a bit more limited than the other choices. SmugMug's template editor is based on 'content blocks' that you can move and remove, but not resize. This makes it less flexible than a straight up drag-and-drop website builder like Wix.
Still, SmugMug is a great choice for a website builder for anyone who wants to show and even sell their visual work online. All of the portfolio templates use optimal settings to ensure your images load quickly and display beautifully.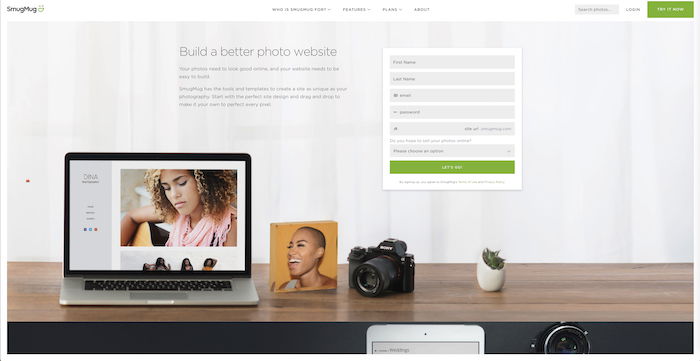 Last but certainly not least, WordPress is an extremely popular self-hosted web platform. It's customizable and boasts great SEO.
There are thousands of templates available for purchase for WordPress. The great thing about WordPress is that it's highly customizable with thousands of plug-ins from third-party providers to choose from, many of them free.
However, you need to be a bit computer savvy in order to get the most from this website builder.
Luckily, there are many companies that now offer web hosting, portfolio templates, email and other tools in one package if you're not too tech savvy or don't feel the need to customize your site to the smallest details.
If you decide to go with WordPress, know that there are thousands of templates out there to choose from. Once you settle on one you really like, you can customize it to your exact specifications.
Another benefit of using WordPress is that if you write a blog, your SEO will skyrocket. Even though I use Photoshelter for my portfolio, I have a WordPress blog attached to my site.
Regular updates keep me number one in search engine rankings when Googling food photographers in my city.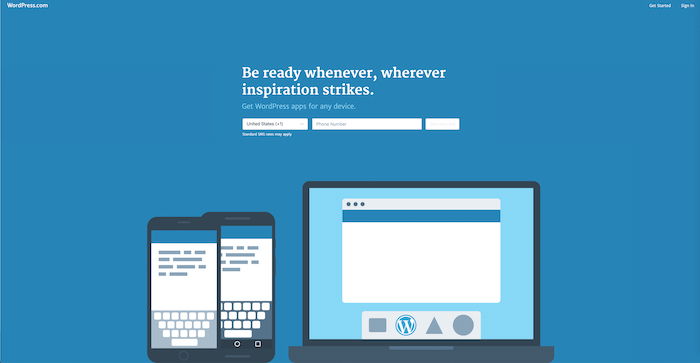 Conclusion
These are some of the best web builders out there, but there are others to choose from. In fact, the "best" website builder is the one that suits your needs and is best for you.
You'll find that every option has its strengths and weaknesses.
Before you decide on the best website builder for you, be sure to research all your options and the pros and cons of each so that you can make the right choice for your photography website.
Why not check out our posts on where to sell your photos online, choosing the best photo stitching software or photo retouching apps next!