Even when you create the best possible images, you then need to worry about your work being stolen or forged. Watermarking your images can help in this, so read on and find out how to make a watermark in Photoshop.
Cover image by Chris Botrell Photography. 
What is Watermarking?
Watermarking is placing a signature or logo on your digital images. This is reminiscent of painters using their 'John Hancock' to prove that the images were, in fact, created by them.
It is one way to dissuade others from stealing your images and using them as their own. In this day and age, with more and more rules about copyrighting, you'd think we were past taking images for free.
But, it simply isn't the case. Many people, from huge corporations to Instagram influencers have been caught reusing and resharing images claiming them as their own. Either uncredited, unofficially and without financial remuneration.
Due to factors brought on by our digital age, it is almost impossible to track your images once online. Over a million images are shared each day across several of the top social media networks.
There are a few ways you can search for your images and spot where they have been used before. Google Reverse Image Search is a great tool.
Watermarking, through text or graphics, is an idea that seems to have a split audience – some see the necessity, others hate it. It doesn't stop your images from being used by someone else as images can be cropped, or even manipulated.
Advantages of Watermarking
Watermarking is a good way to dissuade people and companies from using your images without permission. They might still be used, but if your name or logo is stamped on the image, it relates it to you as the photographer.
It is relatively simple to do. Once you have created an eye-pleasing watermark, you can reuse the same one over and over again. they can be batch processed in Photoshop to help save time, too.
Although some of the images with watermarks are unsightly, there are ways to make them less obtrusive. They can be small, opaque or even placed in an area that isn't immediately recognizable.
The latter wouldn't work as a deterrent, but it might help if any problems come to lawsuits.
Some watermarks look absolutely beautiful and can even help to add something extra to the images. The flair of a great signature and/or graphics can also drive people to your own website or business. This is especially true if you include a website in your watermark.
If your images are particularly great, with a specific style or color toning concept, a watermark can help with that.
If regular photography lovers see your watermark appear often, they will tie it to the images and quality of your work.
Disadvantages of Watermarking
Personally, I don't like watermarks. First of all, my photography logo is basic and wouldn't help my images in any way.
Not only are they distracting, but they also take away the importance of an image. A great image can be ruined by a poor watermark.
Watermarks also don't stop your work from being unofficially used. Low placed watermarks can be cropped and cut off. Some smaller icons can even be photographically edited and suddenly, the images are no longer yours.
A watermark can look great! But, it might cost you time, energy and money to make. This is especially true if you don't know what you are doing to make one.
True, when you have one, you can reuse it over and over. But, if you photograph different genres, a street photography watermark might not be great for high-level events, such as weddings.
Watermark your Images in Photoshop – Simple Text
First, open your image and create a New Layer. You do this by going to the top toolbar and selecting Layer>New>New Layer.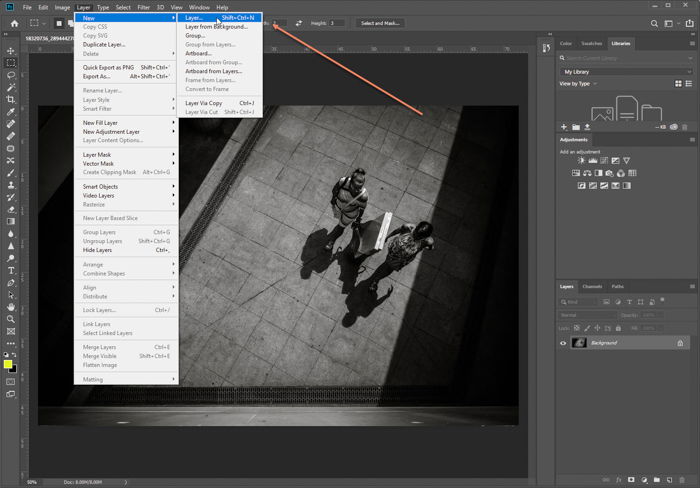 Name it 'Text'. Click OK.
Next, while the new layer is selected, you want to select the Text tool.
Draw a box where you would like your text to go. This can be changed later, so you can put it anywhere for now.
Now you are free to write what you want. We suggest your name, a photography business name or a website.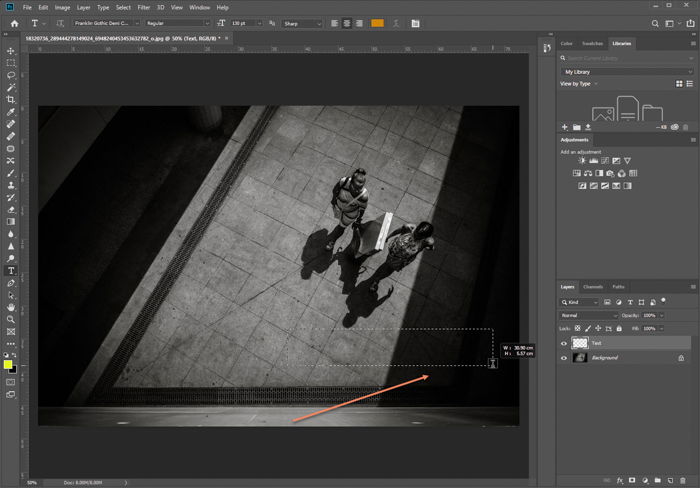 After writing your text, it might be a font, size or color that you are not looking for. You can change it in the fields in the top bar.
If you want to add a Copyright icon, there are a few ways you can do this. Usually, I would go to Google.com and search for 'copyright symbol' and then copy and paste.
This might be an easier option, as you can then drop it into the same text field.
If you want to go the long way inside Photoshop, you need to find the symbol in Photoshop.
First, find the button named 'Custom Shape Tool'. You'll find it above the arrows where you can set the foreground color. At the bottom of this drop-down list, you can find the Custom Shape Tool.
Find the Shape box. It will offer you a drop-down menu when you click on it. At the bottom is the copyright symbol you need. Select it, and change the color if need be.
Draw the size and shape of the symbol next to the text by clicking and holding don. Release the mouse button to set.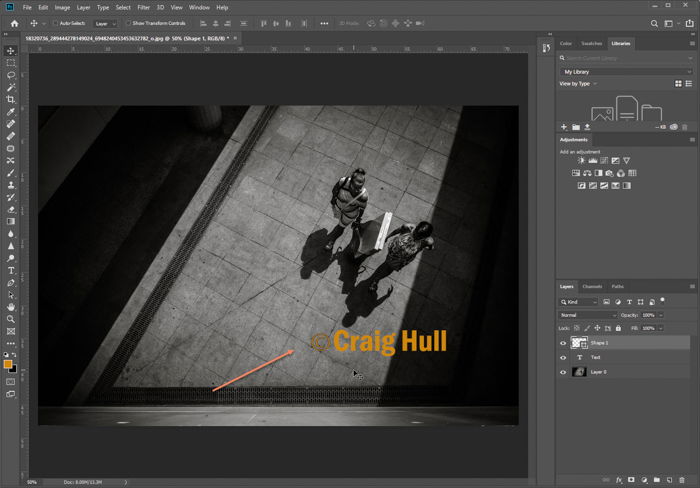 If you want to change the text after creating it, then you need to select the layer and select the Text tool again. That will allow you to select the text, which you need to do to apply any changes.
After this, select both layers that relate to the text and copyright symbol. You do this with Shift + Click for the second one.
This allows you to move the two layers as one. Place them where ever you wish.
If the watermark is too striking for you, then there is a way you can reduce its strength. Keep both layers selected and find the Opacity box in the Layers panel.
By moving the slider, you can make the text and symbol more opaque.
Extra Tip – If you are looking for a special effect, we recommend the Bevel & Emboss tool. This makes the text look like it is imprinted or stamped into your image.
It helps to add a little flair, otherwise, the watermark can look a little flat.
Double-click on the layer (any gray area without text) and a pop-up Layer Style window will spring up. Here you only need to check the box to turn on the style. All the options in that window change the strength and style.
Click OK when finished.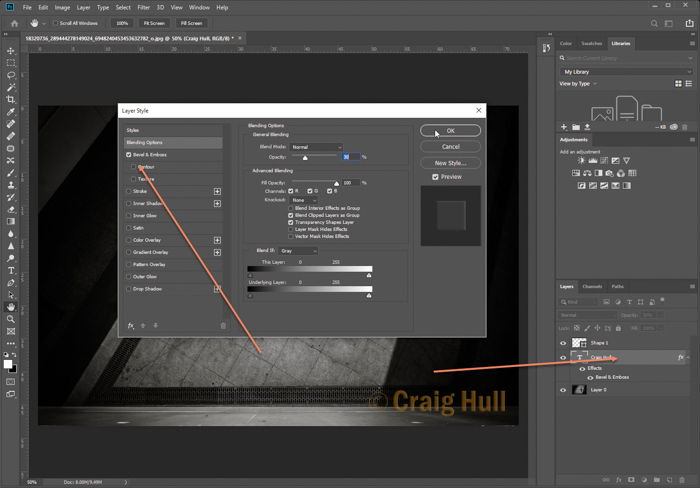 Watermark Your Images in Photoshop – Adding a Logo
Adding a logo is slightly different. first, the text box isn't used at all. Secondly, you need to already have a logo to 'embed' or bring into Photoshop.
There are things that this logo needs to have, such as a transparent background and a png file name. We won't go into that here, so we shall assume you already have this file ready to go.
Firstly, open your image. Go to File>Place Embedded.
You'll need to search through your desktop folders to find the logo you want to embed. Once selected press Place.
The logo might appear too big. Click and drag one corner to reduce its size. It should reduce constrained to the same ratio, but if it doesn't, hold Shift at the same time.
After reducing its size, place it where you want in your image. If you want to place it in the center of the image, you'll need to find the center of the image.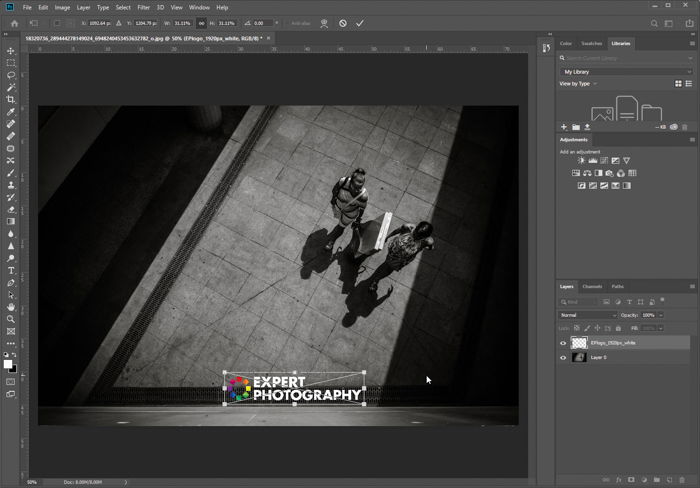 To find the center of the image, go to Image>Image Size and look for the Width size. Half this number and you'll have your center.
The width of the image I'm using is 2048 pixels wide.
A guide is a perfect way to show you the center of your image. To make one, go to View>New Guide.
In the pop-up window, you'll want to select Width and enter 1024 px. Press OK.
Select the logo layer, and use the resizing blocks in the middle of the logo. Place them over the guide to ensure it is in the center.
To move the logo, you need to select the Move tool. You can move it sideways with the keyboard arrows.
To finish, you need to remove the guideline. Go to View>Clear Guides.
Save the image like you would normally, and there you have it.