A prime lens is a fixed focal length lens, as opposed to a zoom lens which can change its focal length. Prime lenses are often sharper and have less distortion than zoom lenses. But they also tend to be more expensive.
So should you use a prime lens for dog photography? The answer depends on your needs as a photographer. Let's take a look at some of the pros and cons of using prime lenses for shooting dogs…
What Is a Prime Lens?

The main difference between prime lenses and other types of lenses is focal length. Prime lenses have a fixed focal length, which means that they don't offer any zoom features. They also tend to be smaller and faster than other lenses.
A few examples of prime lenses are the 50mm f/1.8, 85mm f/1.8, and 35mm f/1.4 lenses. Some of the most commonly used ones are the 50mm and 35mm lenses. So which one is better?
The 35mm vs 50mm debate doesn't have a solid conclusion because it depends on your preferences. Most photographers agree that 35mm lenses are closer to what the human eye sees.
Others prefer 50mm lenses because of how gracefully they crop all kinds of compositions.
Pros of Using a Prime Lens
4. It's Likely That You Can Already Afford It
You don't need to save up for a long time to get a handy prime lens. One of the most affordable ones, the 50mm f/1.8, costs around USD 100.
I consider it an essential that every photographer should own.
3. Its Size Makes It Easy to Move Around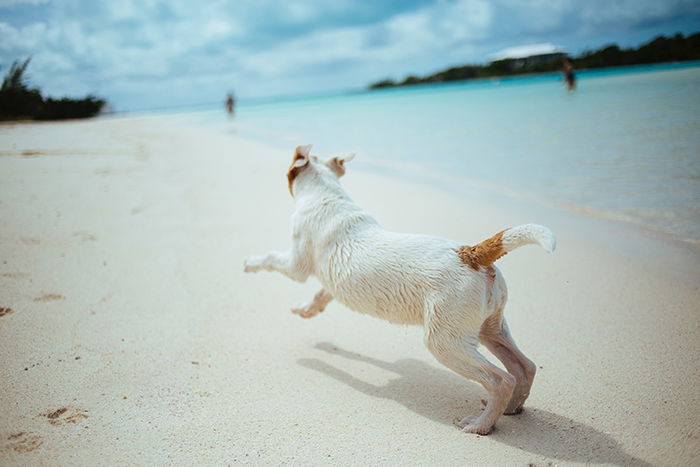 Unlike zoom lenses, most prime lenses are fairly small and portable. Because of this, they can be used in a variety of situations:
During trips with your pet. You can also grab your camera and take spontaneous photos of other people's pets without breaking a sweat.
When you have to run after your pet to take a good picture. Imagine the alternative: if you had to run after an unruly dog with a heavy lens, your photo shoot would turn into an tiring workout!
When moving to another location. If you're going to take photos of someone else's pet, you won't have trouble packing your prime lenses in a small camera bag. This will leave room for other necessities, like dog treats or even another lens.
2. You Can Quickly Take Pictures Without Ruining Their Quality
Some pets, especially young ones, tend to be very active. If you spend too much time focusing on a specific composition or pose, you'll end up with blurry, abstract results. A slow lens will make this even worse.
Prime lenses, on the other hand, tend to be very fast. Even the 50mm f/1.8 can take high-quality pictures in places with lots of action or a limited amount of light.
This makes prime lenses the perfect tools for taking sharp photos of active pets.
1. It Will Motivate You to Get out of Your Comfort Zone
Today's zoom lenses can take amazing photos from a distance. This might tempt you to stay in your comfort zone and take the same kinds of photos every time. Prime lenses will force you to do the opposite.
Since you can't zoom in with a prime lens, you'll have to move around while photographing your pet. You'll have to find ways to avoid distracting elements and compose a shot before your subject runs away.
These challenges will teach you patience, give you new ideas, and make you a better photographer in general.
Cons of Using a Prime Lens
2. It's Not Possible to Crop Out Distracting Objects from a Distance
Even though using a prime lens will encourage you to get out of your comfort zone, it might fill your photo shoot with lots of frustrating obstacles.
For example, if you're taking photos in a busy place with lots of visual distractions, you can crop them out with a zoom lens.
The only way to crop elements out with a prime lens is to physically get closer to your subject. This might not be possible if you're taking photos of other people's dogs or if you simply want to capture an environment.
Of course, you could crop out small distractions in an editing program. However, the more you crop, the lower the quality of your image will be.
1. You Have to Move Around All the Time
In addition to not being able to crop out certain elements, you can't stand still with a prime lens. It's very likely that your pet will run around for a long time before it settles down.
Since you can't zoom in when your pet is standing far away, you'll have to make sure that you're always standing close enough to take a proper portrait.
This might tire you out and make your photo shoot significantly shorter.
Conclusion

By investing even the minimum amount of money into a prime lens, you'll get to enjoy a rich variety of benefits like size, portability, and speed.
You'll be able to quickly take photos of your beloved pet during your travels, at home, or even in badly lit places.
You'll also have to challenge yourself, learn how to be more patient with your pet, and be okay with not being able to easily crop your photos.
In my opinion, the pros of using a prime lens far outweigh the cons. Depending on your shooting style and preferences, you might have a different opinion.
Either way, I encourage you to at least give prime lenses a try because they might completely change the way you look at pet photography.
Do you want more photo inspiration? Check out our new post about pet photography ideas next!