Sometimes it's hard to know what to do with photos. Most people just stick them in a photo album or on their computer, never to look at them again. But what if you could use your photos to create beautiful and unique gifts for your friends and family?
In this article, we'll show you ten DIY photography gifts that you can make using your own photos. These gifts are perfect for any occasion, and they are sure to please everyone who receives them.
eBooks and Courses for Everyone
10. What To Do With Photos: Try Scrapbook Paper Picture Mounts
I usually look for a simple frame that won't draw attention away from the photos themselves when I want to display them. But from time to time it's nice to do things a bit differently and add color or texture to the image. An easy way to do this is by changing the usually neutral picture mount for one you create from a scrapbook paper.

Choose a frame that is distinctively bigger than what fits your photo.This will leave you a lot of space around the photo for the picture mount. Cut the paper you chose so that it will cover the whole frame. Center your photo and you're done!
The good thing is that you can change the picture mount any time you feel like. And if you use double-sided paper, just flip it and you will give a totally different vibe to your photo.

9. Re-use Old Frames (Perfect for Kids)
There are a lot of ways to re-use wood frames, but I have two favourite creative photography ideas that I want to share with you. One way to do it is by drawing on it with a marker. Simple, isn't it?
You can keep it easy by making a geometrical shape and repeat it all over the frame or you can get a bit more elaborate and draw a design.  I usually make the template with a pencil and then I fill it with a permanent marker.

Another way to decorate old frames is by adding washi tape. The ones with a transparent background works really well for this.


These two creative photography ideas are perfect for doing with kids because they are both fun and easy. And as you can see, creative photography ideas don't require any complicated equipment either!
8. Custom Coasters
This one is a little more complicated. Here's what you'll need:
cork board
brushes
photo transfer glue
fixing varnish
water
sponge
dry towel
photo printed with a laser printer on regular paper (important!)

First of all you need to cut a cork board into tiles. I made mine 9 x 9 cm, but any other size would work fine. Just make sure your photo will fit, and use a sharp knife.


Cut out the photo and put the transfer glue on the image using a brush. You want to have a thin and equal layer over the whole surface. Place the photo facing down on the cork tile so that the glue connects between the tile and the photo. Then press them firmly together.


Let the glue dry for a few hours (I waited a day). Wet the paper with a sponge and start breaking it away gently by moving you finger (or the sponge) back and forth across the paper.


After cleaning all the paper away from the print, dry the tile with a towel. Be careful not to rip the print. Apply another layer of glue and when it dries fix the image with varnish.
And there you have it, your very own custom-made coaster. Keep in mind that when you transfer the photo you also flip it horizontally so print the photo as a mirror image (especially important if you have words in the photo).
7. DIY Photo Magnets
Print the photo you like either with your own printer at home or at a print shop. You can keep the photo as it is or you can personalise it a little by cutting the corners in different ways or writing some sentence or a nice quote on it.


To make sure your magnet will last for a long time, laminating it is a good option. I have a little laminating machine at home that comes in handy for this type of crafts. But if you don't have one, you can laminate it in a copy service store or office supplies store.


You can turn your photo into a magnet with a piece of adhesive magnet tape. If it is a small photo, just a small bit of magnet at the center of the photo would be enough. If it is a big photo, add several little pieces in the corners and at the center to ensure that the magnet will adhere well and the photo doesn't bend.

6. Stone Photo Holders
What you'll need:
smooth riverbed stones/pebbles of medium size
metal wire (I used aluminum but steel wire can also work just fine)
needle-nose pliers
wire cutter
photos
Take a stone you like and then cut a length of wire. Depending on the size of the stone, you might need a longer or shorter wire. Keep in mind that you'll need 10-30cm for the stalk/stand beside the length required to encircle the stone twice.
Wrap the wire around the stone twice and then tighten it so that the wire is firmly latched on to the stone. Use pliers to tighten it if needed. Make sure you have at least 15cm of wire left.
Create a 90 degrees angle in the wire so that it stands up perpendicular to the stone and the ground. With the pliers, twist two small loops at the tip of the wire, making sure the loops are pressing against each other.


Place your photo between the two loops. There you have it! Your very own stone photo holder!
If you want to give the stone a wet appearance and a bit of a glossy look, you can paint it with a bit of glue, lacquer or varnish before starting with the wire.
5. Photo Accordion in a Box
It is quite common to keep photos in a box. But it is a bit different to have them displayed on a long sheet of paper folded like an accordion.


Choose a box and cardboard. Measure the inner dimensions of the box. To fit nicely in the box, your cardboard should have a slightly narrower width and length than the box itself has.
Once you have your long section of cardboard, you need to fold it like an accordion. After that, glue your photos in each panel of the accordion and place it inside the box.
To make it easier to take the photos out of the box, you can put a small piece of washi tape or glue a short length of ribbon on the first panel. Decorating the box is optional. In my case, I decided to do it using washi tape. But you can also paint it, transfer a photo onto the cover, glue some scrapbook paper, and so on. The options are endless!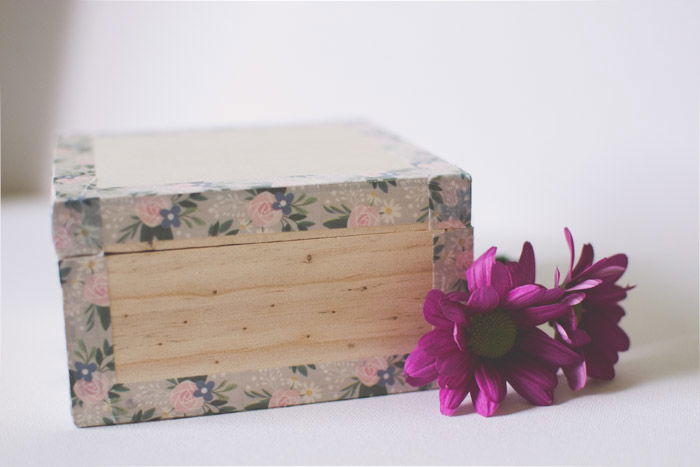 4. Turn Your Photos Into Wall Art
What you'll need:
some narrow plywood boards or planks
bulldog clips
hot glue (or nails)
wood paints of two colors (optional)

I got the plywood in a supply store, but you can also re-use wooden boards. I decided to give them an aged appearance, but this is totally optional.
To get the aged effect you need two paints of the same base. I used water-based because it is easy to clean the brushes later. I chose blue and white because I love Mediterranean colors, but you can choose any combination of colors you like.
I painted the planks with one color and left them to dry. Then I painted them with the second color. After drying, you need to pass a sand paper in some areas to uncover the lower paint and even the wood. Once you've achieved the effect you like, you should apply varnish, lacquer or oil on the wood to protect it and give it a shiny look.


It is a bit time consuming because it requires several steps and waiting for the paint to dry, but it is also a fun challenge. Last thing to do is to glue some bulldog clips along the boards (or if you prefer you can use nails to fix them to the planks instead).


You can hang them directly on the wall or you can use a bulletin board or canvas if you prefer.
3.  Re-Use a Frame to Display Multiple Photos
For this craft you will need:
hook screws
elastic cord
frame

You can re-use an old frame you have home, preferably a relatively big one to be able to display more than one photo on it. First thing to do is open the frame to remove the back and the glass (if there is any). All you need is just the frame itself.
Place some hook screws on each of the lateral sides. The number of screws and the distance between them will depend on the pattern you want to make with the elastic cord. For example, I put four on one side and three on the other.
Once you have them in place, you need to pass an elastic cord through them starting from the upper screw and crossing from one side to the other as you go down.


You can also add screwsat the top and bottom of the frame and then you can build a web. Now you can hang your photos using for example tiny clothes pegs (from the craft or office stores) or beautiful clips.

2.  Greeting Cards (Perfect for Kids)
Greeting cards are always great. Even more so if they are handmade and have a meaningful photo on them. You'll need:
photo
scissors/cutter
glue
cardboard
What you want is to make a case or a frame that you can fit a photo onto. To do so you need to measure your photo and cut the cardboard so that it is a bit wider than the width of the photo and a bit longer than double its length.
Fold the cardboard in the middle. Make sure that the two flaps are equal and fit each other nicely. Cut out a window in the middle of one of the flaps. It needs to be a bit smaller than the photo itself (5 mm on each side should be enough).
Glue the flaps together on two edges keeping the third opened so that you can slide the photo inside through it.
And that's all! You have your very own handmade card!

1. Turn a Hanger Into a Photo Mobile
For this one you will need a regular wooden clothes hanger (or any other type you have at home), some meters of ribbon, hot glue and washi tape for optional decorations.


I started by decorating the hanger with some washi tape. I put some tape on the wood part and I wrapped some around the metal hook. I cut the ribbon into four 90 cm long pieces. I made a small loop in each ribbon around the hanger and I closed them with hot glue. Alternatively, you can also sow it.
I added a ribbon knot to decorate the hook and that's it!


You just need to place your photos using tiny clothes pegs or clips.
 Conclusion
Printing your images and doing something creative with them is an excellent way to keep your art alive. These 10 photography ideas are affordable and a fun challenge. You can spend some time with your family and/or friends making them together and they are perfect as gifts! Most of them also allow you to interchange the photos easily.
This is great for your photography learning process because you can display photos from your projects or photography walks, study them without effort because you have them around and after a while you can change them for a new set of photos.


eBooks and Courses for Everyone