A hand grip camera strap will add a new level of comfort and convenience when using your camera. Most modern cameras have ergonomic bodies that fit nicely in your hand. But if you're shooting for a long time, even the comfiest camera can cause fatigue.
A camera hand strap is the perfect solution for tired wrists and aching hands. It gives you more control than a neck strap, keeping your camera secure in your grasp. And there's less risk of your camera being dropped or knocked. A camera wrist strap is a handy solution to your camera strap problems.
[Note: ExpertPhotography is supported by readers. Product links on ExpertPhotography are referral links. If you use one of these and buy something, we make a little bit of money. Need more info? See how it all works here.]
The Camera Wrist Strap vs. The Neck Strap
The camera wrist strap is one of the most underrated pieces of photography equipment. Far more photographers opt for a neck strap when shooting. But once you try a hand strap, you may never look back.
A neck strap may seem convenient enough for most photographers. But the more you think about it, the more issues you find. Firstly, there's the fatigue in your neck. DSLR and mirrorless cameras can be heavy, especially with large lenses attached. We've all had the pain in the neck after a long day shooting. Then there's the rubbing a chafing too.
Camera straps for the neck can also be clumsy and insecure. Neck straps let the camera hang against your body when you're standing upright. But if you lean forward or turn quickly, the camera can swing and sway. This can cause knocks that can damage your camera. And the camera has a long way to fall if there's a strap malfunction.
A camera wrist strap has none of these problems. It holds your camera close to your hand, so you're always in control. The strap combines with the grip of your hand to keep the camera secure. And there's no uncontrolled swinging to put the camera at risk.
A good wrist strap helps distribute the camera's weight across the hand and arm. This stops chafing of the wrist and helps avoid fatigue in your hands, wrists, and arms. A camera wrist strap is a safe and secure option for all photographers. And when you find the right hand strap, it could revolutionize your photography practice.
11 Best Hand Grip Camera Straps
These are our top picks for the best hand grip camera straps. There's something for all photographers, no matter what equipment you have or the size of your budget. Think about the type of strap you need, and you'll definitely find a camera wrist strap that hits the mark.
The Peak Design CL-3 Clutch is the best hand strap for photographers. Peak Design is one of the most respected brands for photography accessories. And their range of wrist straps is no exception. Their CL-3 combines build quality, affordability, and functionality. Photographers from all levels will appreciate this hand strap.
The CL-3 Clutch hand strap gives you reliability and security when working with heavy cameras. It's compatible with all DSLR cameras, including the largest full frame models. The camera anchors can hold anything up to 200 lb (90 kg), so there's no fear of your camera falling loose.
The Hypalon strap is strong and durable. The microfiber pad adds comfort to the user experience. And the aluminum adjuster is a robust piece of hardware. The aluminum clutch adjuster allows you to tighten the strap against your hand. You can keep it tight for better control. But it's quick and easy to loosen if you need to free your hand.
It's compatible if any DSLR camera, including Nikon, Canon, and Pentax models. You can also use the camera hand strap while using a tripod. It gives you complete control while you're working. And it's ideal for portraits, landscapes, and street photography. Photographers in all areas will immediately feel the benefit of the Peak Design CL-3 Clutch hand strap.
The Altura padded camera hand strap gives you comfort and control. It isn't the most discreet hand strap. But while it isn't a fashionable accessory, it is strong, durable, and reliable when shooting. It's compatible with all the major camera brands, like Sony, Nikon, Canon, and Fujifilm. And it's suitable for all photography styles.
The Altura hand strap has a large padded section for the back of your hand. And there's a wrist strap that keeps the camera secure, preventing accidental drops. The problem is that getting the straps tight and comfortable takes a while. But once everything is in place, it's one of the most secure camera hand straps you'll find.
The Altura hand strap attaches to your camera using two connectors. The top of the padded strap connects to the camera's strap ring. And the lower part has a mounting plate that screws into the tripod mount on the bottom of the camera. The combination gives you unparalleled levels of protection. There's no escape for the camera even if your hand loses grip.
The Vello Hand Grip Strap is ideal for your DSLR or mirrorless camera. The quality of the materials is second to none. It's a comfortable, reliable, and affordable piece of equipment for any serious photographer. The stylish and discreet design also means it's a good option for inconspicuous street photographers.
The comfort of the Vello Hand Grip Strap is one of the major benefits of this model. The subtle leather section is soft and gentle against your hand. And there's no friction around the wrist section to cause discomfort. The additional padding also means it's comfortable when using heavy cameras and lenses.
You attach the hand strap to two locations on the camera for extra security. There's the nylon cord that loops through the strap ring. And there's an Arca-style baseplate that screws into the tripod connector. And the strap features a quick-release mechanism so you can make quick adjustments.
The Vello Hand Grip Strap is comfortable and secure, but there's no discomfort. And you have complete freedom to use your camera controls. It's also one of the more stylish hand strap options.
Peak Design has the perfect blend of form and function in its Cuff Wrist Strap. It's practical, simple, and does exactly what you need it to. There's nothing fancy about the Peak Design Cuff. But it's well made and reliable at a very reasonable price. The Cuff is the perfect wrist strap for photographers making the change from a neck strap.
The wrist strap is made of durable nylon. It uses a more compact weave and feels smooth against your skin. You'll experience little chafing or discomfort even when shooting for long periods. It's easy to adjust the size of the strap loop with a slider. And the strap also has a leather pad section for extra durability and comfort.
The wrist strap holds the camera using the anti-abrasion anchors. They don't cause damage to your camera and can support weights up to 200 lb (90 kg). That's more than enough for professional DSLR and mirrorless cameras.
The Peak Design Cuff is the perfect wrist strap for travel and street photographers. Its black, discreet design is ideal for photographers wanting to keep a low profile. And it gives you the control and mobility to move the camera quickly for those blink-and-you-miss-it street shots.
The Spider Camera Holster SpiderPro V2 is a professional camera strap. It's strong and sturdy, giving you the extra security you need when working with expensive camera gear. This Spider Camera Holster option isn't the cheapest on the list. But the strength and quality ensure you still get great value for money.
The S-shaped hand strap is designed for comfort while freeing your hand to work the camera controls. And there's the wrist strap for added security. You can adjust the tightness, giving you a perfect blend of comfort and usability. And the quick-release baseplate makes sure the camera isn't going anywhere.
The SpiderPro V2 is made of a tight-weave Hypalon. It's a low-friction material, so there's no rubbing or chafing. But it's strong enough for professional cameras and lenses. You can remove the wrist strap quickly with the quick-release buttons. And you can also use this camera strap when your DSLR or mirrorless is mounted to a tripod.
The Dual-Grip hand strap from USA Gear gives you the extra security you need. It prevents nightmare situations with your camera gear. But it comes with a bargain price tag. It doesn't have the best build materials. And it certainly isn't the most stylish. But it gives you fantastic camera support if you're on a budget.
This USA Gear hand strap uses a two-point connection system, hooking on to the top and bottom of your camera. The bottom connection screws into the tripod mount, so there's no risk of it slipping off.
The hand strap pad ensures comfort, allowing you to adjust for a tight fit. And there's the wrist strap that gives you added security. It also provides wrist support, helping you shoot longer without pain or fatigue. And it helps to distribute the weight of the camera in your arm. It's a bargain camera hand strap that's compatible with all major DSRL models.
The Gitzo Century Leather Hand Strap is a popular camera hand strap with professional photographers. It has an ergonomic and comfortable design. But they've made no compromise in usability or security. It's a simple and reliable option for any mirrorless or DSLR camera.
This Gitzo model uses a simple D-shape design, with the hand strap providing you with extra support when shooting by hand. But it also gives you greater camera control when using a tripod. The baseplate attaches to the tripod mount, but you can use a tripod and the camera strap simultaneously.
The price tag might surprise you at first glance, but the build quality is excellent. The genuine Italian leather is soft and subtle, so there's no irritation. It cushions your hand, providing extra security and support. And the hand strap is easily adjusted for a snug fit.
The Joby UltraFit Hand Strap is a slim and simple strap for any mirrorless or DSLR camera. Don't be fooled by the simple design—it's well worth the price tag. It offers fantastic grip to keep your camera safe. And it's a great camera strap for long photoshoots.
The Joby UltraFit Hand Strap has two connection points. The lower uses an Arca-Swiss baseplate for an ultra-secure connection to the camera. And the two nylon straps are easily adjusted, allowing you to find the perfect fit.
The camera hand strap has thick yet compact padding for comfort. You'll be able to shoot for hours without fatigue or irritation. It isn't the cheapest camera hand strap on the list. But it gives you comfort, control, and freedom when shooting by hand. It's a popular choice for photographers in all areas of the art.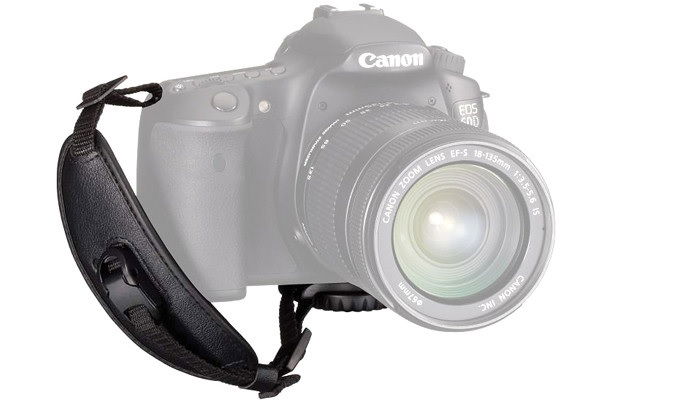 The Canon Hand Strap E2 is the perfect option if you're looking camera strap to go with your Canon camera. It's designed with Canon DSLR bodies in mind, so you'll struggle to find a better strap if you're a Canon user. It's compatible with all their EOS DSLR cameras.
You can adjust the nylon hand straps, cushioning your hand against the camera body. The hand pad is wide, distributing the weight across the back of your hand. The pad is made from soft leather, which feels gentle against your skin even if you're carrying a heavy camera.
The Spiderlight camera hand strap from Spider Camera Holster is an excellent option if you're using a smaller camera. While it can take the weight of a heavier machine, it performs best with lighter cameras.
There's no doubt about the quality of the attachments, so your camera is safe in your hand. And the hand strap has foam padding covered in a soft fabric material. The comfort allows you to shoot for hours. And the added security gives you total control of your camera
The JJC Pro Hand Grip Strap is a fantastic option if your budget is on the tighter side. It doesn't have the most elegant design. But it offers excellent security, allowing you to take pictures without worrying about the safety of your camera.
The hand straps have cushioned padding, giving you a comfortable hold even with heavy cameras and lenses. And the adjustable wrist straps provide added security when shooting by hand. The wrist straps are also padded, so you won't experience any irritation. The quick-release baseplate also keeps your camera securely attached.
Conclusion
You won't regret buying a camera hand strap. It's one of those camera accessories you don't think you need. But after a few shoots with one, you don't know how you lived without it. It'll change the way you take pictures.
There's a hand grip camera strap for everyone. We've listed camera straps for professionals as well as photographers with smaller budgets. This list has a camera strap for every camera user, whether you're a mirrorless or DSLR shooter. Give them a try and see the results.
A hand strap is great for photographing your travels. Check out our Next Stop: Travel Photography e-book to take your travel photography to the next level!