When the sun's shining and we hit the beach, we all want to look our best. And whether you're a swimwear model or want some stunning photos for social media, you need the best bikini poses.
We'll take you through our favorite bikini pose ideas. These bikini poses aim to maximize your potential this summer season, no matter your body shape. With our help, you'll have the hottest bikini photos of the summer.
eBooks and Courses for Everyone
Bikini Poses Are For Everyone
Posing in a bikini isn't easy. And I mean that from a practical and a psychological point of view. Unlike other types of fashion photography, you can't hide behind the clothes.
Understandably, this can make people feel nervous about having their photo taken in a bikini. We all have things that make us feel self-conscious. Even professional models have their personal hang-ups.
A good bikini pose will make you look fabulous no matter your body shape. And we're not talking about anything complicated. It's just a twist here or a stretch there to accentuate your best features.
It's all about confidence when you're in front of the camera. You might not feel confident when you start modeling. But if you start with a few simple poses that bring out your best, the confidence will come.
If you're behind the camera, your job is to make the model feel confident. Let them ease into the shoot. And don't push them too far, too fast. Start slow and simple, working your way up to more complicated bikini poses.
13 Flattering Bikini Poses for a Beach Photoshoot
Now we'll look at the bikini poses that show you at your best. It doesn't matter if you're already comfortable posing in a bikini or are afraid to show so much skin. By the end of the shoot, you'll have a catalog of fabulous bikini photos you can be proud to show off.
1. Step Forward with Confidence
This bikini pose is the perfect confidence-builder. It doesn't involve any complicated movements. It's a simple movement that has an empowering effect on the model.
The stride pose is more than just a walk. The stride has to be deliberate and slightly exaggerated. You need to step one foot in front of the other, with more distance than your normal walk. You can lead with the left or right, but the leading foot should be directly in front of the back foot.
The arms need to move to the same rhythm as the legs. Your left arm should be forward if you have your right leg forward. It creates a slight twist in the abdominal area, tightening your skin.
Walk with your head up so your gaze is straight ahead. And you want your shoulders up, not slumped down. You're presenting the image of a powerful and confident woman. You might be faking the confidence at first. But once you see the results, the confidence will be real.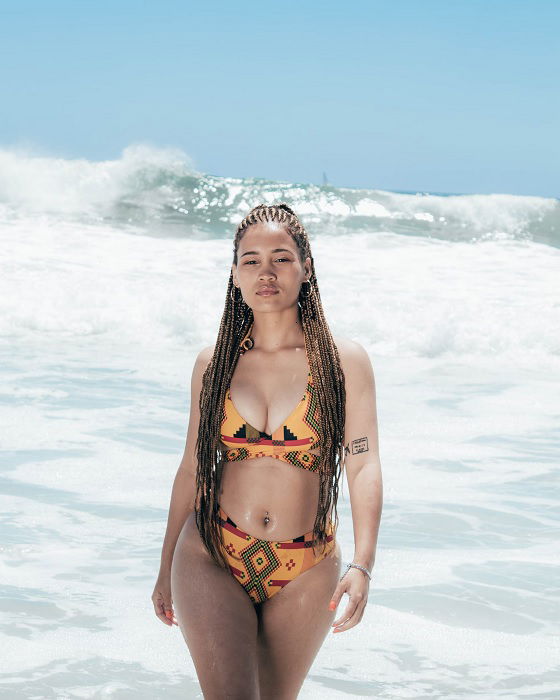 2. The Bikini Pose Classic
Some of the best bikini poses are the simplest ones. And this is a simple yet classic pose that anyone can do on the beach.
The basic idea is that you have one hand on the back of your head while the other hangs down at your side. But there are some subtle actions you can perform to maximize this pose.
First, step one leg in front of the other. It's not a striding pose, so don't step too far. Then twist your head and shoulders slightly to the side. You should feel a stretch in your abs. One hip will pop out slightly, giving an extra curve to your body.
By stepping your foot and turning your head, you're lengthening one side of your body.
3. Arms Up for a Powerful Bikini Pose
This pose elongates the body for powerful bikini pictures. It's a pose you can use early in a shoot to gain confidence. It's a power pose that'll make any woman feel like a goddess.
Lift both arms above your straight above your head. You'll feel the stretch in your sides straight away. Lift one arm slightly higher than the other and push out the opposite hip. This lengthens the lines of the body while also creating curves.
You can take this shoot head-on. To add more power to the pose, you can take the shot from a lower angle. It'll make the body appear even longer, and the model will dominate the photo.
4. Accentuate Curves by Kneeling
There are plenty of excellent kneeling bikini poses. But this is a particularly flattering pose, great for any body type.
The first step is to kneel on the beach. You can have the soles of your feet up. Or, if that hurts, you can keep your toes on the ground for balance. The second part of the pose is lifting your arms and raising your hands to your head. You can play with your hair for extra sensuality.
Raising the arms stretches the abdominal area, smoothing the skin. It also arches the back, pushing out your chest and bum. And pointing the knees apart makes the hips look wider. This pose stretches your abs while accentuating your curves.
5. Lie With an Arched Back
If you're happy to get a bit sandy, there are plenty of lying bikini poses you can try. This lying pose will make anyone look fabulous on the beach!
The key to this pose is the arch of the spine. Stretching your legs downwards and raising your arms above your head will help you arch your back. But to add more curve and elegance, try bending one knee. Remember to keep your toes pointed.
With your legs and arms extended, your body looks longer, and your stomach will appear slimmer. Turning your head will add an extra stretch to the neck too.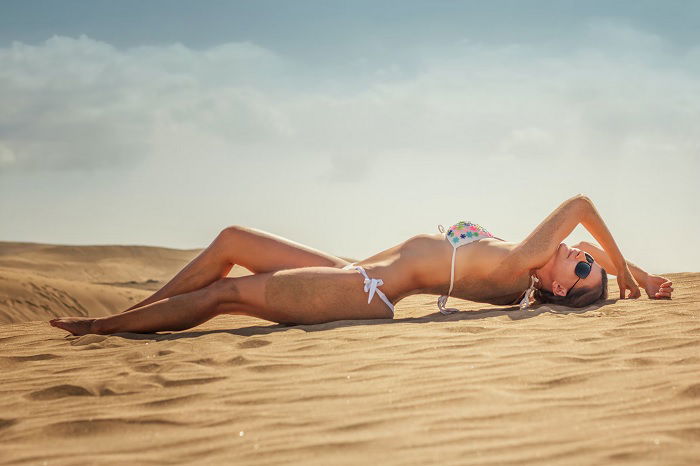 6. Go Casual
This is a must-try if you want more bikini poses for lying positions. It's casual and relaxed but elegant and flattering too. It's a simple pose that anyone can try. But a few subtleties make it a great pose for bikini pics.
Lie with one side flat against the ground. Keep your lower leg straight while bending the knee of the upper leg. This is more comfortable, and it accentuates your hip.
Move your bottom arm up to align with the rest of your body. The hand can point away from you. Or you can use it to support your head. You can hang your other arm casually or place it on your hip.
The stretched lower arm and leg elongates your figure, while the bent upper leg accentuates your feminine shape, adding extra curve to your body.
7. Do The Torso Twist
The torso twist is one of the best techniques for making the abdomen appear slim and smooth. And you can use it for many fun and energetic bikini poses.
To create the perfect pose with this technique, you need to walk forward. Twist your upper torso to the side with one leg in front of the other. Keeping your hips straight stretches the stomach.
You can also throw your arm back to stretch your skin even more. A turn of the head in the same direction will make any wrinkles less noticeable. And lifting the forward leg will add a nice curve to your body shape. It's an energetic pose that has a flattering effect on the entire body.
8. Open Up the Background
If you like prone bikini poses, here's another one to try. This time you'll be lying with your stomach on the ground. You can lie on a towel. Or you can get wet and sandy if you prefer.
When your stomach is on the sand, use your arms to lift your head. You want your chin up to pull your neck back, removing any wrinkles. It will also arch your back, bringing your bum up and pushing your chest forward. Lifting your feet into the air adds more interest to the background of the shot.
These bikini poses are good to try if you're not feeling too confident. They keep the stomach hidden and show the model in a flattering light.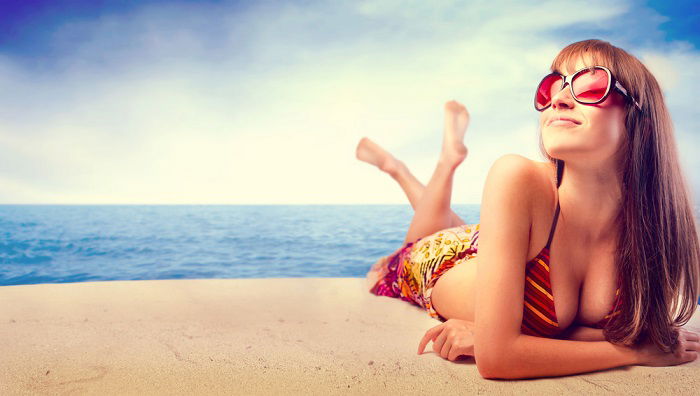 9. Relax in the Sand
Sitting poses for bikini photoshoots are great for models feeling a bit self-conscious. They're low energy, easy to perform, and will make anyone look fantastic.
Sit with your bum on the ground. Then lean back and place your arms behind you for support. You want to make sure your back is straight. Stretch one leg out straight in front of you. And bend the other leg at the knee, so the foot is flat on the beach.
This bikini pose creates an attractive shape with lots of lines and angles. And with your leg forward and your back straight, your stomach stays flat.
You have different options for your head position. It might depend on where the camera is, but you can lean your head back or look over your shoulder.
10. The Hourglass
This is a bikini pose that's easy enough for anyone to perform. And this pose has several features that flatter the body to make everyone look incredible.
You need to put your hands in your hair, either near the top or rear of your head. Use your hands to give your hair a bit of volume. Raising your arms will lift your shoulders, accentuating your torso.
To emphasize your hourglass figure, push out one hip and till your head in the same direction. Standing like this creates a slimmer waistline.
11. Turn Around and Walk Away
Not all bikini poses are about the front. Many bikini poses are designed to highlight the other side. And this is one of those poses.
The camera will be behind you and take a picture as you're walking away from it. But this isn't your standard walk. It's a stylized walk you'd see on a catwalk. You step one foot directly in front of the other. It adds more curvature to your hips and bum, showing the bikini bottoms at their best.
Raise your arms, either putting your hands in your hair or up towards the sky. Raising your arms stretches and flattens your abdomen. And it will arch your back, pushing your bum out further.
12. Toss the Towel (or Clothes)
Some bikini poses have you sitting or lying down. But this pose is all about action, moving in a way that flatters and tones.
The basic action is to toss your towel (or whatever you have that may need tossing) to one side. But you'll need to do this in a slightly exaggerated way. It helps to keep your arm straight as you throw your towel. And the arm should have a swinging action, stretching your abs and chest area.
While keeping your hips straight, stick one leg behind you with the toes pointed. This engages your leg muscles, toning and firming your skin. This pose uses the whole body, which helps you look toned and fit.
13. Take a Peek
If you're feeling shy or self-conscious, you can use that to your advantage. A glimpse over the shoulder is an excellent choice for many bikini poses. It plays on your shyness, adding a cheeky element to the photo.
The camera should be to your side or behind you. And then you need to look over your shoulder at the camera. It's a coy beach pose. And turning your head tightens your torso, removing any lines or wrinkles.
The twist in the neck arches your back, making your bum look more prominent. There are lots of positioning options for your arms. You can put them up, stretching your abs. Or you can have the arm closest to the camera down, with the other up.
Conclusion
The best bikini poses should be accessible to everyone. They need to be easy to perform, whether the model is confident or shy. And they need to make the model look like a goddess of the sea.
Everybody is uniquely beautiful. We all have our insecurities and hang-ups. But with the bikini poses on our list, anyone can look amazing on a sun-soaked beach.
Looking great is all about confidence. And if you don't have confidence straight away, you will when you see the result of these bikini poses.
Check out our Profit from Portraits ebook to take your portrait photography to the next level!


eBooks and Courses for Everyone