Here are 17 fun summer photoshoot ideas. These will inspire you to create stunning photos embodying the beauty and joy of the sun-soaked season.
Summertime is the perfect opportunity to try out new photoshoot ideas. The weather is warm and sunny. And there are plenty of fun places to shoot outdoors or themes to shoot indoors!
YI 4K Action and Sports Camera
Capture all your summer photoshoot ideas with ease and inspiration using an advanced action and sports camera. Shoot high-resolution videos and photos with image stabilization and instant sharing capabilities.
17 Awesome Summer Photoshoot Ideas
Capture the essence of summer with these 17 incredible photoshoot ideas. You can easily execute all of them yourself.
Shoot beachside adventures to vibrant fruit-themed setups. We have a range of creative concepts to make your summer photography shine!
1. Capture Sunlight in the City
First of all, take your camera and go outside. Your job is to find and capture the hottest and shiniest summer moments, focusing on sunlight!
No season has such wonderful sunlight and such long daytime hours. So take advantage of that.
Go around your city and look for sunlight coming through fresh leaves. Look for shining windows, sunlit squares, glistening bicycle wheels, or fountain drops that look like diamonds.
Find the best manifestations of sunshine and capture them in all their glory! And they don't have to be conventional summer photos. Look for sunbeams in unexpected places.
2. Do a Picnic Photoshoot
It's finally warm and sunny, so why not go and eat outside? You can pack some lemonade and a couple of sandwiches. Or you can arrange a fancy lunch with champagne.
But a picnic is still a picnic. It's a great opportunity to take cheerful summer images.
If you like food photography, focus on the food and drinks. Pair them with a tablecloth or a blanket, or arrange them with other props. How does each item work to tell a picnic story?
If you're more into portraits, capture authentic emotions of family or friends gathering outside, laughing, and eating together. It's hard to imagine capturing something more precious than that!
3. Take Shots of Soap Bubbles
Mesmerizing but short-lived and elusive, soap bubbles can be a metaphor of sorts for summer. They both come and go so quickly!
You can take photos and preserve the beauty of bubbles forever in many ways. You can shoot portraits with someone blowing soap bubbles or using a large bubble wand for gigantic bubbles.
Another idea is to capture a scene focusing on the soap bubbles. Try to catch the reflection of your model's face or a landscape through the swirling balls of colors.
Soap bubbles are also popular subjects of still-life photos. Like in the image below, you can create a modern still life with bubbles symbolizing something intangible, precious, and beautiful.
4. Find Shadow Patterns
Sunlight and shadows are fantastic visual combinations. This duo begs you to take photos of the patterns they create.
Notice where sun and shadow create beautiful ornaments. This might be on buildings, pavements, or your model's face and hands.
Or maybe you're lucky to have sunlight streaming through your windows. This way, you can take interesting summer photos of anything from your breakfast to your pets.
These shapes of light and shadow are so varied and can be found in many places. So train your brain to notice their beauty in the ordinary. You'll never run out of creative photo ideas!
5. Capture the Short-Lived Beauty of Dandelions
Where I live, dandelions bloom from the middle of June to late August. And they usually go straight to my list of summer picture ideas. They provide many portrait or macro photography opportunities.
You can shoot them on location by themselves or with a model. You can play with angles or wait for golden hour. Or you can bring them home and try to arrange a scene yourself.
White dandelions are very fragile. So keep them separate from each other when you harvest them and protect them from the wind.
You can also try using small amounts of hair spray to preserve their form. And let your imagination run wild when finding props to pair with them in a studio shoot!
Dandelions can be a rich source of metaphors. Their seeds can represent little parachutes, or their puffballs could be a gem for a ring. Or just keep it straightforward and capture their simple beauty.
6. Hunt for Summer Sport Shots
Summer sports scenes against sunlit skies can be a source of very powerful photos. They can rely on fast, sharply focused motion or strong contrasts.
You can find tennis, beach volleyball, or basketball courts in your neighborhood. Then wait for golden hour and go photo hunting.
If these sports aren't your cup of tea and you live near water or the ocean, look for watersports like surfing. Even scenes with surfers on a beach, preparing to face the waves, can be worth capturing.
Also, I was surprised at how cool skateboarders look. All the jumps and tricks skaters can do are mesmerizing. So you can add them to your list of summer photoshoot ideas too.
7. Create Playful Splashes
Often, splash photography relies on special lighting. Impulse lighting, like a speedlight, allows a short exposure time. So liquid appears frozen in motion.
Doing this trick with only a fast shutter speed is hard because there's often insufficient light. But summer has light in abundance!
Try capturing splashes without studio lighting and just a fast shutter speed. Set your shutter speed to at least on1/4000 s and try splash photos you've always wanted to take!
Remember your picnic photoshoot? Try adding splashes from a drink or water fight!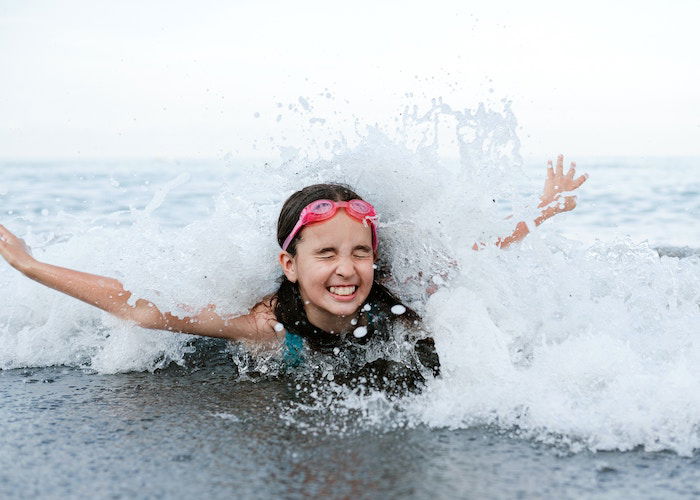 8. Play With Colorful Food
It's a perfect time for food photography! Ripe fruits are everywhere, and they are also affordable. Find your favorite recipes or photograph fruits as they are, in all their natural beauty.
The easiest way to do it is to arrange flat lay patterns on a variety of vivid backgrounds. Get a tripod, and check a color wheel to find the best combinations. Then start creating!
One idea is to showcase the ingredients of a fruit salad. For the photo below, I used a floral foam brick found in any big flower shop. It's perfect for holding small items like a fork, even with some fruit.
I placed three forks into the floral foam brick, pierced fruit on them, and then used long needles to add other smaller fruits. Add some water splashes, and voila! Your fruit salad photo is ready!
9. Use Berries for Still Life
This will depend on where you live. But in many places, summer is the only time berries are in season, and they don't cost a fortune.
So it's the perfect time to showcase them and shoot all the smoothie bowls, cocktails, and pies you were waiting to make or devour! Or even better, get creative and tell a small story using berries.
You can combine berries with chalkboard drawings for a flat lay (pictured below) to illustrate recipes! Or you can photograph summer stashes like jam preserves, the most precious gifts of the season.
Still-life photography provides many narrative opportunities. And berries are so easy to work with to include in your photoshoots. Your summer photography can get very creative by using them.
10. Take Fun Summer Drink Pics
Staying hydrated is important for any human. And taking shots of beautiful drinks is fun! Just pay close attention to styling your scene.
Pick the best leaves and berries. Make sure your ice cubes are transparent and crisp. And try to keep your light source away from the back of the glasses so they appear glowing and shiny.
My favorite trick with drink photography is gluing everything to a backdrop and turning it upside down. This way, the splashes look like they're defying gravity!
11. Look Up for New Perspectives
Here's another summer challenge for you. Look up and photograph summer scenes and details from an unusual angle.
Shoot the sunlit walls of houses. Photograph patches of sky visible through branches of trees. And look up at the clouds! The summer sky is always fantastic.
Go to your city center, a nearby park, or a forest. Then take photos of something interesting above you. You can even find a spot to lie on the ground to shoot straight up!
12. Photograph Frozen Treats
I can't imagine summer days without having a refreshing frozen treat. Popsicles and ice cream always awaken pleasant memories. And I love to work with them, even if they're melting fast!
You can make a popsicle or ice cream a hero of your photo in many ways. First, just try to take the most delicious-looking photo ever.
Second, attempt something more complicated. Try creating a story around your main object. Find a fun ice cream shop or truck. Or fill an ice cream cone with anything you like for a more abstract shoot.
Maybe fill it with flowers or small toys that remind you of summer or childhood. You can create your own summer flavor! Here's my photo of a sweet tooth's summer homework.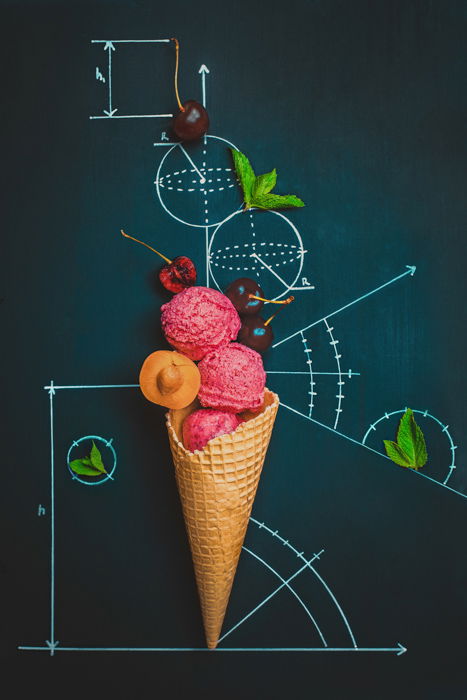 13. Look for Beauty in Details
This may be one of my favorite summer photo ideas. Take your camera, go for a walk, and try to find details that encapsulate summer's lightheartedness and fun.
Go to summer festivals or the beach. Look for surfboards leaning on a beach wall. Or find a pair of sunglasses on a mannequin (or have someone model them!).
Think about what summer means to you or how it makes you feel. And then look for a detail that can represent these thoughts and feelings.
Make it a habit to walk every day in the summer with your camera. Even if you don't find a gorgeous shot, you will have a perfect visual diary of your summer!
14. Try Unique Food Typography
An abundance of berries and flowers invites you to try your hand at food or flower typography. Or use any other kind of summer materials at your disposal.
The first thing that jumps into my mind is writing on wet sand at the beach. But we shouldn't stop here!
Try arranging some words with blades of grass or some dandelions. Try to write something about hot weather with melting gelato.
Or use all the cherries you can to spell something. That's a good place to start!
15. Create Silhouettes at Sunset
If you're a landscape photographer, you can document an entire summer only in sunsets. It will be a fantastic art project on its own merits.
A summer sunset is also a perfect time for a specific variety of portrait and conceptual photography, namely silhouettes.
Capturing nothing but your subject's silhouettes is a powerful technique to tell a story. And you can make almost anything into a silhouette.
Silhouettes can't draw on colors or textures to hold your viewer's interest. So make sure you choose strong and recognizable shapes.
Ensure the silhouette is distinct, especially if it overlaps with other forms. Turn your camera flash off. And explore this two-dimensional world!
16. Play With Vivid Colors
In addition to other perks, summer is a perfect time to change your usual color palette a bit. You can give it a more vivid and bright feeling.
You can start by making a travel flat lay using a high color contrast. Pick a bright background. Add some tropical paper leaves and sunglasses. Then add a red passport or a blue wide-brimmed hat.
Shoot directly from above. Throw in some more complementary colors. Rinse and repeat.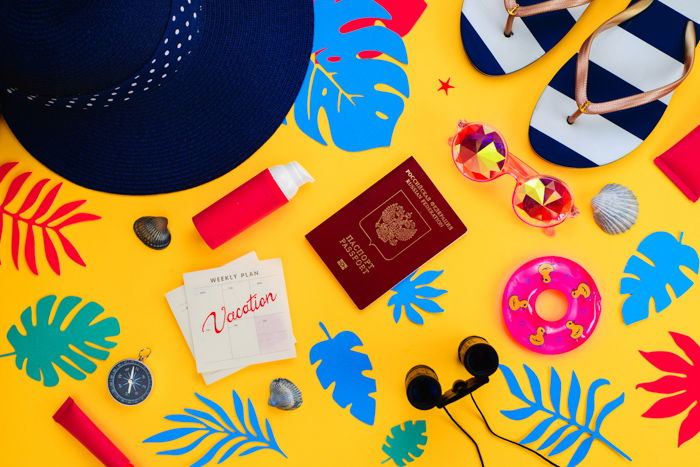 17. Travel With Your Camera
Most of my weekend road trips with friends occurred in summer or early autumn. I'm a still-life person, so I didn't even take my camera.
But summer journeys are the perfect gift for photographers looking for genuine emotions and authentic scenes. Buy a train ticket somewhere. Or take your car or bike out and invite your friends.
We often think that proper travel is to travel abroad. But you don't even need to travel far away. Check out the other bank of the river you see every day. Or visit your grandma!
You can even go a bit further. Visit a small town near your city. Go outside your hometown boundaries and find the most beautiful bridge. Or find a roadside cafe with the most delightful pastries ever.
The idea is to discover new sights to photograph or find new ways of seeing things. Summer is the perfect time to go exploring!
Conclusion: Awesome Summer Photoshoot Ideas
As you try new summer photoshoot ideas, remember that the true treasure lies beyond technical aspects. Relish in the joy of the process.
Mastering photo techniques is important. But remember the underlying motivation behind your photos and the stories you wish to convey.
So venture out, savor summer delights, and capture awe-inspiring moments. Let the season's spirit guide you as you create your stunning visuals. And cherish the memories you make along the way!
For more creative photography techniques, check out our Wow Factor Photography course! You can also get creative using intentional camera movement for unique shots. So you can give that a go!
YI 4K Action and Sports Camera
Capture all your summer photoshoot ideas with ease and inspiration using an advanced action and sports camera. Shoot high-resolution videos and photos with image stabilization and instant sharing capabilities.